October Wines
November 17, 2018
Richard Moore
Wine of the Month
We spent 3 weeks of September in Switzerland, France and Italy doing a Tour du Mont Blanc. We drank many nice wines but I did not take the time to take notes on each wine. I must say I was surprised how good the Swiss wines were, especially their Gamay Beaujolais wines. Since there was only one wine to review in September I decided to skip a month and just do an October Wine review. There were many five star wines to like in October, but the Opolo Syrah just really stood out to me. I have been looking for such a Syrah for a while.

Opolo 2015 Syrah ($19.60 Opolo Wine Club)
Wow this wine couples smoky, jammy, and fruity mouth taste with a dry finish to make for an outstanding Syrah. This might be my favorite Syrah, nosing out the Burgess Syrah. It would be nice to have a taste off. On the nose there is smoke, and very dark dry fruit. In the mouth there is jam, fruit, and a subtle smokiness to start. The wine develops some leather and cedar forest floor elements. There is quite a dry tannin backbone that kicks in for a very long finish with all the mouth elements persisting. Notes: "A bold bouquet of black plum, leather, anise and black pepper encrusted bacon practically leap out of the glass. Dense and complex with velvety tannins, this wine is not for the faint of heart. Drink now if decanted and will continue to improve for 5-10 years with proper cellaring." Repeat buy, you bet. I am thinking this is a wine that will age well (as the notes say) so maybe a case!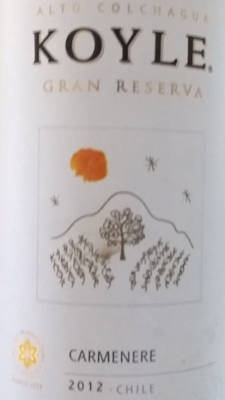 Koyle Gran Reserva Carmenere 2012 ($11.99 WTSO)
Bright, tangy, sweet and dry. There is a lot of jam and a long finish. Forest floor and dried red fruit. A bit sweet on the finish. Plum fruit on the nose and in the mouth. Needs some air time to really open up so I would say to decant for an hour. Notes: "Bright purple color, with tea leaves, native tree aromas, tobacco, and spicy notes. Round tannins emerge from the Cabernet Franc touch, with explosive notes of minerality coming from the granitic soil of Los Lingues vineyard." A bit if a difference as I do not taste any tea or tobacco at all. A wine that I would consider getting more of for the price.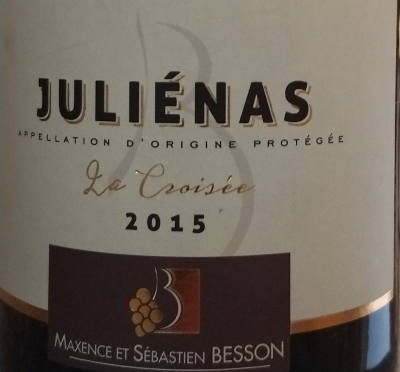 Julienas 2015 Gamay (Part of a $69 weekly tasting 4 pack)
A favorite for Julie and I. Fruity with dark blackberry and jam. Becomes bright in the mouth with a medium dry finish that is long lasting. A light level of spice. A very pleasant sipping wine that is light but satisfying. Would buy again if it was around $12.

Cotes-du-Rhone Villages Visan 2017 (14.99 WTSO)
Nice aroma of dark cherry and plum fruit with no sting. Nice and dry in the mouth. Plum and cherry fruit in the mouth with a nice spice that develops in the mouth followed by some jam that coats your mouth. A very complex and wonderful wine. Wine notes: Very intense, deep purple colour. The nose is also complex, with notes of ripe red fruits (cherry, Morello cherry, blackcurrant, plum). The palate is concentrated and silky, with very nice ripeness and fruit. Long, round, and fine tannins." I would agree. Repeat buy, yes!!!



Borgo Casa al Vento 'Aria' Chianti Classico DOCG 2011 ($14.99 WTSO)
Very dry in the mouth. An earthy wine on the nose with minimal fruit. Very spicy in the mouth, with some watery fruit, and a bit of tartness on the tongue. Wine notes: "ruby red color with garnet hues in the glass; the nose is a complex bouquet of red fruits integrated with notes of spice and cedar. A harmonious wine, dry, warm and pleasantly tannic." Not sure I agree with the notes. Not a repeat buy for me.

Concannon 2016 Assemblage Red Wine ($22.40 Concannon Wine Club)
Wow, the love continues into the new vintage. Beautiful aroma that is fruity, dusty and oaky. The aroma continues into the mouth with cherry/raspberry fruit. Becomes very bright with spice and dry tannins that combine with the fruit and spice for a dry long lasting finish. Is it better than the 2015? I not sure as I would have to do a side by side tasting. On it's own it is a winner and one that will be in my cellar. Notes: "a dense Ruby color accompanies sweet notes of black fruit, charcoal, licorice, and dried herbs. This multi-layered, medium-bodied Bordeaux blend is complemented by Rich flavors of dark fruit and chocolate and possesses a lush with a fabulous finish." I get a very slight hint of chocolate. The rest of the notes seem pretty accurate. Seems like a wine that could age for a couple of years to fully develop.


Opolo 2016 Maestro ($23.80 Opolo Wine Club)
Another winner from Opolo. Wonderful dark berries on the nose with no sting. Lighter and brighter in the mouth than the nose would indicate. Smooth with some jamminess and boysenberry fruit. The bright spiciness last a very long time and is backed up with a dry finish. Notes: "60% Syrah, 20% Grenache, 20% Counoise. Well balanced blend that jumps from the glass with fresh dark wild berries, fresh cut herbs, and a hint of maple. Layered with cinnamon, cloves and well integrated tannins." Seems pretty close to my notes, except the hint of maple. Repeat buy? Maybe. As good as this is there are some other Opolo reds I like better. We have 2 bottles left from our wine club shipment and I will enjoy those and then decide.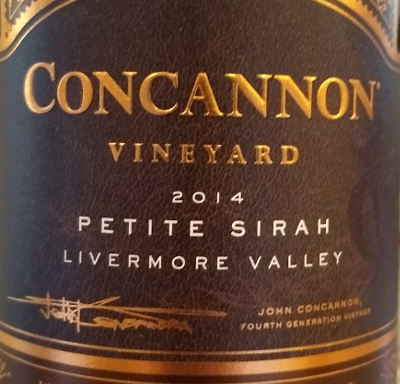 Concannon 2014 Petite Sirah ($36 Cannon Wine Club)
Very nice. The aroma is flowery, much more than I expected, and there is a sting on the nose. Very dark in color as expected. Velvety and smooth to start with a very dark fruit, ripe plum comes to mind, and some jam. A nice spiciness develops followed by a dry long finish with the fruit and jam continuing into the finish. This wine coats your tongue and does not let go. With some air the spice diminished and a bit of tartness developed. A nice complex wine. Julie was not as wild about it as I was so I would say 41/2 stars Much better than the earlier vintage of the Livermore valley petite sirah I reviewed earlier. Notes: "Bold notes of black pepper, cherry and raspberry leap from the glass bolstered by dark chocolate and coffee undertones. Firmly textured, with smooth yet robust tannins that meld effortlessly with dark fruit flavors true to this varietal. This lush wine delivers a finish that lingers with earthy nuances and rich oak." Repeat buy? Not sure, the price tag is pretty pricey and since Julie is not wild about it I will not pick up more bottles.

?
Cave TerraVentoux Provence Rose 2014 (11.99 WTSO)
Very nice strawberry nose, but a bit flat in the mouth. I noticed the aging maximum was 3 years and this bottle was 4 years old. Notes: "The nose is expressive fruit (blackcurrant, raspberry) and flowers with hints of pollen, it also draws some fermentation flavors (tropical fruit). After an expressive attack, the mouth is delicious, with aromas of red berries and tangy. The finish is long and fresh. It is a fresh and light rosé wine." It is hard to say on this wine, Julie and I thought it might have been a good rose a few years ago. Guess you have to drink your roses quickly.

Nero Marone 2017 (5.97 Trader Joe's)
Quite possibly the worst wine of 2018. Grape kool aid comes to mind.

Opolo 2016 Tempranillo ($21 Opolo Wine Club)
I really like this wine, but it is not like a Spanish tempranillo. On the nose there is a lot of black fruit with a bit of oak and no sting. Velvety with a bit of jam in the mouth. Blackberry fruit with a nice medium level of spice and a dry oaky finish. The fruit continues and continues. Maybe not the most complex wine but a very enjoyable wine to drink. Repeat buy? On the fence but I have 2 more bottles to try before deciding. Notes: "Lively nose of plum, dried cranberry, crushed rock and a hint of campfire smoke, delivers a luxurious mouthfeel of cranberry laced with Asian 5 spice. These flavors lead into polished tannins that linger and last to the finish. Can age for 10+ years." I did not get rock(?) or any smoke but the rest is agreeable.


Mondavi Private Selection 2016 Cabernet Sauvignon ($12.99 Target)
Dusty nose with some ripe plum fruit. In the mouth there is a dark bing cherry fruit to start. Later some tobacco, leather, and spice develop with a very dry finish. A ripe plum fruit rises and continues in the finish. Sweeter than I would usually expect from a Cabernet. There is a very slight jamminess. Repeat buy? Most likely not. Notes: "this wine shows decadent aromas of black cherry, blackberry, vanilla, toasty oak and coffee. Ripe and elegant, with soft red and black fruit flavors and gentle tannins"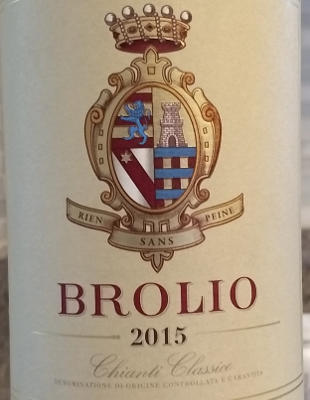 Barone Ricasoli Brolio Chianti Classico 2015 ($20.99 wine.com)
This was a wine we enjoyed in Courmayeur Italy during our Tour du Mont Blanc. This is one great wine, a real fruit bomb with enough tannins backing it up to make it substantial. Interestingly there is not much on the nose. Just a very faint fruitiness coupled with a bit of a sting. In the mouth it hits fast and hard with fruit. There is quite a mixture of dark fruit and it is hard to pick out just one. I might go with blackberry and raspberry. A nice spice develops and then after a while you get some tongue coating jam and drying tannins. A very nice complex wine that has a long, long finish. This wine really opens up with some air so decant. Notes: "Intense ruby red color. Scents of small red fruit, vanilla and liquorice. The mouth shows a complex, but velvety fragrance and a long mineral aftertaste, typical of the territory. Blend: 80% Sangiovese, 15% Merlot, 5% Cabernet Sauvignon" Repeat buy, yes.
Ratings:

Wow, knock my socks off good. A wine to stock up on.

A very good wine, also a wine to stock up on.
A good average wine that is very drinkable, one that I might buy
again.

An okay wine, one I can drink but would not run out to buy any of.

Not worth really drinking, most likely poured out.
Copyright 2018, Richard J. Moore
keywords: Wine,Wine Tasting, Wine Reviews
description: New wines tasting notes for October of 2018