April Wines
May 1, 2017
Richard Moore
Wine of the Month
There was some pretty good competition for the wine of the month this month. I ended up with three 5 star wines to choose from. For me the Vina Robles Estate Cabernet Sauvignon came out on top. As I mentioned in my review this is my favorite Cabernet and I would put it in my top 5 wines that I have reviewed. Overall, a good month of wine drinking. There were a few dudes but the rest were quite tasty.

Vina Robles 2013 Estate Cabernet Sauvignon (18.00 Vina Robles wine club)
This might simply be my favorite Cabernet. Everything about it is perfectly balanced for my palate. Fruitiness and jam are coupled with nice mouth drying tannins to give a long satisfying finish. Tasting notes: "Full-bodied with cherries and hints of licorice; juicy, sweet and textured tannins linger into the finish" Overall I agree with the notes except for the licorice and cherry. There seems more of a blackberry taste to me. The sweetness comes through as more of a subtle jam to me. If you like a sweeter/jammer Cabernet with very substantial tannins I would say to give this wine a try. For the money it seems like quite the bargain for it's quality. I usually stock up on some bottles with our wine club orders. We enjoyed it with some BBQ'd steaks and it made for a wonderful meal.
Layer Cake Primitivo aka Zinfandel 2013 (12.99 Total Wine)
I usually like Primitivo wines as they are jammy and bold much like a California Zinfandel. In this case the Layer Cake is a disappointment, definitely not my favorite Primitivo. On the nose there was not much of an aroma, but when I really concentrated it seem to had a "air mattress" smell that our daughter Kristina was able to identify. The taste was better than the "air mattress" aroma but not overwhelming and in the end I did what I do not do very often I poured my last glass down the sink (guess that about sums it up). Tasting notes: "Big, inky-black fruit, spice and white pepper; layered and rich in the mouth with jammy black cherries, truffles, espresso and a dense, creamy texture" There is jam, black fruit, and white pepper spice. Tannins are very present for a chalky finish. All in all a very disappointing bottle of wine, and not one that I will being buying again and I would be very hesitant to buy any Layer Cake wines.
Note: "Carole Meredith of UC Davis, the most important genetic academic in the world of wine, has confirmed Primitivo and Zinfandel have identical DNA. Primitivo and Zinfandel; however, have not been officially defined as synonymous by the TTB." This was the first I had read about Primitivo and Zinfandel being the same. When I think about it there are similarities in the wine, jammy, fruity, and full bodied. Both grow in hotter regions (Southern Italy and inland California).
Michael David 2014 Earthquake Zinfandel (22.49 Total Wine)
A very enjoyable Zinfandel which was a birthday present to myself. What is notable about this wine is that the vines the grapes are harvested from are in a Lodi vineyard that was planted around the same time of San Francisco's great Earthquake of 1906. I have had this Zinfandel a few times since tasting it last year at the winery. It is an older school Zinfandel that does not try to overpower you with jam. There is a very nice level of jam, coupled with fruit, spice, and tannins for a long finish. Although drinkable when opened, this is a wine that opens up very well with some air time. It is very interesting to see how the taste of this wine changes if you take your time drinking a glass. Tasting notes: "The 2014 Earthquake Zin is chock-full of fresh sage, huckleberry, and pepper. It will tantalize your taste buds with attractive berry fruit up front, and finishes with a hint of licorice and spice." Not quite a 5 star wine for my rating but a very strong 4 star wine that I will continue to buy as a treat.
Dry Creek Zinfandel Heritage Vines, 2014 (13.99 Total Wine)
This is the first wine I have tried based on reviews from the Good Cheap Vino site. In their best bargain red wines of 2016, http://goodcheapvino.com/best-bargain-red-wines-2016/
, the Dry Creek Zinfandel was a recommendation. Usually the wines reviewed on their website are at Costco or other California retailers so I cannot purchase them, but this one was available at Total Wine here in MN. Right out of the bottle with an aerator this is a very enjoyable wine. It does tame down a bit with time in the glass. Tasting notes: "On the palate, brambly flavors of ripe boysenberry and spicy dark chocolate come forward. The wine is complex, with bright acidity complimented by notes of berry syrup and mocha. The tannins are silky and smooth to lend a round, rich mouthfeel. From start to finish, this remarkable wine offers refreshing acidity paired with excellent structure." I would agree with most of the notes, it is definitely a wonderfully complex wine that lingers for a long time. I would disagree with the silky and smooth tannins, I felt the tannins were fairly aggressive and very present giving a chalky finish. For me, this is actually a good thing since I enjoy that in a red wine. If you like your Zinfandel less jammy and spicy this would be one to try. At $13.99 a bottle this is definitely a stock up wine for me. Sad part is that the Total Wine website is telling me my local store is out of stock! As I sit here I am amazed at how long the finish has continued from my last sip many, many minutes ago.

Los Haroldos Mendoza Reserva de Familia Malbec 2013 (13.99 WTSO)
A very enjoyable "bright" Malbec. Very fruity with some jam, a bit unusual for a Malbec. There is decent level of tannins leading to a medium long finish. Tasting notes: "Aroma: Complex aroma of berry; cherry, plum and raspberry flavor stand out as they combine with wood not especially chocolate and vanilla. Mouth: Unctuous with ripe tannins; very well-balanced, good astringency and acidity." I would agree with the tasting notes except the ripe tannins. Compared to many other Malbecs the tannins are fairly understated to me. I think I would agree more with the tasting notes from Decanter which rated this wine 95 points. "Elegant palate, with some shiny crunchy red fruits supported by chalky tannins and a touch of invigorating briny minerality. Stylish wine, with an impressive tension and a long final freshness." Not sure I would rate it 95 points but a very good wine to enjoy and I will be on the look out to pick up a few more bottles as it seems we are going through the 4 bottles I ordered fairly quickly.
Caleo Primitivo Salento (9.29 Total Wine)
Right out of the bottle this is a pretty tart wine, but after some air time the tartness goes away and it develops into a very nice Primitivo. Next time I will aerate and let sit in a pitcher for a while. Tasting notes: "INTENSE-PLUM-SPICE-MEDIUM-BODIED, loads of sweet, succulent fruit, and has a velvety-textured, seamless finish." Once the wine is aired for a while these notes are pretty on target, with the addition a subtle jamminess at first taste. At the price point I can get it locally I will be buying some more bottles to enjoy.
Bogle Essential Red, 2014 (8.99 Total WIne)
This was my go to under $10 wine. Don't get me wrong this is a very nice wine for under $10 and would be 31/2 stars if I resorted to half levels. Lately I have found some other under $10 wines I would put ahead of it. There is a slight jammy sweetness to the wine, not too bad and quite enjoyable unlike the Apothic red wines that are too sweet for me. This wine blends Zinfandel, Syrah, Cabernet Sauvignon and Petite Sirah which looks like a good group of grapes to blend and the resulting wine is pretty good. Tasting notes: "Richly textured fruit of dark berries and black plums is nuanced by the flavors of juniper and dried herbs. The juicy, jammy fruit is framed with spicy cedar and hints of pipe tobacco and cocoa as the American oak lingers through the aging of 12 long months." Seems like a good description of the wine, the only taste I would argue with is the pipe tobacco. For me the dominate fruit is black plum. The 12 months of aging gives a nice dry finish in the mouth. A good wine to bring to a dinner party if you do not want to spend a lot of money and still provide a good drinking wine for a vast range of palates.
The Waxed Bat Reserve 2014 (11.52 Wall Street Journal Wine Club Holiday Reds)
I am a big fan of Argentine winemaker Rodolfo (Opi) Sadler. The Waxed Bat Reserve is a blend of Cabernet Sauvignon and Malbec that are aged for 12 months in oak making this a wine with a solid backbone and tannins. Tasting notes: "aromas and flavors of ripe blackberry, black currant and plum, backed by attractive smoke and vanilla notes." I find this wine to be quite bright to start, which then leads to a chalky/tannin finish in the mouth. The finish is very long and develops a spiciness towards the end. The nose is quite nice and really continues into the mouth and then the wine continues to evolve. I have quite a few in my cellar if that tells you anything. Julie summed it up: "That is a really good wine"
AVA Grace Red Blend (7.99 Total Wine)
As mentioned in my review of their Merlot we tasted this winery one weekend and I thought it would nice to try the red blend. Julie had mentioned she like the red blend more than the Merlot, I did not taste the red blend that day. I would agree with Julie that the red blend was better than their Merlot and is a nice smooth drinking wine, especially for $7.99. Tasting notes: "notes of blackberries and raspberries, with hints of spice. The palate is clean, with flavors of cranberries, roses and a touch of rhubarb. A lingering finish is touched by notes of vanilla and dark cherries." Not sure I tasted all that complexity in this wine. For me the rhubarb might be what came through the most, and it had a medium level of fruitiness, a bit of jam, no spice to me, all coupled with a medium finish. If you looking for a lower cost wine that drinks above its cost and is not sweet like many lower cost wines this would be a good wine selection.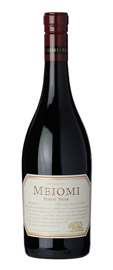 Meiomi Pinot Noir 2013 (16.17 Sarrack's)
We had really enjoyed this wine at a restaurant in Englewood Florida and I finally got around to buying a bottle. Very glad I did, seems I might have a new Pinot Noir favorite. It is big and bold with jam, maybe a bit outside the taste profile of a typical Pinot Noir. Very bright to start with fruit and jam. After a bit it changes to almost a buttery feel and taste, and has a long finish with some tannins showing up. Tasting notes: "A rich garnet color with a ruby edge, the wine opens to reveal lifted fruit aromas of bright strawberry and jammy fruit, mocha, and vanilla, along with toasty oak notes. Expressive boysenberry, blackberry, dark cherry, juicy strawberry, and toasty mocha flavors lend complexity and depth on the palate. The well-integrated oak provides structure and depth seldom seen in Pinot Noir." I would agree with all the notes, and add that is a wine that has a very enjoyable aroma. If you want a Pinot Noir with finesse this is not your wine, but if you want something bolder I would recommend a bottle. You can bet I will be buying more bottles. Note: It seems the 2013 vintage is getting harder to find and some people seem to think later vintages are not as good. I have a bottle of 2015 to try and will see.
Encantado Napa Valley Cabernet Sauvignon 2014 (21.99 WTSO)
A very enjoyable Cabernet. Moderation is the key to this wine, some jam not too much jam, good solid tannins but not too much. Tasting notes: "Flavors of dark cherry, fresh mint leaf, and toasty vanilla abound, backed by polished tannins that provide balance and structure on the lingering chocolatey finish." I like this wine but do not really agree with the tasting notes. My tasting picks up a mixture of plum and blackberry, and a hint of vanilla. The tannins and chocolatey finish are right on target. There is a bit of brightness to the wine to start which vanishes fairly quickly. I an era of big and brash Cabernets this wine is a refreshingly subtle Cabernet. A wine that I will be on the lookout to buy more bottles of.

Burgess Cellars Napa Valley Syrah 2011 (31.00 Silverado Market)
This is a really nice wine with tannins and a long finish. It does take some time in air to develop so give it an hour. Right out of the bottle one might be tempted to think it is a substandard wine. Tasting notes: "Spicy on the attack, and bone dry on the palate, with blackberries, black currants, plums, cooked cherries, oak, vanilla, licorice, earth, spices, peppercorn, chocolates, tobacco, herbs and spices. Long finish with firm tannins and black pepper." Seems like a pretty accurate description of this wine. At first I had rated it a 4+ star wine, but after buying 3 bottles and enjoying them on vacation I found that I really liked this wine and moved it to a 5 star rating. If you like a nice dry wine that has many level of taste and flavors I would recommend trying the Burgess Syrah. I am investigated how to get a case ordered.
Until next month, happy tasting and drinking.
Ratings:

Wow, knock my socks off good. A wine to stock up on.
A very good wine, also a wine to stock up on.
A good average wine that is very drinkable, one that I might buy
again.

An okay wine, one I can drink but would not run out to buy any of.
Not worth really drinking, most likely poured out.
Copyright 2017, Richard J. Moore
keywords: Wine,Wine Tasting, Wine Reviews
description: New wines tasting notes for April 2017