May Wines
June 10, 2017
Richard Moore
Wine of the Month
This month there were 3 wines and a port (see the 5 star wines) that could easily have been the wine of the month, but the Fawnridge Malbec kept coming to mind. It is unlike, in a very good way, any other Malbec I have tasted.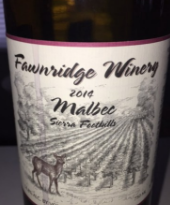 Fawnridge 2014 Malbec ( $21.00 Case purchase price)
Fawnridge is a winery Julie and I found a few years ago while driving through Auburn California on a Thursday. They were the only winery open for tasting that day, they are not open on Thursdays anymore, so we stopped by and were treated to a wonderful private tasting with the owner Stewart Perry. Early last month I stopped by on my way from Truckee to Sacramento and enjoyed another tasting. Although I could not get any his 2016 Sangiovese which was aging for a few more months, I did pick up an assorted case including this Malbec. This is a really great wine, currently my favorite Malbec and top ten red. Tasting notes: "Aromas and flavors of berry, black cherry and plum. A medium bodied wine that a rich color and smooth finish. " I would agree, there is a nice level of dark, ripe fruitiness that is coupled with an almost buttery smoothness. The finish has very nice dryness/chalkiness that lingers for quite a while. Julie and I really enjoyed this wine and it is one I will pick up more of when I can purchase some of their recent Sangiovese. If you are in the Auburn area I would recommend going for a tasting, as it is free and a great experience to talk to the owner and winemaker. Second bottle just as good as the first!

Michael David 2014 Freakshow Cab (14.97 Safeway)
I am a pretty big fan of Michael David wines (Petite Petite and Earthquake Zin) except for their Cabernets. When I was tasting at the winery last year I tried their Earthquake Cabernet and was not overwhelmed. Figured I would give their Freakshow Cab a try and again I am not overwhelmed. Tasting notes: "Bing cherry, toasted French vanilla bean and a hint of juniper berry on the nose. In the palate oak and fruit flavors are complemented with refined tannins and flavors of dark ripe plums, mission figs and toasted legumes." On the nose for me it is mostly an alcohol burn with a bit of cherry. In the mouth there is definitely oak and a bit of fruit. Mostly it is non descriptive and lays a bit limp. As you can tell I am not looking to purchase anymore of the Freakshow Cab. Too bad since it has such a cool name and label.
Note: As a double check I picked up a bottle of the Petite Petite the following day and really enjoyed it.

2013 J. Lohr Estates Seven Oaks Cabernet Sauvignon (10.99 Safeway)
This has been to be one of my "goto" wines as there is a lot to like about this wine. The nose is very pleasant, fruity with a good hint of oak and no burn. This continues into the taste, and it is quite fruity for a Cabernet. I pick up bing cherry and plum with a little tartness and maybe a bit of cedar. The finish is nice and dry lasting for quite a while. The fruitiness really lingers into the aftertaste. Tasting notes: "Intense fruit aromas of black cherry, plum and blueberry are accented by a barrel bouquet of hazelnut, dark chocolate and toasted pastry. Sturdy tannins strike the palate and finish with the hightoned fruit signature that typifies the Paso Robles appellation." I would agree quite a bit with the notes, and maybe the cedar I think I taste is a combination of hazelnut, dark chocolate and pastry? No matter, for a wine that you can get for close to $10 this is a very nice drinking wine and one I will continue to have on hand to enjoy. Not quite a 5 star but close.


Korbel Pinot Noir, 2014 (14.39 case purchase at Korbel)
This was a chance find when we were out in the Napa area this April. We needed some lunch before hiking in the Anderson Redwoods and the Korbel winery was about the last place we could get lunch. The winery is in a very beautiful setting and our lunch was very good. It was a surprise to us that Korbel makes still wine in addition to their more famous bubbly offerings. We had a glass of their Pinot Noir for lunch and really liked it, and headed into the tasting room for a free tasting after lunch. After tasting we sent a case of wine home since you can only buy the still wine at the winery. As we were told, the still wines are made with excess grapes from the bubbly stuff. Tasting notes: "perfumed floral and fruit character, weight and a bit of tannin, "forest floor" aroma. This wine shows the balance and complexity of Russian River Valley Pinot Noir. The generous fruit and rich texture of this wine will pair very well with a wide variety of foods." These notes are what I could pick off the Korbel website as there are no official tasting notes. I would agree with their comments. The nose on the wine is very pleasant and there is a bit of "forest floor" but not much as I picked up a more subtle fruitiness. The fruitiness nature of the wine comes into the taste, and for me I picked up a ripe cherry/plum combination with a bit of floral. The tannins become apparent after some time in the mouth and lead to a nice long finish. This is a really good wine (maybe 41/2 stars) at a very reasonable price point, you can bet I will reorder more when we finish up the bottles I had shipped home.

Mockingbird Hill Winery Dry Creek Valley Reserve Zinfandel 2013 (13.99 WTSO)
First bottle was horrible, almost like it was damaged. Ended up pouring it down the drain. Very harsh and metallic, not an enjoyable wine. Let's see if it continues, I requested a refund for the bottle and WTSO, the king of customer service, refunded my money for the bottle. I will update if the next bottle is any better. Second bottle was just a bad and WTSO refunded my money for all 4 bottles in the order, I think they may have been getting a fair amount of refund requests on this wine.

Meiomi Chardonnay 2014 (14.99 Total Wine)
Based on how much we liked the Meiomi Pinot Noir I thought it would worth trying their Chardonnay. Unfortunately, their Chardonnay just lays flat with not much going on. There is a little bit of citrus and a little bit of butter, but mostly there is not much of anything. Tasting notes: "Smooth, opulent layers of lemon peel and stone fruit are heightened by sweet smells of crème brûlée, butterscotch, baked apple, shortbread, roasted marshmallow, and spices. The mid-palate is fleshy and rich, followed by a clean, mineral finish." As you can tell I totally disagree with the tasting notes and this wine is barely worth drinking. I did actually pour the last glass down the drain. No repeat buy for me, and it goes to show that just because a winery does one wine well it does mean all their wines will be good.

Concannon 2014 Reserve Grenache (19.60 Concannon Wine Club)
After a couple of really bad wines I was ready for something good and this wine delivered. On our current trip to California I had this wine at the Underdog wine bar at the Concannon Winery and really liked it. Upon returning home I tried to find someplace to pick up some bottles and the only place to get it was directly from Concannon. Since we tend to like Concannon wines and go to the winery when we are in the Bay Area I decided to join the wine club and get 30% off a case order. Upon receiving my order I opened up a bottle to enjoy and immediately could remember the wonderful aroma and taste of this wine. A fruity, spicy, and long lived wine that there is much to like about. Tasting notes: "An enticing medium-bodied wine with sweet spiced aromas of cinnamon and hints of red currant. This Grenache is loaded with layers and layers of juicy fruit- raspberry, blueberry, and plum unfolding on the palette framed in smoky oak. This wine reveals a lush, lingering finish with a creamy texture followed by notes of chocolate. " I would agree with the fruits, and the many layers of this wine. For me the spice is more of a white pepper than cinnamon. Tannins are very present in this wine and the finish just seems to go on and on maybe with a note of chocolate but very subtle. Glad I ordered 8 bottles of this wine to enjoy. It might be my favorite Concannon wine, although I did order some Livermore Valley Petite Sirah in the order.


Korbel Zinfandel, 2014 ($14.39 case purchase at Korbel)
Another wine from our visit to the Korbel winery, see my review of their Pinot Noir above for the full story. This is a very nice Zinfandel that is different in a good way. For me this is a very spicy Zinfandel, yes there is dark fruit and some jam, but it is the spice that really stands out. Seems almost like a Spanish wine in character. Tasting notes: "intense fruit and berry flavors. deep black cherry, blackberry, black pepper and cola flavors." I would agree with the notes and they seem right on target although a bit brief. The cola is really apparent on the nose, during the taste I would almost note a bit of leather. The tannins and finish are medium, and last for a while but diminish faster than I would expect. If you like a spicy wine I would highly recommend giving this a try. When I finish the bottles I had sent home I will try to pick up some more if there are any left.

Château Valfontaine 2015 Bordeaux (8.99 Haskells)
This is quite the fruit bomb and much lighter than I would expect from a wine that has 50% Cabernet and 20% Cabernet Franc. There is a lot of finesse in this wine, and it goes through many transformations in the mouth and has some subtle tannins to back it up. Tasting notes: "Deep ruby color, fine red fruit nose with spicy mark. Soft mouth with well-balanced and mellow tannins." For the price this is a really nice wine, although a bit lighter and fruitier than I would usually drink but it makes for a nice sipping wine on the deck. If you like your red wine fruity and light this might be a good wine to try. I almost think it might be a good summer wine if you slightly chilled it. I will be picking up a few more bottles, especially at this price.

Vina Robles 2014 Petite Sirah Estate (23.20 Vina Robles wine club)
If you like you Petite Sirah full bodied with substantial tannins this is a wine for you. As you may figure by now that is the way I like my Petite Sirah. This estate wine from Vina Robles is a very good Petite Sirah, almost a 5 star wine but not quite, one of my favorites although it comes in just behind Mockingbird Hill's Petite Sirah. This is a more refined Petite Sirah compared to the Mockingbird Hill with less chalkiness in the mouth. Tasting notes: "Aroma: Boysenberry with notes of dark chocolate and allspice, Taste: Full-bodied with juicy dark fruit flavors and chewy tannins that unfold into a supple finish" I am agreement with the tasting notes, and would add that the spice comes into the taste after some time in the mouth. All in all a very solid and enjoyable Petite Sirah that I would consider getting some more of next time I order from Vina Robles. One last note, this wine develops nicely with some air so I would recommend opening and letting it breath for a bit. The notes from Vina Robles say it will age through 2026, maybe I will tag the other bottle I have to be opened 2020 or so to see how it ages.
Concannon 2013 Reserve Petite Sirah (29.40 Concannon wine club)
Tasting notes: "Intricate bouquet of black currant, pink peppercorn and chocolate with added rich, velvety roasted coffee at the close of the nose. Firm tannin structure remains balanced with notes of cranberries and blackberries. More chocolate and vanilla is featured on the palate with loads of oak on the finish." Overall, I am quite disappointed with this wine at this point. I believe that it is too young and needs some more years in the bottle to age. I will be testing this theory by putting the other two bottles in my cellar with a tag to try in 2019 and see how it ages. Right now it is too brash and harsh to really pick out the flavors. I do taste a hint of cranberries and definitely there are some heavy tannins. Even after letting it air for over an hour the harshness continues. Hopefully this will mellow in a few years. I have been a big fan of the Concannon Reserve Petite Sirah from Livermore valley so I hope I am right.


Korbel Chardonnay, 2015 (11.99 Case purchase)
Both Julie and I really liked this Chardonnay when we tasted at Korbel, and our first bottle at home is no different. This is a really good Chardonnay that has many different layers. We both agree it is currently our favorite, nosing out the Vina Robles Chardonnay. On the nose I pick up a bit of pineapple, vanilla, and butterscotch. Tasting this wine is really fun as it changes in your mouth. Starting with citrus/pineapple/apple, going to a vanilla, and finishing with a very long citrus/butterscotch/buttery taste. The finish is really long and enjoyable. Tasting notes: "bright fruit, minerality and a light touch of smoky oak" I would say all that and more. As you can tell Korbel is not real big on tasting notes. You can bet I will be buying more of this.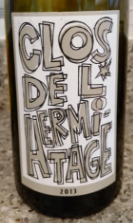 Clos De l'Hermitage 2013 (20 Euros at winery near Tavel)
This is a wine I brought back from our bicycling trip last May (2016) in Provence. We bicycled from Villeneuve-lès-Avignon to the winery in some 40+ MPH winds. At the winery we enjoyed a wonderful lunch and very generous tasting/drinking of wine. Wine information and tasting notes: "This 3.5 hectare vineyard, located in the famous "Quartier de la Chartreuse de Villeneuve-les-Avignon", has been owned by the Formula 1 race car driver Jean Alesi since 1995. It is managed by Château de Ségriès.

This wine is a blend of 33% Grenache, 33% Syrah, and 33% Mourvedre sourced from 40-year-old vines. It was fermented in concrete vats then aged for nine months in 5% new oak barrels. The wine is a very grapey color in the glass. There is a light nose of tightly packed black fruit, dried herbs, pepper, and licorice. In the mouth there are tight-grained blue fruit, fine, powerful tannins, and a little strawberry flavor breaking loose. With air the wine reveals pencil and pepper flavors along with the structure for aging." I would agree with the tasting notes overall, except for the strawberry. This is a very dry wine considering they only use 5% new oak and it is only aged in oak for nine months. In the mouth it is almost chewy and it leaves a long chalky finish with the pencil and pepper really coming through. I enjoyed this wine during our lunch at the winery and enjoyed this bottle. Julie did not really care for it. Would I buy more? It would depend how much it was selling for.


Korbel Port SC (16.79 Case buy)
A wonderful and very enjoyable Port. Tasting notes: "a ripe and opulently rich wine." I would agree with these brief notes, it has a very sweet condensed date fruit taste with quite a fortified kick from the brandy they mix into this port. All in all a repeat buy.
Until next month, happy tasting and drinking.
Ratings:

Wow, knock my socks off good. A wine to stock up on.

A very good wine, also a wine to stock up on.
A good average wine that is very drinkable, one that I might buy
again.

An okay wine, one I can drink but would not run out to buy any of.
Not worth really drinking, most likely poured out.
Copyright 2017, Richard J. Moore
keywords: Wine,Wine Tasting, Wine Reviews
description: New wines tasting notes for May 2017