Tour du Mont Blanc
April 20, 2019 (Work In Progress)
Updated: May 4, 2020
Richard Moore
This is a collection of information, thoughts, and comments on our amazing Tour du Mont Blanc, TMB, we did in September of 2018. If you want to see the photo albums of the actual trip and routes here is the link:
http://themnmoores.net/Photos/BlogPages/TourduMontBlancPhotos/TourduMontBlancPhotos.html
This trip was something my brother Darrell started talking about after he had looked at a list of the top 10 hikes to do before you die. When Julie asked Darrell at my Mom's 80th birthday party where we were thinking of going backpacking in 2018 Darrell responded that he wanted to head to Europe and trek the Tour du Mont Blanc. After that, it just seemed to pick up steam and we ended doing it.
Planning
Darrell set about researching the trek and potential companies for the planning and execution of a trip. He found a small company that was highly rated and focused on the TMB and Patagonia, Pygmy Elephant. After a few emails back and forth Darrell and I had a phone conference with Andrew Delmenhorst concerning our wants and desires. He suggested their typical self-guided counter-clockwise route that starts and finishes the hiking in Chamonix (at the Planpraz gondola station). We set the guidelines for staying in private rooms and nicer hotels if possible. He felt this was possible with only a few nights in nicer mountain refuges. We had private rooms in all but 2 of the mountain refuges, but in those two we had a 4 person room for the four of us. We had to spend the night in Les Chapieux instead of taking the high route to Refuge des Mottets to get the accommodations we wanted. We also decided to have a second rest day in Champex which was a very good idea as 6 days of hiking without a break would have been hard and Champex is a beautiful spot to spend a day. Andrew was very good at communicating and adapting to our changes and monitoring issues. When we booked, the Hotel Edelweiss in La Fouly did not have private rooms available so Julie and I opted to book a room in Champex with the plan of taking the bus from La Fouly to Champex. Luckily Andrew was on the Hotel's list and they contacted him when a private room for all of us opened up. I was very glad as La Fouly is a beautiful setting to spend the night and the hike from there to Champex was beautiful and different from most of our days of hiking. It remains a highlight of the trip. Here is our final itinerary.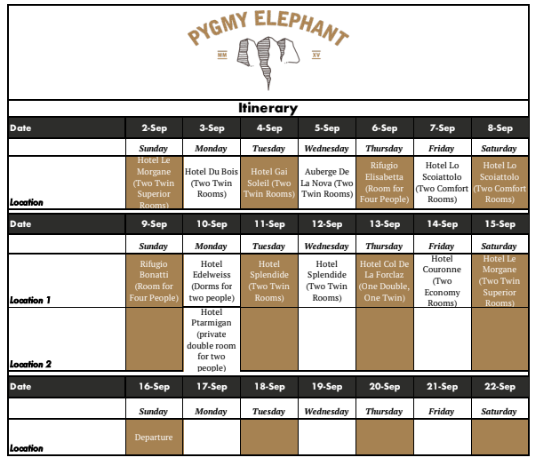 Later in the summer we added extra nights in Chamonix at the end of our hiking and upgraded the extra two nights to Junior Suites (a nice way to celebrate a successful TMB). This was also to be to spend time with Darrell's wife Audrey who would be meeting us in Chamonix at the end of our trek. I would highly recommend Pygmy Elephant if you want to do a self-guided TMB, and we did run into other parties during our hike that were also using Pygmy Elephant all with high accolades. I found Andrew's blog post of the route very useful:
https://www.pygmy-elephant.com/blog/tour-du-mont-blanc-guide-to-trekking-the-most-famous-route-of-the-alps
Beyond working with Andrew, I researched many of the options for routes and transportation for each day. We did get a very detailed document from Pygmy Elephant concerning each day and GPS information for the route a few weeks before the trip, but I feel my research helped me be well prepared for the trip. If you would like to see the gory details here is a document with it.
http://themnmoores.net/RichBlogs/2019/TMBDetailedPlanning/TMBDetailedPlanning.html
We also spent time watching YouTube videos of people's TMB adventures. Here are some of the better ones we found and enjoyed. The first link (Bigfoot) has a really good FAQ video that we found helpful.
https://www.youtube.com/playlist?list=PLYYwNtuG8QTijEUs-Id2husoZCmM6g77o
Here are a couple more recent videos
I did not find the classic guide book for the TMB, "The Tour of Mont Blanc: Complete two-way trekking guide" by Kev Reynolds to be all that useful. It stayed in my luggage for the whole trip as did the two physical maps we received from Pygmy Elephant.
Hotels and Refuges
Overall we were very happy with the hotels and refuges we stayed in and here are some brief comments about each.
Le Morgene (Chamonix) - The first night our room was a bit dirty and just okay. Not sure if the UTMB had things a bit out of sync. The final two nights in a junior suite were wonderful and a great way to end our TMB. The service was outstanding and the breakfast very good. The hotel location is perfect, close enough to walk to everything but a couple of blocks off the main tourist area.
Hotel du Bois - Very nice and an incredible setting with great views from the room balconies. Dinner and breakfast were very good. Service was top notch. It was nice to be able to select dinner from selected menu items. Breakfast was good.
Hotel Gai Soleil - One of our favorites, the setting is amazing and the service incredible. We could have stayed here for a few days. The food was wonderful with a great dinner. When we could not get a shuttle to the trailhead at Notre Dame de la Gorge till later in the morning, David(?) the owner volunteered to drive us early in the morning. The owners do an amazing job of being cheerful and attending to guests' needs. The highlight was sitting in the garden area enjoying beer, wine, and a cheese plate.
Auberge de La Nova - This turned out to be our least favorite lodging. Not bad but things just seemed a bit off. All the rooms on a floor share a common toilet that was outside our room so there was a lot of noise as people used the bathroom all night. The rooms were very small, so much so we had to put our luggage in the 1/2 bath at night so we could walk in the room. The owner is not the friendliest of folks. Dinner was good, breakfast fairly minimal. We did talk to folks that stayed at the other place (Les Chambres du Soleil?) and really liked it. Given the lack of choices in Les Chapieux, La Nova was a good place and worked out. Refuge Bonhomme looked pretty minimal and dirty so glad we did not stay there, although a lunchtime beer was nice after climbing 4000 vertical feet.
Refugio Elisabetta - Crowded and bit dirty, it rained right after we got there and continued throughout the evening. I am really glad we stayed here as it is truly an experience. The 4 person room we had worked out very well and the bunks were very solid and comfortable. Even though we were by the bathrooms, you could not hear any noise. I wish it had been sunny out so we could enjoy sitting outside and soaking in the view of the glacier that is above the refugio, but we did get to see enough to know how amazing the setting was. Service was good, dinner great, breakfast minimal. Be sure to try and get the Elisabetta early as the later arrivals complained of cold showers. We all managed to have hot showers!
Hotel Lo Scoiattolo - This is an amazing hotel and Courmayeur is the perfect place for a rest break. They had the best breakfasts of the trip, huge chocolate-filled croissants. When we asked about a picnic lunch they said to just make one from the breakfast food. Outstanding service and location.
Refugio Walter-Bonatti - This is definitely the Cadillac of Refugios. Amazing setting, very clean, good bathroom/shower facilities. The room we had for the four of us worked out great, with one bunk and two twin beds. Dinner was very good and breakfast decent. The bag lunch was very good and we enjoyed it on Grand Col Ferret.
Hotel Edelweiss - This turned out better than I expected. Not sure why, but I was not expecting too much. The view and setting are amazing. Dinner was good and the same with breakfast. The lady that runs the hotel did seem to be a bit tired of dealing with hikers (we were there in early September). We had a two-room set up with a shared bathroom. The two rooms had doors, so Julie and I did not keep Darrell and Brennan awake with our snoring. The view of the glacier was amazing from the rooms.
Hotel Splendide - This was a favorite for Julie and me. The food was outstanding, setting amazing, and the rooms big and nice. I think we upgraded to a junior suite at Hotel Splendide and that was well worth it. Champex Lake was a very nice relaxed place to have a rest day and take the chairlift up for a hike and view.
Hotel du Col de la Forclaz - A bit minimal and small, but it was clean and the staff a lot of fun. The food was very good. Luckily we were able to get our reservation double bed switched to two twins, which worked out to be a bunk bed. Having a bunk bed made our room feel bigger. Bathrooms were shared and not segregated by sex. The showers and toilets had stall walls, but this made for interesting fodder when Julie encountered a young man in only his compression underwear in the morning.
Hotel de La Couronne - A nice place and setting. Julie and I managed to get a corner room with a view of Mont Blanc and Glacier d'Argentiere. The food was good, dinner and breakfast. The staff was friendly and helpful. The room was good, not great.
The places we stayed at were not on the cheaper side, but we wanted to enjoy better accommodations rather than trying to save money. There are many options available, but we did hear some horror stories from people that did not plan ahead or tried to save too much money. At our age, sleeping in a common bunk area has no appeal.
Hiking
Julie and I thought day 3 was the toughest, 4000+ vertical feet up was a mental challenge as it just kept coming at you. When you thought you were cresting the Col you would look and see another major climb ahead. The rest was pretty manageable and we made good time allowing us to stop for lunch (we always got a picnic lunch starting on day 3 since we found our timing for the refuges was not always at lunchtime and we did not want to hassle with getting served for lunch, this allowed us to enjoy lunch with very scenic views) and still make our destinations under the times. The distances on the TMB are listed in time and Julie and I were typically 10-20 percent faster than the listed times. Of course, Darrell and Brennan were even quicker.
For some reason, the hike from La Fouly to Champex turned out to be much harder than expected. The actual mileage turned out to be 9.7 miles (tracked using Ride with GPS) and the climb into Champex was in the sun and it was getting pretty warm. The rest of the hikes were pretty spot on for the listed mileage based on my GPS tracking. On our last day, we opted to hike down the valley from Argentiere to the La Flegere cable car as the high route was closed due to rock slides, and Julie and I were not going to do the ladder route. This was a pretty nice early morning hike and we hiked to Lac Blanc from the top of the cable car. The hike to Lac Blanc turned out to be much harder than expected and maybe the toughest hiking of the trip. But the views were worth it! We also took the low route into Courmayeur down Val Veny, which turned out to be stunning with the jagged mountains which reminded me a bit of Yosemite valley.
To sum up a TMB hike, you hike uphill (2000-4000) vertical feet to a Col to start your day. Then you hike back down the same vertical footage to your next hotel. Once at your hotel you order a tap beer and enjoy the view. The hiking is strenuous and is equal to any other wilderness hiking I have done, but the reduced weight and knowing a beer and dinner/wine is awaiting you make it more bearable.
Documents/Maps/GPS
Pygmy Elephant provided us with documents (day by day and transportation options) that were very useful. Having them in digital format (PDF and DestinationBook) was great, and meant we did not have to carry the documents with us. I used Ride with GPS to plan each day's route and printed out daily maps which had more detail than the topo maps provided. You can use an Open Street Maps outdoors map base in Ride with GPS which has trails, metric elevation topo lines, and most importantly the TMB marked. For me, having the digital form of the documents was a must-have as I could see right away if we were on the right trail or not.
Pygmy Elephant provided us with GPS coordinates for the whole route which was great. We also got a year free use of the GAIA App for navigation. I exported the coordinates from GAIA and imported then into Ride with GPS and that worked great. For me, the GAIA app was clumsy and seemed a bit buggy. The only time we took a wrong turn on our TMB was due to the GAIA app not working properly. I was able to figure it out quickly by looking at the Ride with GPS App and we ended up not doing any extra miles on day 2 due to the wrong turn. By day 4 I stopped using GAIA.
Having access to a local Pygmy Elephant resource available during the trip (via WhatsApp) was nice and reassuring.
Equipment
More to come
Copyright 2020, Richard J. Moore
keywords: Tour du Mont Blanc, TMB, Hiking, Trekking, France, Italy, Switzerland
description: Notes, comments and other thoughts on our 2018 Tour du Mont Blanc