January Wines
June 9, 2020
Richard Moore
Wine of the Month
I have been a fan of the Vina Robles Cabernet Sauvignon for quite a while. The 2017 vintage takes it to another level and is maybe my favorite Cabernet Sauvignon and at the under $20 price I can get it from either Vina Robles or Wine.com for it is a real deal.
Vina Robles 2017 Cabernet Sauvignon ($19.50 Vina Robles wine club)
This new vintage continues a history of amazing Cabernets from Vina Robles and improves on the wonderful 2016 vintage. Dark in the glass. A very nice aroma of jammy blackberry, raspberry fruit mixture with no sting. A bit of jam in the mouth, not as jammy as the nose would indicate and not as jammy as the 2016 vintage. A very velvety mouthfeel. Nice ripe dark blackberry fruit. Gets quite spicy in the mouth. Cedar and pepper. Dark chocolate and tannins combine in a nice dry finish that is not overpowering and is pleasantly long. A repeat buy? Yes, I am very happy with this vintage and have a good case stocked away in my cellar. I would say the best price/taste Cabernet out there and is my go-to Cabernet. My son Steve agrees with me and is buying quantities from Wine.com. Wine notes: "color: Garnet aroma: Cassis, dark cherries, licorice and cedar, with hints of blueberries and mocha taste: Full-bodied with cassis and dark cherries, mocha notes, chewy textured tannins" Overall, I would go with those notes. Highly recommended!

Franciscan 2108 Monterey County Cabernet Sauvignon (13.99 Costco)
Dark in the glass. Bing cherry aroma with a bit of forest floor. Bing cherry fruit with a touch of blackberry. Very earthy with floral herb spiciness. Medium dry finish with a touch of tannins, medium-long. Repeat buy, no as there is too much bing cherry for me, and a lack of depth that I want from a Cabernet. Notes: "Vivid garnet in color with perfumed and inviting aromas of rich dark cherry, plum, chocolate, and layered undertones of vanilla, clove, black pepper, and sage. A well-balanced expression of fruit and oak elements fills the palate with cassis, bright cherry, dark berry, toast, cedar, and a hint of vanilla. Round but structured, with well-knit tannins that impart texture and length on the finish." Not getting all of that but do get some of the elements. Disappointing, I had not noticed it was a Monterey County bottling or I would have skipped buying it.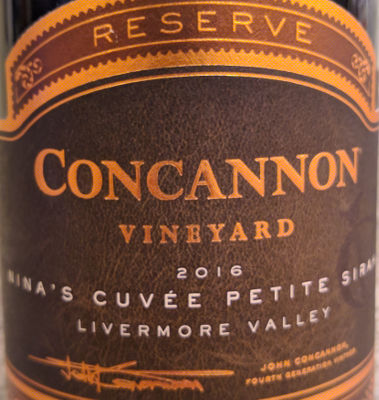 +++
Concannon 2016 Nina's Cuvee Petite Sirah ($30.40 Concannon wine club)
Very dark in the glass. A bit of a sting, and a nondescript aroma. Chocolate, coffee, and blackberry in the mouth with a bit of jam. Mouth drying, chalky tannins develop with a long finish. Julie and I liked it. Repeat buy, yes. Wine notes: "Intense aromas of blueberry pie, baking spices and cherry kirsch. Beneath the fruit you find brown sugar and maple. Surprisingly bright and crisp acidity highlights the wine, which is followed by notes of earth, herbs, and chocolate. Tannins and spicy oak enhance the flavors as they frame the wine for a smooth, sultry finish." Overall I would agree.
Vina Robles 2018 Mistral Vineyards Chardonnay (18.70 Bright Wines)
Quite the aroma of green apples and pear. Very bright in the mouth with a green apple, and pear taste. Transitions to a nice buttery finish. Repeat buy, yes! Wine notes: "color: Bright golden straw aroma: Golden apple and honey with hints of lemon and caramel taste: Full-bodied with flavors of apple and caramel leading to a rich finish" Sounds about right.
The Stump Jump 2016 Shiraz ($9.99 Bright Wines)
Dusty tart blackberry aroma. Dark in the glass, no sting. Velvety mouthfeel to start, jammy dark fruit. Quite a spice develops. Mouth drying finish that is long. It does become a bit watery in the finish. Repeat buy, no as I thought it was just okay and Julie was not hot on it. Wine notes: "The wine starts out with a deep ruby color. On the nose, the wine is full of cherry and blackberry fruits, which continue on the palate. What sets this Shiraz apart is the intensity of this ripe fruit, which is just as intense on the finish as when the wine first hits your tongue. The finish has a mineral-graphite edge that balances the fruit nicely." Seems like a good description, especially the mineral-graphite edge. I am beginning to think I am a fan of the smoky oaky California Syrahs instead of Australian Shiraz which tend to be minerally.
Currant Bun 2018 Red Wine (Wall Street Journal Wine Club $59 six-pack special)
Very nice. Dark in the glass. Jammy bing cherry aroma with no sting. Jammy and velvety mouthfeel. Bing cherry and raspberry fruits, and a touch of candy. A moderate white pepper spice develops. Medium dry finish that is pretty long. A fun wine to drink by itself. If you feel like a jammy, fruity wine to sip and enjoy this is a good candidate. Repeat buy, yes. Notes: "Crafted with Cabernet Sauvignon and more, Currant Bun brims with juicy black currant and warm baking spice characters. Rich and succulent, it's a treat on its own or with roasted meats or firm, aged cheeses." I can agree.

Bedrock Wine Company California Old Vine Zinfandel 2017 ($26 wine.com)
Lighter in the glass than I would expect. Somewhat translucent. A hint of brightness with raspberry and blackberry aroma. No sting. This is a bright and spicy wine. Some velvety mouthfeel with raspberry fruit. It quickly becomes very bright and spicy with a touch of cola, white pepper, and cumin. The finish is dry and very long, mouth-drying dry. Not much oak to speak of. The spice is a bit overwhelming. Repeat buy, no as there are many other Zinfandels well under this price point I would prefer. Notes: "medium ruby in color and opens with fantastic aromas of mixed berry preserves with spiced peaches and cranberry, potpourri, dried hollyhock, rooibos tea and oodles of exotic spices. Medium-bodied, it offers intense tricolored flavor layers with grainy tannins and juicy freshness, finishing long on a peachy note. A perfumed, restrained and delicious style." Mostly in agreement and after reading this, I can taste some peach in the finish. BTW these notes are from Robert Parker, and I think his rating of 92 is too high.
J. Lohr 2016 Paso Robles Cabernet Sauvignon (11.99 Costco)
This used to be a go-to wine for me. After drinking my first sip of this vintage all I can say is wow, why did I stop getting this wine. Very dark in the glass. Aromas of blackberry and oaky tannins. No sting. Very nice mouthfeel, blackberry jam. You can definitely tell it is from Paso Robles. Pepper and cola spices with some chocolate. Oak and tannins are present but not overstated. Long dry finish with all elements present. Repeat buy, yes. I would say the Vina Robles Cabernet Sauvignon above is definitely better but is $7 a bottle more expensive. This is a real quality wine at a great price that is widely available. You will impress your friends with this wine while not spending too much. Wine notes: dark and dense to the rim of the glass. Layered aromas of black currant, blueberry and cherry are accentuated by an authentic barrel bouquet of hazelnut, cocoa powder, and dark roasted coffee. High-toned red berry fruit strikes the fore-palate, and follows with bright acidity and a full structure that is both dense and soft at once." Maybe?
Vina Robles 2017 The Arborist Estate Red Blend ($14.40 Vina Robles wine club)
Wow, what a really nice red blend. This could have been a wine of the month any other month. Dark in the glass. Very nice jammy boysenberry aroma with no sting. Jammy and velvety mouthfeel. Boysenberry/blackberry fruit. Medium dry finish with a touch of tannins that lingers for a long time. A bit of cedar and forest floor along with some mocha. Wine notes: "color: Garnet aroma: Cherries and plum with hints of juniper berry, fine tobacco and chocolate taste: Medium body with dark stone fruits, soft textured tannins into the finish." I might quibble a bit. Repeat buy, yes! And I have picked a good supply when Vina Robles was running a 40% off sale making it only $10.80 a bottle!!!!
Until next month, happy tasting and drinking.
Ratings:
Wow, knock my socks off good. A wine to stock up on.
A very good wine, also a wine to stock up on.
An average wine that is very drinkable, one that I might buy again.

An okay wine, one I can drink but would not run out to buy any of.

Not worth really drinking, most likely poured out.
Copyright 2020, Richard J. Moore
keywords: Wine, Wine Tasting, Wine Reviews
description: New wine tasting notes for January of 2020