February Wines
March 6, 2019
Richard Moore
Wine of the Month
With their 2016 Cabernet Sauvignon Vina Robles is back on my list of favorite Cabernets, especially at a $18 price point. The only other 5 star wine this month, Opolo's 2017 Mountain Zinfandel, was a very close second.

Vina Robles 2016 Cabernet Sauvignon ($18.20 Vina Robles wine club)
Vina Robles redeems themselves! After a mediocre 2015 vintage their 2016 Cabernet Sauvignon is wonderful. Very dark in the glass, there is a jammy and velvety aroma with dark earthy fruit. Fruit and jam coat your tongue, with a velvety feel. A medium level of herb spice develops. Nice long dry finish with very well balanced tannins. A leathery feel develops during the finish with all elements persisting. Wine notes:. "color: Garnet Aroma: Cassis, blueberry, cedar and anise, with hints of black olives and juniper berry Taste: Full-bodied with cassis and blueberry, licorice notes, chewy and chalky tannins". Not sure I agree, there might be a bit of blueberry but I am not picking up much. Repeat buy? You bet as this wine drinks quite a bit above it's price point.

Frey Natural Red, not sure of vintage 2016? ($9.99 Whole Foods)
Had this wine while eating at the whole foods in Sedona. Pleasant nose, bright raspberry fruit with a jammy sweetness. Starts a bit bland in the mouth. Some fruit and jam develops after a bit. A nice spice follows with a dry finish that last for quite a while. This wine might age well as I had corked a half drunk bottle and I thought the wine was better the next evening. Seemed like there was more body to the wine the following day. Maybe let it air for a good hour or more? Notes: "medium bodied, well balanced, and smooth, with a bright garnet hue. The finish is crisp and fruity. An excellent everyday red, carefully crafted with organic techniques." Not a lot to go on. Repeat buy, not one I would cellar but one I would pick up as the price quality ratio is pretty good.
La Bienvenida 'Barrel Select' Mendoza Malbec 2013 By Bernard Magrez ($14.99 WTSO)

Just happened to find this in my cellar and it is quite a nice Malbec. Fruity jam aroma with no sting. Velvety in the mouth, a touch of tannin dryness with jam and dark ripe black fruit. A long finish with jam, fruit and tannins persisting. Not much spice, but with air more spice does develop in the backend. Wine notes: "It's quite delicious right out of the gate with big expressive flavors of black cherry, lavender, dark plum, red berries, and sandalwood with touches of incense, Asian spices, vanilla oak and dark chocolate. This wine combines power and elegance with a stirring finish." I would agree except the spices, not really getting much. Repeat buy, yes as this is a solid 4.5 stars and especially at a 14.99 price point. Julie felt it was a bit bold for her.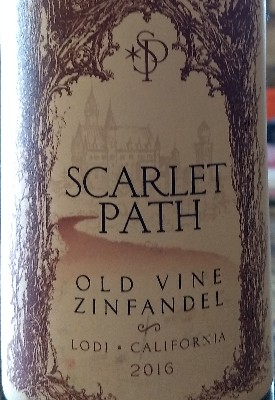 Scarlett Path 2016 Old Vine Zinfandel ($7.99 Aldi)

I had heard that Aldi carried some pretty good wines at a good price and in Wisconsin they sell wine in the Aldi stores. There is not much aroma and a bit of a sting. The wine is very light in the glass, a bit transparent. Jammy sweet coating of the tongue with dark cherry and blackberry fruits. A medium level of herb spice develops. There is a medium dry finish but not much in the way of tannins. Finish is sweet jammy fruit and decently long. Not my favorite Zinfandel as it is pretty tame, sweet, and light, but for 7.99 it is a decent buy and a wine one could use at a generic dinner party as it would be very drinkable by most and would not offend. Notes: "Notes of jam, blueberry, black pepper, cherry, plum, and licorice; taste candied fruitiness followed by spice and a smoky finish" Candied fruitiness is a good description. Repeat buy. no too sweet for me.

Villanella 2016 Pinot Grigio ($7.99 Aldi)

A bit skunky on the nose. Nice gold color. Bright on the tongue. Some pineapple fruit, and a bit of apple. Pretty long finish with fruit persisting. One dimensional. Notes: "Displays floral aromas and flavors of pear and Golden Delicious apples with bright acidity and a touch of mineral on the finish" I still swear by a bit of pineapple, but otherwise agree. Repeat buy, nope. On the bright side Julie made an amazing wine sauce with this wine for the raviolis we ate that night. Not overwhelmed with the wine from Aldi, and I have one more bottle to try.

Domaine Fond Croze 'Les Roches' Cotes du Rhone Villages Syrah 2012 ($15.99 WTSO)
100 percent Syrah. Aroma is a bit weird almost a bit skunky. After reading the notes I can pick out a bit of pie crust. A Very earthy wine with smoke, leather, and very dark fruit. Quite a bit of herbal spicy brightness. Medium dry long finish with the spice persisting. A wine that gets better with air so decant a good hour. Becomes more velvety with air time. Wine notes: This opens up with bold aromas of sweet dark plums and blackberry reduction, along with violets, spices, piecrust and crushed stones, which burst from the glass. On the palate this offers a round texture that is layered and nicely balanced adding a touch of underlying acidity that provides some freshness. The finish is long and polished leaving behind a generous dose of dark fruits and spices." Not sure I get any of the aroma. The taste seems pretty generic and I would agree with it. Repeat buy, no. For a couple of dollars more I love the Opolo Syrah a lot more.




Annadel Anni's Red Blend Sonoma Valley 2012 ($17.99 WTSO)

Very bright aroma with a bit of a sting. Herb Spice and tannins with plum/fig fruit. Long dry finish. Wine notes: "Bordeaux-style mosaic of Cabernet Sauvignon, Merlot, Cabernet Franc, and Petit Verdot. With mild plum and cherry notes and a delicious bouquet of fruit" Maybe but I was quite underwhelmed for the price. Repeat buy, no.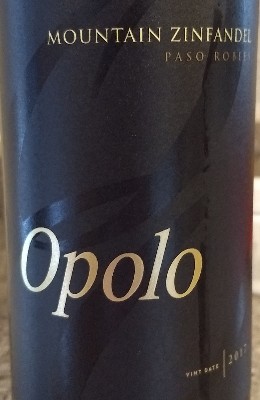 Opolo 2017 Mountain Zinfandel ($20.30 Opolo Wine Club)
Probably the best nose of any wine I have drank. It just dances in you nose with no sting. Jammy beautiful fruit, blackberry. Velvety in the mouth with a very dry finish, mouth drying. Perfect jam and black ripe fruit. Just a bit of spice, if I would have a criticism it would be that a bit more spice would be nice. Wine notes: "Aromas of fresh dew on a sidewalk, sweet tobacco and tea leaf - all while inviting you inside to try one of the patissier decadent plum cheesecake bars, drizzled with warm raspberry compote; all framed by a rich vanilla spiced latte" I think somebody got a little carried away with that wine description. Repeat buy, you bet as Mountain Zinfandel never fails to satisfy.
Until next month, happy tasting and drinking.
Ratings:

Wow, knock my socks off good. A wine to stock up on.
A very good wine, also a wine to stock up on.

A good average wine that is very drinkable, one that I might buy
again.

An okay wine, one I can drink but would not run out to buy any of.

Not worth really drinking, most likely poured out.
Copyright 2019, Richard J. Moore
keywords: Wine,Wine Tasting, Wine Reviews
description: New wine tasting notes for January of 2019