Citizen Gotham 24-7 Folding Bike Update
April 2, 2020
Richard Moore
Every month when I check the analytics on my website the blog post "Citizen Gotham 24-7 Folding Bike" has the highest number of views. Given the interest in knowing about this folding bike which we now own two of, I thought I would give an update on the bikes. I did sell my Miami folding bike a few years ago when I bought another Gotham for Julie to use. We continue to enjoy riding these bikes and I am still impressed with the bikes. Our original Gotham has over 2500 miles on it and I have had to do some repairs to it. Julie's newer Gotham has about 1500 miles on it and has not needed any work. We have routinely done rides of over 30 miles on the bikes and I have done a few 40+ mile rides. With the 24 inch tires and upgraded seats, we feel pretty good after a longer mileage ride. The ability to put the bikes one on top of each other in the back seat of our Camry allows us to do long road trips with the bikes and luggage. At hotels, we put the bikes on a luggage cart and bring them into the room. Here are our bikes last January while riding in Tucson Arizona.
As you can tell from the pictures we have added some useful accessories to the bikes and I will cover them separately.
Mirrors
We like to have mirrors when we ride so we can see cars and oncoming riders. The mirrors we use are easily put into the end of the handlebars every time we unfold the bikes. Taking about a minute total for each bike. The mirrors are available on Amazon. I believe I only had to remove the plug in the handlebar grip, but maybe I had to cut an opening with a utility knife.
Water Bottle Holders
On Julie's bike, there is a handlebar water bottle holder that can be taken on and off fairly easily. Although many times I leave it attached resulting in one broken cage so far. The handlebar holder is available on Amazon. On my bike, I have one holder on the crossbar where there are mounting holes. Julie did not care for it there as it was in the way when she would get on and off the bike. She is used to her women's frame hybrid bike and does not swing her leg up and over the saddle. I have also added a water bottle bag to my handlebar, and it works pretty well although it is pretty snug making it hard to get bottles in and out. I use it for carrying a spare water bottle to refill empty bottles. The pouch is also available on Amazon. The bag is nice since I can keep it on the handlebar when folding the bike without worrying about it breaking.
With the older Gotham, purchased in 1997, I have had to make some repairs and replace some parts. I will cover each separately.
Tubes
For some reason, the older bike has had issues with tubes. The original tubes blew out on our first trip with the bike and I figured they were just bad tubes as the failures where on the seams of the tubes. I replaced the tubes with generic 24-inch tubes you can get on Amazon or at Walmart for about $4. On our trip to Arizona this winter the back tire was flat and when I replaced it I noticed that the rubber rim guard was loose and worn. I managed to ride 250 miles during our stay there, but when I loaded the bike into our car to leave I noticed the tire was flat again. In both cases, the failure was due to the tube rubbing on a spoke hole on the rim. Once we were home, I put some adhesive-backed rim tape on the rim and put on the same brand of thorn proof tube I use on our hybrid bikes. Both I got from Amazon, rim tape and thornproof tube. I must admit the thornproof tube was a bit of a pain to get installed. My advice would be to at least put rim tape on the rim if you have to change a tube. Our newer Gotham has not had any tube issues yet.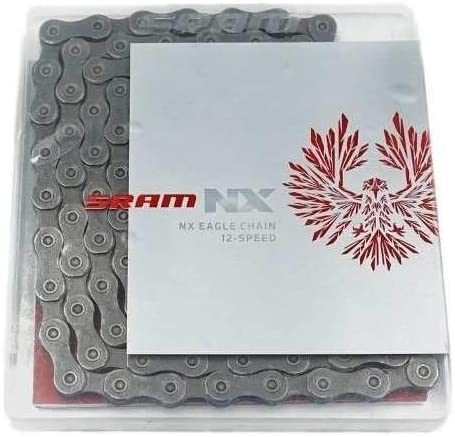 Tires
Actually the tires that come with the Gotham are very nice, not much rolling resistance but wide enough to have decent traction on dirt and packed rock trails. I did pick up a spare tire from Amazon to take on our trips as it would be hard to find a 24-inch tire at a local shop if needed. Not sure it would be the best long term solution but would work in a pinch. I need to find a better replacement.
Chain
I have replaced the chain on my Gotham twice. It is hard to find a good replacement. The first chain was an 11 speed SRAM chain. It worked but was really too tight and caused some issues getting into first gear. I had some issues with the chain skipping off in first gear and getting stuck between the freewheel and the spokes. The last time this happened it ended up bending the rear derailleur and I had to spend 45 minutes on the trail getting the bike working and adjusted so I could ride back. I have switched to an SRAM 12-speed chain I purchased on Amazon. The 126 links seem to be about the right length, but if I built my own chain I would add a few more chains. The only issue with the chain, besides the cost, is that it is thin and I think that causes a few shifting issues. Next time I replace the chain on one of our Gothams, I will build my own chain using the KMC chains I use on our hybrid bikes. When I try that I will update this blog post.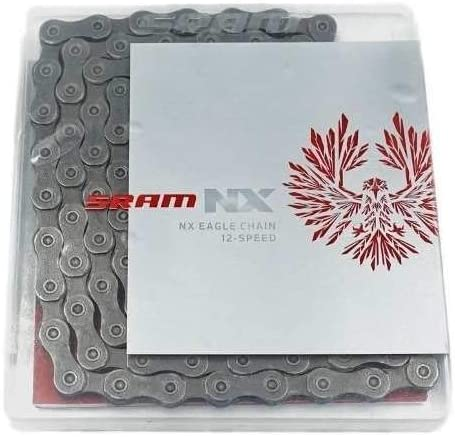 Freewheel
You read that right! I have noticed that the Gothams tend to use components you would find on a less expensive bike. When I replaced the rear derailleur, I figured I might well replace the "Cassette" and spent a little bit of time trying to replace it with one that I had on hand. That is when I figured out it was a freewheel. No problem I ordered one from Amazon.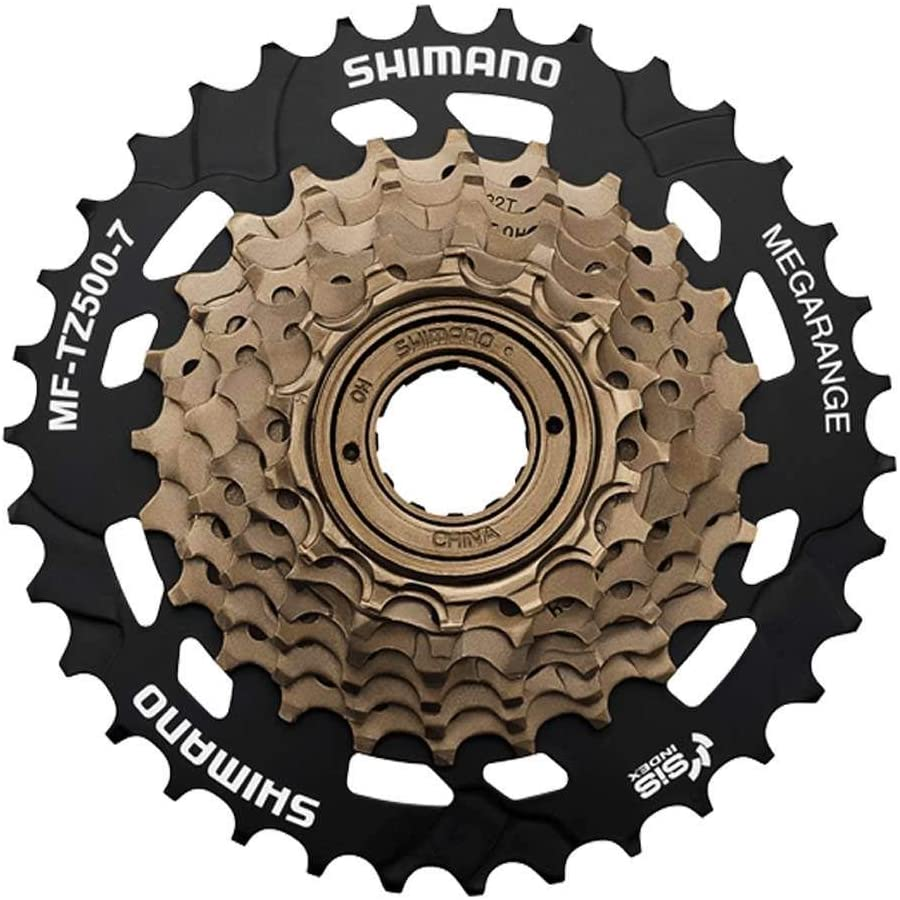 Rear Derailleur
A mishap on a ride bent up the rear derailleur of my Gotham. I was able to bend it back and adjust it so it worked for the couple of rides we had left on our trip but decided to replace it when I got home. The replacement unit chosen was the same ones we have on our hybrid bikes a Shimano Acera M360, ordered from Amazon. I like these derailleurs as they are sturdier and I have not had any issues with them over the years. Installation was typical of installing any rear derailleur.
Brake Pads
The rear brake pads wore out and got to the point they would not stop the bike. I was not able to find any pads that were made for a 24-inch wheel and ordered some wider ones on Amazon. These pads were inexpensive and I was able to make them work, but I will search for some other pads or try trimming the ends of the pads next time to see if they work better.
Brake and Shifter Cables
With all my repairing and adjusting the rear brakes and derailleur, the cables to each were defraying and needed replacement. I picked up a nice set of ten replacement cables. Replacement of the brake and derailleur cables went very smoothly and easily. I now carry the cable set with me on our trips, just in case.
Bottom Bracket
My Gotham started to have a clunking sound when pedaling hard. I had just fixed the same problem on my old Trek hybrid earlier in the year and figured that I would simply use my newly bought bottom bracket tool to fix the Gotham. Wrong! As I mentioned earlier, the Gothams tend to use components associated with cheaper bikes. The bottom bracket uses a much different wrench to adjust, and I now own two tools for bottom bracket repair after purchasing this one on Amazon.

Pedals
The most recent repair was a set of new folding pedals. On our last ride in Arizona, I noticed that the right side pedal was feeling very weird. Stopping and taking a look, I notice that the pedal was barely hanging on and I had to finish the last 10 miles of our ride not putting much pressure on the right pedal. If we had been staying longer I would have bought some cheap non-folding pedals to use, but since we were heading home the next day I waited until I could find a pair of folding pedals. The pedals I selected went on easily and work about the same as the original pedals. The new pedals are a bit smaller than the original and seem a bit sturdier. Time will tell!
I think it would be nice if Citizen would have a replacement parts list or the ability to order parts for their bikes as some are a bit particular to the bikes. I tried emailing customer support about replace chains and the number of links but received a very generic answer and no information on the number of links.
Hopefully, this update has been useful to you. Although I have had to do a fair amount of work on our older Gotham I still love these bikes. Given the abuse they take being loaded in and out of our car and in and out of hotels they are holding up well. Truthfully just about any bike is going to need some maintenance after being ridden for 2500 miles. One wonderful benefit of having folding bikes is that people want to ask you about them and you get to meet many interesting people.
Copyright 2020, Richard J. Moore
keywords: Citizen Bikes, Folding Bikes, Citizen Gotham 24-7 Bike, Bicycling, Bike Review
description: Citizen Gotham 24-7 folding bike update