Citizen Miami Folding Bike
January 17, 2017
After thinking, researching and putting if off Julie gave me a folding bike for Christmas. With our desire to travel more and our love of bicycling the thought of a folding bike made a lot of sense. You would not need to have a bike rack, expose the bikes to road grime, and you might be able to ship them as luggage on a plane. Three years ago, while in Key West, we ran across two guys from New England that had folding bikes. As I usually do, I asked them how they liked the bikes. They really liked them, and had purchased the bikes online at http://www.citizenbike.com. They had been looking for a while and most of the bikes they found locally were in the $700+ range but the citizen bikes were in the $300 range. Figuring that they could not really lose too badly they ordered the Citizen bikes and were pleasantly surprised. Since that time I have been looking at reviews and pricing out folding bikes, and kept returning to the Citizen bikes as the best price/performance folding bikes.
After much agonizing, I decided on the Miami model in blue.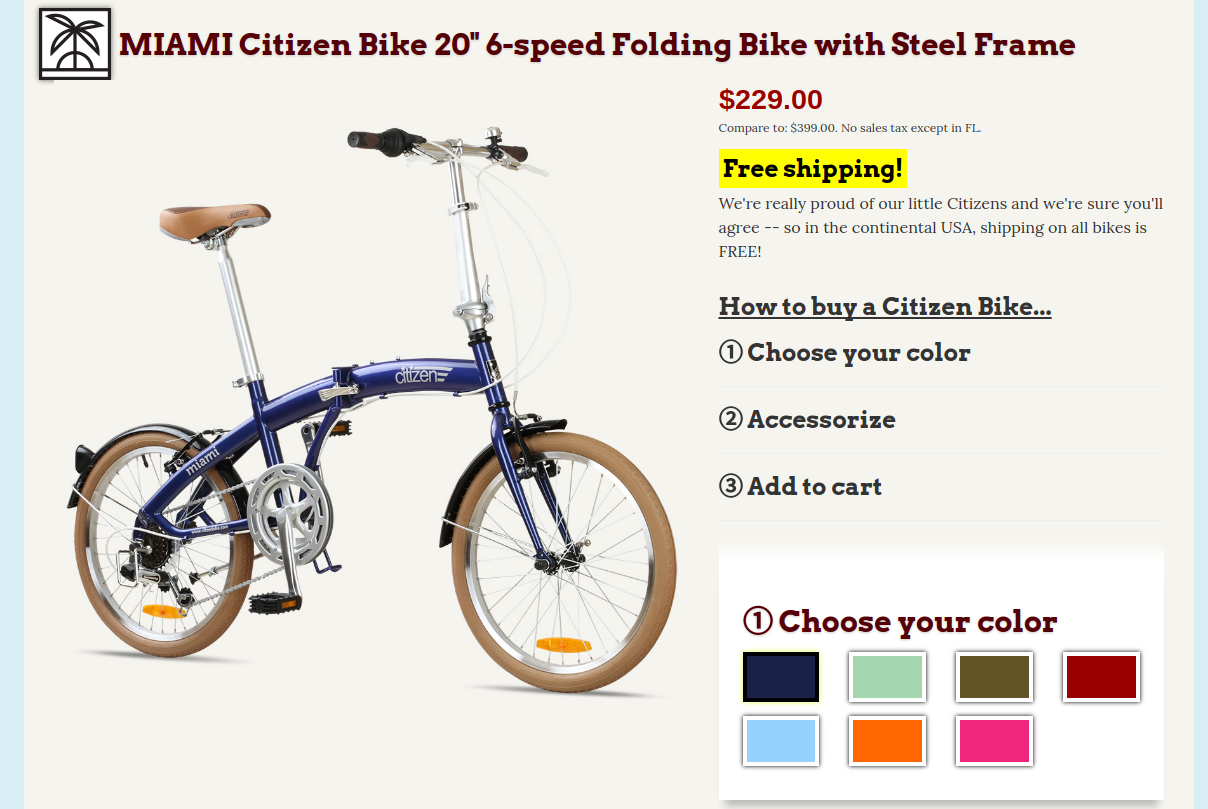 I added the comfort saddle, rear rack, and purchased a bike bag bringing the total price to $292. I purchased water bottle holders (2) for $8.99 on Amazon http://amzn.to/2iNraaZ , and had no problem attaching it to the bike frame.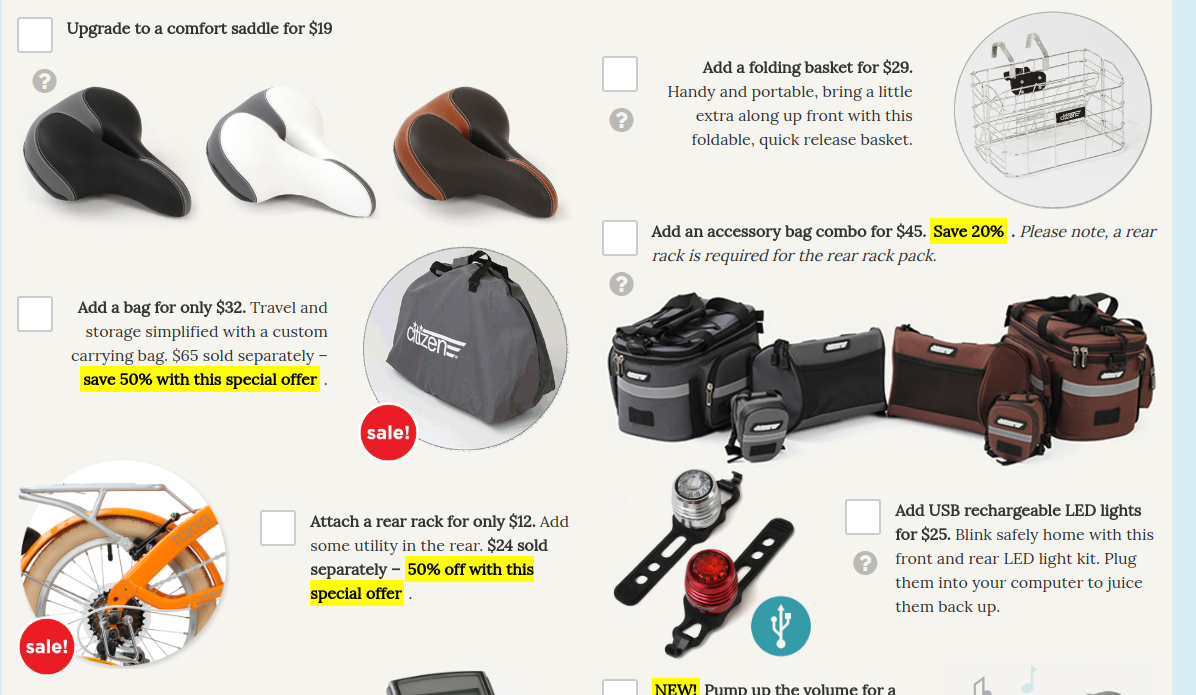 The bike was shipped FedEx and I received it five days after ordering the bike. Not bad considering it was during the Christmas season. When I went to the FedEx store to pick it up, I usually have things held and go pick them up, the box my bike was shipped in was a bit banged up and one end was coming apart. The folks at FedEx taped it up for me to get it home. Upon taking the bike out of the box nothing was damaged or scratched, but still it seems Citizen could use a bit sturdier box to ship the bike in. Here are some pictures of the bike in the box and then removed from the box.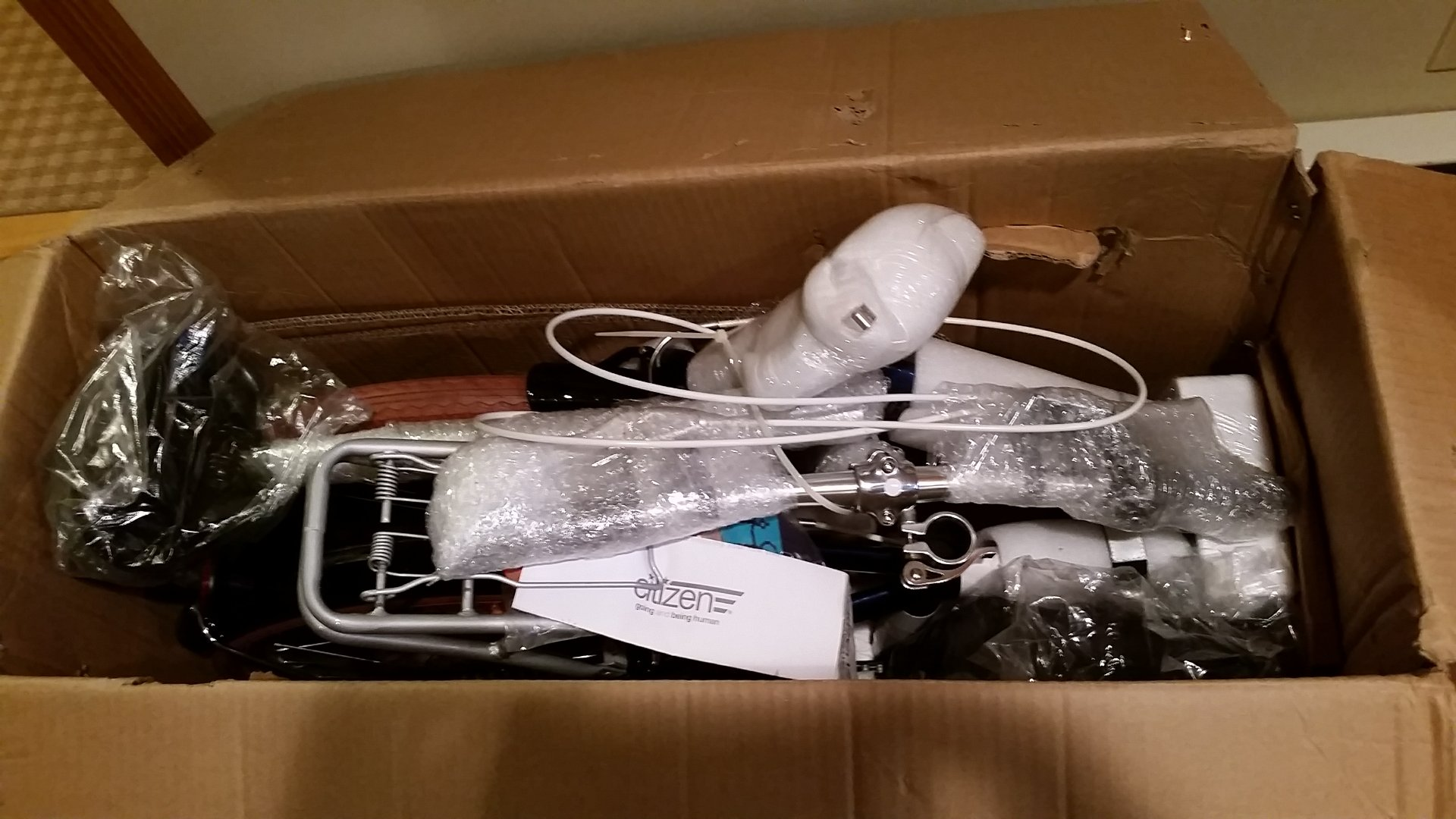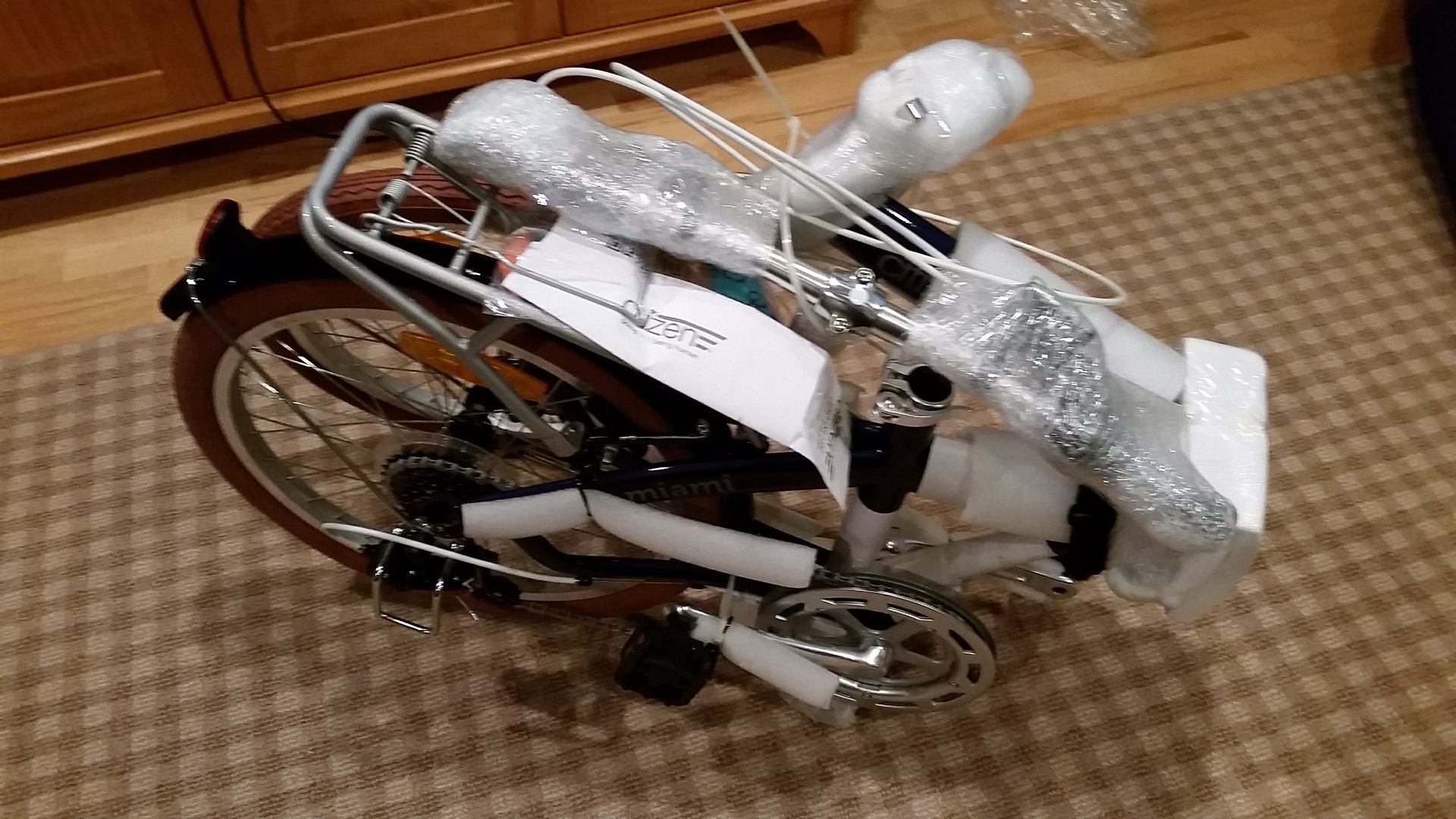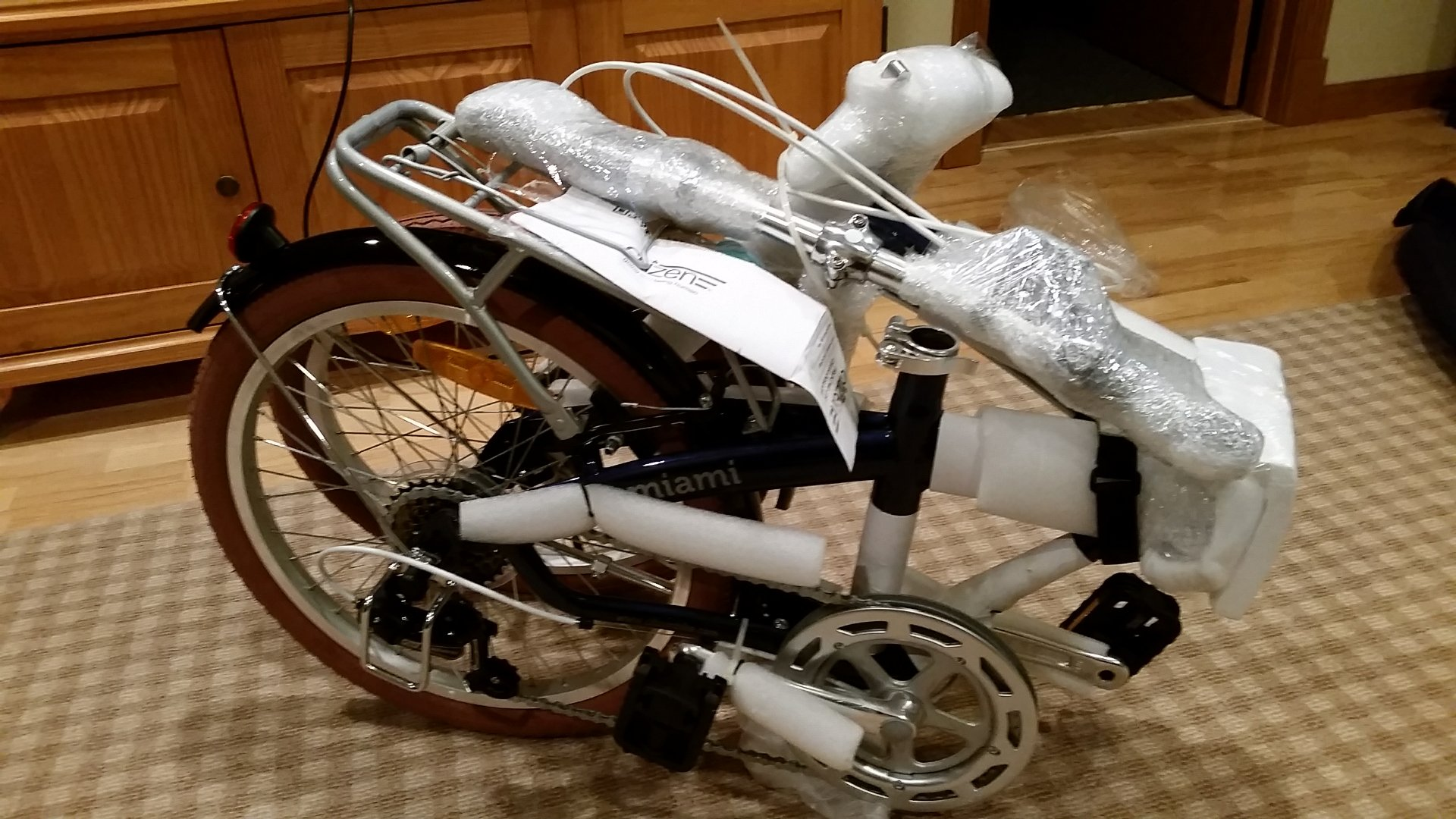 The bike is protected by bubble wrap and foam in key places, and there are many cable ties to hold things in place. Unpacking the bike took about 30 minutes, taking my time while watching football. There are no instructions in the box, and the only piece of paper in the box directs you to the Citizen Bike website for instructions.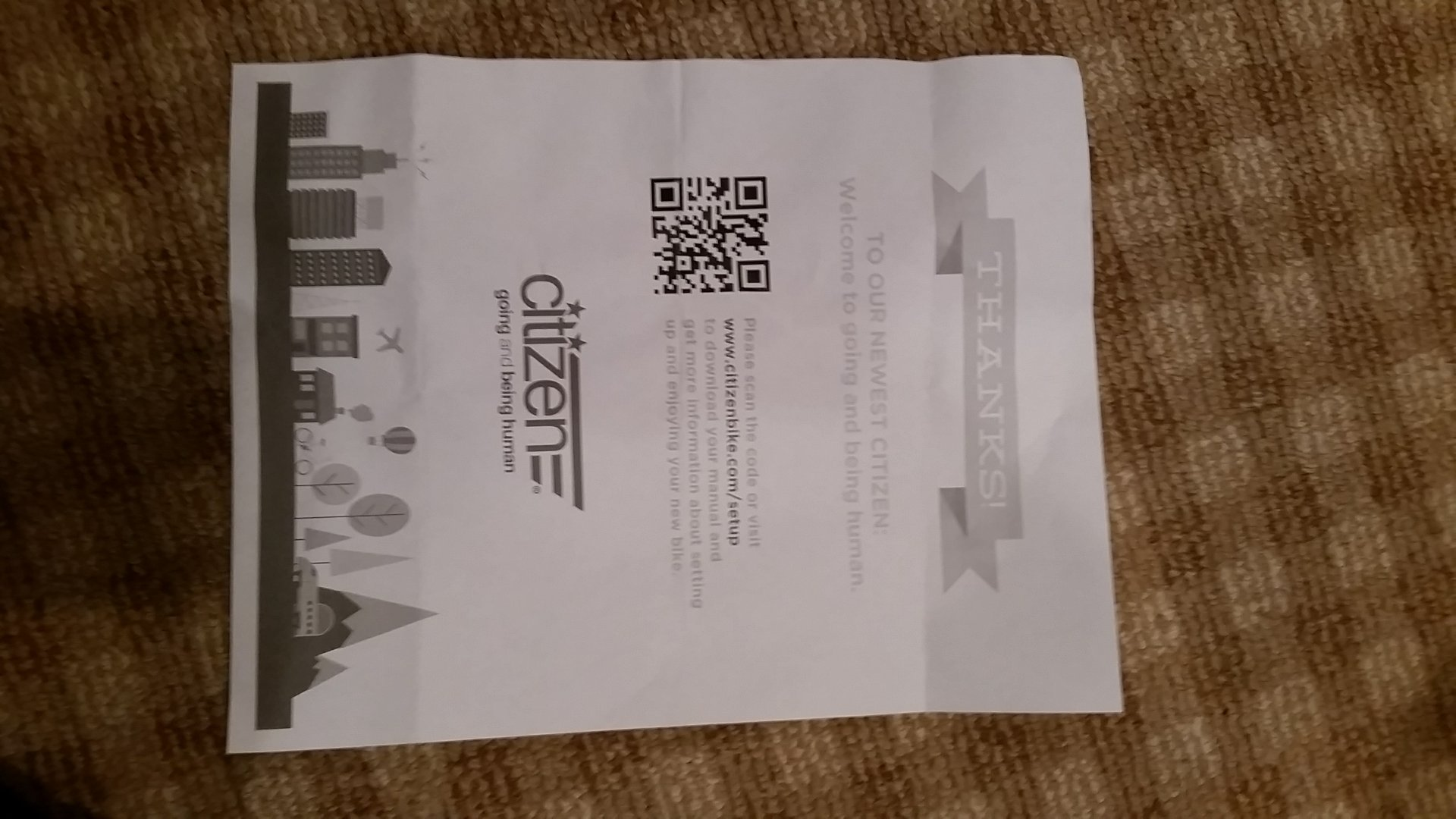 The only tools I needed were a pair of scissors and wire cutters for removing the packing materials from the bike. After that, some minor assembly was required that consisted of putting the handlebars into the neck and the seat post into the bike frame. Then it was a quick minute or less to actually unfold the bike.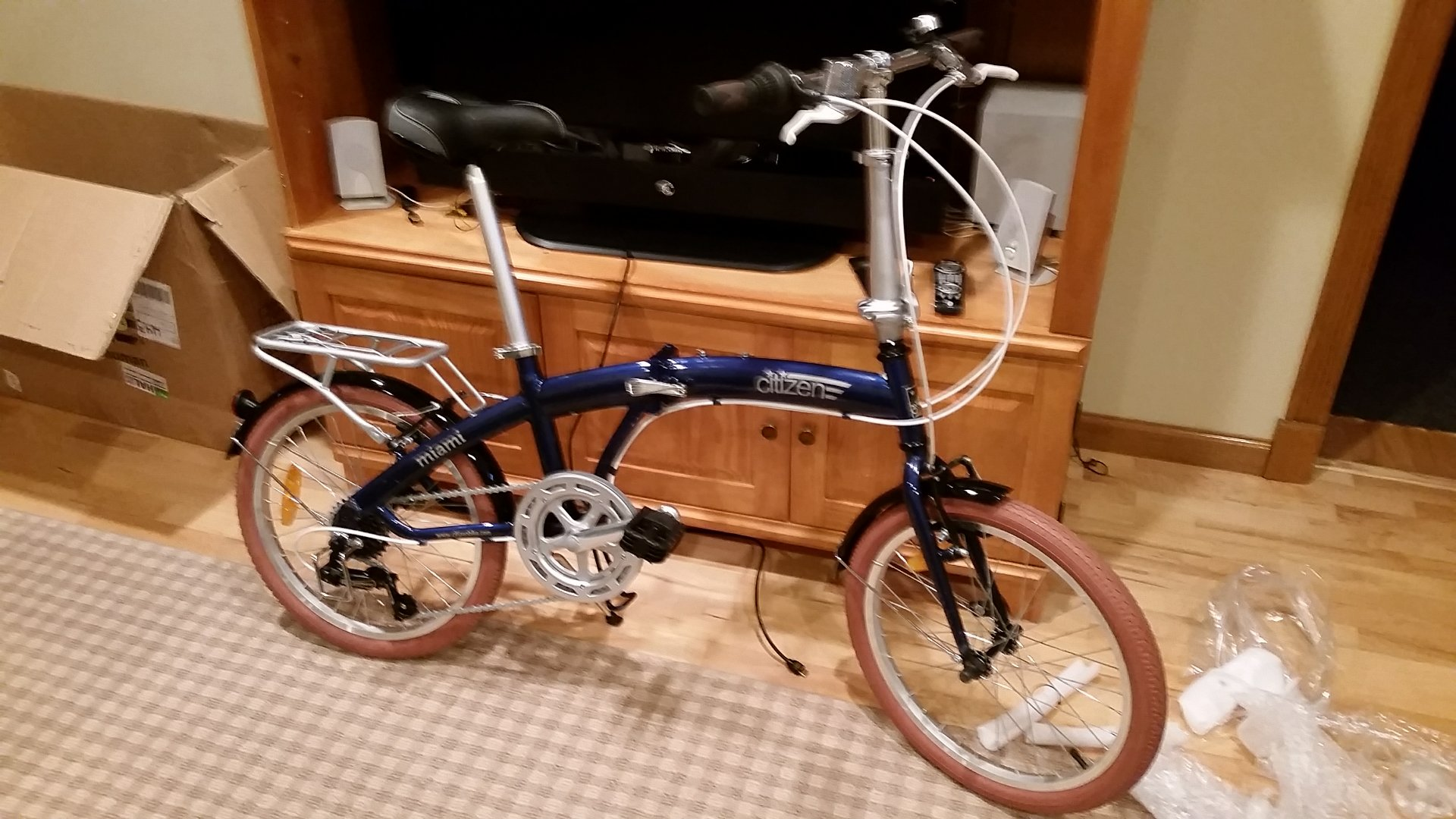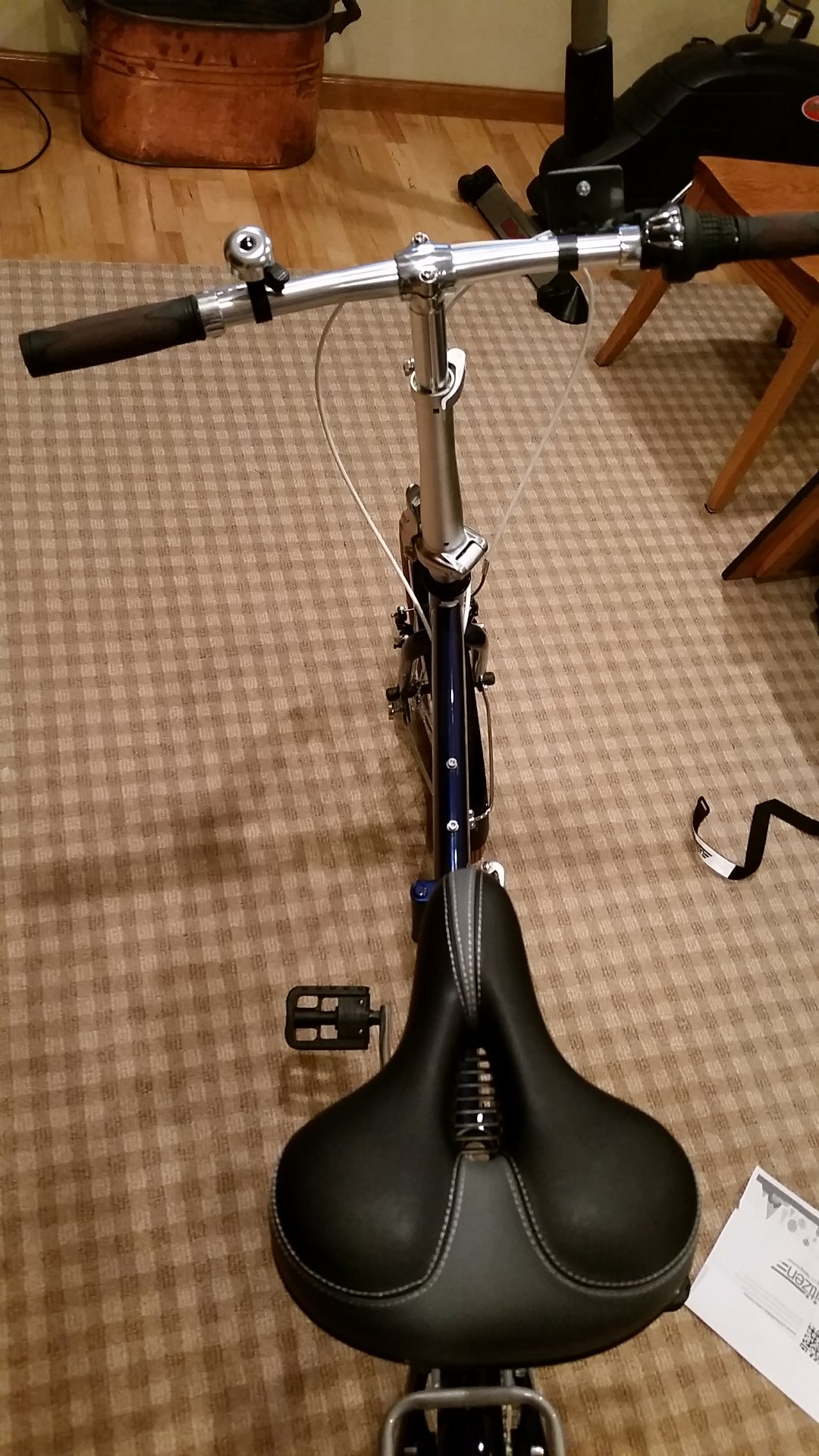 Folding it back up was just as quick, although I forgot to fold the pedals which seems to be the one thing I forget each time I fold the bike. The bike easily fits into the bike bag I purchased with a fair amount of space to spare.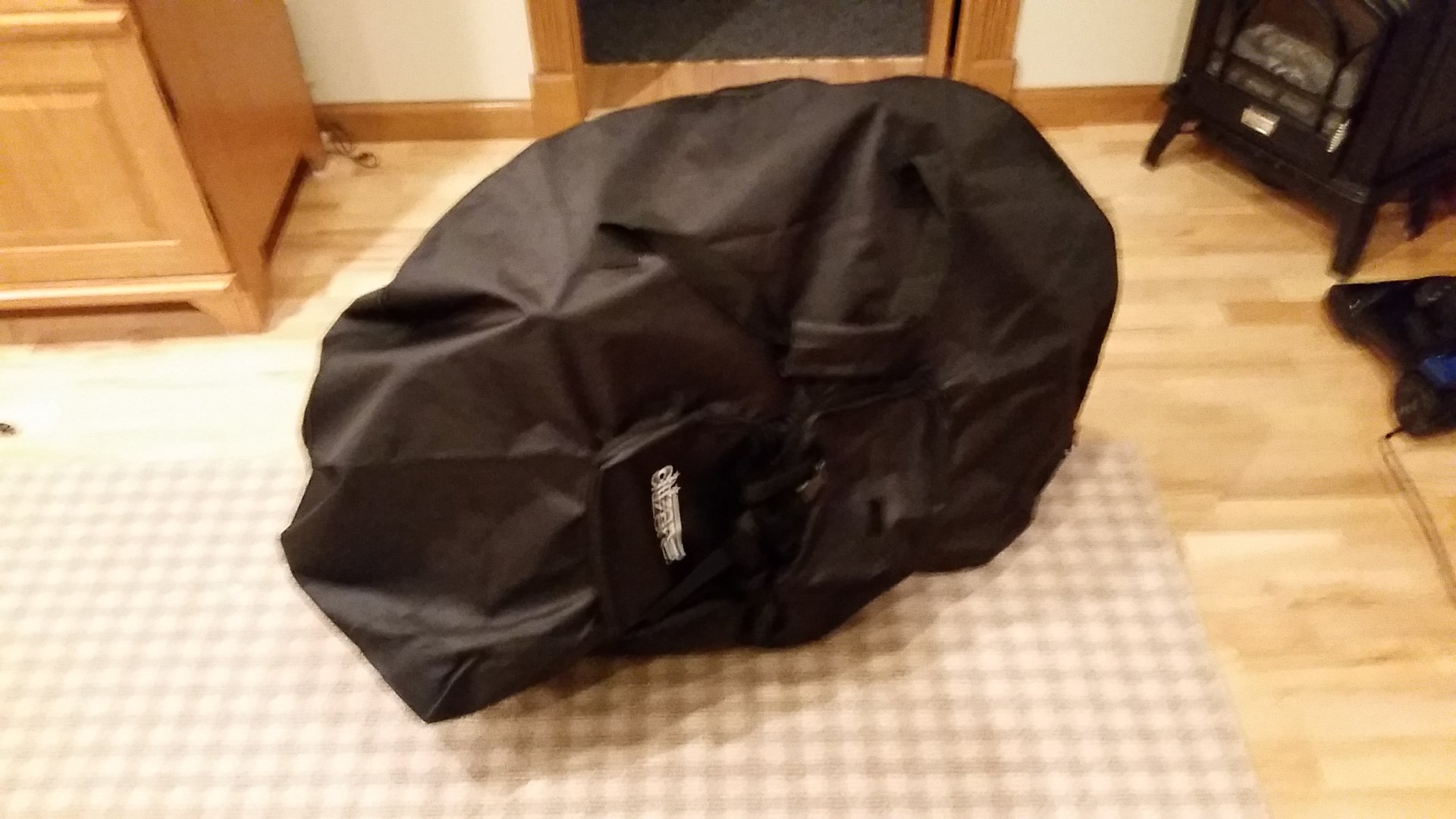 Now for the most important thing, how well does the bike ride? Since it was the end of December in Minnesota I was only able to ride it on the driveway and had to wait until we headed to Florida to do some actual riding with the bike. As I write this I have done two rides along a flat key (Manasota) of 16, 17, and 13 miles. I have been impressed with how solid the bike feels and handles. On one ride I rode through a nature area on dirt hiking trails and it did the job very well, and actually was probably better than my hybrid which has road bike tires on it. On my initial two rides the average speed was over 13 MPH, and I was biking at a comfortable clip. I would guess that on flat land you might be able to get to 15 MPH. The gearing seems okay, although a bit shifted to the easier/slower side but I suppose one would expect that with 20 inch wheels and only 6 speeds. Here is a picture from my maiden ride on the bike.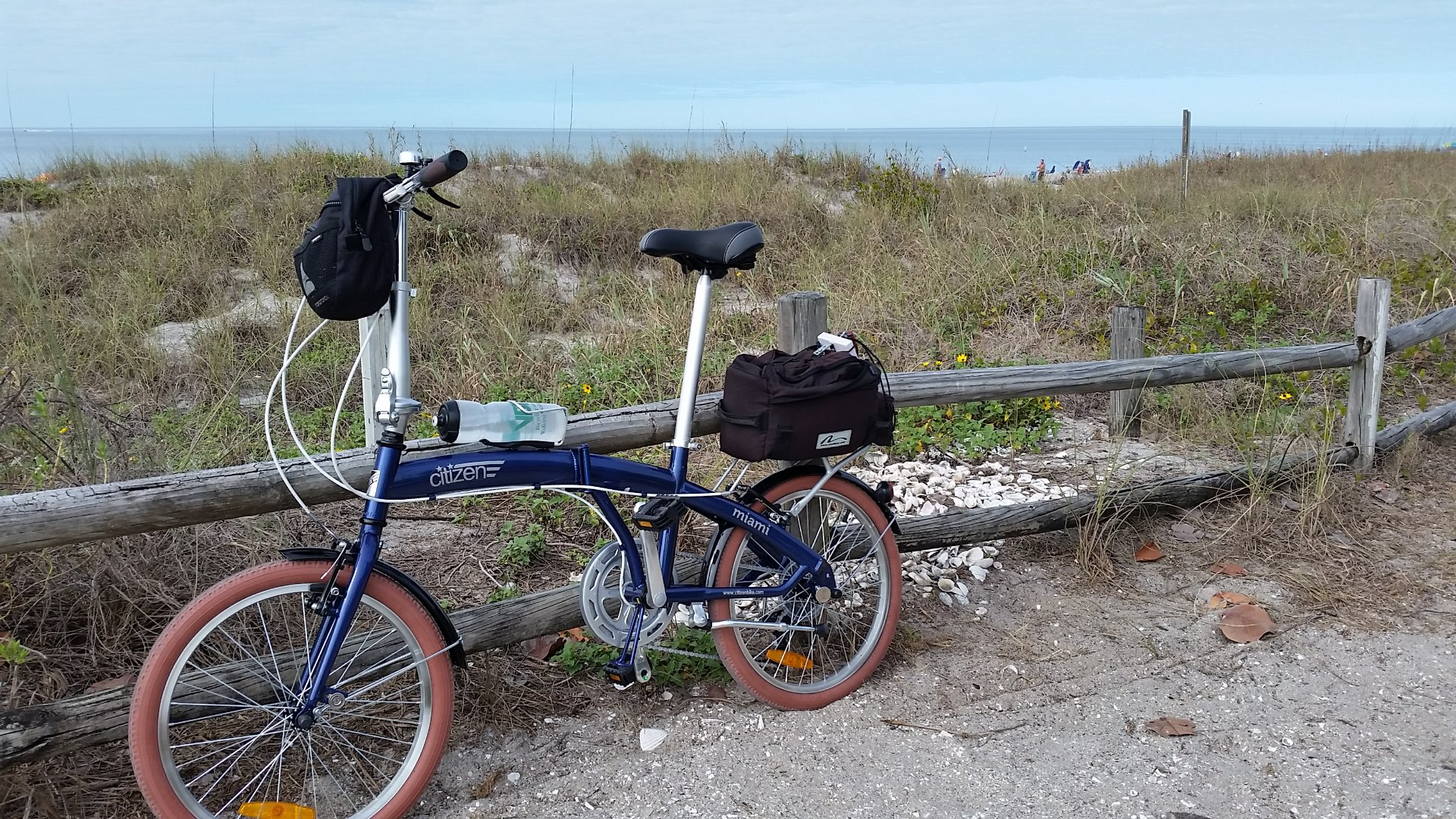 As you can see my rear bike bag fits well on the back rack, but I am not sure my panniers would fit very well. The water bottle position on the frame barely allowed my oversized water bottle to fit in the holder. My front handlebar bag fit easily on the handle bars. I would say the bike's seat height could be another inch or so for me (I am 5' 11"), and I will see about adding an extension to the top of the seatpost. The handlebar height was good and the grips are okay comfort wise with a pair of padded bike gloves. Brake levers are a bit on the small size but seem fairly solid. Shifting is via a grip shifter on the right side and is working well and has been smooth and good. The pedals are a bit on the small side, but do work well with a pair of running shoes. I might consider different pedals, but then I would need to remove them for transport. Not sure the upgrade to the comfort seat was worth it, as the seat is pretty hard. It might be worth just getting the standard seat and upgrading yourself.
Overall, I am impressed with the bike and it fits my needs of a bike that is easy to pack and haul around. With a weight of 32 lbs the Miami is not super light, but easy enough to lift into a car trunk fitting easily in our Camry trunk with room for other luggage. The only real concern I would see is the seat height for taller people, but the Citizen website does state the Miami is only for people up to 6 feet tall.
January 28 Update:
After riding in Florida for two weeks, I continue to be impressed with this bike. Not a lot of long rides, the longest only being 30 miles, but the bike continues to feel very solid and comfortable after 230 miles of riding. Sure is nice to fold it up and put it in the trunk and not worry about a bike rack. I get the feeling that one could easily do 40-50 mile rides on this bike. When I get home I will see if I can get the bike into a standard sized piece luggage for bringing with me on a flight, look for a future post on this.
My inspiration for getting a folding bike for travel biking started when I read this great book of a gentleman who took his folding bike to Italy and rode around picking olives for room and board.
Happy riding!
Copyright 2017, Richard J. Moore
keywords: Citizen Bikes, Folding Bikes, Citizen Miami Bike, Bicycling, Bike Review
description: Citizen Miami folding bike review