October Wines
December 4, 2019
Richard Moore
We where on a road trip for the most part of September (Michigan, you can see photos here) so I folded the one new wine of September into October. There is a large number of new wines this month as I took advantage of a couple of Wall Street Journal wine club deals that I could not turn down.
Wine of the Month
There were many 5 star wines this month, but Opolo's Maestro was one of those wines you daydream about. Honorable mention goes to Concannon's GSM as it was finally a GSM I loved.
Opolo 2017 Maestro ($23.80 Opolo wine club)
On first sip Julie and I exclaimed, lovely!!! This wine sure is a pleasure to drink. Medium dark in the glass. Jammy strawberry and blackberry aromas. Wonderful jammy and velvety mouthfeel. Blackberry fruit, a bit of spice and cola, dry mouth feel on the finish with restrained tannins. Repeat buy, yes! Wine notes: "This wine exemplifies the classic blends of the Rhone valley. Flavors of sliced raspberry, blackberry are married with perfect structure and balance. Rich yet accessible." Yes! I think I have said it before, Maestro is heads and shoulders above any Rhone blend I have ever tasted. Maybe the French need to pay attention to this wine.
Concannon Reserve Stampmaker's 2016 GSM ($25.60 Concannon wine club)
Finally a GSM to love! I tasted this GSM a few weeks ago at Concannon, and it was part of my delayed spring wine club shipment after getting my credit card information up to date. Guess this is a higher percent Grenache than Syrah and Mondreve. Bing cherry and ripe plum aroma with a bit of a sting. Velvety and fruity to start. Coats your tongue and stays there. Dry finish with herb spicing. Dark chocolate, and cedar. Blackberry. Medium dark in the glass Repeat buy, yes. Wine notes: "Dark cherry confection, brown sugar, and chocolate notes mingle with cedar, oak and warm earth. Fuller bodied, concentrated with slightly raspy tannins" Yeah I can go with that.

Arnaldo Caprai Montefalco Rosso 2015 ($21 wine.com)
Earthy and spicy like one would expect from a Montefalco. A long,dry, and chewy finish. Tannins very present. Plum, cola, and tobacco. Not overwhelming on the nose, a bit skunky. Repeat buy, no. Seems I am searching hard to find a good Montefalco. Wine notes: "Sensationally intense, with notes of ripe red fruit. Full bodied, rich, dry with a long finish and delicate hints of vanilla." Maybe.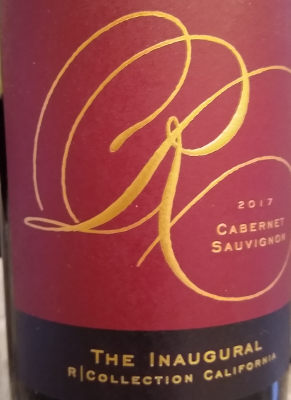 Raymond 2017 Cabernet Sauvignon ($13.80 Wall Street Journal Wine Club Special Case)
The Wall Street Journal wine club offered a couple of specials on cases that looked really interesting, so here starts the first of 18 bottles. Lighter in the glass than I might expect. Very pleasant nose with no sting. Grapy, plum fruit with a sweetness. Nice and spicy in the mouth. An earthiness with ripe plum fruit, with a bit of raspberry. Spice is a mixture of herbs with a bit of black pepper. Long dry finish with constrained tannins. Wine notes: "coats your tongue with cherry, rhubarb and red plum flavors with touches of spicy white pepper on the finish. Beautifully balanced with integrated tannins and a smooth texture." Yes, although I would say there is more than touches of white pepper. Repeat buy? Yes
J Opi Sadler 2017 Malbec Reserve ($13.80 Wall Street Journal Wine Club Special Case)
So far my favorite of the WSJ wine club cases. Dark in the glass, a nice aroma of leather, dust and ripe boysenberry with a touch of herb. A really nice texture in the mouth with a dry finish and hardy tannins. Earthy leather on the finish. Very ripe boysenberry fruit with a touch of citrus. Spice, cumin? This is a big bold wine. Repeat buy, yes this was a big hit with Julie and Steve. Wine notes: "An intense no purple red color, it has vibrant ripe black fruits on the nose and palate, underpinned by elegant spice, chocolate and vanilla notes. Full bodied and beautifully round." Yes I agree.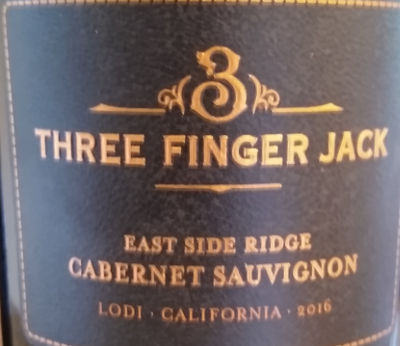 Three Finger Jack East Side Ridge Cabernet Sauvignon 2016 ($17.99 wine.com)
Very dark in the glass. Dusty and earthy on the nose smells like a very substantial wine. Wow this wine has some balls! Very hardy with tannins and a very dry long finish. Velvety in the mouth to start. Ripe dry fig fruit. Spicy, a bit of curry spice to me. Finish is chewy and earthy, some dark chocolate to boot. Repeat buy, you bet! Wine notes: "Inspired by Three Finger Jack's daring character, this red bursts with unabashed fruit and a structure to be reckoned with. Polished tannins and saturated flavors of black plums and cherries spiced with coffee and black pepper let you know that this is not your ordinary Cabernet." I might disagree with their notes a bit, but this is indeed a very daring wine with a very cool bottle.

Grande Fleur De Lyeth Reserve 2019 Red Blend ($13.80 Wall Street Journal Wine Club Special Case)
This has been a WSJ favorite of ours. A french sounding wine from California. Dark purple in the glass. Flowery ripe dark fruit on the nose, no sting. Quite the fruit bomb to start, ripe cherry. Spicy and leathery to finish with some bold tannins. Long and dry in the finish. Coffee and a bit of chocolate. Repeat buy? Yes. Wine notes: "Their sumptuous, oak-aged Reserve (Cab, Merlot, and Petite Sirah) Everything ripened to perfection, especially the Bordeaux grapes favored by Lyeth. Cabernet Sauvignon delivers rich cassis notes, and blends especially well with plummy, silken Merlot. A dash of deep, dark Petite Sirah adds extra richness and intense color. Time in oak imparts an inviting, spicy complexity." I agree, and one of these years I need to figure out what cassis tastes like.
Three 2017 Contra Costa Zinfandel ($13.33 Bright Wines)
This is the first bottle from a new wine store in North St Paul MN, Bright Wines. A friend that I bike ride with recommended I try Bright Wines and I am glad he did. Basically a garage with a store front and an owner that is really passionate about wine. Light purple in the glass. Beautiful aroma, Candied raspberry with no sting. Velvet mouth feel with a bit of candied fruit. Very ripe raspberry for me. Some white pepper spice that really develops over time. Dry finish with a touch of balanced tannins. Finish is long with all elements coming and going. A really fun wine to drink. Notes: "The Zinfandel grapes sourced for this wine are from in and around the bay area town of Oakley, in the north-east corner of Contra Costa County. It is a blend of 76% Zinfandel, 19% Carignane, 3% Petite Sirah, and 2% Mataro. All the grapes in this blend come from vineyard blocks with extremely sandy-loam soils called Delhi loam. This Zinfandel blend consists of young and old vines - from 25 year-old to over 100 year-old vineyards. These younger vine Zinfandel grapes show the typical raspberry to blackberry fruit so dominate in the older vines in the area, validating this Contra Costa appellation. The "field blend" contingent of this wine adds structure, color, cherry, and black fruit flavors. There is a deep concentration of ripe black cherries and spice with a minerality (earthy berry) sneaking through. The mouth-feel is rich and balanced with a lingering peppery finish. Enjoy now or age 3 to 7 years". Mostly in agreement although I would argue the Zinfandel label and might call it a red blend. Repeat buy? Yes, Julie and I really enjoyed this wine and I picked up 4 more to add the extra one I bought the first time.

The Black Stump 2018 Durif Shiraz ($13.80 Wall Street Journal Wine Club Special Case)
A long time favorite continues for me. The addition of Durif grape adds a nice backbone to the Shariz which I like but Julie does not. Dark in the glass with a dusty black cherry aroma. No sting. Black cherry fruit in the mouth with quite a spice, white pepper and cinnamon. The finish is dry with some tannin backbone. The fruit and spice both continue to be present during the long finish. Wine notes: "Colour Deepest red, almost black. Aroma Ripe plums, spices, wild brambles. Very attractive. Taste Rich and smooth as silk. Long, super-ripe black fruit finish" Maybe I would agree as it starts smooth but becomes more aggressive in the mouth. Repeat buy, yes for me but Julie is not as smitten as I am with this wine.

Edge Cabernet Sauvignon 2016 (22.50 wine.com)
Leathery dusty aroma with a bit of a sting. Not all that enjoyable. In the mouth I am getting cola and leather with a sweet red fruit. Very one dimensional and watery after it has been in your mouth for a while. Wine notes: "This wine is blended with 10% Cabernet Franc and 3% Malbec. Spicy leather and sweet tobacco combine around bright red fruit and supple tannin. It offers a balanced approach to richness and concentration" I would agree but add that the final result does not make for an enjoyable wine. The next day this wine was a bit better, but still not good especially for a $20 wine. Repeat buy, no.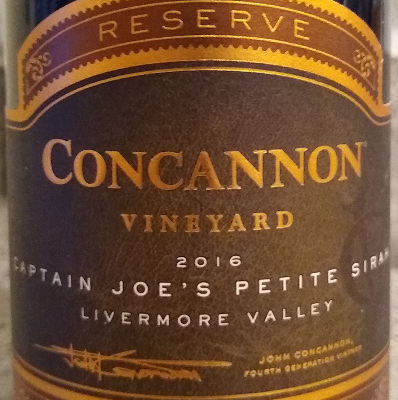 2017 Reserve Petite Sirah Captain Joe's ($30 Concannon wine club)
Julie and I both really liked this wine. Very dark in the glass. Dark Bing cherry and cola aroma, a bit of a sting. Grapey, ripe cherry, cola, white pepper spice. Hardy tannins with a dry long finish. Maybe a hint of dark chocolate. Repeat buy, yes Wine notes: "A deep, nearly opaque wine true to this varietal. Expressive notes of blackberry, pepper, and mocha jump from the glass. Delightful dark berry and plum flavors coat the palate, while silky tannins persist on the finish with notes of spice and sweet oak." Sure.

Matchbook Estate Bottled 2017 Cabernet Sauvignon (13.99 Bright Wines)
This is a wine Julie and I usually enjoy a bottle of when dining at the Red Rabbit. It is a reasonably priced wine that delivers. Dark purple in the glass. Dark ripe plum aroma, with some herb spice. Very earthy and hardy in the mouth. Has a substantial spice and mouth drying finish. Tannins are present but not too heavy. Blackberry fruit. All elements persist in the long finish. This is a major league Cabernet. Repeat buy, yes as this wine drinks well above its price point. Wine notes: "Enticing dusty cherry-tobacco aromas lead to brambly blackberry and mocha flavors layered with chocolate and dried cranberry. The mouth-filling flavors linger in the finish with soft, but firm tannins." I might disagree a bit with the notes but it seems pretty close.

Pedroncelli 2017 Mother Clone Zinfandel ($15 Bright Wines)
Finally got a bottle that is labeled "mother clone" (see this review). Dark purple in the glass. Aroma is earthy, leathery and a plum dried fruit strip. No sting. Starts velvety on the tongue, cola spice, a bit of dark chocolate with grape and plum fruit. Long finish with a bit of dryness and tannins. Finish is medium long. An earthiness taste. Repeat buy, yes it is a nice enjoyable Zinfandel to drink. Wine notes:. "Our Mother Clone is a classic Dry Creek Zinfandel with aromas of ripe blackberries and a touch of warm baking spices. This Zin is plump with jammy berry flavors combined with a touch of black pepper spice and notes of vanilla, and toasty oak. The spicy-berry dynamic so typical of Dry Creek Zin combines round tannins and a long, spicy finish which are a hallmark of our style. Enjoy now or cellar for three to five years." Interestingly different from my notes.
The Waxed Bat Reserve 2018 ($13.80 Wall Street Journal Wine Club Special Case)
Always a favorite, this vintage seems to be one of the best. Dark in the glass Aroma is a bit skunky, hard to pull a fruit out. In the mouth the skunky aroma is not there and this wine dances. Starts smooth and velvety, tart fruit, pomegranate and a bit of raspberry. Some milk chocolate and a nice dry long finish. No real spice to speak of. A very pleasant wine to drink by itself or with food. We had it with homemade Kung Pao Chicken and it was a nice compliment to the spice. Repeat buy, yes! Wine notes: "Lots of sumptuous red fruit on nose. Big and bold, with a good fresh finish and lots of chocolatey plum fruit, cassis, tobacco, liquorice, and well-integrated oak in between. An extremely polished effort." Maybe?

Pillastra 2017 Primitivo Negroamaro ($13.80 Wall Street Journal Wine Club Special Case)
I have wanted to try this wine for years as I love their Primitivo. Medium dark in the glass Nice aroma of dark plum and Bing cherry with an earthiness. No sting. A real fruit bomb in the mouth. Grape, bing cherry and ripe plum. White pepper spice and a dry finish with coffee and dark chocolate. Finish is long with balanced tannins. This wine really develops with air time so I am guessing it would age well. Wine notes: "Handcrafted with chocolaty, old-vine Primitivo grapes sourced from Angelo's very best sites in Puglia, then given a splash of deep, dark Negroamaro, the wine was barrel aged for extra smoothness and complexity." Not much to go on. Repeat buy, no while an enjoyable wine not one I would pick any more of.

Aluado 2018 Alicante Bouschet ($13.80 Wall Street Journal Wine Club Special Case)
I was looking forward to trying this wine as Alicante Bouschet was a favorite wine during our trip to Portugal. Medium dark in the glass. Earthy ripe plum aroma with no sting. Maybe even a bit of leather. Nice mouth feel, very fruity almost a bit jolly rancher like. Grape and blackberry fruit, slight bit of spice and a drying finish that is long. Just a touch of tannins. I was hoping for more body. Repeat buy, no as this is a bit too fruity for my taste. I will stick with the Rocim Alicante Bouschet. Notes: "Incredibly deep color appears black in the glass and aromas and flavors are just as intense. Full bodied and boldly structured, yet with a delicious freshness, Aluado exudes damson and black cherry flavors, accompanied by exotic spices and hints of mocha." Not what I experienced in this wine at all.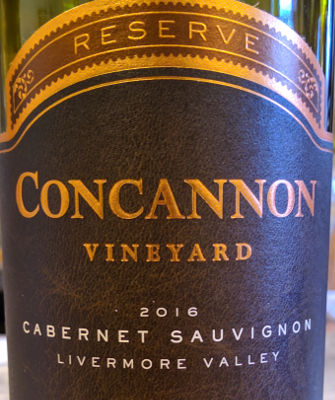 (4.5+)
Concannon 2016 Livermore Valley Cabernet Sauvignon ($32 Concannon wine club)
A very enjoyable wine to drink. Dark in the glass. Dusty ripe bing cherry on the nose. No sting. Velvety and jammy to start. A very dry finish with tannins and oak. Finish is long with a touch of cedar. Bing cherry fruit with quite a spice and cola. Repeat buy, tempting but I have other Cabernets under that price I enjoy as much. Wine notes: "Indulge in aromas of raspberry and nutmeg with a hint of cedar. Jammy flavors of blackberry and cherry intermingle with notes of roasted coffee and finishes with firm tannins and oak integration." Sounds about right to me.
Until next month, happy tasting and drinking.
Ratings:
Wow, knock my socks off good. A wine to stock up on.

A very good wine, also a wine to stock up on.

A good average wine that is very drinkable, one that I might buy
again.

An okay wine, one I can drink but would not run out to buy any of.

Not worth really drinking, most likely poured out.
Copyright 2019, Richard J. Moore
keywords: Wine,Wine Tasting, Wine Reviews
description: New wine tasting notes for October of 2019