December Wines
January 23, 2019
Richard Moore
Wine of the Month
With three 5 star wines this month there were some very good wines to choose from. In the end I went local in selecting a Minnesota Frontenac Rose by Flower Valley Winery. Many folks are saying Minnesota cold grapes wineries should focus on white and rose wines and I would agree as the grapes make for a very nice crisp rose and white wines. A bummer that Flower Valley is sold out of the 2017 vintage.

Flower Valley 2017 Frontenac Rose ($15.95 Flower Valley Tasting Room)
This is a substantial Rose and a wonderful wine to drink by itself. A bit of a disclaimer, Julie works for the Grape Growers of Minnesota and the owner of Flower Valley, Dave Mohn, is the president of the association. We finally went on a fall drive down to Red Wing and stopped by the vineyard. A very nice setting and he has quite a lot of vines growing there. Dark in the glass. Aroma is very pleasant, sweet dark fruit with no sting. In the mouth there is some jam to start, then a fruitiness develops with a brightness. The jam comes back for a very long finish and a sweetness adds to the finish. I would say a very ripe plum fruit. Wine notes: "A pale ruby color with aromas of ripe cherry and baking spice. Medium-dry and medium bodied, with low tannin and a long, sweet cherry finish." Repeat buy, yes and we are out so time for a ride to Red Wing. I just checked their website and they are sold out of the 2017 Frontenac Rose, guess I will have to stock up on the 2018 when available.

Emilio Moro 2015 Tempranillo ($40 Pig in a Fur Coat)
We enjoyed this bottle during another great meal at the Pig in a Fur Coat restaurant in Madison WI. Nice and dry with a peppery finish. Nicely oaked. Dusty, earthy, very dark fruit aroma with some oak body. Starts almost velvety in the mouth with medium dark fruit. Peppery spice with some herb and leather. Opened very nicely with air and food. Wine notes: "This wine has a cherry color, and it offers a great variety of sensations. On the mouth it's intense and mouth-watering. On the nose, its richness and variety of aromas stand out: wood, black fruits and vanilla." Pretty generic so I guess I agree. Repeat buy? Yes as it is a solid 4.5 stars. Looks like the 2015 vintage is out of stock so I will try the 2016 next time I order some wine.


7 Moons 2016 Red Blend (11.99 wine.com)
Wow, what a wine. Big juicy, jammy and dry. Blackberry jamminess on the nose. Blackberry and jam in the mouth. Not as much jam as the nose would indicate. Dark plum fruit with a touch of spice develops and then a dry beautiful finish. Julie was not as excited about this wine as I was so I rated it 4 stars instead of 5. Think this was one of wine.com's top 20 under 20. Wine notes: "Our red blend opens with aromas of chocolate-covered cherries, baking spices, and vanilla bean. Flavors of strawberry preserves, cherry cola, and milk chocolate follow through to a smooth, fruit-forward, lingering finish." Seems a bit different than my notes. Repeat buy? Most likely since Total Wine has it for $10.49
Murphy Goode 2012 Red Blend (10.99 Total Wine)

Julie loved it, I enjoyed it but thought it was a bit watery. I would say 3.5 stars. A bit mild on the nose, some ripe plum and a faint sting. Dark fruit, plum/cherry, some spiciness and dryness into a medium long dry finish. Not a very complex wine. Seems to be like a hearty Pinot Noir. The wine did open up more with air time. Wine notes: "Cherry, raspberry, blueberry. This is soft and easy in texture, light in flavors and slightly sweet. Light to medium bodied, it has very little tannin or astringency, is low in acidity and quiet on the finish. 34% Zinfandel, 27% Merlot, 16% Petite Sirah, 13% Petit Verdot, 6% Syrah, 4% Cabernet Sauvignon." I would agree with the notes, this is not a wine that will light it up but will not offend. Repeat buy? Maybe.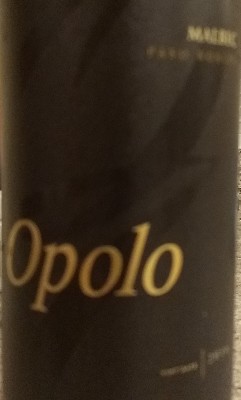 Opolo 2016 Malbec ($21 Opolo wine club)
It was a surprise how good it is, a solid 4.5 stars, since I was not expecting much from an Opolo Malbec. One of the best wines on the nose. Aromas of fruit, jam, smoothness, and no sting at all. In the mouth it actually starts a bit underwhelming and then the fruit starts, blueberry and dark plum. The mouth is very velvety and there a bit of jam. Some spice develops with enough tannins to give a very long medium dry finish with all elements staying very present. Wine notes: "Unapologetically opaque and inky in color comes a huge wine, rich in clover honey, tobacco and black plum. Greeting the palate comes a weighty, almost chewable introduction of Molten Lava Cake, black cherries, with cinnamon and powdered sugar. Never are the tannins sharp or forceful at all, almost wandering off intuition to a finish of toasted espresso beans and vanilla bean ice cream." Seems quite different than my experience. Repeat buy, maybe. I still think the Fawn Ridge Malbec is the best out there but this is a close second for me.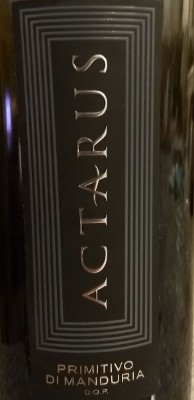 La Bollina Actarus Primitivo di Manduria 2016 ($17.99 WTSO)
We really liked the 2015 vintage of this Primitivo. The 2016 vintage seems less jammy, very chewy and earthy. There is some spice and blackberry fruit. Plenty of leather and earth in the finish. The finish is pretty long with a medium dryness with all elements coating your tongue and persisting. I would give the node to the 2015 vintage. Wine notes: "Colour: Intense deep ruby red Nose: Spices, blackberries, and mature cherries, typical of late harvest with notes of tobacco and dark cocoa, seasoned with notes of dried plums Palate: Sumptuous and granitic wine with a huge body and equilibrium thanks to the richness of natural glycerin and polyphenols that give us a long finish" Overall a pretty good description. Repeat buy? No as there are other Primitivos I prefer.

Liparita Chardonnay Carneros Napa Valley 2016 ($17.99 WTSO)
Velvety on the tongue to start, then it become bright with a citrus taste. Finish is buttery and long. This is a very nice Chardonnay, a good 4.5 stars. Notes: "brulee, and toasted almond give this wine layered complexity. The palate is rich, full, and lengthy. The richness is preserved with the acidity that a cool growing region contributes, making this wine age-worthy and able to contend with the most complex and rich cuisine." Not much to go on but I would agree. Repeat buy, yes and I did pick up 8 more bottles which are almost gone.
Francis Coppola 2013 Director's Cabernet Sauvignon (12.97 Sarracks Liquor)

This has quite a bit of body for a cheaper wine. Oak and dark fruit on the nose, no sting. Starts velvety in the mouth, dark dry fruit, and a bit of leather. Some spice develops and lingers in the long finish. The finish is mouth drying with nice levels of oak and tannins. A very earthy wine with a bit of cedar. I would put it close to a 4 star wine but not quite there for me in a Cabernet. Wine notes: "The result is a fragrant and complex wine with luscious body and plenty of dark, juicy flavors of plums, cassis and crushed wild berries." I might differ on the comlex wine statement. Repeat buy, no as there are many other Cabernet Sauvignon wines I prefer.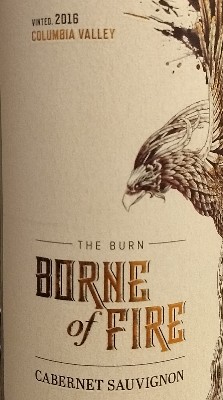 Borne of Fire 2016 Cabernet Sauvignon (16.99 wine.com)
Cherry/plum fruit on the nose with a bit of earthiness. Cherry and spice in the mouth. A bit of dryness but a pretty short finish for a Cabernet. I find myself wanting more depth from a Cabernet and was not very impressed. This wine is one that seems to be highly rated and included in many under $20 lists. Wine notes: "Borne of Fire epitomizes the terroir of The Burn. This rugged, yet elegant wine leads with herbal expressive aromas laced with pomegranate and stony minerals. Upon tasting the wine, powdery tannins frame flavors of cherry, currant, savory spice, and red pepper. A green coffee inflected finish rounds out the overall experience." Seems like a totally different wine than I tasted. Repeat buy, no I would rather pay a bit more and get a truly Cabernet Sauvignon experience.

Vina Robles 2014 Creston Valley Vineyard Petite Sirah (Replacement bottle)
This was a replacement bottle for an earlier vintage we had that was bad when we opened it. I have found wine clubs to be very responsive to bad bottles and quick to replace them. Of course, I have only had to do this twice so far in four years. This is a very spicy Petite Sirah. Very dark and inky in the glass. Oak and dark boysenberry fruit on the nose.. A bit of fruit and jam to start but gets very spicy rapidly. The finish is long and oaky. Tannins are very present but not overpowering. The fruit and jam come back in the finish. You have to like a spicy wine, which I do, to enjoy this wine. Dark plum and fig fruit. Some forest floor. Notes: "Full-bodied - boysenberry and cola - long, velvety finish" I would agree and the cola would be the spice I am referring to. Repeat buy? I think so.
Boccantino Susumaniello Salento IGT 2016 ($11.99 WTSO)
I love the Primitivos from Puglia and this wine caught my eye. Light aroma of red/black berries with no sting. Bright in the mouth. Starts with a lot of fruit and a bit of velvety feel that disappears pretty quickly. Becomes bright with some spice, but faint. Finish is medium long with a bit of tannins. Leaves your mouth dry. Wine notes: "Grapes: 100% Susumaniello. Dark red color with purple hints. Intense red fruity aromas characterize the bouquet. On the palate, it is strong-flavored with a very good persistence." Agreed, although not much to go on. Repeat buy, no. A fun wine to drink but not one I will get more bottles of when I finish the other 3 I have.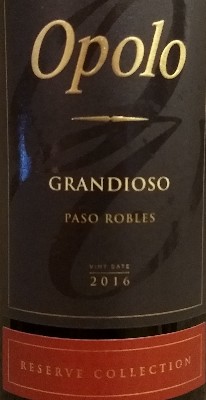 Opolo 2016 Grandioso (? Opolo wine club)
Very pleasant nose with dark fruit and no string. Spicy, with a fruity jam. Maybe a bit too sweet for me, but Julie liked it. Repeat buy, no as I will enjoy the other 2 bottles we have but there are other Opolo wines ahead of this one. The weird thing is that I cannot find an order from Opolo that I actually bought this wine, maybe it was mistakenly included in one of our wine club shipments?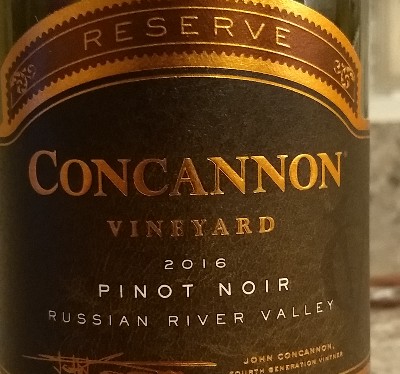 Concannon 2016 Russian River Valley Pinot Noir (30.40 Concannon Wine club)
A nice and easy drinking wine. Medium dark in the glass. Jammy cherry on the nose with no sting, pleasant. Cherry jam in the mouth, buttery smooth with a bit of spice that develops and continues into a pretty long finish. A touch of tannins. Overall a very enjoyable wine to drink by itself. We both really liked it and it will be a repeat buy. Wine notes: "Exquisite scents of wild strawberry, cranberry, black cherry and just a hint of graphite. Broad, juicy brambleberry flavors display liqueur-like depth and are impressively energetic and focused. The spiciness builds on the long finish, which leaves sweet red fruit notes behind." I would agree with these notes. We are finding Russian River Pinot Noirs to our liking as they are a bit more substantial. For me to do a repeat buy on a $30 wine it must be pretty outstanding.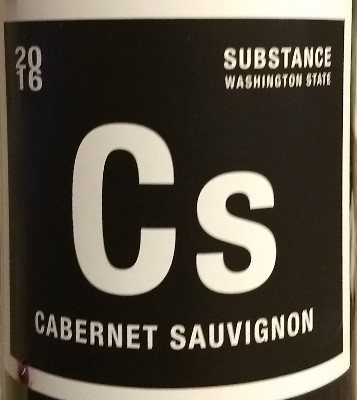 Substance Cabernet Sauvignon 2016 ($12.75 wine.com)
Aroma, dark fruit blackberry/raspberry with a dustiness and no sting. Dark in the glass. Lighter in the mouth than the aroma would let on. Some jam and blackberry to start. A bit of spice herb develops. Fruit, jam, and spice last in a medium long finish. Some tannins but pretty subdued. If you like a lighter Cabernet this might be one to try. I like more depth and backbone to my Cabernet. Julie did like it more than me so I would rate it 3.5 stars for that. Wine notes: "Classic Cabernet Sauvignon. Currant, blackberry, cigar box with touches of chocolate, cedar and pencil lead. Full flavored "c1 c2">

Amicone 2014 Veneto Rosso (14.99 Haskell's)
Does not seem as full bodied as the 2010 (and 2013) we loved. Dark plum aroma with a bit of a sting. Fairly dark in the glass. Starts velvety in the mouth but quickly gets very earthy, with a leathery feel. Some herb spice and tannins that make for a medium finish. A bit of sweetness and dark fruit in the finish. Ripe Bing cherry for me. Repeat buy, not for me as this vintage is bit of a disappointment. Guess not all vintages are equal. Julie summed it up, not bad just lays flat. The second bottle of this vintage had the same results.
Until next month, happy tasting and drinking.
Ratings:

Wow, knock my socks off good. A wine to stock up on.

A very good wine, also a wine to stock up on.
A good average wine that is very drinkable, one that I might buy
again.

An okay wine, one I can drink but would not run out to buy any of.

Not worth really drinking, most likely poured out.
Copyright 2019, Richard J. Moore
keywords: Wine,Wine Tasting, Wine Reviews
description: New wines tasting notes for December of 2018