January Wines
February 2, 2018
Richard Moore
Wine of the Month
We did enjoy some very nice wines to start out 2018, and there were some nice surprises. The wine of the month was a pretty easy selection as the Opolo Grandioso reserve Zinfandel we received with our last Opolo wine club shipment was out of this world good. Definitely in my top 5 wines ever!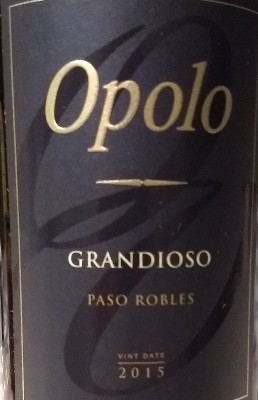 Opolo 2015 Grandiose Reserve Zinfandel (39.10 Opolo wine club)
All Julie and I could say is wow Opolo has done it again. They just seem to have a way with Zinfandels. This a very refined and balanced wine, from the nose to the mouth there is a lot to love about this wine. Wine notes: "Aromas of red raspberry and bing cherry are framed with allspice and cedar. Medium bodied with supple tannins and a delightfully racy finish." I would add a bit of dark chocolate along with the cedar as the wine develops in your mouth. The finish is long and wonderful. Most likely a repeat buy and I am looking forward to enjoying the other bottle in our cellar.
Concannon 2014 Polo Field Petite Sirah (32.00 Concannon wine club)
A nice way to start the year! This is a very interesting Petite Sirah. Both my son and I commented that it does not taste like a Petite Sirah to start, and what we would expect in a Petite Sirah (big and bold mouth drying) does not show up until it has been in your mouth for a while. Wine notes: "Deep purple-violet color unveils a pleasing nose of cherry vanilla cola, blackberry and a hint of sweet bourbon barrel. Dense flavors of dried blueberry, blackberry and dark chocolate are evident in the forefront. This full bodied, rich Petite Sirah finishes with layered notes of roast coffee, cocoa nibs and roasted fig." Actually a very good and accurate description of the wine. At first I almost felt it was Zinfandel in character with some spiciness on the tongue. If you want a wine that has many different phases and complexity this is one to try. If you are not a fan of big in your face Petite Sirah wines this would be one to try. I will pick up a few bottles to have for special occasions like our New Years dinner of incredible homemade (pasta and all) chicken marsala that Julie made.

River Myst Haven 2015 Russian River Valley Pinot Noir Single Vineyard (22.99 WTSO)
I am finding that Russian River Valley Pinot Noirs are to my liking. They tend to be more full bodied with less cherry. There is a playful tartness to this wine but it is also earthy. There is a ripe black cherry fruit with cedar and fair amount of spice. The finish is long and constant, a bit mouth drying. Tasting notes: "The nose starts out with aromas of black cherry, currant, sandalwood, and hints of coconut. The palate is full of warm baking spices: all-spice, clove, and a touch of cinnamon plus bright berry notes and some sour plum. The finish is lingering and inviting." I would say yes to all except coconut as I cannot taste any. If you want a heavier body to your Pinot Noir this might be a wine to try. Definitely on my buy list if it comes up again.

Dominio IV 2015 Pinot Noir (19.99 WTSO)
Finally a Willamette Valley Pinot Noir that is to my liking. This is still a bit on the lighter side but a very well balanced wine. Wine notes: "wild rose floral notes, and the spiced red fruit side of the Yamhill-Carlton AVA." There is a bit of floral notes, but for me the spice and red fruit are the main drivers in this wine and it is also a nice earthy Pinot with a long finish. In the mouth there is a nice mixture of a bit of cherry and red raspberry that lasts well into the finish. Definitely a Oregon Pinot Noir that I would buy or order in a restaurant.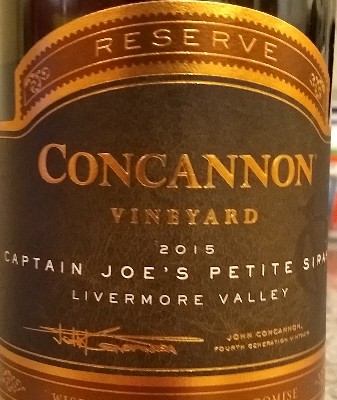 Concannon 2015 Captain Joe's Petite Sirah (30.40 Concannon Wine Club)
A bit brash and young when first opened, might benefit from some aging. Indeed the next day it was tamed down a bit. Wine notes: "Baked blackberry and spicy, smoked hickory, and maple flavors highlight its perfect mouthfeel of chewy tannins. The rich berry flavors and firm tannin structure are sure to leave a lasting impression on your taste buds!" Overall a pretty good description of the wine, and I can pick out the maple once I read the notes. Not my favorite Petite Sirah and I would not be inclined to buy anymore bottles. It is amazing how the same winery can make two Petite Sirah wines at the same price point and they can differ in quality so drastically. The Polo Field Petite Sirah reviewed above is just head and shoulders above this wine.
Conundrum Red 2014 by Wagner Family of Wines (22.99 WTSO)
I remember Julie and I really enjoying this wine years ago at a restaurant so I thought I would take advantage of a WTSO red wine variety buy where you could select single bottles of many red wines. This is a very interesting and complex wine. On the nose I pick up black fruit, chocolate, and even some butterscotch. These aroma's continue into the mouth with a nice dry, long finish that chalks the mouth. The start is silky and velvety with fruit, changing to chocolate and butterscotch as the finish gets drier and drier. Wine notes: "aromas of dark German chocolate, rich berries and fresh lavender. The nose conveys just the right amount of oak, making you think of a campfire in the woods, with an earthy scent in the air. Entry of the palate is round and broad, with lush flavors of candied cherries and baking chocolate. Fine, granular tannins create the sensation of silky smoothness. The finish offers hints of cocoa, both playful and serious, all the way through to the end of every sip. Be bold and serve slightly chilled." I would agree with the notes mostly, although I do not pick out any lavender and the tannins become pretty strong as the wine sits in your mouth. For us this is a repeat wine and one to have on stock for enjoying. Looks like I can get it locally for the same price (plus tax) at Total Wine.

Flipflop wines Merlot (12.00 Happy hour bottle Pier 19 restaurant)
This was one of the happy hour wines at Pier 19 restaurant in South Padre Island. When we ordered a couple of glasses the waitress mentioned we could get a bottle for $12 so we decided to go that route. A bit of a light and non descript wine that does have quite a dryness to it. Not a lot of fruit and is sweeter than most Merlots. Tasting notes: "Bold blackberry and raspberry flavor with cherry, plum and a long, velvety fruit finish." Guess I am not in agreement with their notes, any fruit you may pick out of the wine is very subdued. I would say it tasted more like a watered down merlot. Not a wine I would run out and buy bottles of.
Amicone 2010 Veneto Rosso (26.00 Marcello's restaurant)
On our trip to South Texas we attended Mass at Our Lady, Star of the Sea, and then enjoyed a wonderful meal at Marcello's Italian restaurant. They had a pretty decent wine list, not big but a nice variety with many different price points. I was surprised that a 2010 vintage came out and was interested to see if it was baked or damaged. The first taste was a bit underwhelming when it first hit my mouth, but I swirled it a bit in my mouth and the wine started to come alive. We both really enjoyed this wine with our meal, I had a seafood pizza and Julie a vegetable (Mediterranean) calzone. Wine notes: "Special Italian red wine made from semi-dried grapes. Ruby color, intense aroma of dried berries and oak barrel aging make sweet spices and dark chocolate. The taste is dry, concentrated, rich in wine, spicy and fruity flavor long lasting." I would say a very good description of the wine, the dark chocolate comes alive after the fruit/berry taste starts to diminish. A very smooth and full bodied wine that I will be picking up more of, and it looks like my local wine shop has it in stock for $15. I think we were both happy in the end that our first choice for dinner, The Chef House, was closed as we really enjoyed our dinner and wine.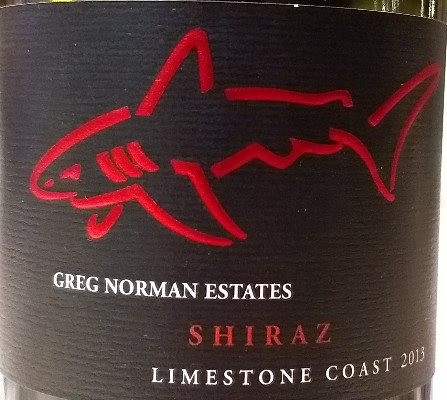 Greg Norman Estates 2013 Shiraz (11.97 Feldman's South Padre Island)
A couple of days ago Julie and I were watching the end of the PGA golf tournament in Torrey Pines and we were talking about famous golfers and how rich they were. Julie looked up one of her favorites, Greg Norman ($300 Million), and I mentioned that he even had a winery. It also happened that the case of wine I bought for our vacation had run out of red wines so I made a trip to a local liquor store which had a pretty decent selection of and pricing on wines. I noticed the Greg Norman Cabernet and Shiraz, and I figured to go with the Shiraz since it was an Australian wine. This is a pretty good wine, especially for the price, and I am pleasantly surprised since my experience with celebrity wines has not be all that great. It has a bit of fruit and jam in the front, and has a pretty good dry finish. It is not as full bodied as other Australian Shiraz's I like but it does made a nice wine to drink on it's own. Wine notes: "The palate, though big and opulent, has an elegant, smooth texture, some mocha and cedar oak character combined with ripe, dark berry fruit and fine tannins." I would say this is a good description of the wine in the mouth. Interestingly on the nose the wine is not all that impressive. All in all, I would say a solid 4.5 stars, just needs a bit more fullness of body to make it 5 stars. The wine does get better with some air time, so I would decant for a while.
Until next month, happy tasting and drinking.
Ratings:
Wow, knock my socks off good. A wine to stock up on.

A very good wine, also a wine to stock up on.
A good average wine that is very drinkable, one that I might buy
again.

An okay wine, one I can drink but would not run out to buy any of.

Not worth really drinking, most likely poured out.
Copyright 2018, Richard J. Moore
keywords: Wine,Wine Tasting, Wine Reviews
description: New wines tasting notes for January of 2018