August Wines
November 13, 2019
Richard Moore
Wine of the Month
A very easy pick for the wine of the month this month. The Vina Robles Terra Bella Syrah may be one of the best wines I have ever tasted. By far the best Syrah.

Vina Robles 2016 Terra Bella Syrah ($48 Vina Robles wine club)
Wow, wow, wow. Very dark in the glass. Smokey dark ripe plum aroma, very nice with no sting. Nice velvety mouthfeel with dark black berry fruit, the tannins start after a while for a full mouth feel. Dark chocolate comes on strong in the finish with smoke and dustiness. Just a touch of spice. A wonderful wine with a very long finish. Spends 20 months in oak and it shows. Repeat buy, yes, which is saying a lot given the price. Wine notes: "Black raspberry and fig - mocha spice - smooth finish" I could agree with that. This is a top 5 wine for me and I have ordered 3 more bottles for storage and special events. Guess I need to start drinking some of the bottles I am storing for special occasions.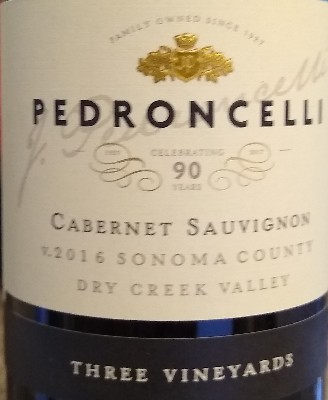 Pedroncelli 2016 Cabernet Sauvignon Dry Creek Valley (15.99 Total Wine)
Dark in the glass. Dried fruit, musty and oaky aroma. Cedar, spice and really dry up front. Some fruit but the cedar and spice overpower any fruit. Really not all that pleasant. Mellows out quite a bit with air so decant a good hour. Fruit and jam to start after decanting but there is still quite a bit of spice and cedar that overpower the fruit and jam. Very dry finish. Repeat buy, nope. Wine notes: "Dark red with purple tints around the edges. Aromas of dark rich berries, dried herbs and earthy tones introduce this medium bodied Cabernet Sauvignon. Mid-range tannins are supported by cherry, plum and blackberry fruit followed by hints of oregano and bay leaf. Great structure and good acidity combine with a spicy finish. Enjoy upon release or cellar up to eight more years." Not in agreement at all.
Vina Robles 2016 Red 4 ($13.50 Vina Robles Wine Club)
We have not liked previous vintages of the Red 4 so I was not very excited to get it in a wine club shipment. This vintage is orders of magnitude better. Dark in the glass. Aroma is fruity with some jammy sweetness. Quite pleasant. Cherry fruit with dry spice in the mouth. Finish is pretty long with the spice persisting and a velvety jam on the tongue. Repeat buy, while this is a vast improvement still no. Wine notes: "color: Garnet aroma: Cherries and plum with hints of juniper berry, fine tobacco and mocha spice taste: Medium body with dark stone fruits, chewy tannins and mocha into the finish" Maybe.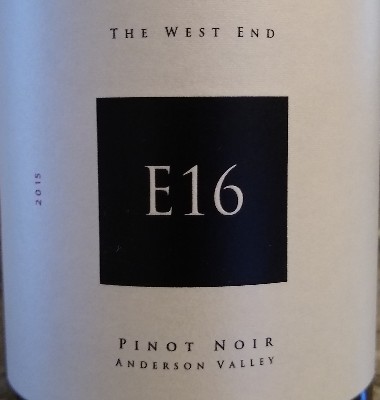 (4.5)
E16 2015 Pinot Noir (22.99 WTSO)
We loved the 2013 vintage and that love continues with the 2015 vintage. Medium dark in the glass, maybe a bit darker than we would expect for a Pinot Noir. Very nice aroma of lush bing cherry and raspberry with no sting. Bing cherry in the mouth with some raspberry jam. White pepper spice develops and a bit of cedar with some tannins that lead to a long finish. A very nice restrained wine that is subtle yet fairly substantial. This is a nice substantial Pinot Noir. Notes: "E16 Winery's 2015 'The West End' bottling showcases a balance between elegance and richness, with flavors of red berries, baking spices, and rose petals interwoven into a firm, yet satiny structure that is sure to delight lovers of aromatic New World red wine styles." Yes. Repeat buy, yes as I had been waiting a couple of years for wtso to offer it again. Too late WTSO is out.

Cantine Paradiso Sant'Andrea Primitivo Puglia 2018 ($10.99 WTSO)
Wow, we both loved this wine. Medium dark in the glass. Dusty ripe plum on the nose, with a bit of sting. In the mouth a nice velvety jam of blackberry and plum coats your tongue. Herb spice, a touch of black pepper. Dry finish with a touch of tannins leads to a long finish. With all elements going in and out. Repeat buy, yes and I just ordered a case from WTSO and we are going through pretty quickly. Might have to slow down as it is not available any more. Wine notes: "Sourcing fruit from the sunny vineyards of Puglia allows Cantine Paradiso to craft a juicy, lush, and fruit-forward wine loaded with flavors of wild blackberry, crushed gravel, sweet tobacco, and a finish of warm peach pie." Not sure about gravel and peach pie. A great wine with a low price point not quite my favorite Primitivo but close. The Actarus Primitivo is my favorite and the 2016 bottles are really drinking at a 5 star level after a year of cellar time.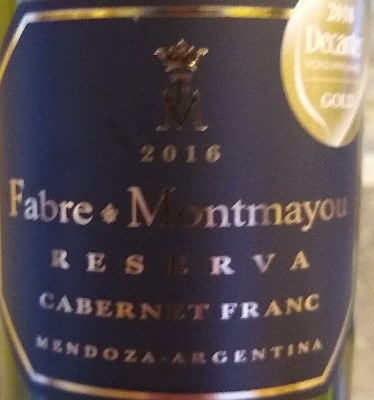 Fabre Montmayou Reserva Cabernet Franc 2016 ($13.50 wine.com)
A decent wine, not very complex. I wanted to give a Cabernet Franc from Argentina a try. Medium dark in the glass, lighter than I might expect from a cab franc. Aroma is not overwhelming, a bit skunky. In the mouth, plum fruit and a very dry finish. No spice. A bit dusty and a bit of cedar. Repeat buy? No, this is not what I am looking for in a cab franc. Wine notes: "Intense red color. Elegant on the nose, with red and black fruit aromas and hints of mint. Fresh and well balanced, with a long finish." Not in agreement.
Until next month, happy tasting and drinking.
Ratings:

Wow, knock my socks off good. A wine to stock up on.

A very good wine, also a wine to stock up on.
A good average wine that is very drinkable, one that I might buy
again.
An okay wine, one I can drink but would not run out to buy any of.

Not worth really drinking, most likely poured out.
Copyright 2019, Richard J. Moore
keywords: Wine,Wine Tasting, Wine Reviews
description: New wine tasting notes for August of 2019