April Wines
October 14, 2019
Richard Moore
Wine of the Month
After a jam-packed summer I am back with my wine reviews and hope to get caught up in a few months. My wine of the month has a bad ass label and tricky name to pronounce without seeming like you are swearing. This red blend from Paso Robles has become one of Julie and my favorite red blends. The wines from Opolo and Vina Robles were definitely worthy of wine of the month picks any other month.

If You See Kay 2016 (18.99 Total Wine)
We really enjoyed this wine during two dinners with my mom at the Lodge Restaurant in Tahoe Donner. The waiter mentioned that they were having trouble keeping this wine in stock when I asked about it. Luckily they had two bottles left for us to enjoy over the two nights. Medium dark in the glass. Beautiful aroma of dark ripe cherry with a bit of spice and jam. Jammy and velvety to start in the mouth. Nice blackberry and plum fruit. A white pepper spice develops. Nice medium tannins at the end with a very long finish that has all elements persisting. Repeat buy, you bet and I have been picking up multiple bottles for the cellar. Wine notes: "Blend : 46% Cabernet Sauvignon, 33% Petit Sirah, 14% Zinfandel, 7% Petit Verdot. A wine with personality to match its label: a deep, dark purple color opening with opulent aromas of mulberries, dark ripe Bing cherries and hints of leather alongside dashes of cedar and vanilla. On the palate, succulent juiciness balances out firm yet fine-grained tannins. Dense flavors of ripe plum and dark cherry fruit flavors create a full, well-structured mouthfeel, with lively acidity that creates a powerful yet elegant sensation through the cherry-toasted laden finish." Seems about right.

Opolo 2016 Rhapsody ($40 Vina Robles wine club)
Always a favorite of ours, and this vintage does not disappoint. Very dark in the glass. Dark plum aroma with oak and some spice, very pleasant. Beautiful in the mouth very dry but not overly done on the tannins. Velvety, black berry fruit with a touch of jam in the mouth. Herb spice, and tannins develop. Very long finish. Wine notes: "On a hike to a meadow the pathway is lined with fresh herbs and huckleberries, led into a fork in the road where a black cherry tree shades an overgrown pathway of graphite rock formations, all complimented by a thermos of coffee splashed with vanilla, caramel creamer. " Not sure I got all of that in my tasting but maybe? Repeat buy, yes. According the the wine club notes you need to decant for a good hour so I did. Will age well for 10 years and I have put two bottles in the aging section of the cellar. Otherwise known as the basement floor under some shelves.

Colpetrone Rosso di Montefalco 2014 ($15.30 Wine.com)
Light in the glass, a bit transparent. Aroma is candied red fruit with a bit of a sting. Very dry in the mouth with a raspberry jam fruit. Dry long finish, but a bit one dimensional. Julie commented that it was buttery, I could go with that. Repeat buy, maybe. I would like a bit more earthiness from a Montefalco Rosso. Wine notes: "Intense ruby red color with purple hints. Ample fruit nose of raspberries with hints of spices and vanilla. On the palate it is full bodied and structured with tannins that complement the wine's roundness and a long flavorful finish." Sure, not much to go on.

Attems 2017 Pinot Grigio Friuli Doc ($18 at Wine.com)
A recommended wine from Dottie and John of Wall Street journal fame, and it is pretty highly rated by many reviewers. Pale yellow in the glass. Sweet pear aroma with no sting. Maybe a hint of flowerial herb. Subdued in the mouth, pear and mineral. A bit of carmel. Medium long finish. Overall a pleasant wine but nothing special. I found it to be a flat tasting wine with not much special. Wine notes: "The wine is a very luminous, light straw yellow. The bouquet, inviting and well-defined, releases crisp citrus scents that alternate with ripe peach and mango notes further enriched with elegant floral impressions of spring flowers and a spiced vanilla and white tea finish. The supple and complex palate offers a balanced freshness and notable sapidity." Sadly we cannot agree at all. Repeat buy, nope as I was disappointed at the price point.

Chiarlo Palas Barolo 2010 (26.99 WTSO)
Light red in the glass, transparent. Sweet aroma, with no sting, ripe cherry fruit. Cherry fruit coats the tongue, become very dry with herb spice. Long finish with tannins and spice dominating. Mouth drying. Wine notes: "The wine shows layered aromas of mint, fennel, plum and spices before rich red currant flavors, with rose petal and more mint notes. On the palate the acidity is balanced and the tannins are silky, leading to a long finish." Not in agreement as I did not find much depth to the wine. Repeat buy? No there are many much better wines for the price. I have not really found a Barolo that I am in love with and am giving up unless I taste one I like.

Tabarrini Montefalco Boccatone 2014 ($25.99 wine.com)
Tart aroma with a sting. Medium dark in the glass. Earthy to start, tart cherry/cranberry in the mouth. Dryness coats the mouth. With air time this wine tames down and is better. Still a sting on the nose, but in the mouth blackberry fruit with a hint of jam is present and no tartness. Still a bit light bodied for a Montefalco in IMHO. Wine notes: "Big blackberry and smoke character, then generous tannins on the palate that interlock nicely with the full body, pulling everything together very nicely at the moderately dry finish." Boy not even close. There is a bit of smoke. Repeat buy? Nope. I am really having problems finding a Montefalco I love to replace the one Julie and I found when in Umbria,the Scacciadiavoli Montefalco Sagrantino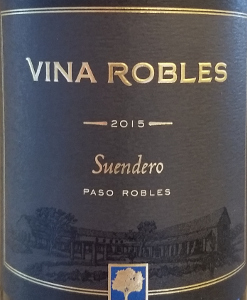 Suendero 2015 Paso Robles ($49.60 Vina Robles Wine Club)
Very dark, inky in the glass. Oak barrel aroma, with dark fruit. Very mouth drying, with a white pepper spice. Very dark fruit, cassis? It is supposed to be a meritage blend, but this is much more substantial than any meritage I have had. I am guessing the Petite Verdot is what really adds the grit to this wine. Julie and I both loved this wine. You have to love a very oaky dry wine. Wine notes: "The final blend was selected between very small Cabernet Sauvignon, Petit Verdot and Malbec lots. While Cabernet Sauvignon characterizes the overall blend, some Petit Verdot was added to enhance the wine's structure and Malbec for additional complexity. color: Dark garnet aroma: Currants and blueberries, with hints of violet, mocha spice and fine tobacco taste: Full-bodied, dark fruit flavors, cocoa powder textured tannins, all leading to a structured finish" Repeat buy, yes! We have never been disappointed in a Suendero vintage yet.
Homestead 2016 Dillo Dally (14.95 At winery)
As the bottle says, this is a sweet red wine. Too sweet for me. Fairly dark in the glass. Not much aroma, and a sting. Odd aftertaste, long finish but not pleasant. Not a repeat buy.
Until next month, happy tasting and drinking.
Ratings:

Wow, knock my socks off good. A wine to stock up on.

A very good wine, also a wine to stock up on.

A good average wine that is very drinkable, one that I might buy
again.

An okay wine, one I can drink but would not run out to buy any of.
Not worth really drinking, most likely poured out.
Copyright 2019, Richard J. Moore
keywords: Wine,Wine Tasting, Wine Reviews
description: New wine tasting notes for April of 2019