Thanksgiving Wine Tasting 2016
December 16, 2016
Richard Moore
Scanning through Facebook before Thanksgiving, I noticed the Wine Enthusiast's top 100 Wines Under $15 list (http://www.winemag.com/toplists/bestbuys2016/). Being a bit on the frugal side, I downloaded the list and browsed through it selecting wines to try that caught my interest. Looking at Total Wine's and Haskell's websites I narrowed the list to ones that could be purchased locally. With Thanksgiving week coming up and having company in town I thought it would be fun to purchase some of the wines on the list and do some tasting to see if the list had any agreement with my and others tastes. For some of the varieties I purchased lower cost wines that I have tasted and liked as a comparison. Also, for each variety tasted I pulled a more expensive favorite bottle from my basement to use as a baseline.
No real formal tasting technique was used as we just talked about each wine as we drank them, trying to move back and forth from bottle to bottle for comparison. The wine was aerated while pouring into the class (with the same aerator since I only own one), and no decanting was done. This made for interesting observations of how some of the wines changed with exposure to additional air than the pour aerating provided.
Petite Sarah
High on the Wine Enthusiast list is Bogle's Petite Sirah (#11), and being a fan of their authentic red blend I was excited to try this out. I picked up a bottle of that and Concannon's San Francisco Bay Petite Sirah which we like for an under $10 wine. For a baseline favorite I included Mockingbird Hill's Petite Sarah into the tasting. Here is the Petite Sirah lineup: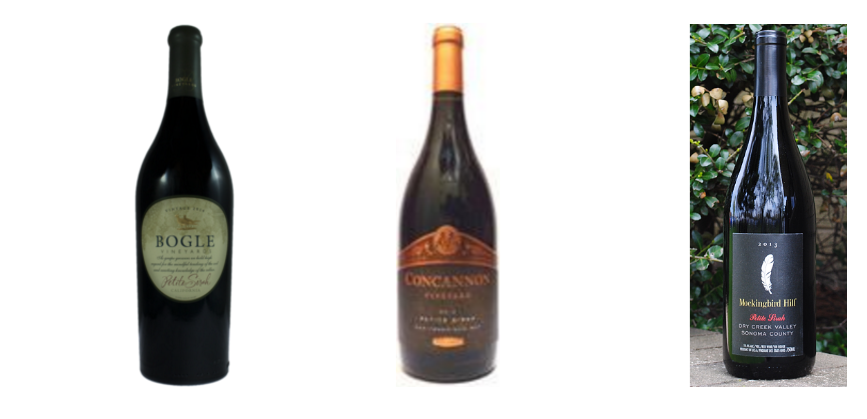 Bogle 2014 Petite Sirah $7.97 (Total Wine)
Concannon 2014 San Francisco Bay Petite Sirah $8.99 (Total Wine)
Mockingbird Hill 2013 Petite Sirah $13.99 (WTSO.com)
Three of us tasted the Petite Sirah's while enjoying a dinner of chili and salad. The winner (2-1) was the Concannon, and although I favored the Mockingbird Hill the Concannon was a close second. All three were very dark in color, with Concannon being the lightest. On the nose Bogle did not really stand out, Concannon was fruity, and Mockingbird Hill was very substantial with the oak standing out. In tasting we agreed that the Bogle was harsh and not really all that enjoyable (I would have been fine just pouring it out), Concannon was the smoothest and pleasant with fruit and a medium dry finish that lingered, Mockingbird Hill really hit with tannins and left your mouth a bit caulky. With air and time the Bogle and Concannon stayed basically the same, but the Mockingbird Hill smoothed a bit making it my favorite. Overall, I would buy the Concannon and Mockingbird Hill again but Bogle is not on my radar for purchase.
As a side note, Mockingbird Hill turns out to be a non existent winery and the bottle says it was made and bottled by Canyon Creek Winery but no such winery can be found via a Google search. Seems WTSO has a class action suit against them for deceptive pricing.
https://thedrunkencyclist.com/2016/05/24/a-lawsuit-against-wines-til-sold-out-wtso/
I have bought many wines on WTSO and have been very happy with the quality of the wines and their amazing customer service. Some of the wines from the non existent wineries are actually pretty good and I would like to find out what wineries actually made them.
Cabernet Sauvignon
For the Cabernet Sauvignon tasting the Cupcake 2013 Central Coast (#28), Columbia Crest 2013 Grand Estates (#7), and Ross Andrew 2013 Reserve were selected.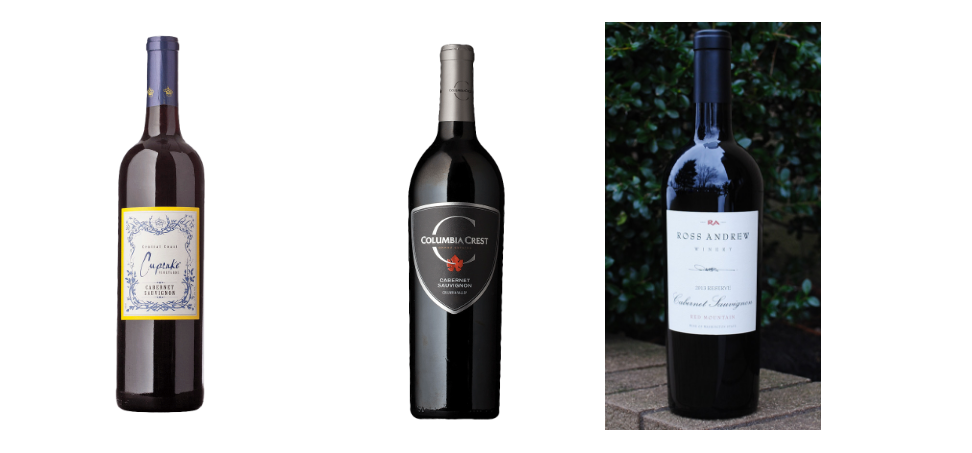 Cupcake 2013 Central Coast Cabernet Sauvignon $6.97 (Total Wine)
Columbia Crest 2013 Grand Estates Cabernet Sauvignon $7.47 (Total Wine)
Ross Andrew 2013 Red Mountain Reserve Cabernet Sauvignon $22.49 (WTSO)
Four people participated in the tasting and provided feedback, during a dinner of spicy Italian pasta and salad. Personally I was a bit hesitant with the Cupcake selection since in the past I have not been all that impressed with their wines, but it held up better than I expected. The wines were very distinctive in their smells and tastes. All were very dark in the glass. Cupcake had a very bright nose with a bit of alcohol sting, Columbia Crest was fruity and mellow to the smell, and Ross Andrew smelled very much like a traditional Cabernet with some fruit and oak present a very substantial wine. In tasting the unique smell of the Cupcake carried through, it was fruity with a fair amount of cherry taste much like a heavy Pinot Noir to me. One taster thought it's drinkability improved with exposure to air. Columbia Crest was a smooth, jammy, fruity Cabernet that was very drinkable and enjoyable especially if you are not a fan of the big and bold high alcohol Cabernets that seem to be the rage. Ross Andrew was the distinct favorite (3 to 1) and was a more traditional Cabernet with fruit, jam and tannins present. You can taste the oak but it is not overpowering making for a long finish and very pleasant wine to drink. All tasters agreed that the Columbia Crest was a very good wine especially for the price and would not hesitate to pick up bottles. It would be a good wine to bring to parties where people are not big wine drinkers since it is smooth and fruity. Cupcake was third on everybody's list, and all agreed that it was not that bad but the others were better.
Pinot Noir
We ended up tasting quite a few Pinot Noir's on Thanksgiving day. The line up was: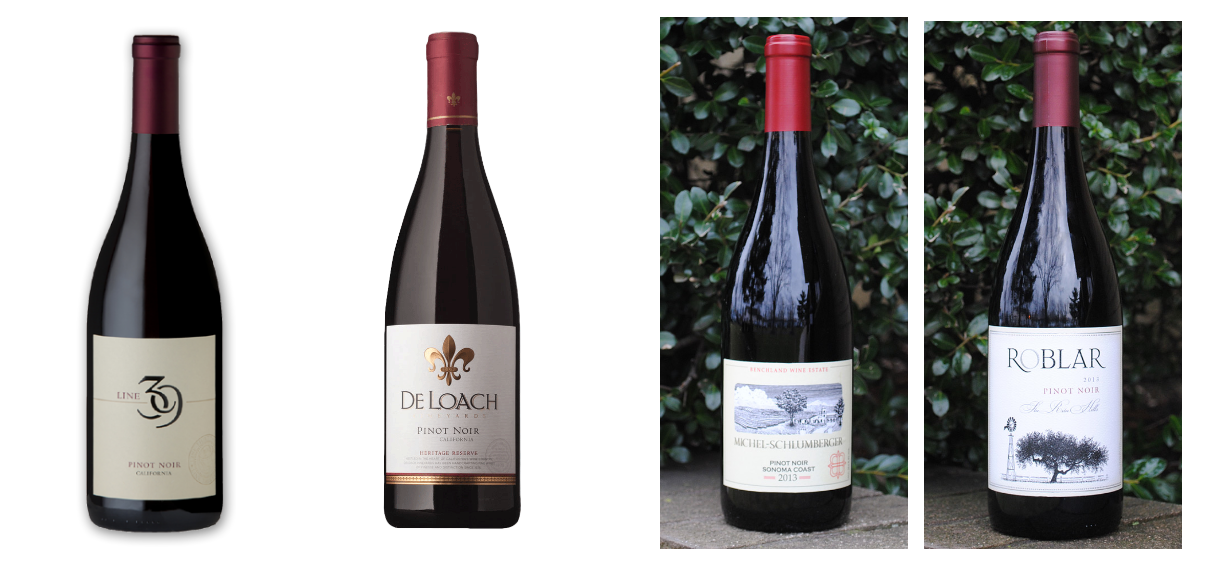 Line 39 2013 Pinot Noir $8.99 (Total Wine) (Wine Enthusiast #14)
De Loach 2013 Pinot Noir $9.99 (Haskells)
Michel-Schlumberger 2013 Sonoma Coast Pinot Noir $16.99 (WTSO.com)
Roblar 2013 Santa Rita Hills Pinot Noir $16.99 (WTSO.com)
Five people participated in the tasting during Thanksgiving day and we all felt that as the day went on our tasting ability declined, but there were still distinct preferences. All the Pinot's were lighter in color in the glass as one would expect. The Line 39 Pinot (Wine Enthusiast #14) did not stack up to the others, it was a bit nondescript to the nose and taste, and was the definite last place for all tasters. Some thought it got a bit better with air but with the amount of tasting we were doing it just might have been diminishing tasting ability. The top Pinot was the Michel-Schlumberger with De Loach and Roblar being very close and enjoyable. Personally I placed the Roblar at the top but found the Michel-Schlumberger and De Loach to be very enjoyable. Both the Roblar and Michel-Schlumberger have more intensity while still maintaining a Pinot fruitiness and subtlety. To me the Roblar had a bit more fruit forwardness to it which made it my favorite. The De Loach Pinot is my go to under $10 Pinot Noir, it drinks well with the right amount of fruitiness, not too much cherry, and a good finish that lasts for a while. All tasters agreed that the De Loach held it's own and was a good value pick.
Beaujolais Nouveau
This year I kept reading about the Beaujolais Nouveau craze, and thought I would pick up a bottle for us to try on Thanksgiving to kick off the wine drinking. The bottle was chilled for an hour by setting it out on the deck in 30 degree weather (the benefit of living in Minnesota!).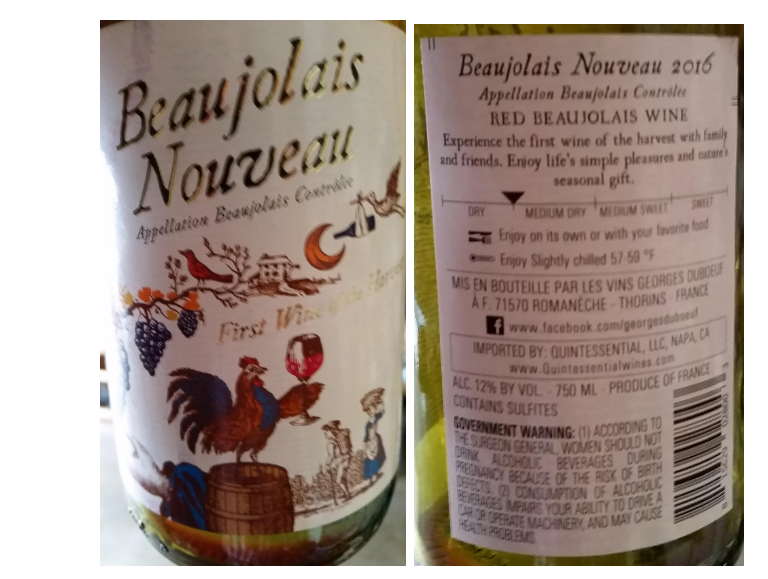 Beaujolais Nouveau 2016 $8.97 (Total Wine)
Five tasters participated in enjoying the Beaujolais, and we all found it much different than expected with everybody finding it a fun wine to drink. Very much a fruit forward wine to the smell and taste, but I was surprised how dry the wine was. For some reason I was expecting it to be sweeter due to the short time from picking to market. Looking at the back of the bottle, you will notice that it is rated between medium dry and dry. For me, the dryness made it a winner as I am not a big fan of sweet wines. If you have not tried a Beaujolais, I would recommend you give it a try for a party, most definitely a good party wine that will not offend most wine drinkers.
Conclusion
I was a bit disappointed with the top 100 list wines with the exception of the Columbia Crest Cabernet. For under $15, I was able to find wines from my own experience in each category that held up much better than the list wines. In each category, it was obvious that spending a bit more money (2x) would net you higher quality wines. Are the more expensive wines twice as good to the taste? Not always sure but wine drinking is a very personal thing and for some an incremental improvement in taste can be worth spending considerably more for. If one is willing to put an upper limit of $30 a bottle quite a few high quality wines are available. Seems that wine rating is a messy business, and I am still trying to find a rating person or group that matches my tasting preferences. Personally I find the tasting notes to be a better way of selecting wines since I am starting to figure out the wines I like and their profiles. Here are the notes for the Roblar Pinot Noir:
"This is a complex wine that has good intensity, purity of flavor, a distinct personality and is well balanced. It's full of well-nuanced dark red fruit with nicely integrated oak flavors, rose petals, blueberries, forest floor, cinnamon, cranberry and sweet plum. This 100% Pinot has good density and holds its alcohol very well. The energy on the attack and vibrant fruit profile translates into a pronounced finish. "
I would say that the notes are right on target for me.
Happy tasting and drinking.
Copyright 2016, Richard J. Moore