January Wines
February 2, 2017
Richard Moore
Here are some tasting notes on the wines we enjoyed in January that I have not documented any tasting notes for.
Peachy Canyon 2014 Incredible Red Zinfandel (9.79 Total Wine)
Maybe one of the best under $10 wines out there. Does develop nicely with some air so open it and let it air a bit and/or aerate on the way to the glass. Some jam and spice with a nice long finish from tannins. Tasting notes: "round and sumptuous, with notes of cherry, clove, and orange oil. One of our most sophisticated and well-balanced vintages". Indeed it is a very well balanced wine, maybe a bit spicier than one would expect from a Zinfandel but that is okay by me. This is one that I keep in my racks for casual drinking. A very highly recommended lower cost wine. Interestingly, we did a tasting at Peachy Canyon last fall when we were vacationing in the Paso Robles area and we were not impressed with their other wines. They did have a very nice port. Based on the quality of this wine the others were quite a disappointment.
Castlebank 2012 Red Wine Napa Valley (12.99 WTSO)
There is a lot to like about this Cabernet based red blend. Tannins, jam and many tastes. Although it is another WTSO/John Newman private label as the bottle says it was vinted and bottled by Wine World Estates in Napa, I really like it and have made repeat orders as it was offered. It has been a while since WTSO has offered this wine and my stock of 8 bottles is running low :-(. The tasting notes: "It's a plush wine that is mouth watering with loads of fruit. One whiff and it's hard to put down the glass as it portends the splendid palate of dark fruit including blackberry, currants, dark raspberries and dark chocolate with touches of coffee, blueberry liqueur and black cherry with toasty, sweet vanilla oak." I may quibble with some of the tastes but overall it is a very good description of this wine. If you like a complex wine with stout tannins this would be one to try if you can find it.

Opolo 2012 Concerto (27.20 Opolo Wine Club)
Another outstanding wine from Opolo. We found this very enjoyable, it is a very bold and tannin forward wine. A wine that you can really taste the oak it was aged in. According to the back of the bottle it is supposed to be a bordeaux style blend, and with Merlot and Cabernet Sauvignon as the first two grapes one might think so, but the addition of Petite Sirah and with some very obvious time in oak barrels gives this wine way more boldness compared to bordeaux's that I have tasted. Personally I prefer this wine over most bordeaux wines I have tasted. Tasting notes: "Cherries and dried cranberries framed by subtle hints of tobacco, mint and leather. Rich flavors of black cherry and tea are surrounded by firm tannins in the mid palate and lead to a long satisfying finish." I would agree with the notes with the exception that the cranberries really came through for me giving a bit of wonderful tartness to the wine. A bit of a bummer is that it does not look like Concerto is currently available on the Opolo website (www.opolo.com).
Saserello 2014 (11.99 Wall Street Journal Wine Club Red Wine Special)
A very nice wine from Sicily, a nice medium dark color in the glass with a very fruity nose. The fruitiness is very apparent in drinking and the wine has a medium finish. We enjoyed this wine and it makes for a nice sipping wine. I think it could benefit from a bit more body, but I would still pick up some more if the opportunity arises to get it at $12. Tasting notes: "sun-baked dark fruit, spicy black pepper and toasty vanilla". Not sure what sun-baked dark fruit means, but this wine definitely is fruity. For me a bit of cherry and cranberry with a crisp tartness. An interesting grape mix of Cabernet, Merlot, Syrah, and Sangiovese. I would expect a bit more body from this mix, but the wine only spends six months in oak.

Vina Robles 2013 Petit Verdot Huerhuero (25.60 Vina Robles Wine Club)
Exactly what I would expect from a Petit Verdot, very full bodied with an amazingly long finish. This wine spends 20 months in oak and it really shows. The tannins are very present giving a very full mouthfeel to this wine. The Paso Robles region is definitely my favorite as it produces so many varieties and the wineries are really producing high quality red wines that are big, bold, and full bodied. Tasting notes: "Medium to full-bodied; dark berries and cocoa powder flavors with a fine grain, chalky finish". Very much in line with my tasting, the chalky finish is the the star for me as I really love wines with that. A wine to let air for a while before drinking, and I aerated the wine from the bottle into a vase container and let it sit for a good hour.
Millesimato Prosecco Frizzante (12.99 Haskell's)
I am not a very big sparkling wine lover and really do not care for champagne. Prosecco is another story, very fresh and not overly carbonated. This Prosecco is delightful, with apple and pear hints in a very crisp semi dry wine. Definitely a wine I will use in the future for toasting and celebrating instead of buying champagne. I was not able to find any official tasting notes for this particular prosecco via a google search. If nothing else, a very cool looking bottle and cork. Would recommend this if you are looking to celebrate or want a fresh crisp wine.
Le Prince de Courthézon Côtes-du-Rhône 2014 (Wine Street Journal Wine Club)
A nice lighter sipping wine. Tasting notes: "The palate brims with blackberry and raspberry, with hints of wild herbs. It's balanced and velvety smooth, with a long, ripe finish." Not sure brim is the word I would use, but blackberry and a bit of raspberry are present along with some cherry tartness and a touch of spiciness. Seems a bit more like a Pinot Noir style of wine to me than a Cotes du Rhone. Overall a bit lighter than I would prefer, but a nice wine with a definite "long, ripe finish". Not sure I would run out and buy more of this, but have enjoyed the bottles I purchased.
Vina Robles 2014 WHITE4 ($12 Vina Robles Wine Club)
A very enjoyable white blend with fruit, crispness, and a bit of sweetness to it. What is amazing to me is it that it is 14.9% alcohol. I would never guess that by drinking it, as there is no alcohol sting on the nose or when drinking it. Tasting notes: "A medium-bodied blend with aromas of peach and mango, layers of fruit on the palate and a crisp finish". I would agree with the notes, and would add that I tasted a bit of pineapple/citrus. I would say this is about as sweet a white wine as I like and will be adding some more bottles to my cellar soon.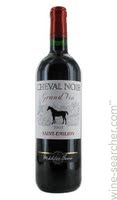 2013 Mahler-Besse Cheval Noir, Saint-Emilion (~14 Euro, Charles De Gaulle Airport)
Purchased this bottle in the airport on the way home from France last May. This is a wonderful wine, full of fruit, spice, and tannins that make for a very long enjoyable finish. An interesting blend of 70% Merlot and 30% Cabernet Franc. The wine really opens up with some air, so aerate and/or decante. Tasting notes: "Notes of red and black fruits, spices (cinnamon), subtle woody notes." For the most part I would agree with the notes, for me seems like more of a plum taste with some tartness to start. I am trying to figure out how to get some more this wine, it really is an enjoyable wine to drink.
Pedroncelli 'Barrel Select' Sonoma County Red Blend 2012 ($12.99 WTSO)
A red blend that I really enjoy, but unfortunately this is the last bottle I have from the 12 ordered from WTSO. Many different flavors, spice, and very present tannins make this a top notch red blend for my tastes. Tasting notes: "Merlot, Zinfandel and Syrah were balanced with just the right amount of oak-not too much to overwhelm the fruit flavors. Rich aromas and flavors of ripe cherries, red plum and warm spice give way to a lingering and full finish." A very interesting mix of grapes that work well together, and I very much agree with the tasting notes and would add that the cherry is subtle. A definite buy for me if I see it on WTSO or somewhere else. I have not been able to find it on the Internet. Guess I will milk this bottle for a couple of nights.
Black Stump Durif Shiraz 2015 ($12.99 Wine Street Journal Wine Club)
If you like your wine jammy and smooth this is a wine for you. We really enjoy this Shiraz blend, it is fruity with a lot of jam that starts out velvety and then has enough tannins to make for a nice long finish. Tasting notes: "Durif brings power, structure and chocolaty blueberries. Shiraz adds more oomph and spicy bramble notes." I am not familiar with Durif grape, but I would venture to say that it must be what brings the jam and smoothness to the wine. Not sure about the chocolaty blueberries. A wine I will continue to keep stocked up on.

Opolo 2013 Sangiovese ($21 Opolo Wine Club)
As you may know by now, Julie and I are big fans of Opolo wines. This wine left us a bit unsatisfied. It was pleasant enough but did not really excite us like the other big and bold Opolo wines we have enjoyed, and it is not the best Sangiovese we have tasted (for me that honor currently goes to Fawn Ridge Winery outside of Auburn California). Tasting notes: "Our Sangiovese is a full bodied wine featuring forward fruit characteristics of raspberry, mint leaves and black cherry. The luxurious finish lingers on the palate, popping with bright acidity and velvety texture. Barrel aging on 100% American oak lend this wine soft tannins and subtle oak nuances." I am a bit puzzled as we did not really feel it was full bodied but more medium bodied at best. There is acidity and some jam that develops after some airing time. Overall, not a wine I would be looking to buy more of.
Blackstone 2015 Merlot (7.67 Publix)
I always remember Blackstone making a good Merlot for the price, and decided to give it a try while on vacation in Florida. Must admit that I am impressed at the quality of wine you get for well under $10. Tasting notes: "Our Merlot shows rich blackberry, plum, and raspberry flavors with hints of vanilla and toasted French bread" I can really taste the mix of berries and plum with even a bit of vanilla, but did not taste the toasted French bread (what the heck?). I might even venture to add that there is blueberry to the taste. There are a fair amount of tannins giving it a nice long dry finish in the mouth. I am not usually much of a Merlot drinker but this wine will make it's way into my wine purchasing list in the future.

Bread and Butter 2015 Chardonnay (12.95 Vino Loco Englewood FL)
A very different tasting Chardonnay, hits hard with vanilla to start and goes to a butterscotch taste that lasts for quite a while in the mouth. Julie and I found this to be a very enjoyable wine, one of our top Chardonnays. Tasting notes: "This Chardonnay opens delicately with rich notes of vanilla bean and almond husk, which reminds me of a decadent crème brûlée. The creamy custard notes are balanced by a soft minerality and a hint of worn leather. Those creamy notes continue to your palate where they are joined with a light woodiness from the oak. Just like that first bite of brûlée, this wine will melt in your mouth for a long, creamy finish." I can see how they get creme brulee, but we found a very strong butterscotch taste and are sticking to it. If you like your Chardonnays buttery this would be one to give a try. Definitely one we will continue to purchase and have on hand (good news, it looks like we can get his locally at Total Wine but at a slightly higher price).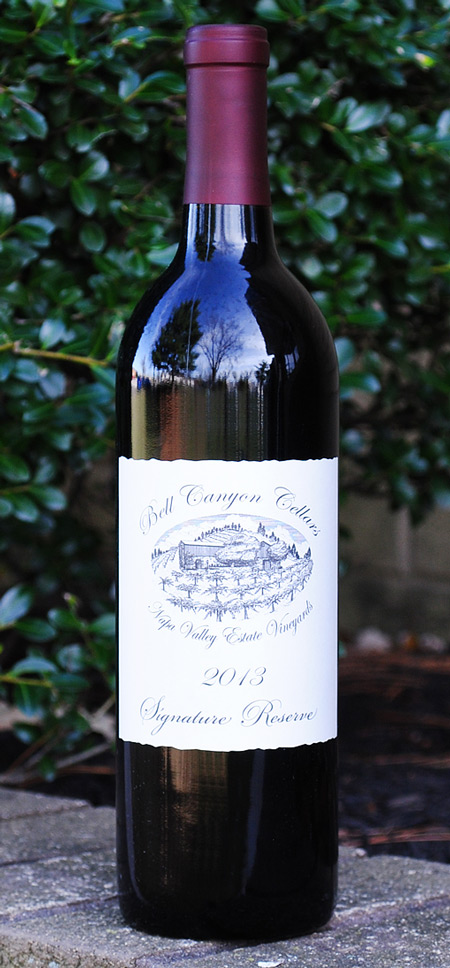 Bell Canyon Red Signature Reserve 2013 (14.99 WTSO)
Every time I open a bottle of this wine and taste it all I can say is wow! This might be my favorite red blend. The combination of Syrah, Malbec, Merlot, Petite Sirah gives this wine a very substantial base, but it is amazing smooth at the same time. Tannins are very present and mouth drying for a very long finish. If you love your wine big and dry this is one for you. Now the bad news, this is a WTSO/John Newman private label so it is uncertain if there will be any more offers of this wine. If so, you can bet I will make a substantial order to stock up on this wine. Tasting notes: "A splendid red blend made for smooth richness, bold flavors. Dark red fruits and blackberry flavors are accented with notes of vanilla and spice." It is all this and more, as I noted it has tannins that will make your mouth caulky after a smooth start. I think Julie summed it up nicely: "This is a really good wine, and it would go great with a big old steak". February 13 update: WTSO just offered this wine again at $14.99 so I snatched up 8 more bottles to go into my cellar (http://themnmoores.net/RichBlogs/2017/CreatingaWineCellar/CreatingaWineCellar.html), happy days are back!
Cupcake 2014 Chardonnay (9.97 Publix)
We were very pleasantly surprised by this wine. My experience with Cupcake has not been all that great in the past, but they did a nice job with their Chardonnay. It has a nice freshness coupled with a bit of butter which we both love. Tasting notes: "bursting with flavors of white peach, Honeycrisp apple, apricot and lemon meringue. Fresh hazelnut, almonds and vanilla peek through the aromas of subtle spice and toasted oak. A balanced acidity, bright fruit flavors and a creamy mouthfeel." We both felt this was pretty on target, we tasted pear and apple, which then gives way to the buttery taste we love in a Chardonnay. Alway nice to find a sub $10 wine that sits nicely on your palate. We picked up a few more to enjoy here in Florida and will pick up some in Minnesota.
Opolo 2014 Montagna Mare (23.80 Opolo Wine Club)
After a bit of a disappointment with their Sangiovese, Opolo comes storming back with a wonderful wine in this blend of Barbera and Sangiovese grapes. We both really enjoyed this red blend, for us it had medium level of fruit and jam up front with a very nice spiciness and long finish. Tasting notes: "This "Italianesque" wine has a very long, spicy finish that is fruit driven yet integrated with broad strokes of oak aging." Not much to go on, there is a mild bit of jam and fruit at the front end, with a spiciness and enough tannins to develop a lasting finish. I have to check how many I have left and order in a few more in February when I can get free shipping on a case through Opolo's wine club.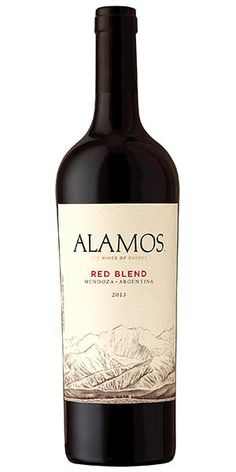 Alamos 2014 Red Blend (9.99 Publix)
We found this to be a enjoyable wine to drink if not a bit nondescript. Seems this wine is not trying offend anybody, it has a bit of Jam, a bit of fruit, some spice, and some dryness and finish. In drinking it there is not anything that jumps out and makes you say wow! There is more of a subtle "that is nice" response when drinking it. There is an unusual mixture of grapes: 65% Malbec, 16% Bonarda, 10% Cabernet Sauvignon and 9% Syrah. It seems Bonarda is a fairly popular grape in Argentina, but I do not have any experience tasting it. Here are the notes from the winemaker: "Our Alamos Red Blend has spicy flavors of black pepper and blackberry fruit from the Syrah, and juicy dark cherry flavors from the Bonarda. Both of these varieties marry well with the dark plum flavors of Malbec. Tempranillo adds an intriguing edge with its lively strawberry nuances that mingle perfectly with hints of oak. A warm brown spice character from the oak and a rich mouthfeel deliver a bold and very approachable wine." If I was looking for a mellower wine to sip and enjoy I would pick up a bottle, especially at the price point. Not one I would go out of my way to find and put in my cellar.
Bread and Butter 2014 Pinot Noir (14.99 Publix)
Based on the Bread and Butter Chardonnay we tried this month, I picked up a bottle of their Pinot Noir. This wine was a big winner for Julie and I, not like any other Pinot Noir I have tried. It is buttery, which I guess you would expect from the brand, a bit jammy with the right amount of ripe cherry that then leads to some spice and a pretty long dry finish. Tasting notes: "Ripe cherries and dark chocolate dominate. There is raspberry, roasted nuts, orange liquor, and a hint of chalk…actually, it's more like crushed Pez candies (no, I'm not drunk). The texture is super smooth, soft, and balanced." Personally I did not pick up any chocolate notes, the orange liquor I can see although I would almost say carmel. Pez? Really? Texture notes are right on target. If you want to try a very different Pinot Noir I would say get a bottle. This is one I will be stocking up on.
Until next month, happy tasting and drinking.
Copyright 2017, Richard J. Moore
keywords: Wine,Wine Tasting, Wine Review
description: New wines tasting in January 2017