Creating a Wine Cellar
February 11, 2017
You may have noticed that drinking and experiencing wines is a hobby or maybe an obsession of mine. I tend to think of it as a hobby but others seem to think otherwise. As I started to buy wine on the Internet in larger quantities an issue of how to store these bottles of wine became apparent. At first I was just putting the boxes on the floor in my lower basement storage area, making sure the bottles were horizontal. The boxes became a bit of an obstacle course for those venturing into the lower basement storage area.
About that time I ran across this blog and video on our local liquor stores site:
http://blog.haskells.com/how-to-start-a-wine-cellar
http://blog.haskells.com/how-to-properly-store-wine-at-home
We in cold climates like Minnesota have the advantage of usually having basements in our houses with an area under the stairs leading to the basement. Many years back I had enclosed the area under the stairs and put storage shelves in there. I figured this would make a good place to store wine as it was cool and dark. To start with, I purchased some wine storage racks from Amazon, http://amzn.to/2lzawyf, which worked really well. If you want to store bottles of wine I would recommend this racks as you can stack them up to 4 high.
After purchasing three racks the real estate in my storage area was tapped out unless I removed the storage shelves I had made. One day I was considering what to do and I thought maybe I could convert the existing shelves to hold wine bottles. Using scrap wood I had laying around in the garage I was able to convert four rows of shelves into 8 rows of wine bottle storage.
With the new rows of available storage I am able to store in the order of 250 bottles of wine, quite an improvement from the 40ish I could store on the metal wine racks. This seems like a reasonable number of bottles to have in a collection as it allows me to stock up on wines I like by ordering 8-12 bottles at a time. It also allows me to take advantage of sales and specials I run into. I am not one to buy expensive bottles and age them, and I try to cycle through the wines in my shelves within 2-3 years. This does take some remembering and organization. You can see the blue tape on the shelves that indicate the region and type. The bottles in the metal racks are California single grape varieties (Cabernet, Petite Sirah, Pinot Noir, etc…). The closest bottom 3 rows are California red blends. I have rows for France, Italy, Spain, and then some for misc regions.
To be able to put two rows of wine bottles into a shelf I build very basic and crude inserts like below.
This insert was for the bottom shelf that is basically the cement floor. For the wood shelves I put in units that did not have bottoms.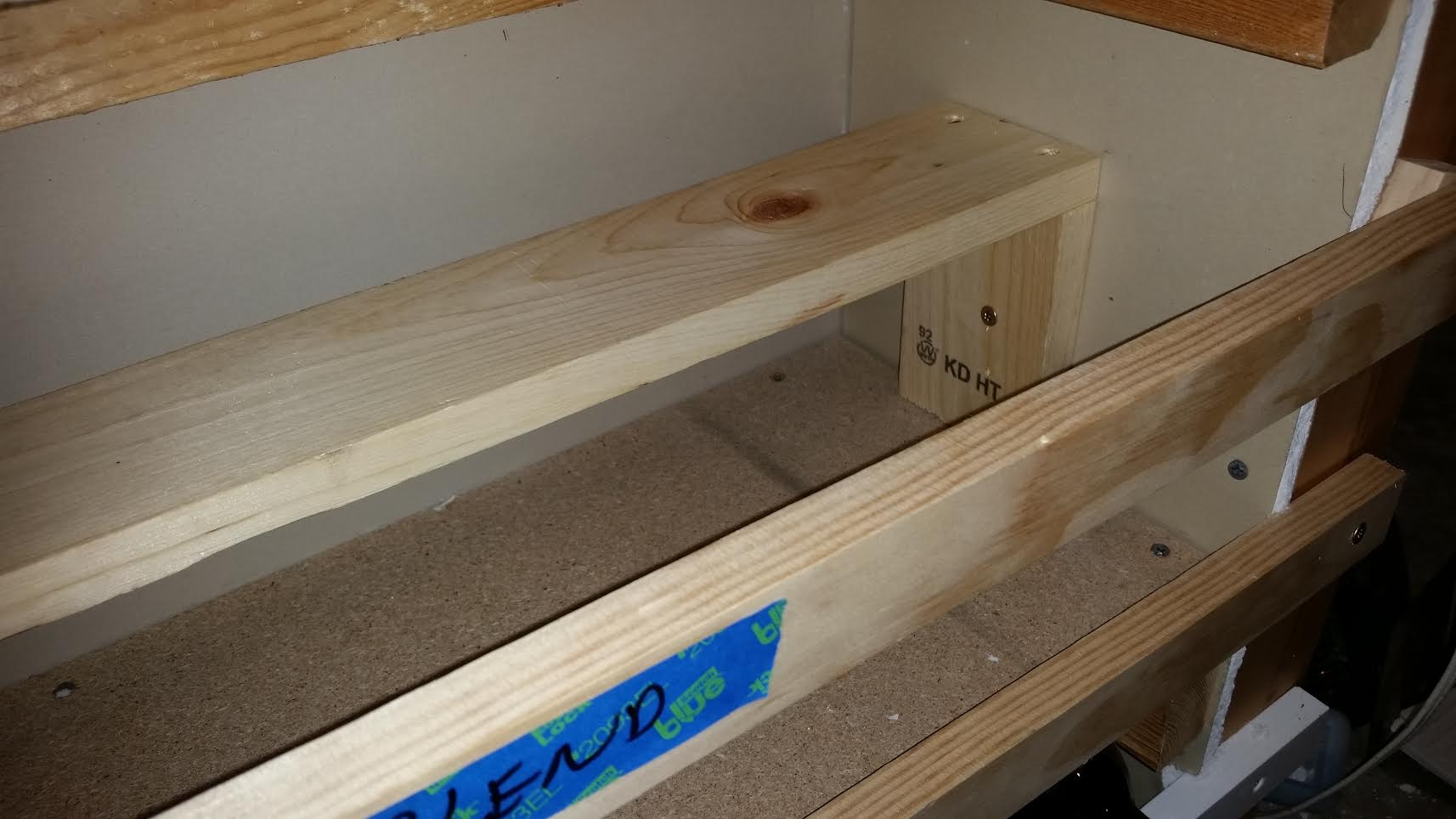 Where the row is broken up by a 2x4, some wood screws were put in place to keep the bottles from turning sideways. It turns out that I can double stack bottles in the bottom row of each shelving unit so the storage capacity can be increased by about 80 or so bottles if needed.
After over a year of use this simple and inexpensive solution seems to be working quite well and I have not run into any bottles that have had any storage issues. The temperature in the summer can get into the upper 60's which is a bit high for long term storage of wine, but I think it is more important that the temperature does not swing up and down a lot. That coupled with some humidity and darkness seem to make for a good wine storage environment. We do run a dehumidifier in the lower basement to keep it from getting too damp.
Here is some more information on having a collection of wine.
http://www.winemag.com/2017/01/13/wine-collecting-tips-mistakes-to-avoid/
http://blog.haskells.com/how-to-stock-a-wine-cellar
Happy drinking!
Copyright 2017, Richard J. Moore
keywords: Wine,Wine Cellar, Wine Storage
description: Creating a low cost wine cellar in a house basement