Wind River Range North 2021
January 1, 2021
Richard Moore
Photo Credits: Richard Moore, Steven Moore, and Darrell Moore
We headed into the Bridger Wilderness loaded down with 7 days worth of food and gear. We departed the Pole Creek Trailhead at 3 on a Sunday afternoon and hiked a pretty tame 7 miles to Marys Lake.

Day 2 Marys Lake to Upper Cook Lake

Our second day took us up Pole Creek and around the south part of the Cook Lakes loop to a nice campsite near the outlet of Upper Cook Lake, another 7 miles of hiking which was not as tame as the first day.

With uncertain weather, we decided at lunchtime to take a rest day at Upper Cook Lake. The afternoon cleared up and we enjoyed a beautiful day at the Lake.

Day 4 Upper Cook Lake to Island Lake

Clear skies greeted us on day four and we headed over Lester Pass to Island Lake enjoying some amazing vistas.

We hit the perfect day for a day hike into Titcomb Basin and enjoyed a great morning and early afternoon before a big thunderstorm hit, luckily just after we got back to camp.

Day 6 Island Lake to Barbara Lake

After two spectacular days at Island Lake, it was time to head back towards the trailhead. Our plan was to camp at Barbara Lake which we did. A pretty gentle 6ish miles of hiking.

Day 7 Barbara Lake to Pole Creek Trailhead

After another wet and wild night in the Wind River Range, we had a quick breakfast and coffee and headed out to the trailhead. It was an easy 6.3 miles of mostly gradual downhill. Lots of people coming in for the weekend.
For 2021, we headed to Wyoming for our annual backpacking trip. We had been discussing a trip in the Wind River Range for a few years and this seemed like the year to do it. David had decided to opt-out of the 2021 trip to let his leg heal up and get ready for his wedding at the end of August. That left Darrell, Steve, Brennan, and myself as participants for this year's hike. A knee injury that Brennan picked up in a soccer game a few weeks before the trip made him drop out leaving only three. We worked out that Darrell would drive from California and pick Steve and I up at the Salt Lake City airport and we would make the 4-hour drive up to Pinedale Wyoming stopping in Evanston Wyoming to spend the night.
The plan was to spend 7 days doing a semi loop taking in Cook Lakes, Lester Pass, Island Lake, Titcomb Basin, and Indian Pass. The later two being day hikes from Island Lake. Here is our proposed itinerary.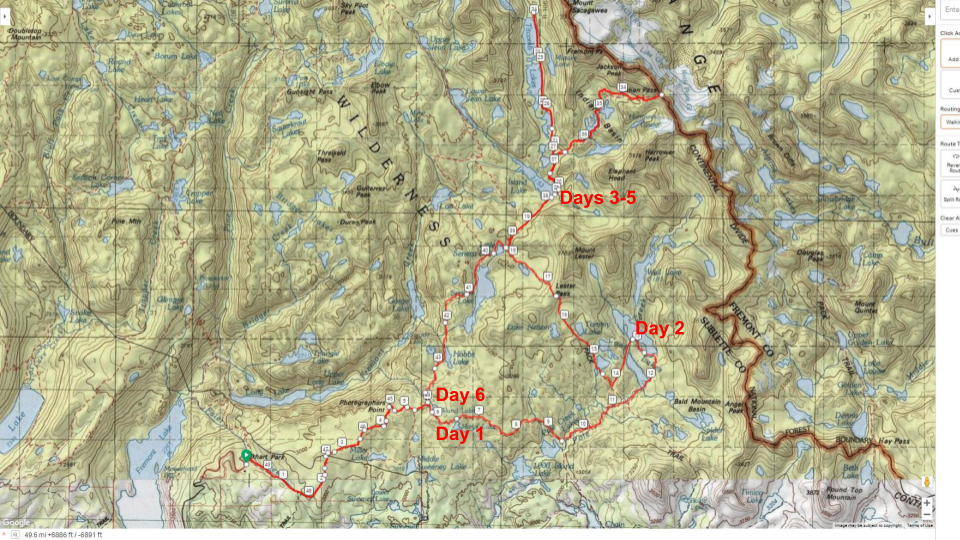 One advantage of the north end of the Wind River Range is accessibility as there is a paved road from Pinedale up to the Pole Creek Trailhead. This is nice but means you will be dealing with a lot of people. The other advantage of the Pole Creek Trailhead is that you start out above 9000 feet in elevation so that there is less climbing involved. We started on a Sunday afternoon to increase our chances of getting a parking spot which worked out well as many people were headed out. Our plan was to hike the loop counterclockwise to have us camped at Island Lake during the middle of the week hoping for fewer crowds. This did not work out as Wednesday was a zoo at Island Lake. One downside to the Wind River Range is the amount of hiking you have to do to get to the very scenic areas, usually about 12+ miles. We had tried to set up a food drop at Island Lake but never got any replies from the packers that we contacted so we decided to just carry the 7 days of food. Personally, I would have liked a drop to lower the pack weight and to be able to have a clothing change but it worked out. There is not really an option of doing two in and out loops unless you are willing to really put some miles in. Our desire is to do about 7-8 miles a day to leave time for fishing and enjoying the hike.
The Wind River Range is known for having some wild weather and we encountered a fair amount of it. After our second day of hiking, we found a nice elevated site at Upper Cook Lake that was flooded out by a big thunderstorm complete with a fair amount of hail. We moved to another site that another backpacker was willing to share with us. The next brought a cloudy start and we knew that forecast had called for more thunderstorms that day and we did not want to get caught on Lester Pass in one. That meant we ended up spending a nice relaxed day at beautiful Upper Cook Lake and missed out on a day hike to Indian Pass. Here is our trip as we hiked it.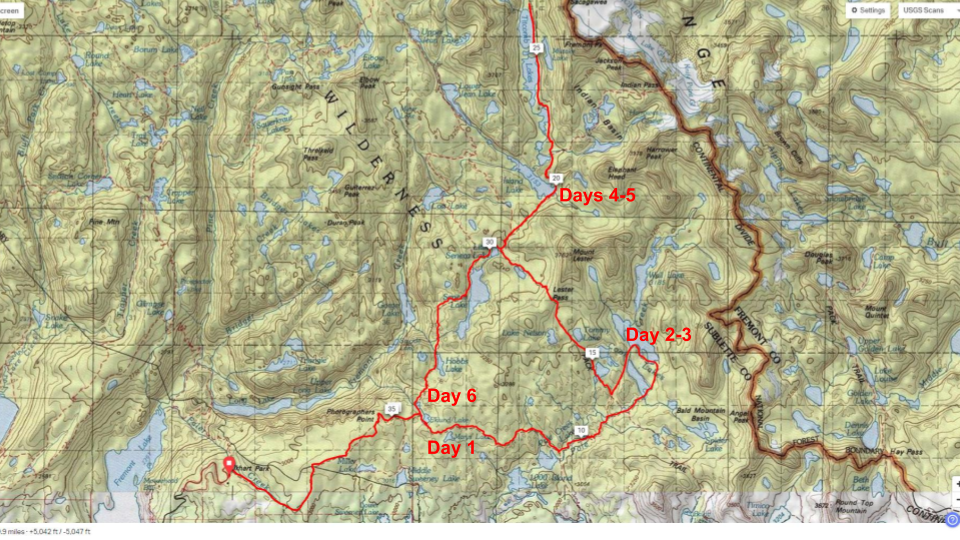 All in all, a beautiful trip with some wild weather to talk about for years to come. For me, the hiking seemed harder than last year in the Bitterroots. I am not sure if that was an effect of being over 10000 feet for the whole trip or something else.
The fishing in the Wind River Range was not near as productive at the Bitterroots for me with my fly and bobber set up on a spinning rod. Darrell had a fair amount of success using bait on the bottom. Other people we talked with all had fly rods and had not had any success to talk about. Guess I should have brought a few spinners as we did encounter some people that were using spinners with some success.
Should you go to the Wind River Range? I would say a qualified yes. The scenery once you get back into the range is spectacular. The real downside for me was the number of people and it seemed like being on the John Muir Trail. We saw many through hikers on the Continental Divide Trail for the 4-5 miles of it we hiked. The mentality of through hiking does not seem like something that would appeal to me. If you want a solitude wilderness adventure I would say that the Wind River Range may not be for you and would point you to the Bitterroot Mountains where we saw only maybe 20 other people over 7 days. In the Wind River Range, I would say we saw in the order of 100 people per day. A weekend in the Wind River Range would be crazy based on the number of people we saw coming in on Friday and Saturday.
Pinedale is a big enough town to have just about anything you would need to pick up and we got bear spray and fishing licenses there. The Wind River Brewing Company was a good place for lunch.
Wind River Range Information
http://www.ouachitamaps.com/Wind%20River.html
https://www.cleverhiker.com/blog/trinity-alps-wilderness-backpacking-guide
https://jansjaunts.wordpress.com/2017/08/26/wy-titcomb-basin-northern-wind-river-mountains-bridger-wilderness/
https://www.greatoutdoorshop.com/portfolio/titcomb-basin/
https://jansjaunts.wordpress.com/2017/08/26/wy-titcomb-basin-northern-wind-river-mountains-bridger-wilderness/
https://www.greatoutdoorshop.com/product-category/books-and-maps/trail-maps/
http://www.hikingwalking.com/destinations/wy/wy_ww/elkhart_park/bp_cook_island
https://www.cleverhiker.com/blog/titcomb-basin-backpacking-guide-wind-river-range-wy
Copyright 2021, Richard J. Moore
Keywords: Backpacking, Wyoming, Wind River Range, Bridger Wilderness, Hiking
description: Our 2021 backpacking adventure to the Wind River Range in Wyoming