September and October Wines
February 24, 2021
Richard Moore
I did not skip a month, we simply did not try any new wines, at least that I have notes for, in August 2020, but just enjoyed repeats.
Wine of the Month
We did have some amazing 5 star plus wines from Opolo and Vina Robles, but I chose the Firebrand Chardonnay because it is quite the find. It is an easy drinking wine that has everything Julie and I like in a Chardonnay, and to top it all off it is not that expensive. Also, being a winery direct wine to Total Wine means I can get 15% off when buying 12 winery direct wines.
Firebrand Reserve Chardonnay 2018 ($12.99 Total Wine)
A Total Wine top 20 under $20. Very pale yellow in the glass. Beautiful caramel and pear aroma. No sting. Buttery in the mouth. Carmel butter with pear fruit. A nice touch of minerality is present. Long finish with all elements present. Repeat buy? Yes, definitely a Chardonnay in the style we like and this has become a goto Chardonnay for us. Notes: "This rich, full-flavored Chardonnay fills the palate with notes of vanilla, butterscotch and baking spice along with baked apple, mango, and citrus." A bit more elements than I get out of tasting this wine.
Windrows Cellars 2016 Oakville Napa Valley Red Blend ($17.99 WTSO)
Dark in the glass, pleasant aroma of dark ripe plum fruit. No sting. This wine needs a bit of air. The first sips out of the bottle were not all that good. In one word, chocolate mocha. A bit of ripe raspberry fruit, but then the chocolate mocha takes over. Some spice and a dry tannin finish that is long with the mocha really persisting. Repeat buy, for me, yes but Julie did not like it. Notes: "Together, Merlot, Cabernet Sauvignon, Cabernet Franc, and Petit Verdot reveal a layered palate of brambly forest berries, wild violets, spiced mocha, and just a hint of savory herbs on a long and chewy finish." Yeah.
Eccentric 2019 Red Blend ($8.99 Total Wine)
A top 20 for under $20 from Total Wine. Opi Sadler is a favorite wine maker of mine so I tend to try his wines. Iridescent purple in the glass almost glows. Leathery ripe plum aroma, a bit of a sting when first opened. Very smooth and velvety mouthfeel. Jammy blackberry fruit with a white pepper cumin spice. The finish is medium long with all the elements coming and going. A very pleasant wine for sipping by itself or maybe with some spicy food. A little sweetness but just a touch. Repeat buy? Most definitely as this is a good low price wine. Notes: "Mendoza, Argentina - With it's bright red color and silky tannins, this Red Blend dances across the palate with fruit flavors of blackberry and quince that lead to a long smooth finish complemented with subtle spice notes. Made by Opi Sadler, of the La Mascota Winery." About covers it.
Moonset Knights Valley Zinfandel 2017 ($12.99 WTSO)
Dark in the glass. Not much of an aroma and there is a sting on the nose. Maybe a hint of blackberry jam aroma after some air. Dry finish that has some tannin backbone. Julie thought it was good and I was not all that thrilled. Repeat buy, no there are much better Zinfandels in the same price range. Notes: "The vineyard produces a light, ruby color Zinfandel with aromas of red cherry and darker fruit that returns in the mix of fresh fruit flavors that greet the palate first and which are followed by darker, brambly flavors as well has notes of vanilla and spice in the finish." My notes were incomplete so I cannot compare with their notes.
Harvester 2018 Cabernet Sauvignon Paso Robles ($17.99 Total Wine)
Dark in the glass. Dusty, earthy, dried plum aroma. No sting. Bright in the mouth, floral and white pepper spice. Ripe plum fruit, mocha, and coffee. Dry finish with spice and an earthy feel. The finish is long with a hint of tannins plus oak. Repeat buy, maybe. We tasted the Vina Robles 2018 Cabernet after this and everybody agreed the Vina Robles Cabernet was much better wine at the same price. Notes: "Full-bodied with inviting flavors of red berries, spice, and velvety tannins; a densely-packed Cabernet that is defined by its soft, luscious finish." Not much to go on, but I can agree.
2019 L'Oiseau du Paradis Coteaux d'Aix en Provence ($11.99 WTSO)
My rose preference is Provence roses so it is nice to try a new one. This is a dry crisp rose. Light salmon color, melon, and a light strawberry aroma with no sting. Strawberry and watermelon in the mouth. Very dry with just a touch of sweetness. Long finish with a melon/strawberry taste. Repeat buy, no there are other roses I like more. Notes: "Chateau Paradis presents us with Provencal rose at its most refreshing, highlighting notes of zesty citrus, orchard fruit, red berries, and an enticing finish of seaspray minerality." Not what I was tasting.
Clarendon Hills Brookman Syrah 2010
($29.99 WTSO)
Dark in the glass. A dusty, tart, ripe dark fruit aroma. No sting. Smooth in the mouth with a cross of blackberry and pomegranate fruit. A nice constrained jam. Dry long finish with an oak backbone. A touch of spice. Repeat buy, at the price no. Opolo's Syrah is a much better wine for $10 less. Notes: "Sourced entirely from their Brookman vineyard, this Old World-inspired bottling reveals layer after layer of complexity with notes of blueberry pie, mineral-rich earth, dried leaves, and dark chocolate making way to a savory, peppery, and oak-tinged finish." Some elements yes, others no.
Concannon 2015 Livermore Valley Petite Sirah ($36.00 Concannon Wine Club)
Dark in the glass. Dusty ripe plum and blackberry aroma. No sting. Smooth in the mouth to start. Blackberry fruit, fig, and chocolate. Becomes a bit spicy, black pepper, and a touch of cola. Dry in the mouth with a nice touch of oak. Gets better with air, decant for an hour. Repeat buy: maybe. Notes: "Enticing aromas of black forest cake, chocolate covered cherries and a drive by of subtle hints of mint. Bold, delicious, dark fruit on the palate unfolds to notes of earth, chocolate, and bacon. A big wine that holds through from start to finish" Maybe, but not sure of bacon.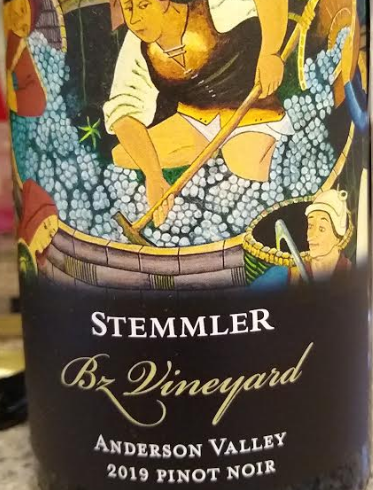 Robert Stemmler Pinot Noir 2019 BZ Vineyard Anderson Valley
($19.99 WTSO)
Wow, truly a great wine. Medium dark in the glass Dusty cherry and raspberry aroma. No sting.
Velvet mouthfeel. Cherry and raspberry fruit. Gets spicy, white pepper and cumin. A semi dry long finish. Unlike any Pinot Noir I have tasted and it is good! Repeat buy, yes! Notes: "The BZ vineyard is our coolest site, leading to a fresh, vibrant wine. The nose shows classic pinot fruit aromas of berry and cherry, along with a woodsy, almost minty character that is a signature of Anderson Valley. The palate offers a complex mix of red and black fruit and a lift from a hint of stonefruit. Vibrant acidity combines with fully developed tannins for a long, deeply concentrated finish" Yes!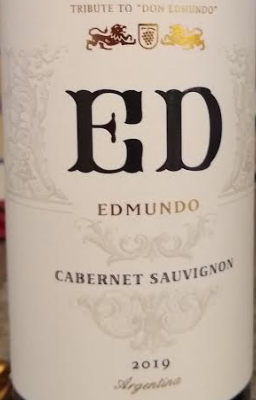 Ed Edmundo Cabernet Sauvignon, 2019 ($9.99 Total Wine)
A Total Wine top 20 under $20. A pretty good wine, maybe just a touch too sweet. Dark in the glass. Dusty ripe dark fruit aroma. No sting. Smooth and velvety in the mouth. Blackberry fruit and jam with milk chocolate. Medium finish that gets dry. Not much oak to speak of. Notes: "black fruit, black olives and a leafy accent. Ripe, fleshy dark fruit with soft tannin, leading to a spicy finish." Not getting black olives luckily. Otherwise yes. Repeat buy, yes at this price a good value that many people would like. A good wine to bring to a big gathering if you don't want to spend a lot of money.
Opolo Montagna Mare 2018 ( Opolo Wine Club)
We have really loved this wine and the 2018 vintage is wonderful. Light in the glass. Boysenberry jam aroma, no sting. Jam, dry, and spice combine in a beautiful way. Boysenberry jam to start, black pepper, and cola spice. A very dry finish with nice constrained tannins. An earthy wine. What Italian super Tuscans should be. Repeat buy, yes. Wine notes: "We begin with the rich and earthly flavors of Sangiovese and tame them with the bright and lively flavors of Barbera. Begins with deep aromas of dark cherry and charred cedar followed by black plum poached with tea leaves. A true delight." I can see that.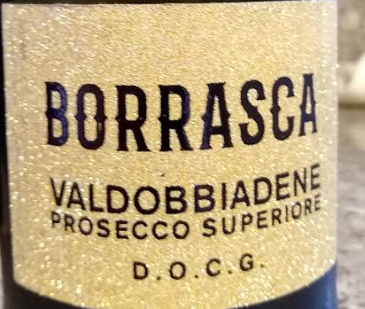 Borrasca Prosecco DOCG ($14.99 Total Wine)
A Total Wine top 20 under $20. Just barely drinkable, ended up dumping the last bit as neither of us wanted to finish it. Both Julie and I agree this does not measure up to the Proseccos we have been getting from WTSO. Just a hint of yellow in the glass. A hint of sweet pear aroma. Not much taste in the mouth. Maybe a sour pear fruit. A bit odd. Wine notes: "White flowers, Bartlett pears, and almonds layer and show the elevated quality of this Prosecco. The wine is rich while keeping a fruit forward soft side present giving a nice texture on the mid-pallet and finish" Not at all! Repeat buy? No as it was very disappointing.
Vina Robles 2018 Grenach Terra Bella Vineyard ($34 Vina Robles Wine Club)
Wow, wow, wow. I have been looking forward to trying this since I saw it as part of our most recent wine club shipment. This is the best Grenache I have ever tasted. Medium dark in the glass. Jammy raspberry aroma, a bit dusty earth. No sting. Velvet mouthfeel. Ripe raspberry fruit, a nice bright spice of herb and white pepper. Dry long finish with a medium oakiness. Repeat buy? Yes and I wish I had ordered more with our wine club shipment. Wine notes: "Color: Light ruby Aroma: Ripe cherries and wild strawberries with notes of sandalwood, fig and caramel Taste: Medium-bodied with juicy ripe cherries, crème caramel and a soft, silky finish" I might quibble, but can see that.
Highlands Forty One 2019 Darkness Red Wine ($12.99 Bright Wines)
Inky dark in the glass. Ripe dark jammy fruit aroma. Yummy in the mouth. Becomes dry and chalky in the mouth. Very ripe bing cherry fruit. Cola spice and dark chocolate. Repeat buy? Yes, this is a fun wine to drink. Wine notes: "Our hand-crafted artisan blend reveals ripe flavors of raspberry and blackberry with notes of spice and vanilla" Yes!
Concannon 2017 Reserve Red Blend Spring Mountain ($52 Concannon Wine Club)
Medium dark in the glass. A powerful aroma of ripe bing cherry. Very nice. No sting. This wine starts underwhelming but builds into a wonderful wine so decant. Smooth on the tongue, lightly candied cherry/raspberry fruit. Gets dry on the tongue with an herbal spice that builds. The finish is dry and long with the spice and fruit persisting. Some milk chocolate. Repeat buy? A nice wine but a bit out of my price range. Notes: "A true representation of Spring Mountain terroir, this unique blend boasts notes of tobacco and spice supported by bright red cherry flavors and a black pepper finish. Balanced tannins and nice acid make for an age worthy red." Sounds good.
Cline 2018 Ancient Vines Zinfandel (14.99 wine.com)
This is a wine we enjoy when we dine at the Old Village Hall in Lanesboro. Medium dark in the glass. Dusty ripe plum fruit aroma. No sting. This is a very tasty wine. A nice mellow mouthfeel. Blackberry fruit and a touch of dark chocolate. Some cumin spice. The medium long finish has some dryness and tannin backbone. This is a wonderfully constrained Zinfandel. Repeat buy? Yes, and I have been stocking up. Wine notes: "The 2018 Ancient Vines Zinfandel shows ripe fruit flavors and soft tannins, which make this a mouth-coating rich vintage. Aging on new and used oak has lent this wine a subtle vanilla quality that is nicely complemented by explosive fruit notes" Yes, but not much to go on.
Until next month, happy tasting and drinking.
Ratings:
Wow, knock my socks off good. A wine to stock up on.
A very good wine, also a wine to stock up on.
An average wine that is very drinkable, one that I might buy again.
An okay wine, one I can drink but would not run out to buy any of.
Not worth really drinking, most likely poured out.
Copyright 2021, Richard J. Moore
keywords: Wine, Wine Tasting, Wine Reviews
description: New wine tasting notes for September and October of 2020