November and December Wines
June 19, 2021
Richard Moore
Wine of the Month
Vina Robles The Arborist red blend has become a favorite of mine and the 2018 vintage takes it up a notch. What was especially nice was that I could get it for $10.80 on some 40% specials Vina Robles was running during 2020 and 2021. My cellar is nicely stocked with this wine.
Vina Robles 2018 The Arborist ($10.80 Vina Robles Wine Club Special)
Very dark in the glass. Tart ripe plum aroma with a bit of forest floor. No sting. The second vintage of The Arborist is another winner, even better than 2017. Jammy dark ripe dark fruit, a bosenberry and blackberry mix. Dry long finish with constrained tannins. No real spice to speak of. This wine opens up nicely with time to decant. Wine notes: "Color: Dark garnetAroma: Cherries and plum with hints of spice, fine tobacco and chocolateTaste: Medium body with dark stone fruits, fleshy textured tannins into the finish" Sounds about right. A repeat buy, yes!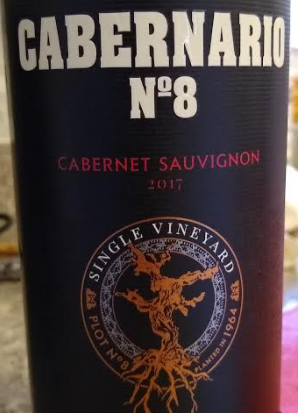 Cabernario No 8 2017 Cabernet Sauvignon (19.99 Total Wine)
A Total Wine top 20 under $20. This is a tasty wine! Dark in the glass. Blackberry and leather aroma. No sting. Leathery blackberry fruit in the mouth. Dry finish with a solid tannin backbone. No real spice to speak of. Wine notes: " is a solid young Cabernet with aromas and flavors of blackcurrants, sweet tobacco and dark chocolate. Full bodied, tight and focused with pretty tannins and a long finish..." I can go with that! Repeat buy, yes.
Silk "c2">
A favorite and I am bummed that the 2017 vintage is out of stock. Dark in the glass. Nice dusty ripe blackberry/raspberry fruit aroma. No sting. Very earthy in the mouth. Spicy with a ripe raspberry fruit. Dark chocolate. Earthy tannin finish with a nice constrained dryness. A repeat buy? Yes, and I have numerous times. So sad that the last bottle of my last case is done. If you can find the 2017 vintage of this wine buy a case! Wine notes: "Intense red-ruby colored red wine blend characterized by aromas of ripe red fruit combined with hints of vanilla, mocha and spices. A balanced taste, with very soft tannins and a long and persistent finish" Yes.
Diez-Caballero Rioja Crianza 2017 ($12.99 WTSO)
100% tempranillo. Dark in the glass. Dusty dark fruit aroma, no sting. A nice mouthfeel. Tarte dark fruit to start, boysenberry fruit. A jammy velvety feel. A dark finish with oak present that is mouth drying. A cedar spice is present. Repeat buy, yes I like this wine. Steve and Jule are not overwhelmed so I made it 4 stars instead of 5. Wine notes: "This bottling spent time in both French and American oak, which imparted layers of toasty vanilla, coconut, and spice, elevating a core of wild, fleshy berries. The wine's savory quality and dusty, yet firm tannins" Yes and no. I do not get coconut which is a good thing as I do not care for coconut.
Cantine Paradiso Posta Piana Nero di Troia 2017 ($11.99 WTSO)
This is a yummy wine with lots of great elements. Dark in the glass. Earthy, dusty dark fruit aroma. A very nice mouthfeel. Velvety and jammy. Ripe blackberry and raspberry fruit. Nice dry finish. Herbal spice. Wine notes: "Ruby red color. Intense and complex nose. There is a mix of fresh fruit (strawberry, cherry, and myrtle) and spicy scents (rosemary, sage), along with vanilla. Soft in the mouth, intense and persistent. A good sensation at the retronasal." Not in agreement with the fruits, but otherwise yes. A repeat buy, yes! Too bad WTSO is out of it!

J. Lohr Falcon's Perch Pinot Noir 2018 ($14 wine.com)
A swing and a miss. This was a recommendation from Good Cheap Vino. Washed out was the word Steve and I used. We had drunk the Boen, Stemlier, and Opolo Pinot Noirs before trying the J Lohr which might have contributed to our evaluation. Cherry fruit and smooth but not much else. Notes: "Wild strawberry and sage on the nose are followed by bright rhubarb, camphor and dried cherry on the finish" Not really. Not a repeat buy.
19 Crimes 2019 Shiraz ($8.29 Total Wine)
A Good Cheap Vino recommendation. Dark in the glass. Dusty, earthy blackberry fruit. No sting. Needs a bit of air to open up. Ripe cherry fruit to start. Cola spice really develops and jammy blackberry takes over. Some dark chocolate. Long finish with dry tannins. A definite repeat buy, especially for the price. Wine notes: "This full and round bright-red wine with crimson hues give way to a subtle sweetness on the palate. The criminally intense vanilla aromatics are balanced with ripe raspberry and plum fruits. The vanilla aromatics carry through on the palate and compliment subtle flavors of raspberries, dark plums and chocolate. Red berry fruit and plush tannins provide a lingering finish perfect for any evening." I could agree.
Until our next update, happy tasting and drinking.
Ratings:
Wow, knock my socks off good. A wine to stock up on.
A very good wine, also a wine to stock up on.
An average wine that is very drinkable, one that I might buy again.

An okay wine, one I can drink but would not run out to buy any of.
Not worth really drinking, most likely poured out.
Copyright 2021, Richard J. Moore
keywords: Wine, Wine Tasting, Wine Reviews
description: New wine tasting notes for November and December of 2020