June and July Wines
December 29, 2020
Richard Moore
Wine of the Month
As you can tell, these two months had some really good and enjoyable wines. Once and a while you get a really nice surprise with a chance wine purchase and the Michael David 6 Sense Syrah was one of them. An amazing Syrah for a wallet saving price.
Michael David 2017 6th Sense Syrah ($11.99 Total Wine)
This wine was a great surprise and is my go-to Syrah. Almost as good as the Opolo Syrah but at half the cost. Dark in the glass. Earthy ripe cherry and plum aroma. No sting. Silky mouthfeel. Ripe Bing cherry and plum fruit. A bit of white pepper spice. Earthy smokiness is coupled with a nice long finish and a tannin backbone. Repeat buy, yes and I got a case. Although it looks like it is getting a bit limited in supply. Wine notes: "With velvety hues, the 2017 vintage will surely awaken your senses! Aromas of blackberry, butterscotch and milk chocolate are laced with just a hint of cured meat and black cardamom. Black raspberry, dried cranberry and cola flavors carry through the lengthy, sultry finish of this full-bodied Syrah" Yes, maybe.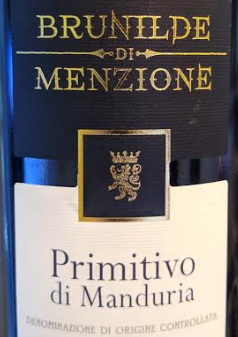 Brunilde di Menzione 2017 Primitivo di Manduria ($14.99 Haskells)
Dark in the glass. A bit of a sour plum aroma. Not the most aromatic wine. No sting. Very earthy with cola and white pepper spice. Leather, sour ripe plum fruit. Dry long finish. After some air, the wine improves. Candied blackberry fruit, less cola, and white pepper spice Repeat buy? No, as there are quite a few Primitivo wines I would prefer over this.
El Bombero 2013 Gran Reserva (WSJ Wine Club)
Wow, like sucking on a piece of oak. This is one dry and substantial wine, love it. Dark in the glass. Oaky, earthy, coffee and ripe plum aroma no sting The oak tannins come at you right away. Ripe Bing cherry and plum fruit. There is a velvety mouthfeel. No real spice to speak of. The finish is long and tongue drying. Repeat buy, yes depending on the price. Wine notes: "Like the original, this is 100% Spanish Garnacha from seriously old vines (some up to 90 years of age!) and delivers a punch of deep, dark, berry flavor. But thanks to three years spent mellowing in oak barrels and another three-plus years in bottle, there's also an intriguing spicy-cocoa character that keeps you coming back for more." I would agree.
Concannon 2017 Stampmaker's GMS ($23 Concannon Wine Club)
A lovely sipping wine. Light in the glass, translucent. A candied cherry/raspberry fruit aroma with no sting. Playful in the mouth. Cherry and raspberry fruit with a velvety feel. A medium spice develops followed by a long dry finish. A very enjoyable wine that redeems GSM wines for me. Repeat buy, yes and I have stocked up. Wine notes: "A delightful Rhône style blend with notes of black cherry and blackberry mingled with cedar and chocolate. Delicate flavors of plum and cherry flow onto the palate with a touch of anise. Finishing smooth with nice tannins and integrated oak." I would agree. If you want a lighter wine that you can enjoy with about any food or without food this would be it.
Wente Wetmore Vineyard 2017 Cabernet Sauvignon (wine.com)
This has been a favorite of ours and this might just be their best vintage. Nicely refined. Medium dark in the glass. Ripe Boysenberry fruit with earthy leather aroma. No sting. Very smooth and velvety to start. Really coats your mouth. Jammy Boysenberry fruit. A nice spice of pepper develops. A bit of cedar with dark chocolate in the finish. Restrained tannins with oak in the long dry finish. Repeat buy, yes but I am having a hard time getting more. Wine notes: Our 2017 Wetmore Vineyard Cabernet Sauvignon is beautifully representative of the single vineyard it's grown: notes of earth and dust are complemented by clove and warm blackberry compote. This wine has well-integrated tannins and a long finish making this a fantastic wine for food pairing" Yes, I can go with that.
Cantina Museo Albea Gran Maestoso Primitivo 2017 ($12.99 WTSO)
Medium dark in the glass. Dusty fig blackberry fruit aroma. No sting. Lightly candied blackberry fruit with a nice level of jam. A nice constrained spice of white pepper and curry develops. Long finish with some oak and tannins. A very nicely balanced wine. Repeat buy, yes this vintage continues to be a winner. Unfortunately, WTSO is sold out. Hope they get some more stock. Wine notes: "The finished wine has a deep-red colour, with a full and intense bouquet with ripe fruits and faint tobacco aromas. A pleasant, harmonic taste accompanies a good and persistent aroma and well-balanced and mature tannin" Not much to go on and I am not picking up any tobacco.
Pedroncelli 2016 Petite Sirah ($14 Bright Wines)
Dark in the glass. Oakie musty ripe plum aroma. No sting. Velvety oak, forest floor, and cedar spice. Dark chocolate and ripe plum and a touch of blackberry fruit. Oaky tannins in a hearty long finish. Repeat buy? Maybe, I would like a bit more fruit. Wine notes. "Deep dark purple in the glass. Our rich, full bodied Petite Sirah offers aromas of blueberries, red plum and hints of vanilla. Deep and complex flavors of blueberry, black cherry, black pepper and vanilla. There is nothing 'petite' about this wine and it is well structured with firm tannins and a smoky finish. It has the structure to age well over many years." Maybe, although I am sticking to my notes.
Emilio Moro Ribera del Duero 2016 ($22.40 Wine.com)
We enjoyed the 2015 vintage, and this vintage is wonderful. Medium dark in the glass. Dusty ripe plum aroma, no sting. Very earthy in the mouth. A velvety ripe plum fruit with dark chocolate. Very dry long finish with a bit of cedar spice. A good tannin backbone with a touch of oak. Seems like a wine that would age well. Repeat buy, yes. Wine notes:This wine has a cherry color, and it offers a great variety of sensations. On the mouth it's intense and mouth-watering. On the nose, its richness and variety of aromas stand out: wood, black fruits and vanilla." Yes except the vanilla.
Robert Stemmler Winery 2019 Rosé of Pinot Noir Sonoma Coast ($14.99 WTSO)
Very nice dry rose, crisp and enjoyable maybe one of our favorites. Light salmon in the glass. Crisp aroma of strawberry and watermelon. No sting. Velvet mouthfeel that coats your tongue. Nice fruit of strawberry and a bit of mango. Dry and crisp in the mouth with a touch of sweetness. Long finish. Wine notes: "Pale salmon in color with a beautiful, radiant core, the Stemmler rose displays gorgeous aromas of peach, strawberry, cranberry, and jasmine. On the palate, delicate red fruit flavors are joined by fresh apple and pear, with a wonderful lift on the finish. The finish is totally dry, with vibrant acidity that makes this a versatile pairing for many styles of cuisine." I could see most of that, but sticking with my notes. Repeat buy, yes and I did!
Concannon 2016 Petit Verdot Livermore Valley ($30 Concannon Wine Club)
I was not expecting much for some reason and I was fooled. This is an enjoyable wine to sip and savor. Dark in the glass. Dusty, earthy aroma of ripe plum. No sting. Nice velvety mouthfeel. Ripe plum and blackberry fruit. Dark chocolate and cedar spice. Dry long finish with oak and tannins present. All elements continue into the finish. Repeat buy, maybe? Wine notes: "This Petit Verdot has it all; intense inky hue, explosive notes of violets, black currant and wild, brambly blackberry fruit. It continues to open to baking spices, marshmallow, and cinnamon melding into sweet blue fruit wrapped in a sweet oak finish. This delightful wine dances on the palate and deserves to be center stage" Sure.
Until next month, happy tasting and drinking.
Ratings:
Wow, knock my socks off good. A wine to stock up on.
A very good wine, also a wine to stock up on.
An average wine that is very drinkable, one that I might buy again.
An okay wine, one I can drink but would not run out to buy any of.
Not worth really drinking, most likely poured out.
Copyright 2020, Richard J. Moore
keywords: Wine, Wine Tasting, Wine Reviews
description: New wine tasting notes for June and July of 2020