Framed Minnesota Fat Tire Review
November 27, 2020
(Revised 1/13/2021)
(Added Specification 8/8/2022)
Richard Moore
This fall my wife Julie had been saying that I should get a Fat Tire bike so I can continue riding here in Minnesota during the winter. After saying no a few times I figured who am I to ignore her advice? I then talked to a friend I bike with who had been telling me about his Fat Tire bike from a local company "The House". He mentioned that it had a low entry price and was a good solid bike. When I asked about buying one he offered to bring his over so I could see it and take a spin on it. Liking what I saw, I went ahead and ordered the Framed Minnesota model which cost me $799.00. Since they are local, I drove over to Little Canada MN to pick up my bike. With COVID-19 they had stopped assembling bikes people were picking up so it was in the shipping box. The box easily fit in the back of my Jeep Liberty and I would say it would fit in any decent sized car where the back seats fold forward.
Assembly
The bike was well packaged in the box.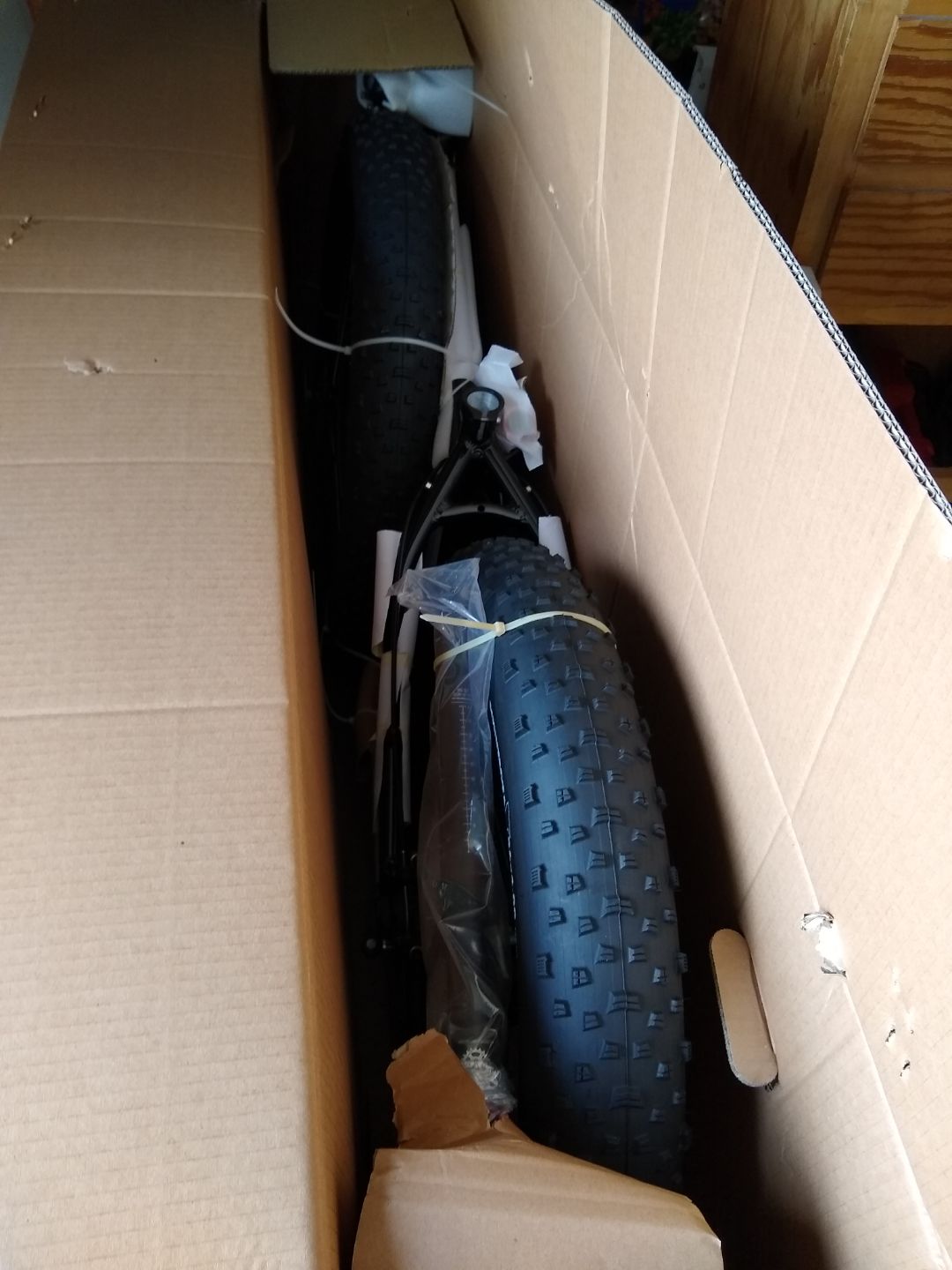 It was pretty simple to remove the bike from the box, and I used a pair of wire cutters to cut any cable ties.
As you can see the majority of the bike was assembled. I had to put the seat assembly in, the handlebar on, mount the front tire, and put the pedals on.
The only issue I ran into was with the front brake cable being routed incorrectly and I had to remove the grip and brake lever from the handlebar to reroute the cable. Mounting the front tire was very easy and the disc brakes were adjusted pretty well and the tires inflated to about 6 PSI. I did adjust the back brake to be a little tighter and eventually inflated the tires to 10 PSI for easier pavement biking. The total assembly time was about 30 minutes taking my time. If you are comfortable working on a bike then assembling a Minnesota bike yourself will be straightforward. The only thing I did not do properly was to tighten the stem to the stem riser. I had mistakenly assumed it would be tight. My first ride was a bit exciting when the steering was not responding to the handlebar movement.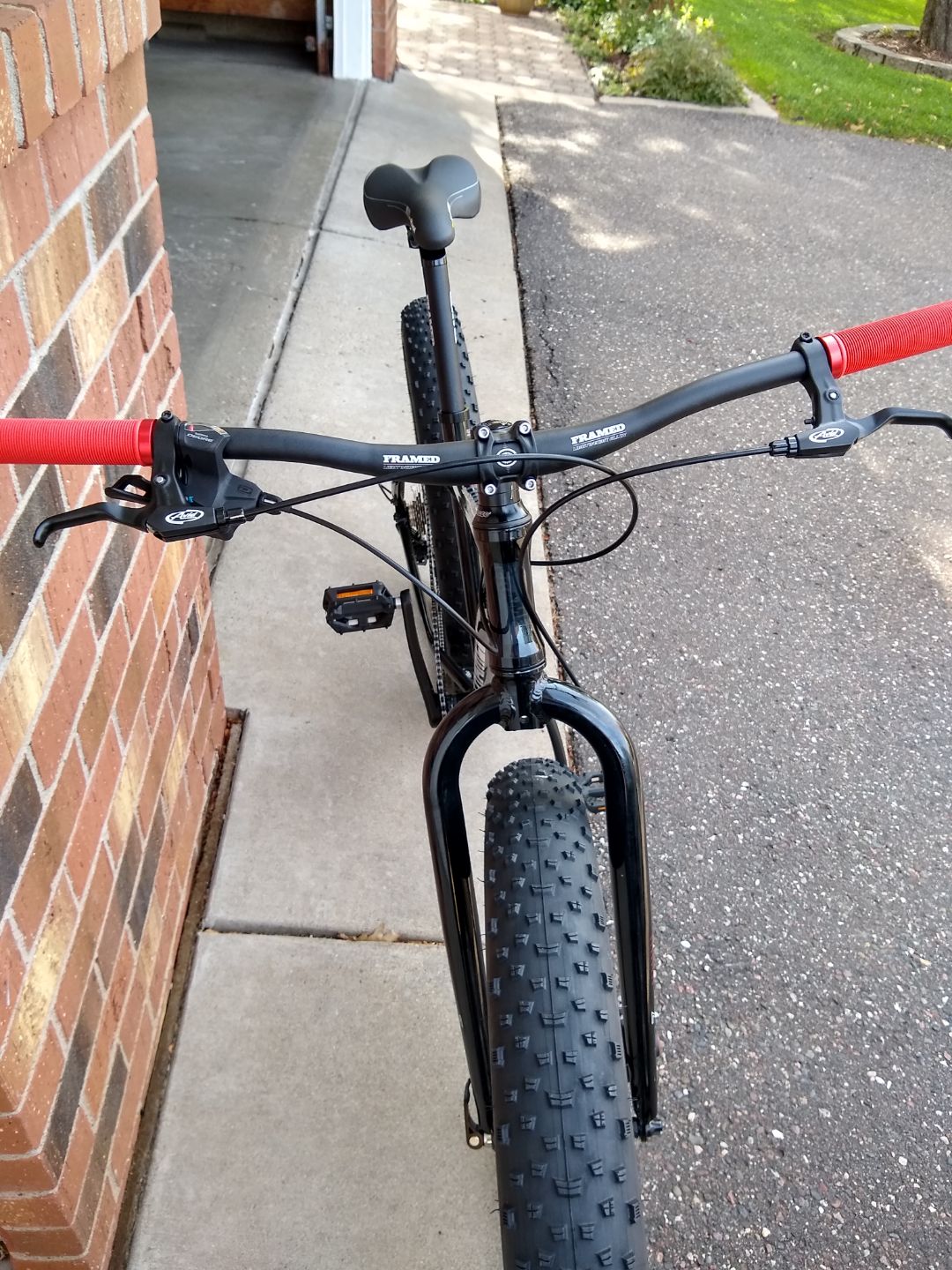 Overall, given the low price point, the Framed Minnesota is a solid bike with nice components and looks good. I have added a few things and replaced a couple of things to make the bike more comfortable. These will be covered in a later section.
Performance
Having never ridden any other fat tire bike my experience for comparison is a bit limited. The Minnesota feels very solid when riding it and I have taken it on some local MTB trails. On the MTB trails, the bike felt very comfortable and secure. The only thing that I am still getting used to is the resistance to turning due to the wide tires, but I assume this is a common thing with all fat tire bikes. The response for turning is slower and I almost hit a couple of trees in my first few trail rides. Luckily I tend to ride slowly on the trails. Riding on pavement is more work than my hybrid bike, but I would have expected that and would assume putting a street tire and inflating to a higher PSI would equalize that a bit.
We have had a few snowstorms already this year, so I took the bike out to see how it did. The first storm was 8 inches of wet and slushy snow and I was impressed by how well the bike did. I went on some paths and trails with unbroken snow and was able to ride through the snow with no slippage. That even included some decently steep uphills. Only on some hardpack snow did I notice any slippage. A later ride with icy conditions did show that the stock tires would need to be changed out for studded tires. I have swapped out the tires with studded tires and the performance in snow and ice is good. Even still, I take caution and slow down as there is no need to break any bones at my age.
(1/13/2021) After two months of winter riding I really love this bike. With studded tires it rides very nicely on hard pack and ice. I have been able to do longer bike rides on the plowed bike trails here in Minnesota with confidence. Off road riding in the snow is a bit of a toss up, and I avoid narrow MTB trails as they tend to get rutted and the fatter tire tends to catch in the ruts. My guess is it is a technique and tire pressure thing, but I am enjoying being able to ride the bike trails that are hardpack so I do not mind skipping the MTB trails and will save those for the non snow months.
As with any lower-cost bike, there are some compromises. The brake levers feel a bit flimsy and the pedals are functional but a bit minimal. Shifting was spot on right out of the box and smooth. The gearing seems good for trail and road. I have noticed that when you get to the upper speed of a gear the bike tends to start bouncing. Not sure if this is bike dependent or something that happens on fat tire bikes. The bouncing does let me know it is time to shift to a lower (higher number) gear.
One of the reasons for purchasing a fat tire is to hopefully use it to bikepack on gravel and dirt trails/roads. The Framed Minnesota seems like it would hold up well for that purpose.
After 100+ miles of riding, I am happy with my purchase. If you are looking to try fat tire biking without spending a huge chunk of money this would be a good bike to consider.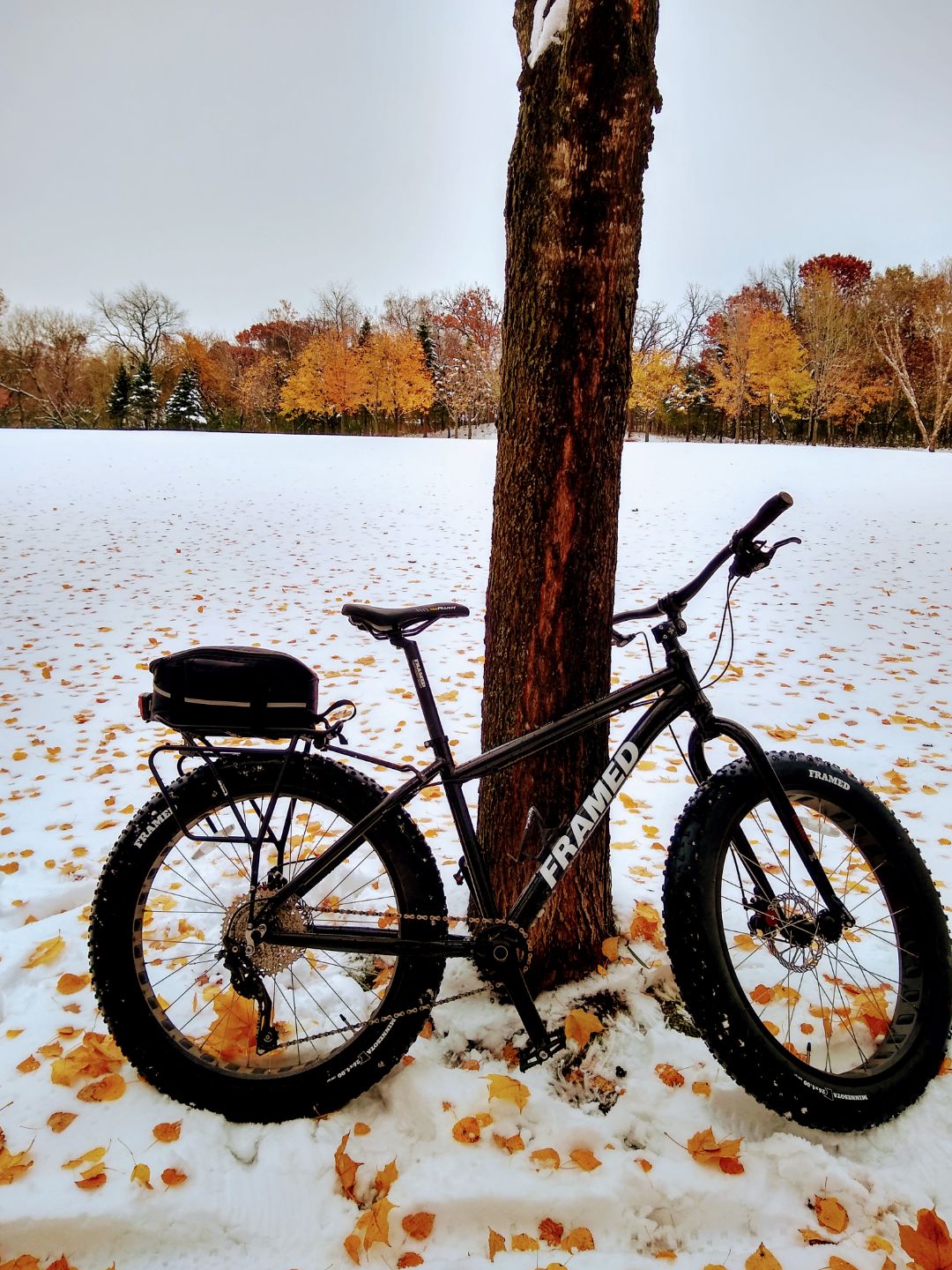 Changes and Additions
I found the handlebar grips to be uncomfortable so I swapped them with a set of grips I had laying around from my hybrid bike from when I changed it over to a butterfly handlebar. The swap was easy and the new grips are much better. The position of the handlebar was too far forward for me so I swapped out the stem with an adjustable stem that I use on my hybrid bike. So far this adjustable stem is solid and working well from a comfort and performance standpoint.
I really like having a mirror when riding on the road so I added the same mirrors we use on our hybrid and folding bikes. The mirror works well and can be folded back easily when riding in the trees and brush.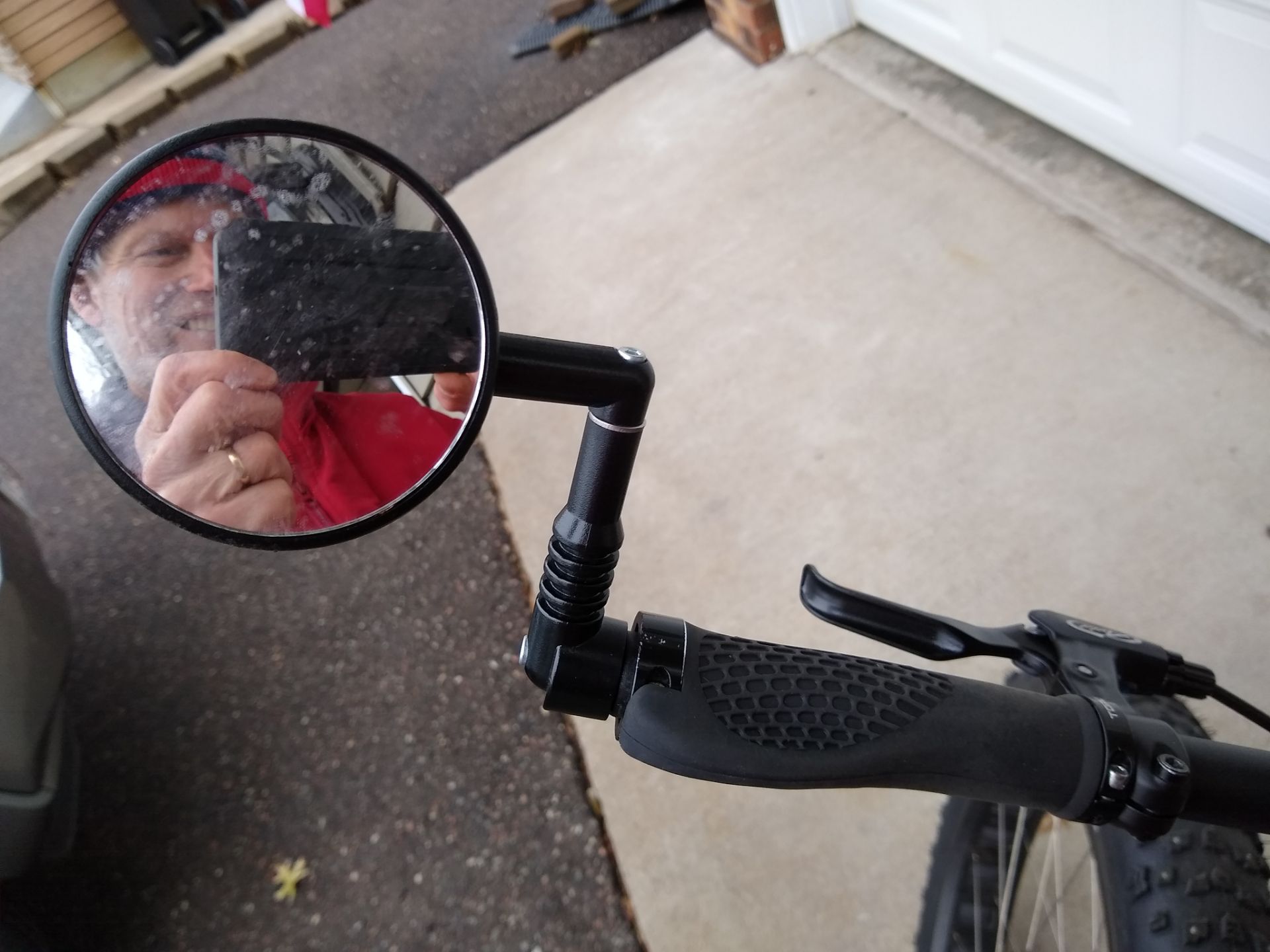 To carry my tools and spare tubes etc, I have a rear rack bag. We also have our safety flashers attached to the rack bags so we can switch quickly between bikes. To enable using my existing bag I decided to put a rear rack on the Minnesota. My current rack of choice is the Ibera Bike Rack as it is a nice heavy duty rack that works nicely with panniers. So far, the rack works well even on MTB trails with the rack bag attached.
For riding in snow and ice studded tires seemed like a necessity. My friend recommended 45North tires which looked very nice but the price tag of $150+ a tire was a bit steep. After looking on Amazon I decided to try the Arisun Sharktooth tires. So far I have been happy with the performance of these tires and the 2 for 1 price compared to the 45North tires was nice. Studded tires do make a big difference for winter riding. (1/13/2021) These tires rock and I am glad I got them before they went out of stock on Amazon. They are aggressive and the studs hold well. I have been doing more packed snow riding on the paved bike trails that are plowed so I inflated the tires to 20 psi and they roll well on pavement.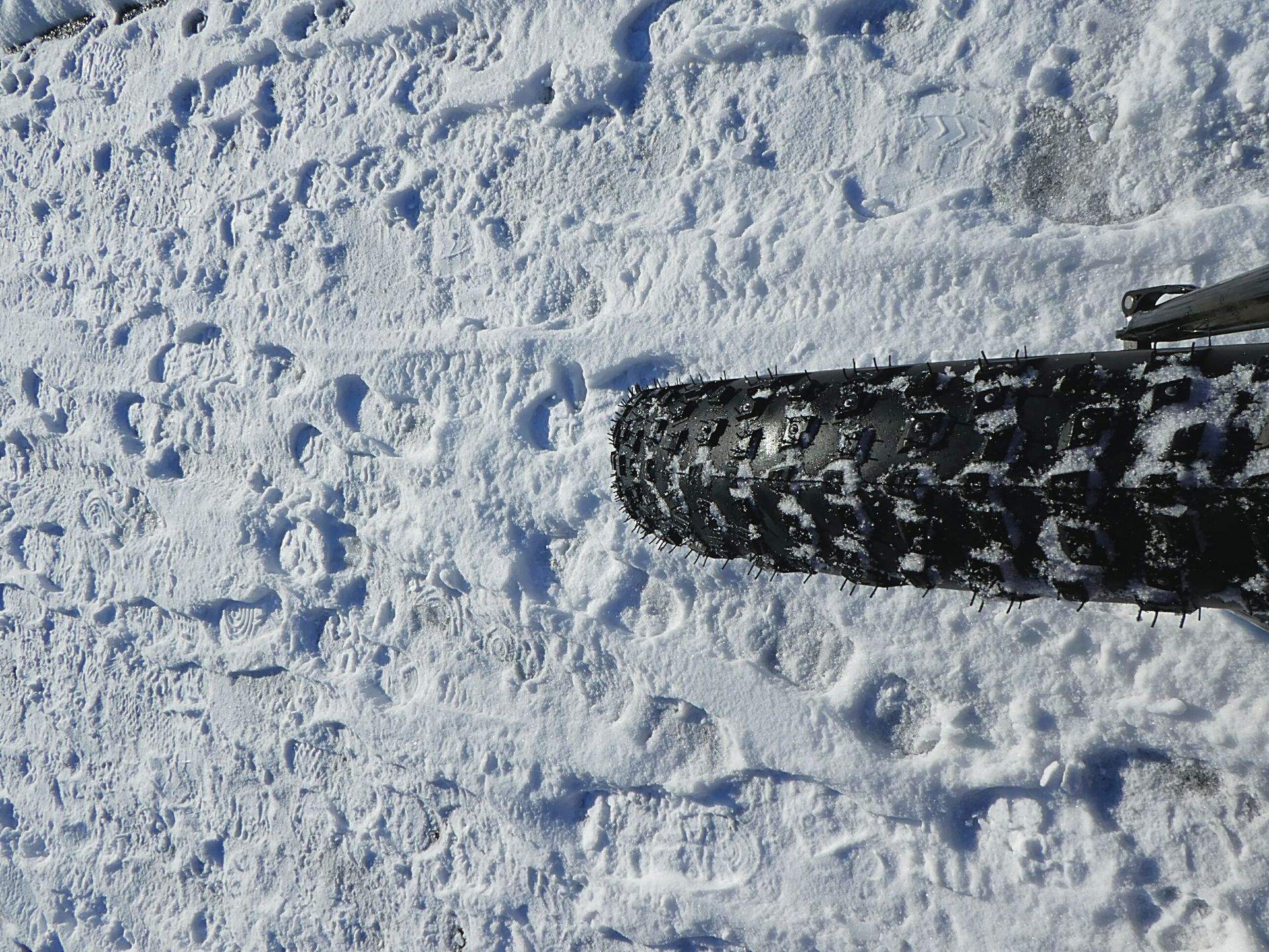 I am planning on replacing the pedals with some that are wider. The saddle provided is good, but not great and I do plan on replacing it with the Sella gel saddle I use on my hybrid bike. The last modification I am considering is replacing the handlebars with more of a swept back bar as the straight bar seems to bother my wrists. (1/13/2021) Stil trying to figure out the handlebars and have to the conclusion new ones are needed. I will by moving the grips and levers more inward to test if a shorter bar would help. I hate to give up the leverage of a wider bar for controlling the bike.
Hopefully, this update has been useful to you. I will plan on updating this review from time to time after having more experience riding the Framed Minnesota.
Framed Minnesota Information
I grabbed this information from the website for the Framed Minnesota to have for future reference.
https://www.framedbikes.com/products/minnesota-fat-26
Description
The fat bike that started it all, the Minnesota, got a facelift. We ditched the SRAM X5 1x9 drivetrain and upgraded to a Shimano Deore M6000 wide range 1x10 drivetrain. The precision of Shimano index shifting combined with a wide range 11-42 cassette and 28 tooth front chainring gives you all the gearing needed to climb up steep hills and punch it down the other side. We kept the simplicity of the 135 front and 170 rear quick release axles to make tube and tire changes tool-free and easy on the fly. The tried and true 6061 alloy frame and fork keep weight down while not sacrificing durability. The unique geometry of this frame puts the rider in a comfortable position while mobility may be limited by layers of warm clothing. Look no further than the all new Framed Minnesota to keep the fun in fat biking.
Specifications
Frame: FRAMED Exclusive Oversized 6061 Aluminum Alloy frame. TIG Welded Oversized 6061 Aluminum Alloy, Integrated Headset, Replaceable Derailleur Hanger, Cage Brazeons, Sealed 100mm Bottom Bracket. 16", 18", 20", 22".
Fork: FRAMED 6061 Aluminum Alloy; oversized straight blade, disc mount, 135mm QR axle
Headset: Neco Headset 1 1/8"
Gear: 1X10, Front 28t Rear 11-42
Crankset: Suntour Zeron 28t narrow wide chainring, 175mm alloy cranks with
Bottom Bracket: 100mm sealed shell external cup bearing
Cassette: Sunrace 11-42t Cassette
Shifters: Shimano Deore M6000 10 speed trigger shifters
Front Derailleur: NA
Rear Derailleur: Shimano Deore M6000, medium cage
Chain: KMC X10 Stretch-resistant ECO- ProteQ for superior rust resistance
Brakes: Avid BB5 mechanical disc, Inboard Knob Pad Adjustment, 160mm rotors
Brake Levers: Avid FR-5; Aluminum, Reversible, Flat Rate Pull Reach Adjustment, Qwik-Adjust Barrel Adjuster
Handlebar: FRAMED Lightweight Aluminum Alloy, 19mm rise, 12 degree sweep, 740mm
Grips: FRAMED lightweight low profile lock on
Bar Stem: FRAMED Aluminum Alloy 80mm Threadless 6 degree rise, 4 bolt
Saddle: Velo S2
Seat Clamp: Promax Seatpost Clamp MX-86 35mm 8NM
Seat Post: FRAMED Lightweight Aluminum Alloy 400mm X 30.9mm
Front Hub: Alloy 32 hole, 135mm, Quick Release Axle
Rear Hub: Alloy 32 hole, 170mm, Quick Release Axle
Rims: FRAMED Aluminum Alloy Single Wall Rim, 80mm wide, 32h, Weight Reducing Cut Outs, Double pinned, Not Tubeless Compatible
Tires: FRAMED Fat Tire 26" x 4" 60 TPI Folding All weather tread ultralite casting
Pedals: Wellgo B223BN Dense Composite plastic trail pedals
Weight: 34 lbs 4oz: Framed bases the weight of their MN 2.0 bikes on an average 18" Frame. The exact weight may vary slightly.
Geometry
I figure sometime in the future this information will disappear.
Copyright 2020-2022, Richard J. Moore
Keywords: Framed Minnesota, The House, Fat Tire Bike, Bicycling, Bike Review
description: Framed Minnesota fat tire bike review