February and March Wines
July 3, 2020
Richard Moore
Wine of the Month
We have been fans of the Opolo Mountain Zinfandel for quite a while. The 2018 vintage continues a nice trend of vintage to vintage improvement and I have to wonder when they will not be able to pull it off. For now, I will enjoy the 2018 and look forward to the 2019 vintage.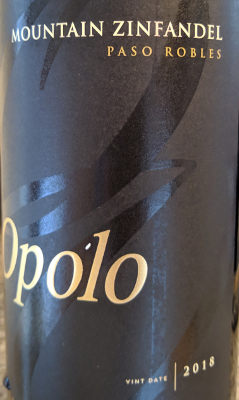 Opolo 2018 Mountain Zinfandel ($21.00 Opolo wine club)
Wow, might be the best vintage of the Mountain Zinfandel yet! Dark in the glass with long legs. A wonderful aroma of jammy blackberry and raspberry. No sting. Big and jammy in the mouth. Develops a nice white pepper spice. Very dry and long finish with oaky tannins. Repeat buy, yes! Wine notes: "Exquisite notes of red plum, blueberry, sandalwood and white pepper wreath a central core of supple silky tannins. Medium bodied. It is well-integrated and elegant with a streak of lively acidity that runs throughout." Sure!

Willy Willy 2017 Shiraz (Wall Street Journal Wine Club $59 six-pack special)
Light in the glass and is a bit transparent. Light aroma of blackberry and earthiness, no sting. Light in the mouth, candied blackberry. Velvet mouthfeel. A bit of spice and a fairly short-lived finish. Repeat buy, no. Way too light for a Syrah/Shiraz for my preference. I really prefer the earthy, solid, and smokey Syrahs from California. Wine notes: "gobs of ripe raspberry, blackberry and peppery spice – all a scrumptious reflection of the excellent 2017 vintage" A lot less than gobs.
Conundrum 2017 Red Wine ($18.29 Total Wine)
It is nice that Conundrum is a winery direct wine at Total Wine so you can get it nicely discounted. Dark in the glass. Ripe bing cherry and cedar aroma. Not an overwhelming aroma. No sting. Taste is amazing, even better than past vintages. Looks like the last vintage I reviewed was 2014? I know we have had others. Velvet mouthfeel with dark ripe plum and some bing cherry fruit. A touch of jam sweetness that is less than other vintages. If I would knock previous vintages it would be they were a touch on the sweet side. White pepper spice with a long dry finish. A bit of dark chocolate during the finish. Wine notes: "Conundrum Red features dark red varietals including Petite Sirah, Zinfandel and Cabernet Sauvignon. It is rich, complex and approachable. With lush flavors of cherries and baking chocolate, this wine has fine tannins that create a silky smoothness. " I would agree. Wagner is to be applauded on their consistency with Conundrum. Repeat buy, yes. Conundrum is a wine that I keep my cellar stocked with.

Unanime 2015 Gran Vino Tinto ($19 Total Wine)
I am a big fan of Opi Sadler's wines. Very dark in the glass. Fig aroma with cedar floor. No sting Smooth and velvety in the mouth. Chewy tannins at the end. Dry flavorful finish. A bit sweet jamminess. Ripe blackberry fruit. Repeat buy, no as there are many other red blends I prefer for less money. Wine notes: "It is a blend composed of Cabernet Sauvignon, Malbec and Cabernet Franc. Aged in new French oak barrels for 20 months. Intense cherry red color; Unanimous stands out for its marked fruit flavor and aromatic complexity. His 20-month pass in French oak barrels gives chocolate and tobacco aroma; With a touch of black pepper. It has a good structure and round tannins that perfectly complement its fresh and juicy acidity." Maybe...
Mt Luxxe 2016 Cabernet Sauvignon (10.99 WTSO)
We have loved the Mt Luxxe Zinfandel wine over the years. Their Cabernet is also a winner. Lightly colored in the glass. Earthy, ripe dark plum aroma with a bit of cedar and no sting. Ripe bing cherry and raspberry fruit. Starts slowly in the mouth, a velvet mouthfeel. Long dry finish with more tannins than I was expecting based on the color and aroma. Cola spice and cedar. Some dark chocolate. Wine notes: "Our 2016 Mt. Luxxe Cabernet Sauvignon offers black pepper on the nose and soft entry, giving way to black currant and black cherry on the palate and a smooth mid-palate. An elegant finish with a hint of blueberry is complemented by soft tannins." ? Maybe. A repeat buy? Maybe, I would be more tempted to get the J. Lohr Cabernet for a dollar more.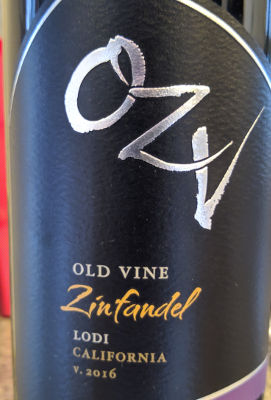 OZV 2016 Zinfandel ($11.99 Saracks Liquor)
We enjoyed this wine during happy hour at our favorite Oro Valley restaurant, Noble Hops. Medium-dark in the glass, leggy Pleasant aroma that is earthy, jammy, and with a boysenberry fruit. No sting. Velvet mouthfeel. Jammy blackberry and a medium spiciness of black pepper and cumin develop. Better than it sounds. Long finish with a tannin backbone. Repeat buy, yes. This is quite an outstanding wine for the cost. It seems to be quite popular and I could not find it anywhere until I stopped back by Saracks and bought the 10 they had left. Wine notes: "A robust Zinfandel from the region's signature 50-100-year-old vines. Jammy with raspberry, milk chocolate and mocha flavors, soft tannins and a supple mouthfeel" I agree!
Boneshaker Old Vine Zinfandel 2017 ($17 Wine.com)
Boneshaker comes through with another wonderful vintage. Dark in the glass, very leggy. Jammy blackberry with a touch of floral herb aroma, no sting Jammy blackberry in the mouth. A very earthy substantial mouthfeel. White pepper spice and cola. Long finish with solid tannins and cedar. Dark cocoa in the finish. A repeat buy? Yes. So far boneshaker does not disappoint. Notes: "Blueberry/blackberry flavors, with lightly spicy aromas. Balanced, pleasant mouth, filling viscosity and a gentle toasty finish. Boneshaker's full body is a great pairing for cioppino, lasagna, or pizza." I agree although not a lot to go on.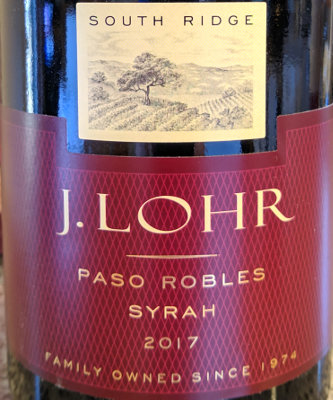 J. Lohr 2917 Paso Robles Syrah ($14 wine.com)
We had this wine during our winter trip to Arizona and enjoyed it. Dark in the glass, not as dark as I was expecting. Smoky plum aroma. No sting. Starts out lightly the mouth and then gets earthy and substantial. Some smokiness with plum and bing cherry fruit. Quite spicy for a Syrah, black pepper. This is a very complex wine for the price. Repeat buy, yes. Paso Robles is becoming my go-to place for Syrah. Wine notes: "Varietal aromas of blueberry, lilac, and black tea meld with notes of cocoa powder and tar from one year of barrel aging in a blend of American and French oak barrels. The spice and structure of the Syrah and Mourvèdre red varieties in this blend are lifted by a touch of floral Viognier." I would agree with cocoa in the finish, but not with some of the rest. We did a side by side with the Opolo Syrah that I love and everybody agreed that the Lohr Syrah was good but the Opolo Syrah was better.
Until next month, happy tasting and drinking.
Ratings:
Wow, knock my socks off good. A wine to stock up on.
A very good wine, also a wine to stock up on.

An average wine that is very drinkable, one that I might buy again.

An okay wine, one I can drink but would not run out to buy any of.

Not worth really drinking, most likely poured out.
Copyright 2020, Richard J. Moore
keywords: Wine, Wine Tasting, Wine Reviews
description: New wine tasting notes for February and March of 2020