Bitterroot Mountains Backpacking 2020
January 14, 2021
Photo Credits: Richard Moore, Steven Moore, Darrell Moore, and David Moore
To start our first loop, Fred Burr Canyon to Big Creek Canyon, we hiked from the Fred Burr Trailhead to the upper part of Fred Burr Canyon. The day started out clear and as the day progressed more forest fire smoke started to settle in the Canyon.

Day 2 Fred Burr Canyon to Mill Lake

We would hike up to Fred Burr Lake and then stay on a ridgeline to see Lockwood and Heinrich Lakes. Very rugged trail and scenery although the smoke from the western forest fires started to descend on us.

Day 3 Mill Lake to Cow Creek Trailhead

The third and final day of our first loop was down Mill Creek to the Cow Creek Trailhead. We had smokey skies, rain, and clearing during our 12-mile hike. We had to end at Cow Creek due to construction on the Mill Creek Trailhead.

After a restful night in Hamilton, we headed up to Big Creek Lakes from the Big Creek trailhead. Big Creek Lakes is a beautiful setting and the hike up Big Creek seemed like an easy 10 miles after our first 3 days of hiking.

Day 5 Big Creek Lakes Rest Day

We had decided to make our fifth day in the Bitterroots a free day to rest and/or explore. I headed around the lake towards Packbox pass to check it out and then did some fishing.

Day 6 Big Creek Lakes to Teepee Rock

After enjoying the morning at Big Creek Lakes on a beautifully clear day we ate lunch and headed down Big Creek to the group campsite at Teepee Rock. This would allow us an easy 6 miles to the trailhead so we could get driving home the next day.

Day 7 Teepee Rock to Big Creek Trailhead

Up early and after a cup of coffee we headed down Big Creek to the trailhead. We passed quite a few groups headed up the canyon on a beautiful Saturday morning. It was a quick and easy 6 miles to the cars.

Some non hiking pictures from the car ride and around the Bitterroot Valley.
For 2020, we headed to Montana for our annual backpacking trip. Many years ago, Julie and I had come back from a vacation in Whitefish Montana to our home in Gardnerville Nevada through the Bitterroot Valley. It was so spectacular that I have always wanted to return to backpack the mountains. With the Bitterroot Mountains being close to Missoula with a good-sized airport we decided Missoula would be a convenient meeting point. Then COVID-19 came along and we decided to wait a bit and see. We had a June Zoom meeting to discuss the trip and decided to push the date back to the last week of August to accommodate my daughter Kristina's wedding the first week of August. As we got closer we all decided to drive to the Bitterroot Mountains as they turned out to be a pretty equal distance drive for us.
In researching the potential route options I came up with three loops. For the most part, Bitterroot trails tend to be in and out canyon trails. One loop starting at Como Lake was crossed off the list when further research showed that the more remote trail section had been abandoned by the trail crews. We settled on a three day and a four day loop. The three day loop would take us up Fred Burr Canyon and over into Mill Creek Canyon. From recent trip reports and conversations with the Forest Service office, it seemed that the trail did exist and people had been successful in doing the loop. Here is the planned route.
As it turned out, the loop was 30 miles when I tracked it using Ride with GPS. This is not unusual, as I find the mileage given by planning tools is typically 10 to 20 percent low. This loop is a pretty rough trail and it beat us up quite a bit. If I was to do this loop again, I would take at least 4 days and maybe 5 to really enjoy the middle part and middle lakes. We figured you could get a horse packer to bring your gear and supplies to Mill Lake and then enjoy shorter days over and down through Fred Burr Canyon.
For our second loop, we planned on doing a four day loop from Big Creek to Bear Creek. This route would take us over Packbox Pass and Bear Pass. There was limited information on this loop and it looked like people had done it this year but the section from Packbox Pass to Bear Pass was not maintained very well if at all. The section up to Bear Pass sounded like a cross country section. Here is the route for this loop.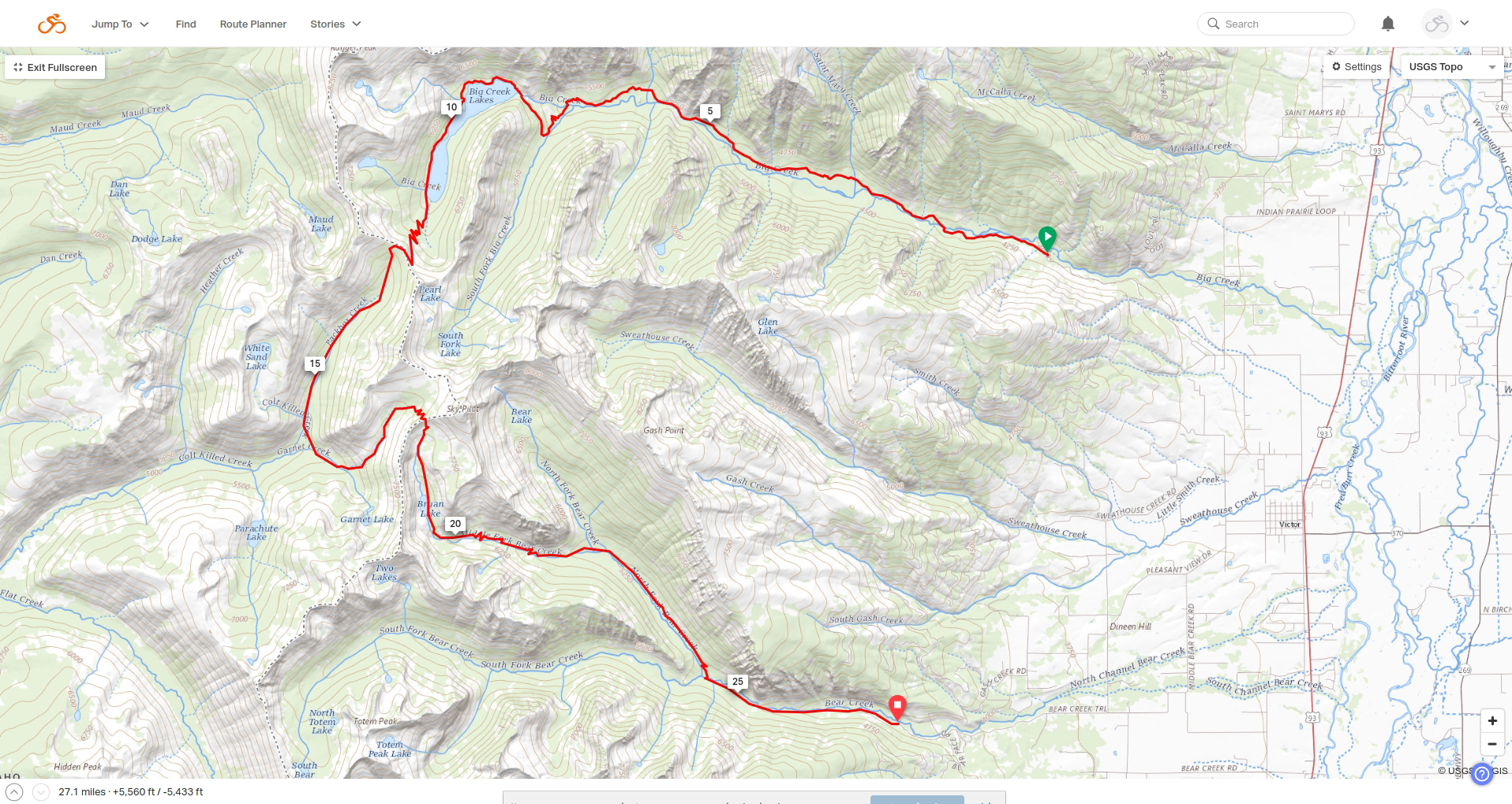 We ended up just doing an in and out to Big Creek Lakes with a down day for fishing and exploring. The trail up to Big Creek Lakes was quite a contrast to our first loop, it was well worn and had bridges over all the creek crossings. Even though it is a 2400 ft climb to the lake it was very gradual and it did not really feel like you were climbing most of the time. Only the horse steps at the end were leg busters. Big Creek Lakes looks like a popular destination and we saw quite a few people coming into Big Creek Friday afternoon and Saturday morning as we were leaving.
The Bitterroot Mountains give you a good taste of pure wilderness. The trails can become pretty brutal a few miles from the trailheads and there is not a lot of traffic once you get a few miles back in. The Fred Burr to Mill Creek loop is a rugged of a trail as I have done and it beat us up pretty well. I think we were smart in not doing our planned second loop as I would assume the section from Packbox Pass to Bear Pass would have been a lot of work. My day hike partway up Packbox pass confirmed that the trail became very overgrown and marginal once you were halfway around Big Creek Lakes. The fishing was good with the exception of Mill Lake which did not have any fish in it! I had good success with my traditional backpacking setup of a fly and bobber. If you are looking for a nice in and out destination with good fishing, exploring, beautiful scenery, and a good trail I would recommend Big Creek Lakes.
The only drawback of our trip was the smoke haze from forest fires, which of course was not the Bitterroot Mountains' fault. We did luck out as the location of the Bitterroots was north and west enough that we had 4 good days of visibility and the other days were not terrible.
Total Backpack on Mileage: 52.3 Miles
Total Elevation Gain: 7180 Feet
My Day Hike at Big Creek Lakes: 7.3 Miles 1024 Feet
Fishing
We had heard the fishing in the Bitterroots was very good and that proved to be true. Fred Burr Lake was very good fishing as was Big Creek Lakes. At Fred Burr Lake we caught many Cutthroat trout in less than an hour of fishing during our lunch break. Using a fly and bobber it seemed that you would get 5 or more fish in a spot and then moving 10-20 yards down the bank you would experience the same thing. Most fish were in the 8-10 inch range and pretty healthy. Big Creek Lakes was predominately Rainbow trout with some Cutthroats. The length of the fish was a bigger range with some going to 16-18 inches. They tended to be skinnier than those at Fred Burr Lake. I had good success with a fly and bobber and Darrell had success with bait on the bottom. Mill Lake was devoid of fish and was quite a disappointment. My theory is that the lake is drained so far down for irrigation they do not bother stocking it. We did not fish Lockwood and Heinrich Lakes but did see fish rising in the middle of the day so I would assume the fishing would be good. Brennan did fish Big Creek a bit and caught some small trout.
Lodging
Our first night was at the Anglers Roost RV Campground https://www.bitterrootrvpark.com/ This was okay and we had tent sites near the Bitterroot River. I had called to reserve some campsites and they said we were booked into the group site, but when we arrived somebody was in the group site and I am not sure they actually had us down for any sites. Luckily, there were sites available. Then they tried to charge way more than I was quoted on the phone but they backed down quickly to the quoted price of $10 per person for 5 people over two sites. The setting is nice and was cheaper than a hotel.
For our night between loops David, Steve and I stayed at the Bitterroot River Inn https://www.bitterrootriverinn.com/ which was probably the nicest place in town. Darrell and Brennan stayed at the Quality Inn https://www.choicehotels.com/montana/hamilton/quality-inn-hotels/mt417 which looked okay but was cheaper. David had booked us in the Quality Inn also, but the supposed two queen bed room was a single queen room and they did not have any other rooms for the night. Luckily we were able to get a suite for the three of us at the Bitterroot River Inn at a higher price. Personally, I would stay at the Bitterroot River Inn and pay the extra cost.
Day One (Fred Burr Canyon) Synopsis
Route: https://ridewithgps.com/routes/34041059
GPX Data: http://themnmoores.net/Photos2020/PhotoBlogPages/BitterrootMountains2020/BitterrootsDayOneFredBurrTrailheadToUpperFredBurrCanyon.gpx
The hike up Fred Burr Canyon is a beautiful one with the first 4.5 miles being a tame hike up a dirt road for the majority of the hike. There are some nice canyon wall views in the first 4.5 miles. It is when you get to Fred Burr Reservoir that the view is spectacular as you can see from there all the way up the canyon until the canyon turns south. After the reservoir, the trail becomes rougher and overgrown. A fair amount of the hike in is woods and cover but there are sections where the trail is in the open providing nice canyon wall views. There are 4 creek crossings which were not a problem in late August, I could imagine early in the summer they could be harder. With it being so forested near the creek finding camping spots is a bit limited. There are a few nice ones on the west side of Fred Burr Reservoir. At mile 8.5 when you cross the creek again could be a nice spot for a smaller party. There is a bigger campsite at about mile 10.5, but the CCC trail crew was using it. We ended up camping at mile 12.4 in a meadow that worked well for our group of five. It was close to the creek for water. When the trail starts climbing to Fred Burr Lake at about mile 13 there are a couple of bigger campsites although they are a distance from the creek. We were lucky that the trail crew was out working on the trail and had hiked back and forth a few days in the upper canyon so that there was a bit of a trail visible in the grassy meadows. I can imagine the upper canyon could get to be hard going with downed trees and overgrown brush if the trail crews had been up there for a few years. We did not do any fishing but I would imagine there are some smaller trout in the creek as I could see some by our camp.
Day Two (Fred Burr Canyon to Mill Lake) Synopsis
Route: https://ridewithgps.com/routes/34023217
GPX Data: http://themnmoores.net/Photos2020/PhotoBlogPages/BitterrootMountains2020/BitterrootsDayTwoUpperFredBurrCanyonToUpperMillCreek.gpx
Even though the distance between our camp in upper Fred Burr Canyon to Mill Lake was only 6 miles it was a pretty tough hike. The trail up to Fred Burr Lake was not too bad as the trail crew had been through this section the day ahead of us. I could imagine it could be more overgrown in other years. The trail was decently switchbacked so it was not overly steep climb. We had a fair amount of smoke haze from forest fires so the view was a bit obstructed, but we could tell the view would be amazing on a clear day. Once up on the ridge past Fred Burr Lake the trail was very rough and would disappear at times all the way to Mill Lake. We stopped at Fred Burr Lake for an early lunch and some fishing. There were some nice looking campsites at Fred Burr Lake. Both Heinrich Lake and Lockwood Lake looked like nice spots with campsites. The trail down from the ridge to the Mill Creek trail was very overgrown and hard to follow at times. If I did this loop again, I would add another night to camp up on the ridge to enjoy the view and fishing. At Mill Lake there are a few big packer campsites and it is a beautiful setting despite there not being fish in the lake.
Day Three (Mill Lake to Cow Creek Trailhead) Synopsis
Route: https://ridewithgps.com/routes/34034167
GPX Data: http://themnmoores.net/Photos2020/PhotoBlogPages/BitterrootMountains2020/BitterrootsDayThreeMillLaketoCowCreekTrailhead.gpx
We knew we had a long day ahead of us, but being downhill and having the hope that pack animal usage would make the trail easier. Overall, the trail was in better shape but we were surprised by how overgrown the trail was making it hard to travel. We had smoke, clearing, clouds, rain, clearing, and rain over the course of our hike. With the brush along the trail the rain made it wet going. We rarely were able to actually see Mill Creek during our hike. Either the thick forest and brush hide it or the trail was a bit from the creek. I could see that the canyon would be spectacular on a nice clear day. The detour to the Cow Creek trailhead was a pretty good climb to finish our 12 mile day. It was nice to drive into Hamilton for a night in a hotel and enjoy some supermarket deli food in the park with wine and beer.
Day Four (Big Creek Trailhead to Big Creek Lakes) Synopsis
Route: https://ridewithgps.com/routes/34040812
GPX Data: http://themnmoores.net/Photos2020/PhotoBlogPages/BitterrootMountains2020/BitterrootsDayFourBigCreekTrailheadtoBigCreekLakes.gpx
After a good night's sleep we were ready to head up to Big Creek Lakes from the Big Creek Trailhead. Access to the trailhead was good, although a bit of a drive from Hamilton. This trailhead is closer to Missoula. The trail up Big Creek canyon was beautiful! Well cleared and traveled. There were bridges for the crossings across all the creeks, even the smaller ones. Even the 2400 feet of vertical climbing felt easy as the trail climbs very gradually. The only hard bit of climbing was at the end with the horse steps near Big Creek Lakes. After our first three days, this felt like a walk in the park even though it was over 10 miles. There are many campsite options along Big Creek. I remember one about a mile from the trailhead, then at the first bridge across Big Creek at about 2 miles in. There was a site at St Mary Creek (which was dry at the end of August) a little over 3 miles in. At the 6 mile point there are at least 4 good sized campsites at Teepee rock with good access to Big Creek for water. We stopped for lunch there. The final camping area is when the trail crosses Big Creek 9 miles in. I remember at least one or two big sites. At Big Creek Lakes there are three campsites at the outlet area, and at least 6 more along the north side of the lake.
Bitterroot Information
https://www.bigwildadventures.com/information/selway-bitterroot-wilderness/
http://www.montanaoutdoor.com/2015/01/101-lakes-of-the-bitterroot-sneak-preview/
https://www.explorethebitterroot.com/blogs/five_great_day_hikes_in_the_bitterroot_mountains.php
http://www.sangres.com/montana/wilderness/selway-bitterroot.htm#.XkbpBkjYo3E
https://www.trailgroove.com/issue41.html?autoflip=41
https://www.rei.com/product/843729/falconguides-hiking-the-selway-bitterroot-wilderness-2nd-edition
http://newagebackpacking.weebly.com/all-information2.html
Fred Burr Canyon to Mill Creek Canyon Information
https://www.facebook.com/LifeintheBitterroot/videos/1351605555005122/
https://www.alltrails.com/trail/us/montana/mill-creek
https://www.outdoorproject.com/united-states/montana/mill-creek-falls-mill-creek-trail
http://radleyice.com/mill-creek-falls-selway-bitterroot-wilderness/
https://missoulian.com/mill-creek-trail-no/pdf_cf2a3ae4-d2d0-11e2-9270-001a4bcf887a.html
https://www.google.com/amp/s/ravallirepublic.com/lifestyles/recreation/article_40dea778-c786-11df-a8e8-001cc4c03286.amp.html
https://www.explorethebitterroot.com/summer_recreation/hiking_backpacking.php
https://alternativepinnacles.com/2015/08/30/redacted-canyon-selway-bitterroot-wilderness-montana/#more-334
https://books.google.com/books?id=bGBBBAAAQBAJ"c3 c6">
https://www.summitpost.org/fred-burr-trail/205170
https://www.google.com/amp/s/trailstravels.com/2016/07/15/long-run-from-canyon-to-canyon-in-the-selway-bitterroot-wilderness/amp/
https://www.google.com/url?sa=t"c3 c6">
https://m.facebook.com/pages/category/Community/LifeintheBitterroot/posts/
http://www.montanaoutdoor.com/2015/07/bitterroot-back-country-countdown-tag-alder-lake/
https://www.reddit.com/r/Montana/comments/9bvvp1/where_even_the_reservoirs_are_even_set_in_a/
http://andrewmayer.blogspot.com/2016/10/fall-in-bitterroot-lantern-ridge-cowboy.html
Big Creek to Bear Creek Information
https://youtu.be/-Nba5ksbJ2c (Big Creek to Bear Creek)
https://www.alltrails.com/trail/us/montana/big-creek-lake-via-big-creek-trail
https://www.backpacker.com/trips/big-creek-to-bear-creek-traverse-selway-bitterroot-mt
https://www.tripadvisor.com/LocationPhotoDirectLink-g45277-i24104423-Missoula_Montana.html#24104423
https://www.pinterest.com/pin/161496336611063637/
https://www.reddit.com/r/WildernessBackpacking/comments/d8rxbw/making_coffee_at_big_creek_lake_in_the_bitterroot/
https://www.selwaybitterroot.org/the-selway-bitterroot-frank-church-foundation/2012/07/july-3-9-glen-lakes-big-creek-lakes
https://www.facebook.com/DiscoverBitterrootNF/photos/good-saturday-morning-big-creek-lakes-from-pack-box-pass-happy-firstdayofseptemb/1155173654623736/
http://www.montanatrailcrew.com/2014/11/bitterroot-trail-run-adventure-bear.html
http://mt-adventures.blogspot.com/2013/09/bear-to-big-creek-traverse.html
Copyright 2021, Richard J. Moore
keywords: Backpacking, Montana, Bitterroot Mountains, Selway-Bitterroot Wilderness, Hiking
description: Our 2020 backpacking adventure to the Selway Bitterroot Wilderness in Montana