April and May Wines
October 22, 2020
Richard Moore
Wine of the Month
If you have been following our wine tastings over the years you know that we really love Opolo. Their red blends are something to drink and the Serenade is a special treat. I was almost tempted to pick the La Borgata Prosecco as it was an amazing bubbly to drink on warm days.
Opolo 2017 Serenade ($22.40 Opolo Wine Club)
Wow, what a wine. Cabernet/Malbec blend like the Waxed Bat from Argentina, but with more body and oak. Dark in the glass. Dusty, oaky, and earthy fruit aroma. No sting. Quite a wine in the mouth. A very full-throttle mouthfeel. Oaky and jammy with ripe blackberry fruit. A bit of white pepper spice. Good solid tannin backbone. Very long finish with all elements persisting. Some chocolate hints. Wine notes: "With a bouquet of violets, rose petal, and soft cedar greeting you at the door, it is hard not to feel the welcome of this classic Bordeaux-style blend. The combination of Malbec's tender and luscious black cherry, plum, and raspberries pairs wonderfully with Cabernet's imposing, yet balanced structure and tannins. With 100% French oak aging, subtle notes of vanilla encapsulate the finish;" While my notes are different, I can see some of those elements but not all. Repeat buy, yes! Opolo makes some wonderful red blends.
La Borgata Prosecco Extra Dry NV ($9.99 WTSO)
A very nice and refreshing prosecco. Pale golden glow in the glass. Lively and bright apple and pear aroma. Bright pear in the mouth with a sparkle. Long finish that goes on and on. This is a wonderful summertime wine to have on a hot day. Wine notes: "La Borgata's Extra Dry offering checks all the boxes with a fruit-driven palate of honeydew melon, granny smith apple, raw almond, and lemon blossom" Not sure I was getting all of that but it doesn't matter, we love it. Repeat buy, yes and I have but we are almost out of it :-(.
Conundrum 2018 White ($14.99 Total Wine)
Since we love the Conundrum red blend so much I thought we should try the white. While not bad, not near the love we have for the red. Pale gold in the glass. Pleasant and crisp aroma of apple and pear. Crisp and refreshing in the mouth. Julie thought it was a bit like Vinho Verde from Portugal without the acidity. Apple and pear in the mouth with a touch of sweetness. Long finish that coats your tongue. A nice wine for warm weather drinking. Wine notes: "It lures you in with scents of apricot, pear and honeysuckle, and if you're paying attention, orange and lemon meringue pie. Initial sweetness is balanced by natural acidity, and we love the hint of oak that plays with flavors of peach, apple and citrus. The long finish will leave you longing for another glass." I can go with that. Repeat buy? Sure.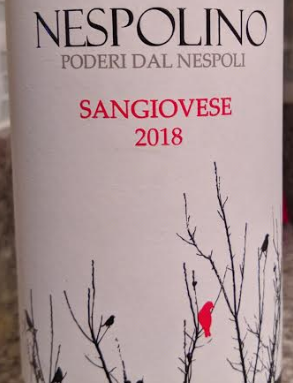 Nespolino 2018 Sangiovese (Wall Street Journal Wine Club Six Pack Deal)
Medium-dark in the glass. Bing cherry aroma no sting. I have pretty much given up on Italian Sangiovese wines and this wine does not make me want to start trying. A bit watery in my opinion. Bing cherry fruit, dry finish. A touch of spice. Not very substantial in any way. Repeat buy, no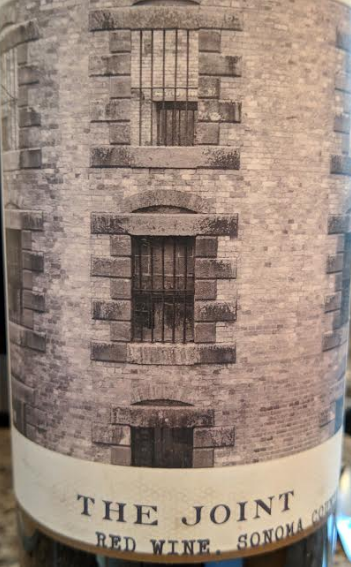 The Joint 2018 Sonoma County Red Wine ($14.99 WTSO)
Dark in the glass. Sweet ripe plum aroma with a touch of cherry. No sting. Leathery plum to start. Chocolate, and herb spice. Dry finish with an oaky backbone. Wine notes: "Opening with an enticing nose of candied cherry, blueberry, black pepper, boysenberry, cranberry, and licorice, framed by vanilla and toasted oak. On the palate, briary flavors of blackberry pie, mulberry, and boysenberry unfold to bold notes of baking spice and cigar box. Firm tannins and bright acidity lead to a bold finish that lingers." Maybe, I don't get all that but the general idea is correct. Repeat buy? Yes, Julie and I took a liking to this wine as we consumed our first 4 bottles. Four more are on the way, but WTSO is now out of this wine.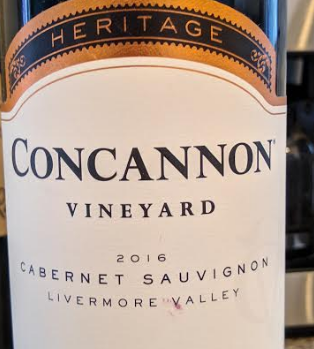 Concannon 2016 Livermore Valley Cabernet Sauvignon ($52.50 Concannon Wine Club)
Medium-dark in the glass. Dusty earthy boysenberry fruit aroma, no sting. This is one spicy wine! White pepper and cola in perfect amounts. Dry finish with tannins that come on stronger and stronger. Blackberry and fig fruit. Dark chocolate. Repeat buy, a wonderful wine but a bit out of my usual price range.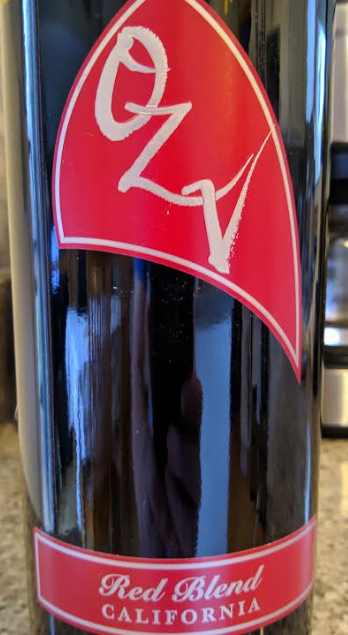 OZV 2016 Red Blend ($11.99 Total Wine)
We love the OZV Zinfandel so I thought we would give their red blend a try. This might be the worst wine we have tasted in 2020. Dark in the glass. A sweet jammy gooseberry fruit aroma. No sting. Sweet cola spice, jammy blackberry fruit. Too sweet for me and we ended up dumping the bottle.
Vina Robles 2016 Signature ($38 Vina Robles Wine Club)
This is a favorite of ours and the 2016 vintage continues the love. Dark in the glass. Musty tart dark fruit aroma with no sting. Very oaky in the mouth with tannins coming through. Spicy in the mouth, white pepper. Earthy. Milk chocolate in the finish. Very ripe blackberry fruit that is a bit subdued. Wine notes: "color: Dark garnet aroma: Black raspberries and violets with hints of juniper berry, graphite and mocha taste: Full-bodied with red and dark fruits, chalky layered age-worthy tannins that linger into a rich full finish". Yeah. Repeat buy, not sure as I think the 2014 vintage was better.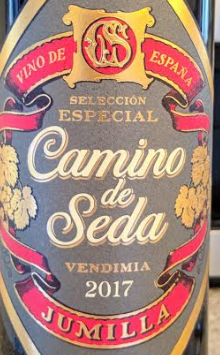 Camino de Seda 2017 (WSJ Wine Club special case)
Wow, what a chewy and earthy wine. Medium-dark in the glass. Earthy blackberry and blueberry aroma. No sting. Smooth to start in the mouth, blackberry and blueberry fruit continues. A spice really develops, white pepper. Very long and oaky finish. Earthy, coffee, and dark chocolate. Long long finish. Repeat buy, yes. Notes: "vibrant, this has a gorgeous array of raspberry, cranberry and sweet spice notes, with touches of leather and oak" Yes!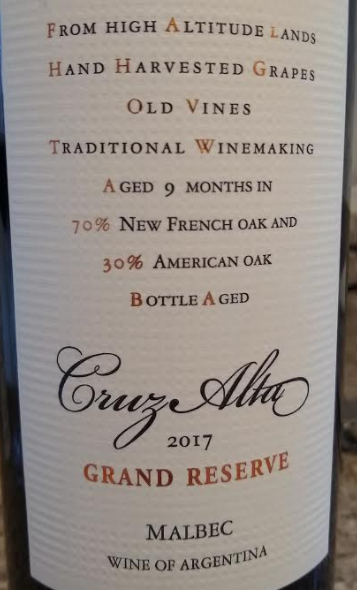 Cruz Alta Malbec Grand Reserve 2017 (Total Wine 16.99)
A very refined wine! Definitely an oak backbone. Dark in the glass. Plum fruit and cedar aroma, a bit of a sting. This is a wine that comes at you slowly in the mouth. Velvety mouthfeel. Cedar spice, leather, and plum fruit. A cumin spice. The tannins and oak start to develop in a long dry finish. A bit of dark chocolate. The finish makes your mouth chalky dry. Repeat buy? Most definitely, this is a major wine that is waiting to be enjoyed with a big old juicy steak. Quite a bargain for the quality but you have to enjoy a big bold oaky wine. Notes: "Mendoza, Argentina - A fruity wine with excellent body and strong tannins. Flavors of cherry, blackberry, boysenberry and plum intermingle with hints of ginger and pepper to create a long, full finish." Overall I agree.

Michael David Petite Petit 2017 (12.99 Total Wine)
This been a favorite of ours over the years. Dark in the glass. Ripe dark fruit aroma, blackberry, with a touch of herb. No sting. The spice comes on fast in the mouth, white pepper and cola. Lasting in the long finish in disminshing amounts. Blackberry fruit with some leather. Very dry finish. Repeat buy? Maybe, not sure this vintage has the robustness of previous vintages. WIne notes: "Crimson in color with aromas of toasted marshmallow and light oak, this wine exhibits flavors of dried fig, black cherry and a hint of vanilla. Rich, full-bodied and deeply satisfying!" Not sure I agree.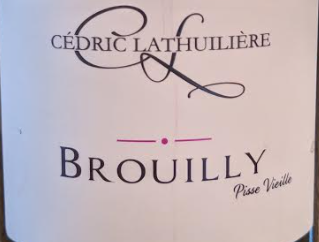 2016 brouilly pisse vielle (15.99 WTSO)
Red Beaujolais wine 100% Gamay and very nice. Light and translucent in the glass. Nice bright cherry fruit aroma. Smooth, jammy huckleberry fruit. A bit of a spice and brightness. Dry medium finish. A very light enjoyable wine to sip by itself. Repeat buy, yes if I could get it. Wine notes: "This terroir gives us an intense and deep, ruby red robe, aromas that are more fruity than floral, and a fresh, red fruit feel of morello cherry. There are also some mineral notes that fill out the Gamay bouquet. This wine brings you finesse and delight and may be laid down for 3 to 5 years." Seems like good description of the wine.
Until next month, happy tasting and drinking.
Ratings:
Wow, knock my socks off good. A wine to stock up on.
A very good wine, also a wine to stock up on.

An average wine that is very drinkable, one that I might buy again.
An okay wine, one I can drink but would not run out to buy any of.
Not worth really drinking, most likely poured out.
Copyright 2020, Richard J. Moore
keywords: Wine, Wine Tasting, Wine Reviews
description: New wine tasting notes for April and May of 2020