November Wines
March 2, 2020
Richard Moore
The holidays are over, and we are back from our winter getaway to Arizona and New Mexico. Time to get caught up on my new wines!
Wine of the Month
November was a bit of a disappointment with only one five star wine. That one wine was a real winner though. A very interesting Primitivo made in a double pass style that makes it more like an Armone with deep fruit flavors and body.
Doppio Paso 2017 Salento Primitivo ($12 Bright Wines)
This wine interested me as it is one of my favorite grapes, Primitivo, and made with a double pass process (appassimento) which is more like an Armone. Medium-dark in the glass. Very pleasant sweet blackberry aroma with no sting. Nice and jammy in the mouth, blackberry fruit with a touch of sweetness but not too much. Amazingly dry finish with a touch of spice. Repeat buy, yes and I have stocked up. Wine notes: "A rich, smooth, and aromatic wine with notes of blackberry, cherries and ripe berries, deep color and complex aroma". Yes, I agree. I am bummed as this is the only year that they will be doing this wine.

Vega Del Origon 2011 Gran Reserva ($5.99 Trader Joe's
Medium-light in the glass. Grapey, cherry fruit with an earthy dusty aroma. Bing cherry fruit in the mouth. A bit of dryness. Medium-long finish. A touch of ginger spice. A bit one dimensional but a pleasant wine to drink. Repeat buy. Yes, to have a few on hand when you want a decent inexpensive wine to serve. A bit sweet for me otherwise. Wine notes: "This Ruby red wines tastes of ripe berries, with notes of cocoa and vanilla. It is rich and full-bodied, with a crisp finish." Think I will stick with my notes. Maybe there is a bit of vanilla.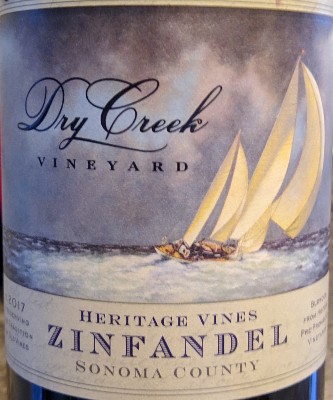 Dry Creek Vineyards 2017 Heritage Vines Zinfandel ($15.99 Costco)
The 2014 vintage of this Zinfandel was a favorite. Dark in the glass. Bing cherry and fig fruit aroma with a bit of cola. No sting. A bit of candied Bing cherry to start. Very aggressive cola and herb spice mid-palate. Medium dry finish that is fairly long with mostly the cola and spice persisting. A touch of fruit persists in the finish. Wine notes: "This vintage presents enticing aromatics of dried cranberry and boysenberry with hints of cocoa powder, nutmeg, dried sage and cedar. On the palate, brambly flavors of blackberry and black cherry come forward with bright acidity complimented by deeper notes of dark chocolate, espresso and black pepper. The tannins are silky and smooth to lend a round, rich mouthfeel. From start to finish, this remarkable wine offers refreshing acidity paired with excellent structure and a round, rich mouthfeel." For me, the bright acidity overpowers the wine (I would say a strong cola-like taste). Repeat buy, no as this vintage has too much acidity to it. Bummer. I would say the Boneshaker Zinfandel 2014 and 2015 vintages are a way better wine for the same price.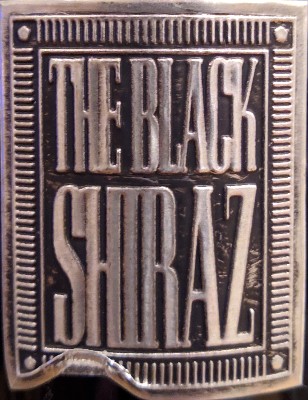 Berton Vineyard The Black Shiraz 2017 (14.99 Bright Wines)
Odd taste right after opening, decant. Julie commented after her first taste that it had a very odd taste, a bit like Mentholatum. I thought is was more of a perfumed blueberry. Almost makes we wonder if it was a bad bottle. I did read other tasting notes that concluded the same thing as Julie and I. Very dark in the glass. A bit of candied fruit aroma with an odd smell I cannot place. No sting. Very spicy after some ripe dark plum fruit. The finish is dry and overpowered by the spice. A very grapey fruit in the finish, maybe even blueberry. Not many layers or complexity with this wine. Wine notes: "this concentrated black Shiraz reveals cherry and blackberry with a rich bold finish" nope These notes from tastings.com seem to come closer to what we experienced. "Deep purple color. Herbal aromas and flavors of menthol rub, eucalyptus incense, spicy blueberry cobbler, and lemon-thyme rub with a supple, bright, dry-yet-fruity medium-to-full body and a smooth, nuanced, long finish that exhibits accents of pomegranate-cardamom chutney, cranberry-choke cherry relish, cedar bark, and buckwheat honey with crunchy, chewy tannins. A perfectly Oz tribute to St. Joseph, with absolutely pristine acidity and length that reflects the limestone soils, and will age beautifully." Hard to believe it is the same wine we tasted. Repeat buy, no as this one misses the mark for me. I would much rather spend $3 more for the Opolo Syrah. I did end up dumping about ⅓ of a bottle.
Until next month, happy tasting and drinking.
Ratings:
Wow, knock my socks off good. A wine to stock up on.

A very good wine, also a wine to stock up on.

An average wine that is very drinkable, one that I might buy again.
An okay wine, one I can drink but would not run out to buy any of.

Not worth really drinking, most likely poured out.
Copyright 2020, Richard J. Moore
keywords: Wine, Wine Tasting, Wine Reviews
description: New wine tasting notes for November of 2019