March Wines
June 20, 2019
Richard Moore
Wine of the Month
In a month that contained many outstanding 5 star wines, especially from Vina Robles and Opolo. In the end I went with Opolo's Pinot Noir since it was a real surprise how great it was.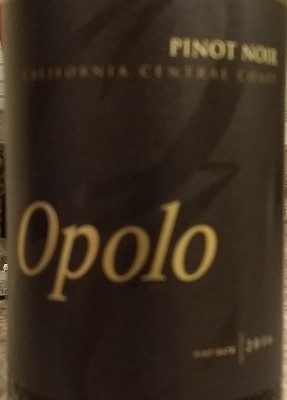 Opolo 2016 Pinot Noir ($18.20 Vina Robles wine club)
Very impressed. I was not sure about a Pinot Noir from Opolo, as most of their wines are pretty full powered reds. Light red in the glass, aroma is very pleasant with cherry/raspberry fruit and no sting. Cherry and raspberry fruit envelope your tongue and a pleasant spice of white pepper develops. Finish is medium dry and long. Fruit and spice continue in the finish. A nice light playful wine. One of my favorite Pinot Noirs. Wine notes: "Considering many of the central coasts most iconic and rambunctious reds, the 2016 Pinot Noir acts much like an introverted younger sibling. Modest. Eclectic. Discrete. Lighter in both color and body, this point snaps flavors of raspberries, cranberries, black cherries, and soy. Much like the orangish-yellow pulp of an early summer plum comes this harmonious mid-palate of pulpy fruit juice followed by a mouthwatering acidity. To compliment comes a long tingly finish of fennel, cinnamon and coconut." Maybe the kitchen sink also? I will stick with my tasting notes. Repeat buy, yes as this is really good wine at a good price. Looking on the Opolo website this does not seem to be available and they only made 250 cases so I guess I will enjoy the other 2 bottles I have.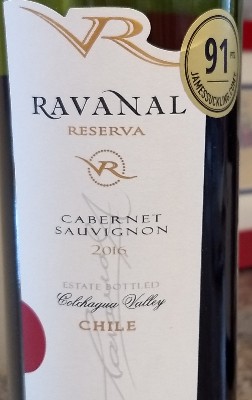 Vina Robles 2014 Tannat (27.20 Vina Robles Wine Club)
Very dark in the glass as I would expect. Aroma is a tart ripe fig, very nice, better than it sounds. No sting and oak/tannins present on the nose. Starts a bit velvety on the tongue, dark ripe fruits with really nice and well balanced tannins. Steve and I both really liked it. Finish is oaky, dry and long with fruit and a velvet mouth feel persisting. A bit of black pepper spice. Wine notes: "color: Dark garnet aroma: Black raspberries and dark cherries with hints of dark chocolate and spice taste: Medium to full-bodied; dark fruit and cocoa powder flavors and textures into the finish." I might quibble a bit but a reasonable description. Repeat buy, yes although it looks like it is not available.

Vina Robles 2016 Estate Zinfandel ($27.20 Vina Robles Wine Club)
The 2016 vintages from Vina Robles are on a roll. This is an outstanding Zinfandel. Medium dark in the glass, on the lighter side for a Zinfandel. Wonderful aroma of jam and blackberry fruit that swirl around in your nose. No sting. Much sturdier in the mouth than the aroma and color would indicate. Jam and fruit coat your tongue. An earthy forest floor gives it depth. Quite a bit of pepper spice and cinnamon. Long finish with well balanced tannins. This seems like a wine that would age well. Wine notes: "16 months aging in French and American oak barrels. During aging, 10% Petite Sirah was blended in for added complexity and mouthfeel, Aroma: Dark cherry and raspberry with notes of chocolate and hints of amaretto Taste: Medium body with rich berry fruit and chocolate unfold into a long juicy finish" Maybe dark chocolate? Repeat buy? Yes

Flower Valley 2016 Cabernet Sauvignon (~$20 at Winery)
Dark in the glass. Sting on the nose with a bit of dark fruit. Sweet and velvety to start with ripe blackberry. Medium finish with some oak and tannin. A bit on the lighter side for a Cabernet Sauvignon. After vacuuming and sealing overnight this wine improved quite a bit. Fruity with a bit of jam which is coupled with some earthiness. Seems like a wine that could use some aging and a fairly long decanting. Wine notes: "our Cabernet Sauvignon was made in oak barrels to be fairly robust by enhancing it's good tannin structure, low acidity, and rich dark fruit aroma." Repeat buy, no as there are many other Cabernets I prefer at that price point.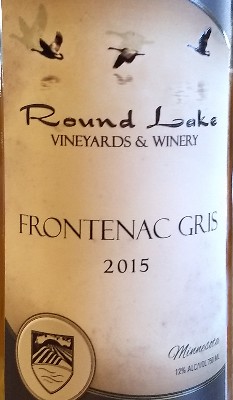 Ravanal Cabernet Sauvignon Reserva 2016 Colchagua Valley Chile (12.99 WTSO)
I liked this wine but Julie thought it was too dry. A bit transparent in the glass. Cherry fruit on the nose with a slight sting. Starts very light in the mouth with dark cherry fruit, and after a while quite an herb spice develops. The finish is dry but not much oak or tannin backbone. Becomes smoother and velvety during the finish. Wine notes: "Ruby red wine with strawberry and ripe plums aroma. Well-structured will elegant, soft, and ripe tannins." Maybe, but I am still sticking with more of a cherry fruit. Repeat buy, most likely not with Julie not enjoying it although it is a good buy at $12.99.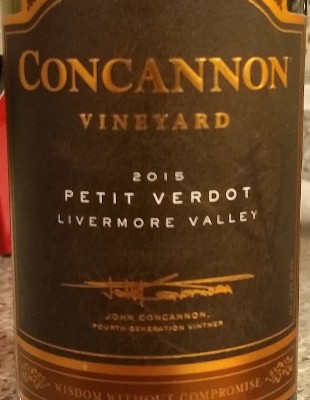 Concannon 2015 Petit Verdot ($28 Concannon Wine Club)
Very dark in the glass, inky. Faint dry ripe fig on the nose. No sting. Lighter in the mouth than I expected. There is a tartness in the mouth, with an oaky dryness. Having problems placing the fruit. Pretty underwhelmed by this offering from Concannon. Wine notes: "An impossibly dark and complex, yet amazingly balanced wine. Exotic spice aromas of cardamom, star anise, violets, sage and cinnamon add complexity to the dark cherry and blackberry overtones. Strong dark fruit flavors give way to notes of chocolate, coffee and a touch of cedar. Soft tannins lead way to a sweet toasted oak character on the finish." Boy seems like we were drinking two different wines. Repeat buy, no.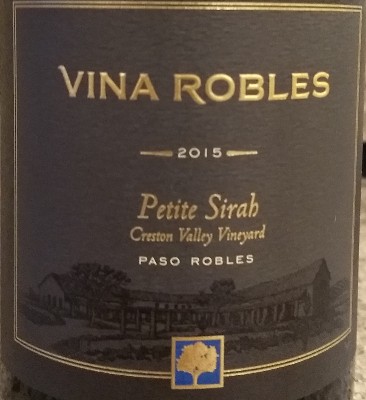 Vina Robles 2015 Petite Sirah Creston Valley Vineyard ($36.80 Vina Robles Wine Club)
Very nice, beautiful aroma dark fruit mixture of blackberry and boysenberry with hints of jam. No sting. Very dark in the glass. Taste is lighter than expected. Almost a bit sweet with dark fruit jam to start. Gets quite spicy, a white pepper to me. Tannins kick in for a dry long finish with fruit, jam, and spice continuing. Wine notes: "The microclimate and soils in our estate Creston Valley Vineyard located southeast of Paso Robles encouraged us to bottle this limited-production Petite Sirah. Rolling hills, picture perfect exposure and limiting, shallow soils with noticeable limestone all contributed to exceptional concentrated Petite Sirah fruit from this vineyard. Selected from a small upper portion of an elevated block with chalky soils, the grapes were handpicked and sorted for quality in the vineyard. The fruit was crushed into small stainless steel tanks where variable pump-over techniques were implemented during progressive stages of fermentation to enhance fruit extraction and balance out the tannin structure. The wine was then lightly pressed and transferred to French and Hungarian oak barrels to complete malolactic fermentation. This exceptional lot, bottled unfined and unfiltered, is representative of the Creston Valley terroir - where the vineyard's limestone soil is expressed through the wine's structured, yet velvety tannins. Tasting Notes: Full-bodied - dark berries and cola - velvety finish" Guess I would agree. Repeat buy, yes and I did pick up a few more and given the price point that is saying something.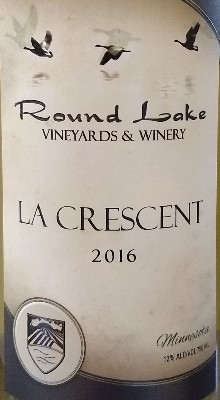 Round Lake 2016 La Crescent (14.49 Total Wine)
Light yellow in the glass. Beautiful aroma with no sting, tropical fruit and flowers. Tropical fruit in the mouth, some pineapple. A bit of mineral spice, flowery. Leaves a nice velvet coating on the tongue. Long finish with all elements coming in and out. Wine notes: "La Crescent balances its floral aromatic nose with a refreshing citrus finish. The delicate balance of dry and sweet is inviting on the palate." Pretty generic and I agree especially the good balance of dry and sweet. Repeat buy, yes. I believe this noses out the Chankaska La Crescent for us due to less sweetness. Julie and I really love the Minnesota white wines and are now only buying them since Total Wine has a good selection and stock (plus good pricing).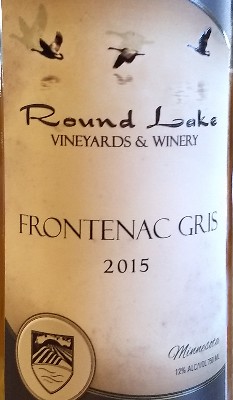 (really 4.5)
Round Lake 2015 Frontenac Gris (12.99 Total Wine)
Pale copper in the glass. Light Sweet peach aroma? Passion fruit in the mouth, dry with some sweetness. A little spicy brightness. Julie loves it, I prefer their La Crescent. Wine notes: "This is a balanced crisp and sweet white wine that has citrus notes of mango and grapefruit. The slight sweetness of the Frontenac Gris helps tame the heat of spice in Asian and Indian dishes" I could agree with that. Repeat buy, yes as Julie loves it and I enjoy it.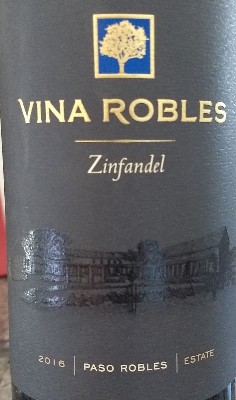 Farmhouse 2015 Red Blend, Cline (9.99 or so, was left over from a church Cana Dinner)
Dusty cherry fruit aroma no sting. Medium dark in the glass Fruit is dark plum, quite a bit of spice, peppery. Medium finish with fruit and spice. A little bit of tannins. The spice really diminishes with air time. Wine notes: "This ripe red is medium-bodied with boysenberry, tobacco and black-pepper flavors. It has smooth tannins and luscious fruit that suggest good aging potential, but why wait, it's delicious now!" Not in agreement. Repeat buy, nope.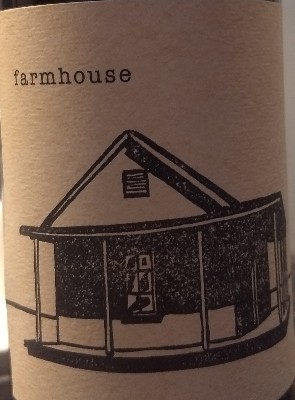 Colpetrone Rosso di Montefalco 2014 ($23 wine.com)
Don't have notes on this wine, but remember not being impressed at all. We love a nice earthy Montefalco and this one was pretty light and nondescript.
Until next month, happy tasting and drinking.
Ratings:

Wow, knock my socks off good. A wine to stock up on.

A very good wine, also a wine to stock up on.

A good average wine that is very drinkable, one that I might buy
again.
An okay wine, one I can drink but would not run out to buy any of.

Not worth really drinking, most likely poured out.
Copyright 2019, Richard J. Moore
keywords: Wine,Wine Tasting, Wine Reviews
description: New wine tasting notes for March of 2019