June Wines
October 24, 2019
Richard Moore
Wine of the Month
We spent 3 weeks of May in Portugal so I skipped a May editon and I moved the one new wine I had notes for in May to June. We did taste many nice wines in Portugal but I did not try to get notes and pictures for the wines, but the ones I can get here will show up in the next few months. There were many 5 star and one 4.5 star wine this month that could contend for the wine of the month, but I felt I should choose a wine from Portugal. Before going to Portugal I had not heard of Alicante Bouschet, but once I tasted some I loved it. It is a grape that makes full bodied wines that are wonderful. Maybe a bit like a Syrah but more full bodied. The Rocim Alicante Bouschet stood head and shoulders above the others I tried and you can get it here in the USA!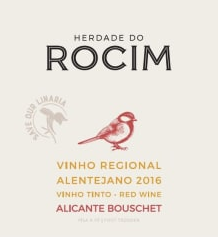 Herdade do Rocim Alicante Bouschet 2016 (18.00 wine.com)
Wow. This is one of the top wines we enjoyed on our trip to Portugal. Just as good here at home and I am glad we can get it (2016 vintage is out but there is a 2017 on wine.com). Perfectly balanced with fruit, jam, and tannins/body. Velvety in the mouth. Repeat buy? Yes and I have stocked up. Wine notes: "This wine has a deep opaque ruby color with aromas of black fruit. The barrel aging gives spicy notes and well-integrated tannins while maintaining minerality and acidity." Not much to go on but yes.

Courbis Saint-Joseph Rouge 2016 ($27 wine.com)
Wow. Delicate, fruity (blackberry) and jammy with dryness, spice and leather in the finish. There is a playful bit of tartness in the long finish. Maybe some cola? Aroma is a bit skunky which is odd considering how nicely it drinks. After a night vacuumed the aroma is a pleasant blackberry cherry combination. Wine notes: "100% Syrah. Sleek, with a delicious beam of cassis and cherry preserve flavors, gilded with light vanilla, black tea and sandalwood notes. Offers a long, refined finish." I could see that. Repeat buy, yes.

Ancient Peaks Paso Robles Zinfandel 2016 (15.20 wine.com)
Dark in the glass, the aroma is a bit odd with some jam and ripe fruit along with a bit of a sting. In the mouth it is smooth and velvety. Jam and blackberry fruit coat your tongue. A cola spice develops and there is a dry long finish with nicely controlled tannins. Wine notes: The 2016 Zinfandel jumps out of the glass with bold aromas of cherry jam, wild blackberry, violets, kirsch, and toasty oak. A rich, viscous texture is packed with dense flavors of black cherry, boysenberry, cola, and spicy vanilla. Lively notes of black pepper add focus to a smooth, jammy finish." I would agree with the taste, not so much with the aroma. A decent and nice Zinfandel, not great and with all the great Zins out there not a repeat buy.

Opolo 2017 Montagna Mare ($20.30 Opolo Wine Club)
I really love this vintage! This has been a favorite of ours from Opolo, but this vintage seems extra special. Medium dark in the glass. Beautiful aroma of floral and dark fruit and I cannot pick out a single fruit. Maybe plum? No sting. Lots of different flavors in the mouth with a touch of spice. Velvety dark chocolate with raspberry fruit coupled with jam and sweetness. Medium dry finish with a bit of leather. The jam and velvety tongue coating last for a long long time. Wine notes: "In our efforts to always push the envelope we present our Montagna-Mare Italian blend of Sangiovese and Barbera. We begin with the rich and earthy flavors of Sangiovese and tame them with the bright and lively flavors of Barbera. Begins with deep aromas of dark cherry and charred cedar followed by black plum poached with tea leaves." Well, not what I was getting. I have noticed that the Opolo tasting notes are getting a bit out there. Repeat buy, yes at the club price this wine drinks well above the price.
Primitivo Salento IGT 2016 Tenute Due Mari Cicena ($12.99 WTSO)
Very sweet jam on the nose. No sting. Fairly dark in the glass. Velvet jam to start. Some herbal spice develops. Finish is medium long, with spice persisting. Repeat buy? No as there are other Primitivo's we like more. Could use a bit more body and tannins for my taste. Wine notes:"The 2016 'Cicena' bottling by Tenute Due Mari showcases the hot and dry terroir of Salento through notes of dried black cherry, violet, smoked meat, cracked black pepper, and potting soil." Don't remember it being earthy.

Herdade Do Esporao Monte Velho Red 2017 (9.99 Wine.com)
This was a favorite of ours from our trip to Portugal that I can get here from wine.com for a decent price. Not as cheap as in Portugal where it was easy to get a bottle in super markets for 5 Euros or less. This wine is a real fruit bomb, with a nice substantial backbone and structure to go with it. Ripe plumb on the nose. No sting and medium dark in the glass. Fruity in the mouth, having trouble pinpointing a fruit. Some tartness, sweetness, and spice with a bit of cola. Dry finish with a touch of tannins. All elements last in a long finish. Repeat buy, yes and I have picked up 6 bottles. Wine notes: "Aromas of red berry fruits and wild blueberries, with subtle spicy notes. The palate is fresh and intense with solid structure and good texture." I would fully agree. If you want a really good fruity wine for a great price give this wine a try!

(4.5)
Plunger Head 2016 Petite Sirah ($12.59 wine.com)
The 2015 vintage is a favorite and Plunger Head continues their high quality Petite Sirah with the 2016 vintage. Inky dark in the glass. Cherry and blackberry fruit aroma with no sting. Dusty and earthy on the nose. Sweet jam of cherry and blackberry in the mouth. Some spice, cola like. All elements continue into a very long finish with nice tannins. Repeat buy, yes. Wine notes: "The aroma jumps out of the glass with notes of fig jam, ripe cherry and fresh blackberry as well as hints of vanilla and toasted coconut. Dark black fruit flavors are balanced with supple tannins, dark chocolate and espresso flavors that linger on and on. The finish has flavors of sandalwood, dried currants, and brambly fruit notes." Mostly in agreement. Not getting coconut aroma.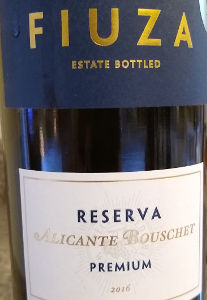 Fiuza Reserva Premium Alicante Bouschet 2016 ($18.99 WTSO)
While in Aveiro Portugal we had some afternoon wine in the square at a wine bar that had many Fiuza wines. It seems that Fiuza is a pretty big wine producer in Portugal. We tried a Duoro red blend, rose, and white. All were okay but nothing exciting and low on the list of wines we tried in Portugal. When WTSO offered this Alicante Bouschet I was intrigued. Unfortunately the same result, okay but nothing special. The Rocim below is a much better Alicante Bouschet for less. Medium dark in the glass, dusty ripe bing cherry on the nose with no sting. Bing cherry in the mouth and flowery. Some jam and velvet mouth feel. Not a lot of body or backbone. Medium long finish that is a bit dry with cherry fruit and flowery taste persisting. Not a very complex wine. Repeat buy, even though Julie likes it no. Wine notes: "Color: Deep, intense purple-red color Nose: Impressively seductive blackberry and cassis jam Palate: Spicy palate; rich with intense chocolate and mint flavors and toasty oak tannins" Really not in agreement although I really need to figure out cassis.

Opolo 2016 Petite Sirah Reserve Collection ($35 Opolo Wine Club)
Julie's comment when trying her first glass says it all, "just lovely". I would concur with that assessment. This is the first Petite Sirah that I believe Opolo has made and it is a good one. Lighter in the glass than I would expect. Ripe Bing cherry and plum jam on the nose with no sting. In the mouth it has a wonderful mouth feel and balance. Black ripe fruit, a bit of jam, some spiciness and tobacco leather. Dry finish with restrained tannins. Repeat buy, yes. Wine notes: "rich flavors of black plum and boysenberry are complemented by black pepper and mint. Deep bodied and luxurious rounded palate to an intensely long and satisfying finish. Bold yet complex, This wine is a boxer's glove wrapped in plush velvet with a powerful and gratifying delivery."
Until next month, happy tasting and drinking.
Ratings:

Wow, knock my socks off good. A wine to stock up on.

A very good wine, also a wine to stock up on.
A good average wine that is very drinkable, one that I might buy
again.

An okay wine, one I can drink but would not run out to buy any of.

Not worth really drinking, most likely poured out.
Copyright 2019, Richard J. Moore
keywords: Wine,Wine Tasting, Wine Reviews
description: New wine tasting notes for May and June of 2019