December Wines
March 29, 2020
Richard Moore
Wine of the Month
For Christmas day I opened up a magnum that was part of a red wine case deal from the Wall Street Journal wine club. I can still taste this powerhouse wine in my memory. This is a Rioja to savor and enjoy, and I am fighting the temptation to buy some more as I am not partial to magnums.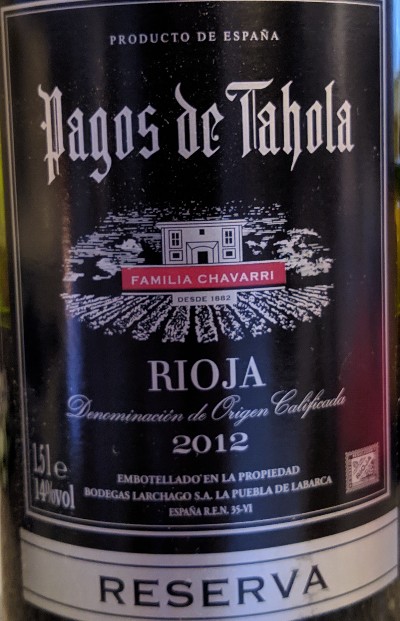 Pagos de Tahola Rioja Reserva (magnum) 2012 ($13.80 Wall Street Journal wine club reds case)
In one word, oak. Dark in the glass. The aroma is definitely an oak barrel coupled with a touch of dark fruit, no sting. The oak continues into your mouth, I love it. Very dry with substantial tannins. Dark fruit with some jam. The finish is very long with all the elements coming and going. A touch of cedar, and herb spice. Wine notes: "You're in for waves of intense raspberry and strawberry flavor, plus toasty vanilla-spice notes." Okay, I could go with that, but not much to go on. Repeat buy, no. The $55 normal price is pretty high and a magnum size is not what I prefer. Definitely a repeat buy if I could find regular bottles for $20-25.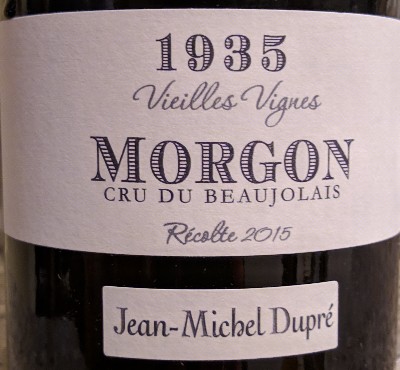 Domaine Jean-Michel Dupré Morgon Vignes de 1935 2015 (16.99 WTSO)
Medium-dark in the glass. A fruit bomb aroma, dark ripe plum with some cherry. No sting. Very fruity in the mouth with ripe bing cherry and a touch of raspberry. Jam and velvety mouthfeel, buttery. A touch of dryness in the finish. A wonderful wine if you want a refreshing, fruity wine. Notes: "Flashy violet in appearance, this berry-scented, medium-bodied red caresses the palate with vibrant acidity and delicate tannins, culminating in a fruit- and spice-tinged finish." I do not get much in the way of spice or acidity. Repeat buy, yes!

Capital Zinfandel 2018 ($9 as part of a WSJ wine club special)
Part of a Wall Street Journal wine club welcome back special. Dark in the glass. Lovely aroma of blackberry, with a bit of forest floor. Jammy blackberry in the mouth. White pepper spice, some tannins in a medium-dry finish. The finish is long with the jam lasting forever. Bing cherry also. Repeat buy, for $15 or so yes. Turns out the WSJ price is 13.99. Wine notes: "In the glass, look forward to layers of velvety, mouthfilling red-and-black fruit, plus subtly sweet spice notes." Yes!
Canoe Ridge The Expedition Merlot 2017 (9.99 Bright Wines)
A swing and a miss! I have enjoyed the Canoe Ridge red blend in the past. This Merlot is very lite and uninspired. Light in the glass, more like a Pinot noir than a Merlot to me. Cherry aroma. Very watery to start with. Candied cherry. Becomes a bit spicey, cumin. The finish is dry and short. Repeat buy, no. Wine notes: "Intense aromatics of fresh, ripe raspberry and blueberry. On the palate, crushed ripe berries, vanilla and leather linger among silky smooth tannins for a pleasing and long finish." Nope, not for me!

Schroeder Estate Patagonia Pinot Noir 2018 ($18 Wall Street Journal Wine Club)
Light in the glass. Nice cherry/raspberry aroma with no sting Velvety start in the mouth, a very pleasant mouthfeel. Raspberry fruit that is a bit candied. A spice develops and stays with the fruit in a long medium-dry finish. A very refined and enjoyable Pinot Noir. Repeat buy, oh yes and I did pick up 6 bottles and I am already down to 2 left. I really love this wine but some others are not as smitten as I am with it. Wine notes: "Aroma, spicy and dense black cherry and damson aromas. Taste, silky black fruit overlying firm tannins with spicy oak notes" I might quibble a bit.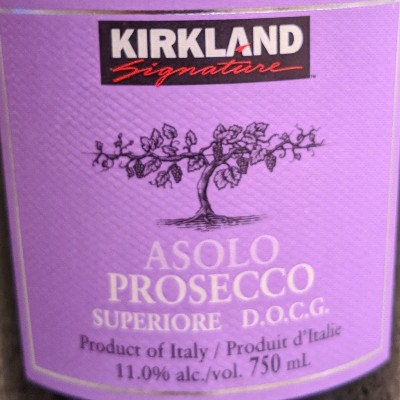 Kirkland Asolo Prosecco (5.99 Costco)
I had heard good things about Costco's Kirkland wines. This one came up very short. Watery and not much there. An odd perfumed taste and not much fruit. Repeat buy, no. We didn't even get through a glass of this before dumping it! I would give it -1 stars.

Concannon 2016 Petite Sirah Livermore Valley ( $30 Concannon Wine Club)
Dark in the glass. A bit of a sting on the nose. Aromas of forest floor, cherry, and a touch of spice. A velvet mouthfeel. Quite spicy for a Petite Sirah. Very earthy, and a tannin based finish that is dry and long. Dark chocolate along with ripe fig fruit. Wine notes: "Aromas of ripe blackberry fused with espresso and toasty oak lead into a smooth entry. A wave of dense flavors quickly appears, showcasing the dark blend of black raspberry, chocolate and creamy mocha. Tannins and spicy oak enhance the flavors as they frame the wine." I could go with that. Repeat buy? On the fence, a very nice wine but there are other Petite Sirah wines I prefer for less money.
Until next month, happy tasting and drinking.
Ratings:

Wow, knock my socks off good. A wine to stock up on.

A very good wine, also a wine to stock up on.
An average wine that is very drinkable, one that I might buy again.

An okay wine, one I can drink but would not run out to buy any of.
Not worth really drinking, most likely poured out.
Copyright 2020, Richard J. Moore
keywords: Wine, Wine Tasting, Wine Reviews
description: New wine tasting notes for December of 2019