Sawtooths 2017, Day 7
Farley Lake to Petite Lake Trailhead
July 14, 2018
Day seven was a pretty benin hike back to the trailhead. Our route would take us down Yellow Belly Creek to a trailhead junction near Yellow Belly Lake and then there was a brief uphill back over to Petite Lake and the trailhead where our car was. One thing that I have noticed is that the mileage on trail signs and using software like Ride with GPS is usually off by a good 20%. When Steve and I are moving at top speed we typically move at 4 miles per hour and I know that we were moving at least that fast on our way out and it took well over 1 hour and 30 minutes of hiking time to get out. Just saying!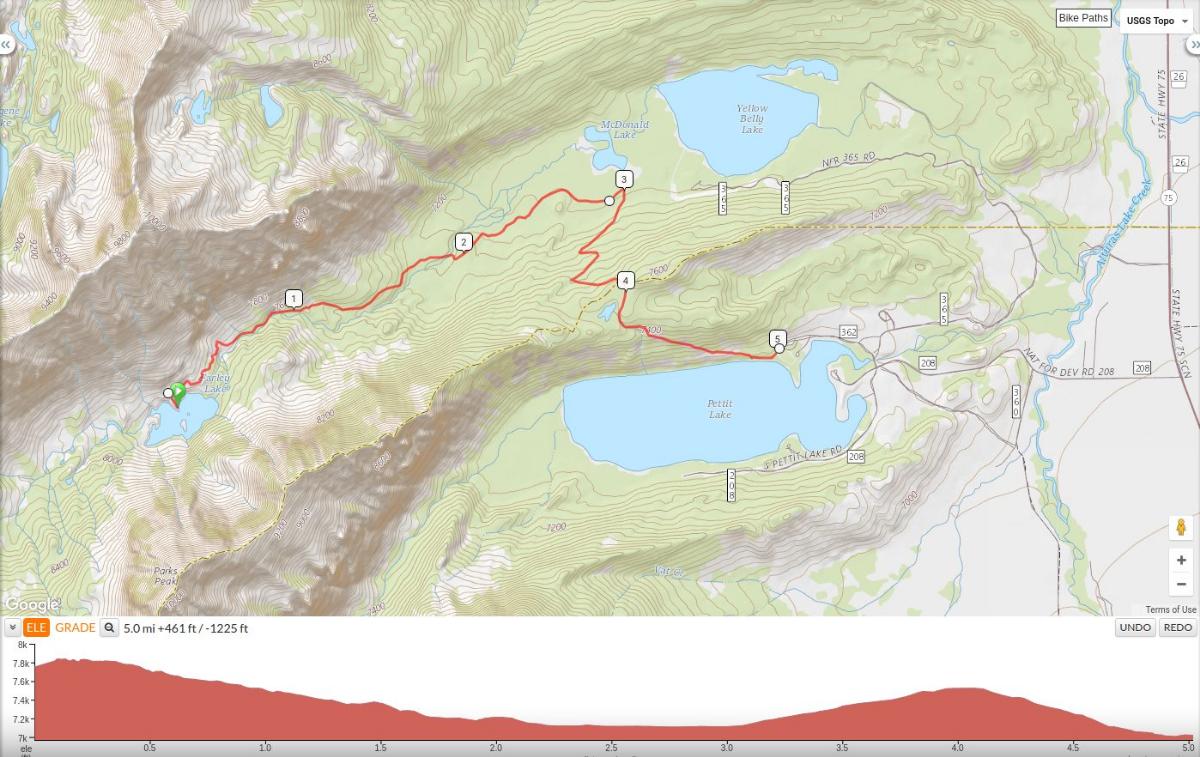 Our route from Farley Lake down Yellow Belly Creek and over to Petite Lake. (created with ridewithgps.com)
We decided to break camp early and even skip morning coffee to get out to the trailhead early and hopefully avoid some of the crowds and traffic we were expecting due to the eclipse. At the risk of sounding like a broken record, we woke up to another clear and amazing day in the Sawtooths.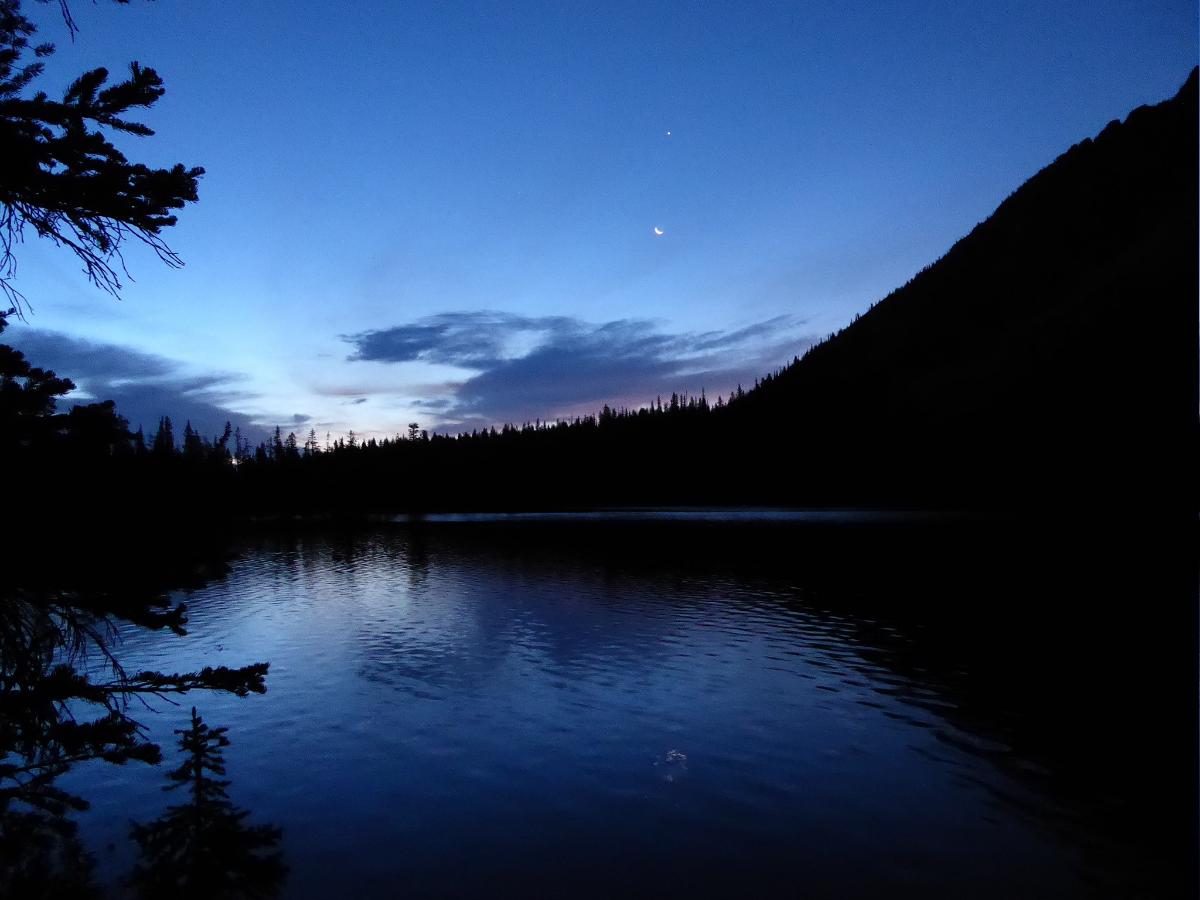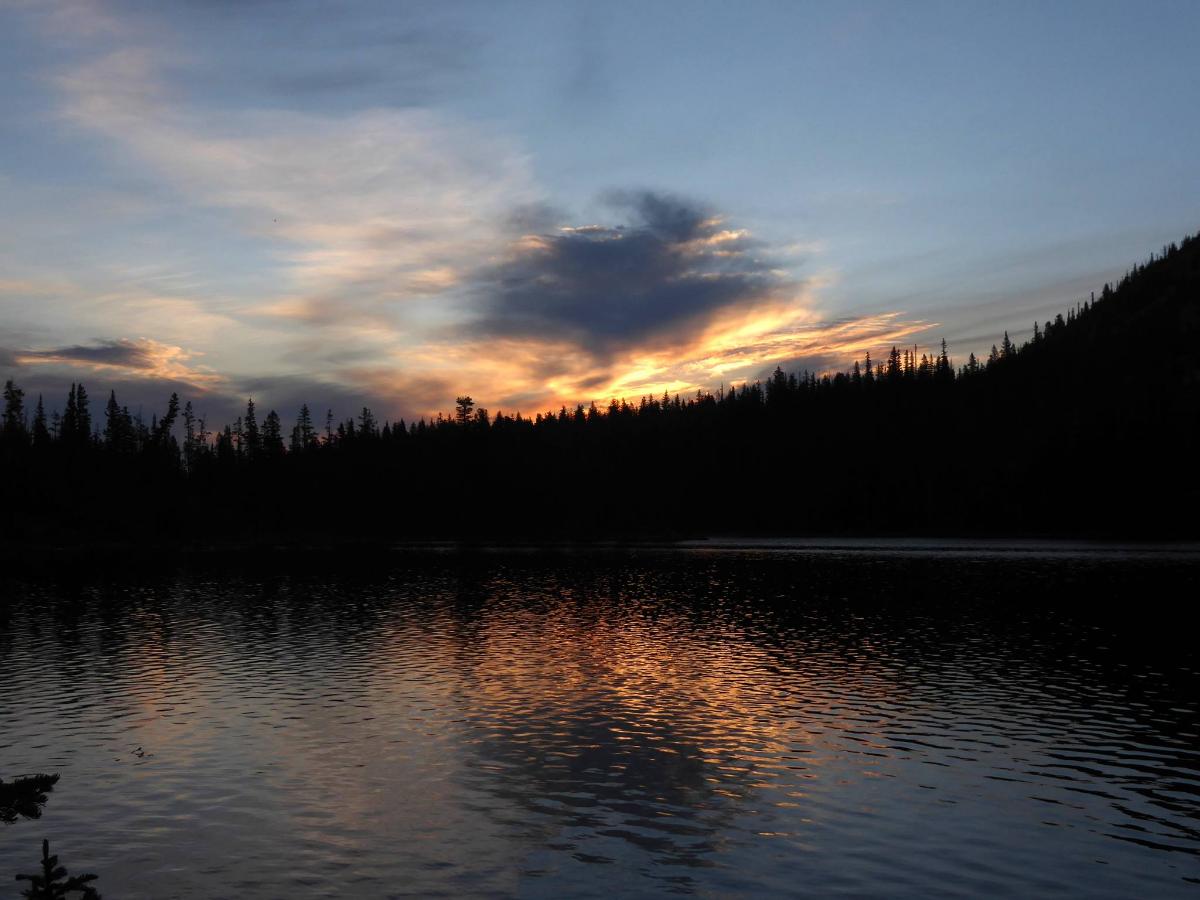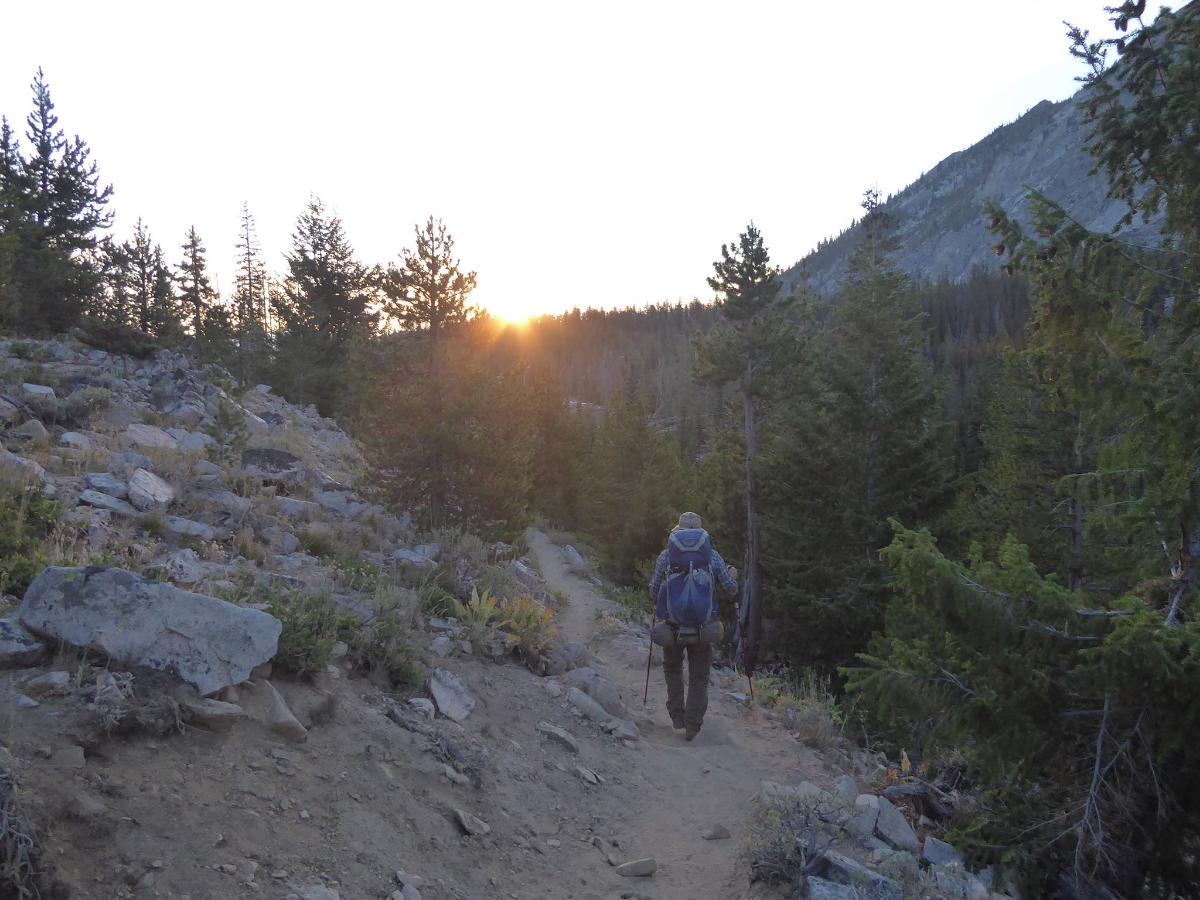 Early morning at Farley Lake. These are some of the early morning views I was treated to as I did my morning stretching routine. On the trail early heading into the sunrise.
As we left the lake we had to pick our way through the campsite of a very big group and most likely woke them up. On the trail we were treated to a nice sunrise and morning sunlight on the mountains including the White Cloud mountains to our east. The trail makes it way down the canyon without any real steep pitches and you are treated to many waterfall views on the way down. We did not see too many campsites near the trail on our way out.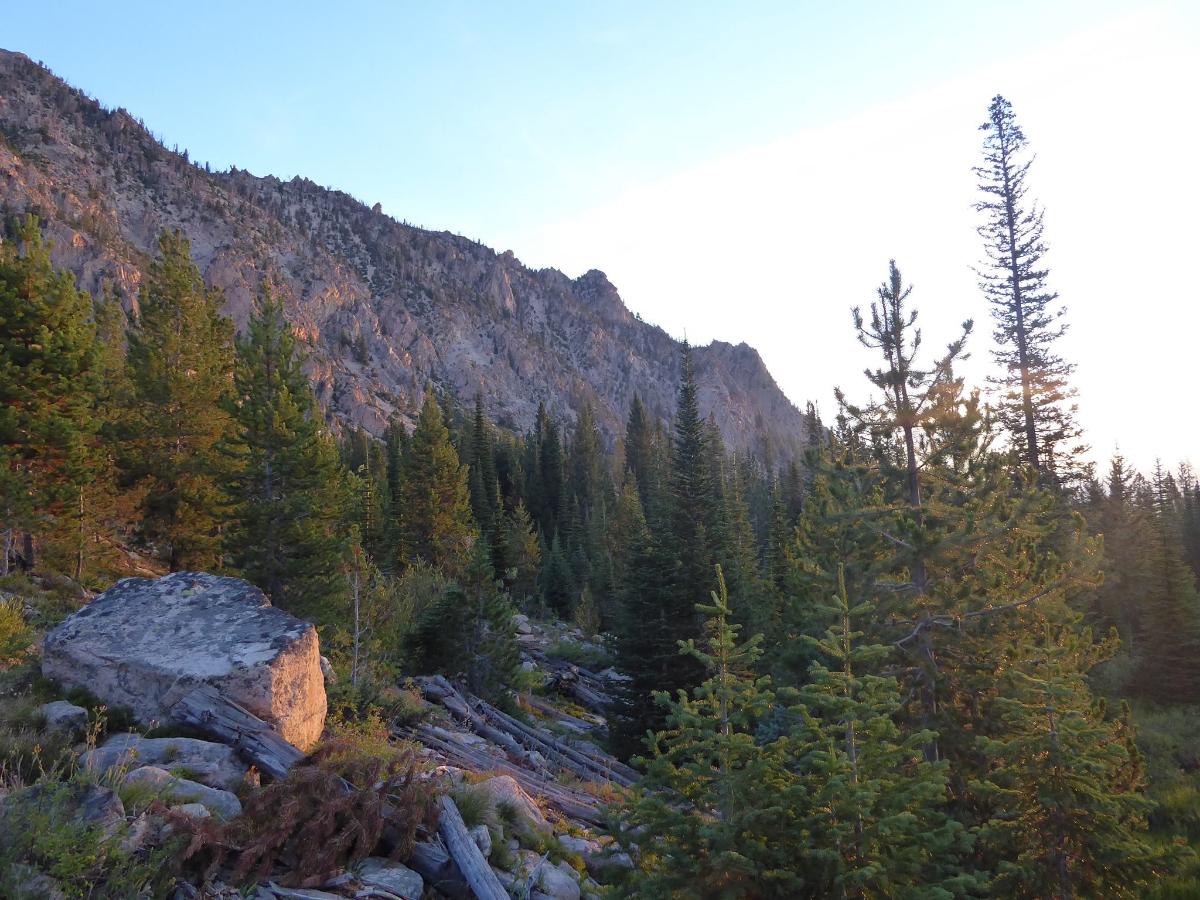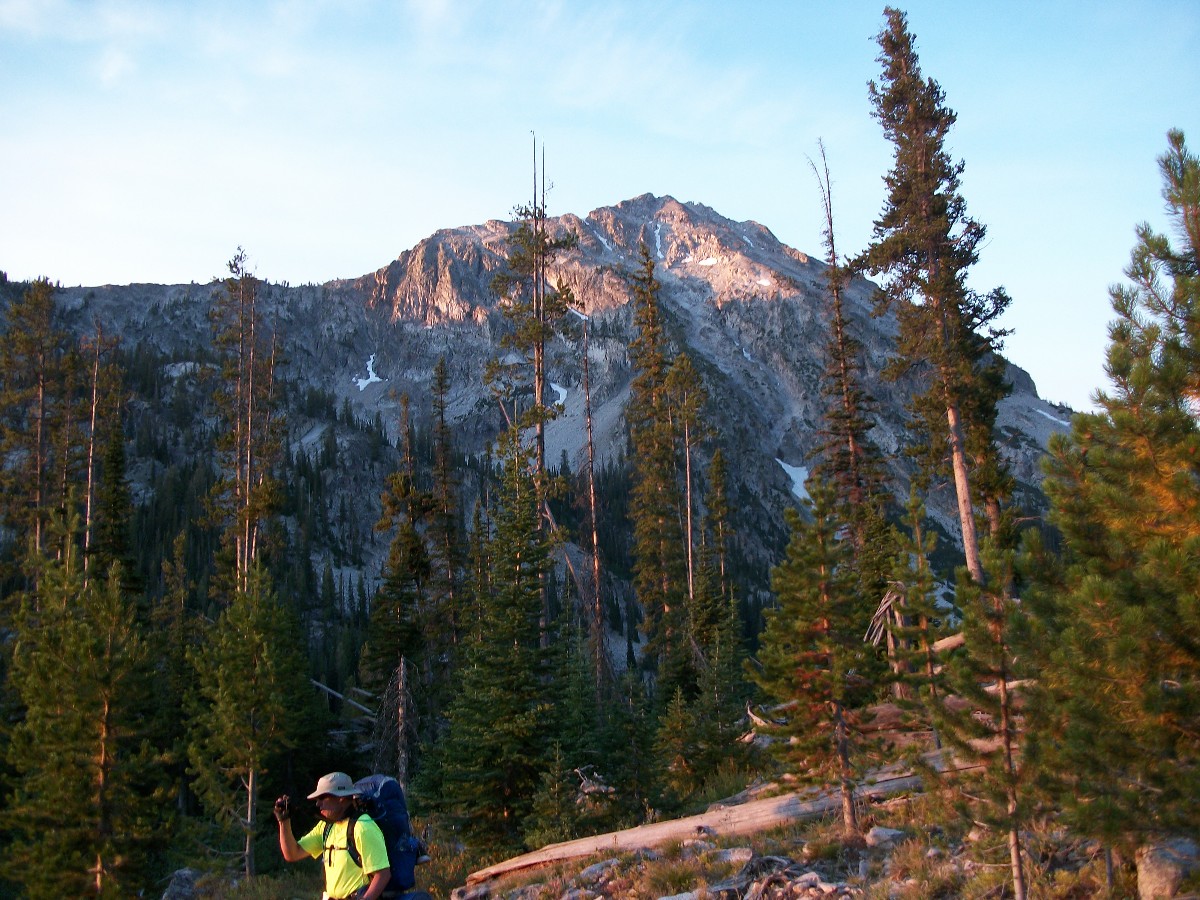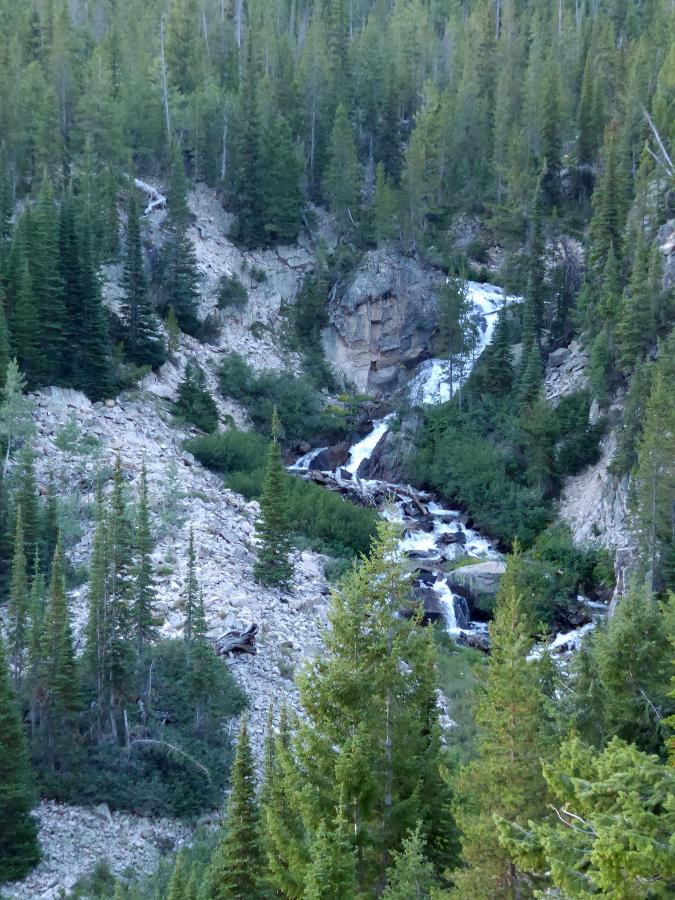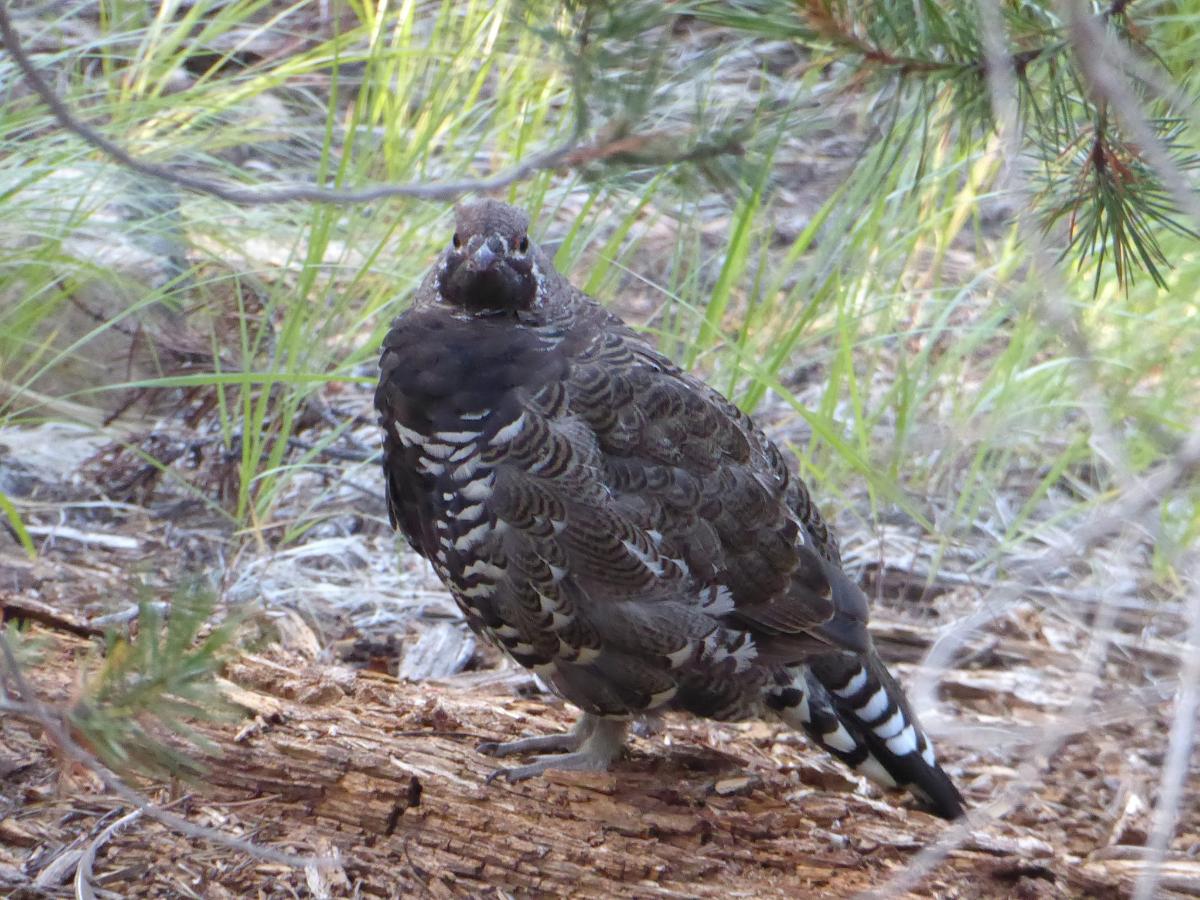 Heading down Yellow Belly creek we had a wonderful sunrise view of the distant White Cloud mountains and sunlight on the surrounding mountains. Many waterfall views and even a Spruce Grouse watching our progress.
We had a pretty harrowing creek crossing on a fallen tree, for some reason Darrell or I did not get a picture of it, luckily nobody fell in and we continued down the trail to the junction just above Yellow Belly Lake supposedly near McDonald Lake. We never saw either lake close up as the trees around the trail block any views. We took some time to take a few pictures at the trail junction and wilderness boundary.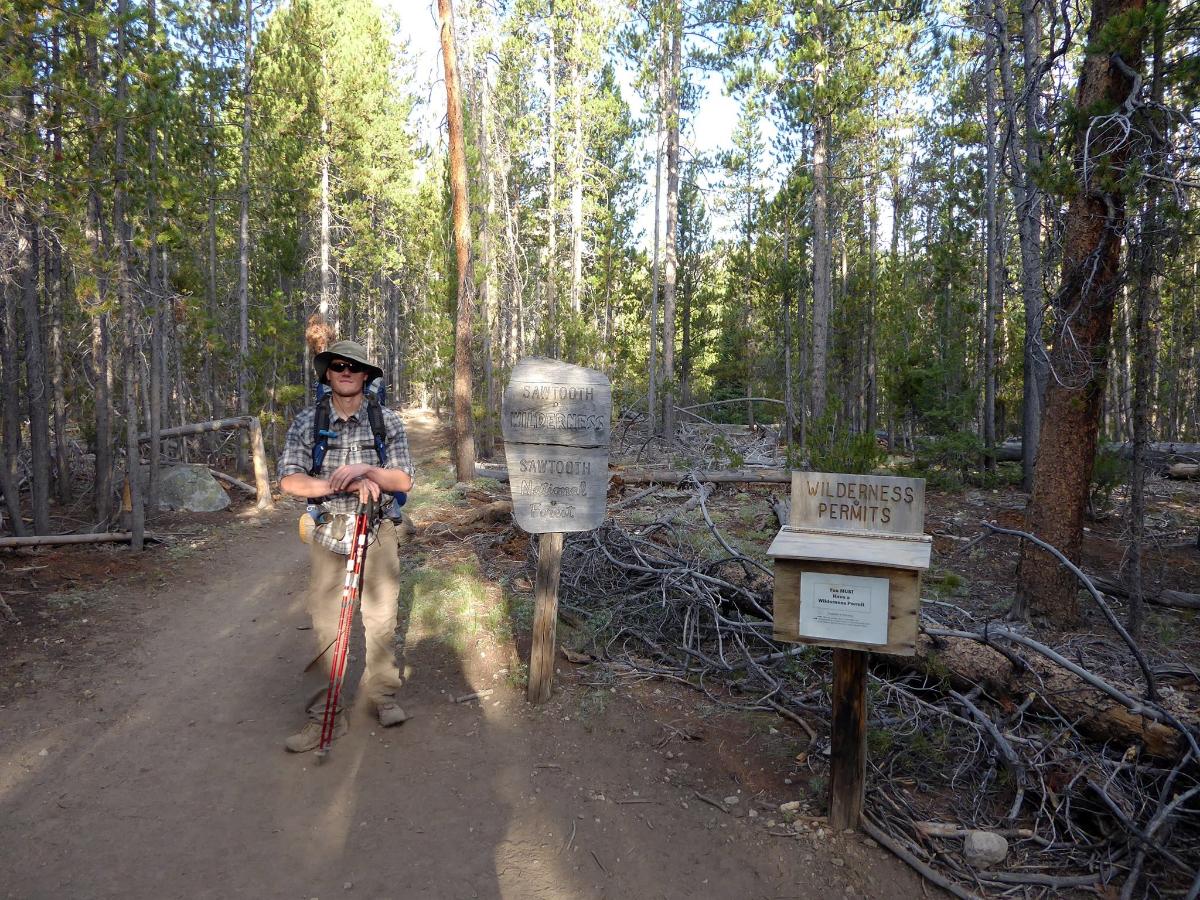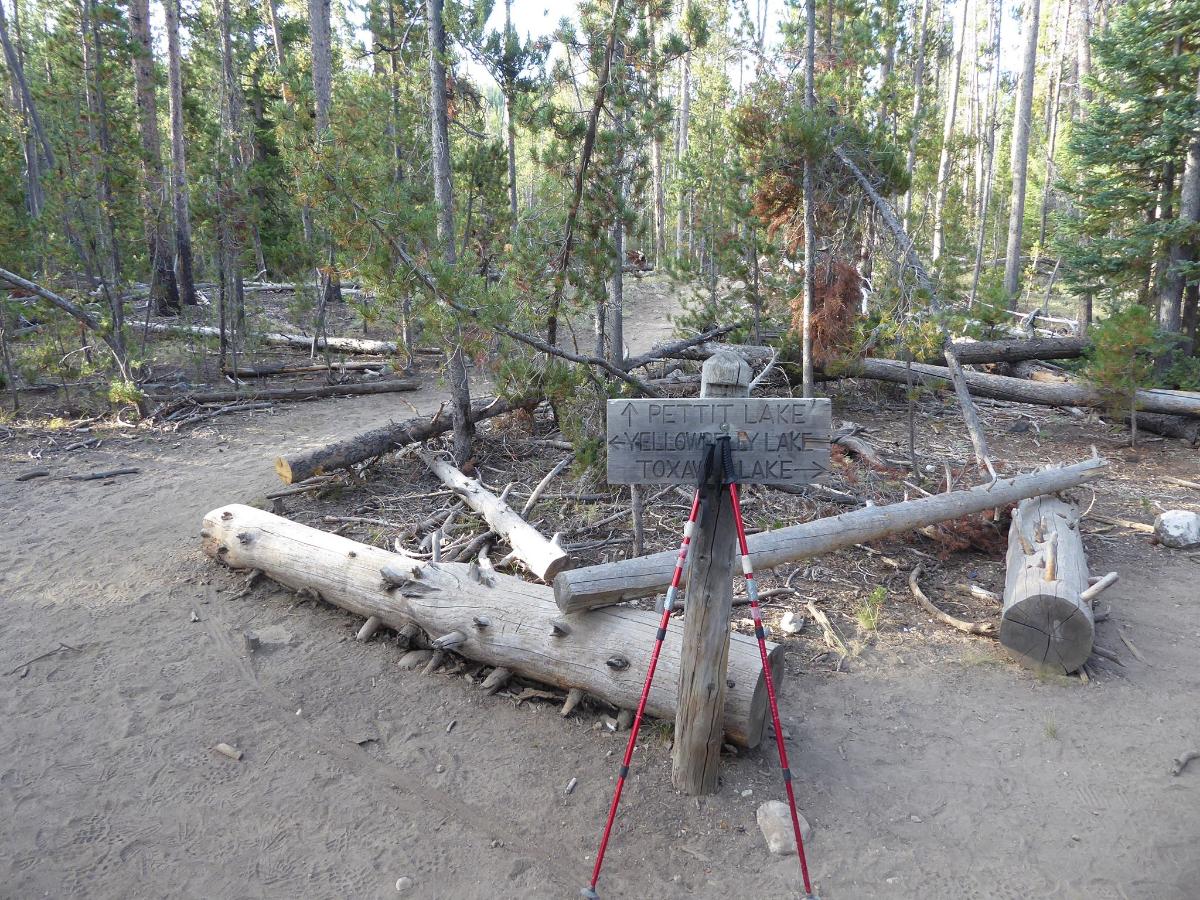 Final trail junction of the trip and our exit from the Sawtooth wilderness after 7 wonderful days.
The trail from the junction to Petite Lake and the trailhead goes up about 400 feet over a saddle between the valleys. In typical Sawtooth fashion the trail goes up fairly gradually and we were able to keep our fast pace going pretty easily. During the last few miles of our hike we started to encounter some groups headed in for the eclipse. Some were pretty normal looking backpacking people, but we did see some folks with marginal gear and plenty of it. The last was a couple that looked pretty tired and they were only about a mile in from the trailhead. She had about 20 pounds of camera gear and he was loaded down with big "car camping" style sleeping bags and gear. Hopefully they made it to a nice campground to see the eclipse.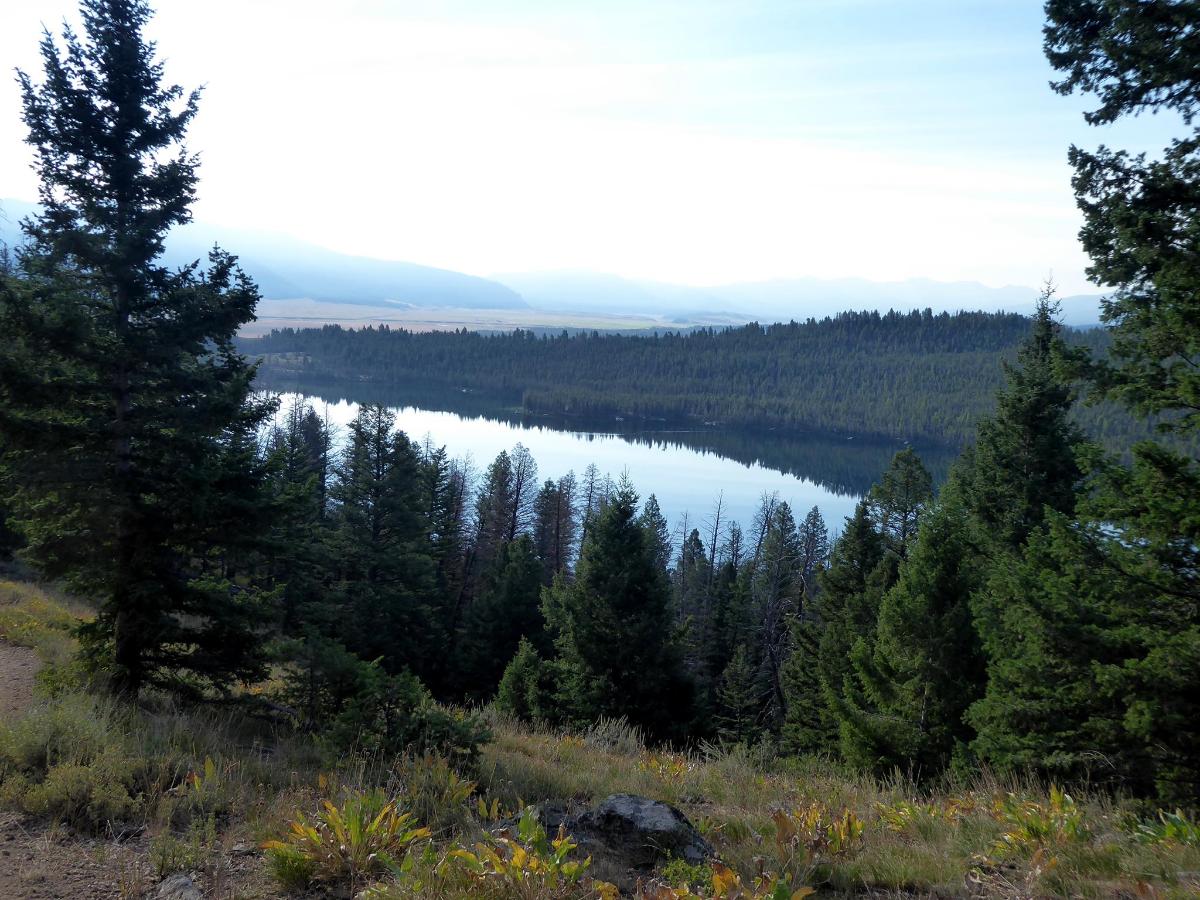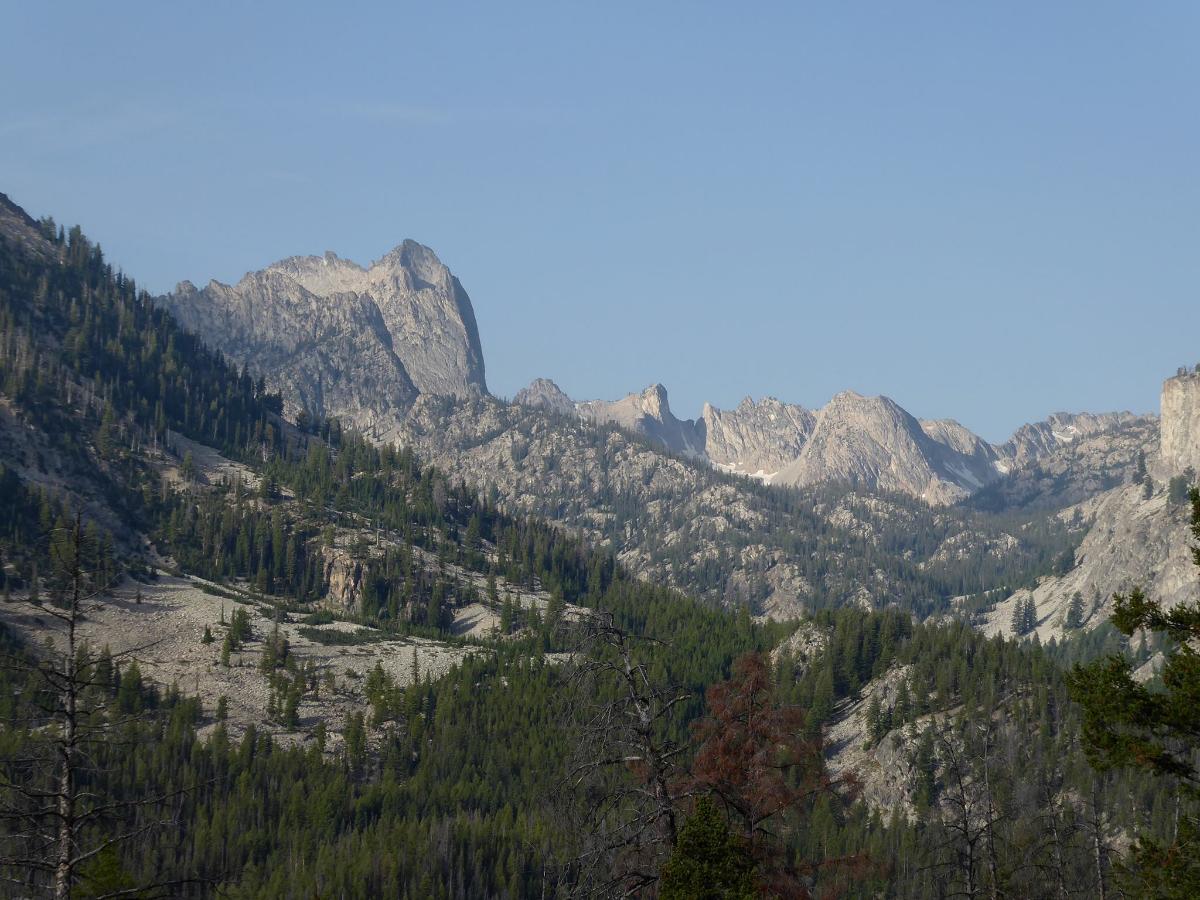 Petite Lake as we descended from the gap and a final view up the canyon to the Alice Lake Basin.
We were at the trailhead by 8am and it had just filled up and people were starting to park down the road leading to the trailhead. We changed and cleaned up a bit and took off for Sun Valley/Ketchum to have breakfast. We were quite amazed how empty and clear the roads were as we had expected a traffic nightmare. After a nice breakfast at Bigwood Bread "c1">
Everybody enjoyed themselves and the Sawtooth Mountains were quite a treat. I am glad that David got us looking at Idaho and get us exploring other mountain ranges around the country. Although I would not be opposed to another trip the Sawtooths some time in the future, and Julie and I are considering heading out there in the next few years to do some hiking.
Copyright 2018, Richard J. Moore
Photo credits: Richard Moore and Steven Moore
keywords:Sawtooth Mountains, Petite Lake, Farley Lake, Yellow Belly Creek, Trailhead, Backpacking, Hiking
description: Day seven of our backpacking trip to the Sawtooth Mountains of Idaho, exit via Petite Lake trailhead