November Wines
December 28, 2018
Richard Moore
Wine of the Month
With only one 5 star rating this month it was easy to pick a wine of the month. We really like Prosecco and the Sacchetto is fresh, fruity and dry making for wonderful sparkling wine. It was a hit for Thanksgiving and Christmas.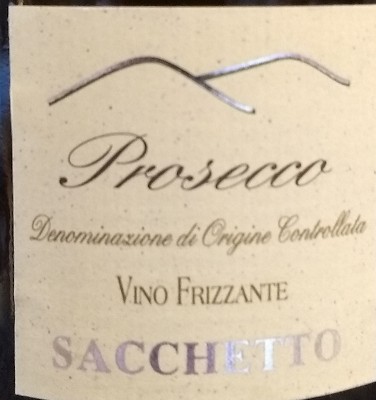 Sacchetto Prosecco, no vintage ($10.99 Byerlys liquor store)

This was a winner for our Thanksgiving celebration. The bottle is a bit unusual as you have to use a wine opener to remove the cork. Usually Prosecco is more like a champagne bottle to open. Nice crisp pear aroma. Very bright, dry and crisp in the mouth. Wonderful pear fruit that lingers during a medium finish. Wonderful bubbly wine that is not sweet or overly dry. Repeat buy, yes and we did enjoy a couple of bottles for Christmas and I have a couple of more ready for New Years.

Plungerhead 2016 Old Vine Zinfandel ($12.99 wine.com)
Beautiful nose, blackberry and ripe plum. Inky dark in the glass. Dark ripe fruit in the mouth. A nice herb spice develops after a while and then tannins. There is a nice level of jam from start to finish. A long dry finish with the fruit and jam continuing to coat your tongue. I would say this is not quite as good as their Petite Sirah, but definitely 41/2 stars. Wine notes: "Our 2016 Plungerhead Old Vine Zinfandel holds a dark ruby color with aromas of brambly raspberry, fresh-from-the-oven cherry pie, cinnamon-infused tea, toasted cedar and clove. The flavors start with touches of Bing cherry, sweetened cranberry, raspberry jam, caramel and toasted coconut. The finish lingers with a medium body and notes of dried cranberry, Mexican vanilla and a round mouthfeel from American Oak aging." Not sure I picked out that many things but this is a substantial Zinfandel and I think the little bit of Petite Sirah they add gives it quite the body. Repeat buy? Yes. So far so good from Plungerhead as they do a good job of showcasing how good a value wines from Lodi can be.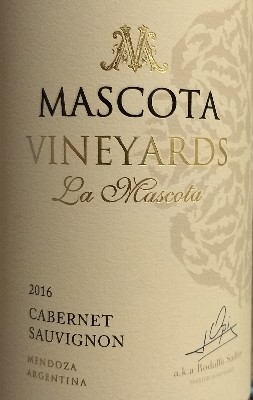 Mascota Vineyards La Mascota Cabernet Sauvignon, 2016 (15.99 Total Wine)
Skunky aroma not very pleasant. Just really bad, what a disappointment. I am a big fan of Opi Stadler's wines so am very surprised how bad it was. It is hard to believe Total wine had it listed as a top 20 under $20 wine. I took it back and was able to get a refund. The guy that processed my refund said it was one of his favorite wines and thought maybe it was a bad bottle. For me it was the worst Cabernet I have ever had.

Columbia Crest Gold 2013 ($7.97 Haskell's)

Dusty and oaky on the nose with a hint of dried ripe plumb. Leather and fig in the mouth, cedar forest floor, a bit of bright spice develops, substantial tannins and oak combine for a very chewy wine. A bit of sweet jam develops during the very long and dry finish. Notes: "Blend 64% Cabernet Franc, 30% Merlot, 3% Cabernet Sauvignon, 2% Petite Sirah, 1% Other Red Varietals. Dark and rich with a silky palate and flavors of fresh raspberries and salted dark chocolate, this Cabernet Franc-based red wine is a great option to pair with grilled meats and vegetables." I guess I can see how they get those notes. Now that I know it is a Cabernet Franc based wine it shows nicely in this wine. Repeat buy, I think so. This is a very substantial wine for a good price. You need to like a very chewy substantial wine to enjoy this wine. Not for the faint of heart.



Arbor Bench Reflections Meritage 2007 ($17.99 WTSO)

Another very hearty wine. Very nice fruit and oak aroma on the nose. Substantial tannins and oak, very dry with a bright spice that develops. A bit of jam during a long finish. Notes: "61% Merlot, 31% Cabernet Sauvignon, 8% Malbec Deep dark ruby red with a hint of violet on the edge, the aroma of oak vanilla and dark berry fruit fruit, a full, well structured mid-palate with a complex, lingering finish." I would agree with the notes. Considering this is a Merlot majority blend I am surprised how substantial it is. Repeat buy, not sure as it seems a bit past its prime. I will enjoy the ones I have and maybe look for a more recent vintage.



Concannon 2016 Malbec ($30.40 Concannon wine club)
Very dark in the glass. Nice dark cherry on the nose with no sting. What a fruit bomb in the mouth. Dark cherry and raspberry just explode. A little spice and brightness mid palette. Becomes dry with the fruit and spice continuing in a very long finish. Notes: "Deep purple color, full bodied texture and balanced tannins. This plush wine displays a rich bouquet of dark berries and sweet spices, complemented with flavors of juicy blackberry and plum. Aging in premium oak barrels for 16 months highlights the silky tannins and delivers a smooth vanilla finish." I might quibble a bit, especially the vanilla finish (there might be a little bit) but otherwise a good description of the wine. Repeat buy? A bit on the fence with this one as the price is a bit above my comfort zone for a 4 star wine.

Cecilia Beretta Prosecco ($8.97 Trader Joe's)
Trader Joe's is getting on my bad list for wine. Quite lacking compared to the other Prosecco we enjoyed for Thanksgiving. A faint apple on the nose. Some apple in the mouth, but quite a limp effort. Not a repeat buy.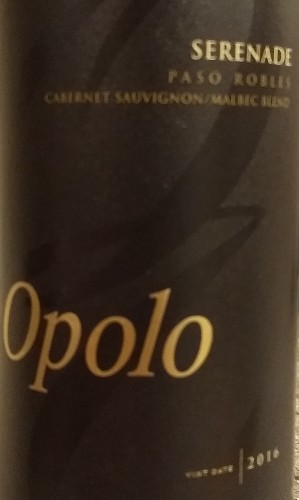 Opolo 2016 Serenade ($22.40 Opolo wine club)
Faint dark plum aroma with a bit of a sting. Starts soft and smooth, then really comes on with bing cherry and plum fruit. Quite a spice, white pepper like, develops. A very mouth drying, and long finish. Leathery. Some chocolate and jam. Very enjoyable wine that shifts directions in your mouth. Wine notes: "This blend tames the bold structure of Cabernet Sauvignon with the silky smoothness of Malbec. Begins with aromas of cranberry, dried Seville orange peel, thyme and coriander. Black plum and dark chocolate of encompassed by voluptuous velvety tannins that lead into a lengthy and satisfying finish." Not sure I got all that from this wine, especially the aroma. Repeat buy? I think we will enjoy the bottles I have but don't think I will buy more. Really opens up with air so Decant a good hour. A good solid 4.5 stars.
Ratings:

Wow, knock my socks off good. A wine to stock up on.

A very good wine, also a wine to stock up on.

A good average wine that is very drinkable, one that I might buy
again.

An okay wine, one I can drink but would not run out to buy any of.

Not worth really drinking, most likely poured out.
Copyright 2018, Richard J. Moore
keywords: Wine,Wine Tasting, Wine Reviews
description: New wines tasting notes for November of 2018