June Wines
July 5, 2018
Richard Moore
Wine of the Month
This month there was a close race for wine of the month between the Plungerhead Petite Sirah and the Chankaska La Crescent. I would dare to say it was a tie since they are both such outstanding wines which are so different it is hard to compare and pick a winner.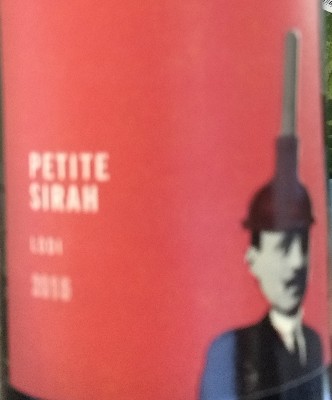 Plunger Head 2015 Petite Sirah (14.99 wine.com)
This might be the find of the month! I had a glass of this during a wonderful dinner at Ingredients Restaurant in White Bear Lake, and knew I had to get some bottles. As you may notice this is the first order of wines for me from wine.com, and so far I am pretty impressed. Everybody that has had this wine with me has been very impressed and it is a favorite Petite Sirah at a great price point. Very smooth and pleasant on the nose. Dark fruit, a blackberry and plum mix to me. There is a nice velvety feel to the nose. In the mouth if is very smooth and velvety to start with and there is nice tongue coating jam of blackberry fruit. Becomes quite spicey and the tannins kick in for a very long finish that has nice hints of jam and spice continuing. Notes: "Opaque in color, this Petite Sirah bursts with aromas of muddle blackberries, fresh caramel, and smoky oak. At second swirl, there is a distinct tobacco leaf aroma with other subtle notes of dried vanilla bean, brambly blueberries and coriander seed finishing with an earthy Lodi terrior stamp. True to its varietal, flavors of intense blackberry, dried cherry and wild strawberries glide across the palate. The finish lingers back toward the earthy nuances of forest floor with a hint of mocha." Not sure I am picking up all these aromas and tastes out of the wine but I don't care as it is a wonderful wine. Definitely a repeat buy as Julie and I really like it. Of the four I bought we have already finished two bottles!!!


Chankaska 2016 La Crescent ($16.99 Total Wine)
Both Julie and I agree, wow what an amazing wine. Very full flavored, sweet but with a crisp and tart dryness. Very aromatic on the nose, a bit of pineapple and some pear. In the mouth there is pineapple and pear fruit. There is a bite in the mouth with acidic/dryness coming from the La Crescent grape that is balanced with a perfect amount of sweetness. A wonderful summer wine. Very bright in the mouth with a tongue coating long finish. Wine Notes: "100% La Crescent Wine. We hand-picked the fruit in early September and whole cluster pressed the fruit immediately. The wine was fermented in stainless steel tanks at 50 degrees Fahrenheit to retain its freshness and aromatics. The 5% residual sugar helps balance out the high acidity La Crescent is known to have. The wine was blended and bottled at the winery in mid January. The wine tastes and smells like fresh pineapple, other tropical fruits and Jolly Rancher Green Apple. There are also suggestions of peach, rose petals and ice cold pear. The wine has excellent concentration, lasts long on the palate, and finishes fresh and bright." Seems to be very close to what Julie and I had discussed and noted on this wine. Definitely a repeat buy and I am headed over to Total Wine to pick up 6 bottles for the 4th of July week. We are already down to a couple of bottles!
As a side note, we had tasted this wine at the Minnesota Grape Growers conference in 2017 when it was served at the gala dinner. The Chankaska La Crescent won the governor's cup award in the 2016 International Cold Climate Wine Competition, and the tradition is that the wine that wins the cup is highlighted and served at the following years dinner.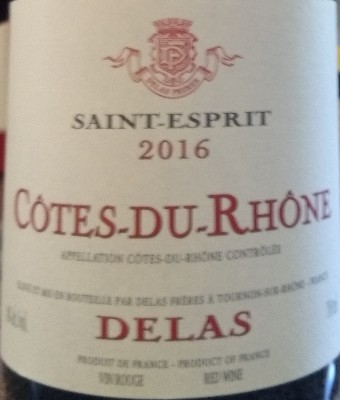 2016 Delas Saint-Esprit Côtes du Rhône ($13.99 Haskells)
Always nice to start out a month with a nice new wine. This wine was reviewed on Good Cheap Vino and I could get it at Haskell's. Wonderful aroma, dark cherry mixed with raspberry. Dances a bit on the nose and there is no harshness. Aroma continues into the mouth with dark fruit. A considerable white pepper spiciness comes on quickly and then leads to a very long and dry finish. The tannins are very reserved. Bright and fruity with a bit of jam. Wine notes: "60% Syrah, 40% Grenache. Lovely rich opulent and floral, blackberry and plum nose, the palate is big with well layered fruit, attractively firm but soft tannin and hints of oak, a big wine with a lovely finish." or "A blend of 60% Syrah and 40% Grenache, the 2016 Cotes du Rhone Saint-Esprit is a screaming value. If offers bold black cherry and blueberry fruit aromas, lively fruit flavors, silky tannins and a crisp, lengthy mocha-tinged finish. Drink this fun, bouncy little wine over the next couple of years." Seems we are mostly in agreement, just different dark fruits. This is a nice wine and one I will get some bottles of to have in the cellar.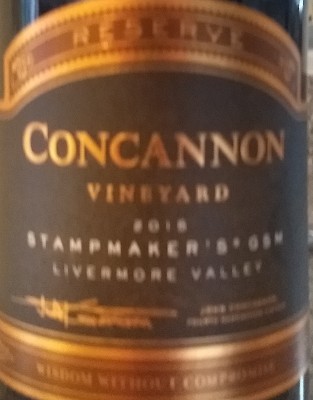 Concannon 2016 Stampmaker's GSM ($26 Concannon wine club)
I was expecting a much hardier wine given the grapes blended to make it, but I am finding out that GSM wines seems to be very light. More like a Pinot Noir in body. Fruity, with raspberry and hints of cherry. Dry and bright in the mouth. Velvety and tongue coating with a finish that lasts a long time. Once the wine coats your mouth it stays. Not a complex wine, what you start with is what you end with. Wine notes: "A lively Grenache, Syrah, Mourvedre blend that will flood your taste buds with pleasure. Aromas of raspberry, musk, spice and floral perfume delight the nose. This supple and tasty wine boasts clean acidity, with a touch of meatiness, dried herb and brick dust tannin cleaning up the finish." I did not pick up much spice or any tannins in the wine. For Julie and I this is not a winner.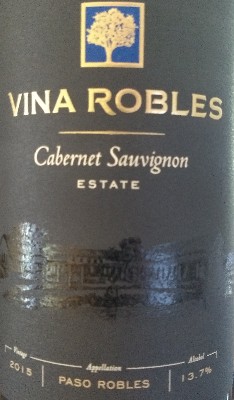 Vina Robles 2015 Estate Cabernet Sauvignon (16.90 Vina Robles Wine Club)
Not Julie and I's favorite Cabernet. I was a lover of the Vina Robles 2013 Cabernet, one of my favorites. The 2015 is quite a disappointing effort. We both agreed it was very earthy with quite a leathery taste in the mouth. With some air time there is some jam and black fruit that develop. No levels of complexity to the wine. Finish is medium long and not very dry or oaky. Actually it is a bit hard to believe it spent 20 months in oak. Wine notes: "aroma: Cassis, blueberries, cedar and anise, with hints of black olives and juniper berry Taste: Full-bodied with cassis and blueberries; licorice notes; chewy and chalky tannins lead to a rich structured finish" Maybe it is the black olive that is turning us away from this wine as we both hate olives. Either way not a repeat buy for us. I have some left in the cellar and will let them sit for another year and see if things develop.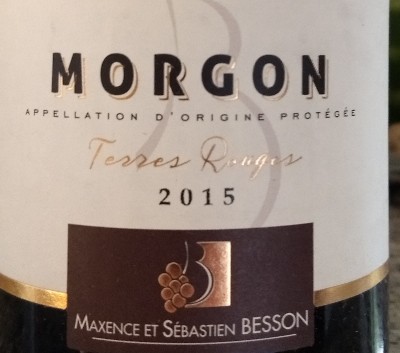 Domaine du Penlois Morgon 2015 (Part of a weekly Gamay tasting 4 pack, 69.99)
There was a 4 pack of Gamay Beaujolais that looked interesting on The Weekly Tasting which is a sister operation to WTSO. I thought it would be nice to explore Gamay wines. This wine has a very nice aroma on opening the bottle, but in the glass there is a pretty strong sting on the nose. In the mouth it is "bright" with a bit of jam. Finish is dry and long with a jamminess developing. The flavor just coats your tongue and lingers on and on. Fruit is hard to classify. I might go with a boysenberry. Wine notes: "This Cru bodied and opulent , beautifully rich aroma of stone fruits such as cherry and plum, is a perfect reflection of its terroir." Not much to go one but I would agree with the general notes. Gamay wines are nice and light with a lower alcohol percentage making the nice wines to sip and enjoy. Not sure about picking bottles up of this wine.

Pontificis 2015 GSM (7.99 Trader Joe's)
An indirect recommendation from the Good Cheap Vino site. They reviewed the Pontificis white wine and did not like it saying it did not hold a candle to their red GSM. This is a good wine for the price, although we did drink some after enjoying a bottle of Boneshaker Zinfandel and it felt very washed out in comparison. I am beginning to sour a bit on GSM wines as they are too light and "bright" for my taste. This wine has a solid bing cherry on the nose. In the mouth there is some bing cherry but there is more of a plum fruit. Some nice spice and brightness on the tongue that develops into a long finish with a medium level of tannins. This is a wine that drinks above it's price point, but having said that I would not pick up anymore bottles as GSM wines are not doing it for me.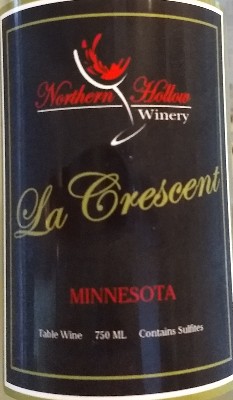 Northern Hollow 2016 La Crescent (12.99 Total Wine)
Another great La Crescent, almost 5 stars. This was the governor's cup winner in the 2017 International Cold Climate Wine Competition and we tasted this year at this years Minnesota Grape Growers gala dinner. This La Crescent is more reserved, less sweet, and more flowerey than the Chankaska La Crescent reviewed above. On the nose, nice pineapple and citrus. In the mouth there is lots of pineapple and a tartness coupled with a bit of perfume/floweriness. Notes: "La Crescent is an aromatic white with vibrant flavors of pear and citrus. It is semi-dry with a refreshing finish" Not much to go and argue about there, although I am sticking with pineapple rather than pear. A wine I will pick up from time to time. If you have not tried a Minnesota La Crescent give it a try.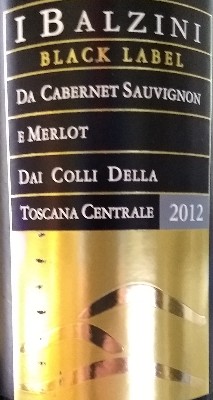 Super Tuscan I Balzini Black Label 2012 (19.99 WTSO)
This wine started out pretty close to a 1 star and I was going to dump it, but vacuumed it and had it the next day and it was a bit better and drinkable but not overwhelming in any way. Wine notes: "Aroma: Intense and elegant in its fused notes of fruit and spice, evident the aromas of blackberry fruit and blueberries, along with notes of vanilla, tobacco, and chocolate. Flavor: Very full-bodied very complex and elegant. The structuring tannins are well present, dense and very velvety. The flavors are very long persistent with a highly pleasurable aftertaste which extends the notes of the nose and palate." I was mostly getting tobacco and chocolate on the nose. Fruit, tobacco and chocolate in the mouth. Not velvety at all, a very disappointing wine. Maybe a bad bottle? Too tart for me and not a repeat buy. I am getting leary of Super Tuscan wines as I am not really all that impressed with them.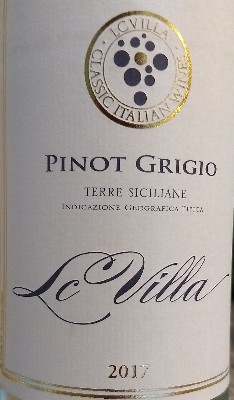 LC Villa Pinot Grigio Terre Siciliane IGT 2017 (9.99 WTSO)
We seem to be looking for some favorite Pinot Grigio wines, and this is not one. A bit sweet to start, and then develops some tartness. A hint of light citrus fruit on the nose. A bit of butter coats your tongue and stays for a very long time. I would say a lemon fruit in the mouth. The finish is long and pleasant in the mouth. Wine notes: "Bouquet: Fresh and rich fruity aromas of apple and pear with a hint of citrus fruit that fades into the floral bouquet. Taste: Fresh and fruity; very clean and crisp." Not the crispiest or fruitiest Pinot Grigio I have drank, and you have to wonder if Silicy is just too far south for a Pinot Grigio. Not a repeat buy for us as it is very average.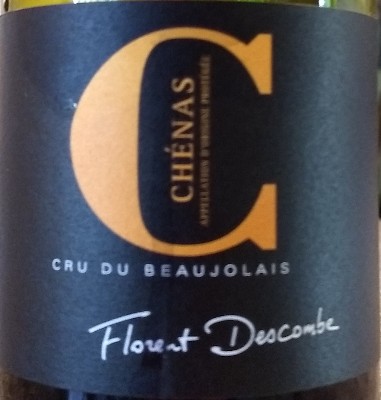 Florent Descombe Chenas 2016 (Part of a weekly Gamay tasting 4 pack, 69.99)
Another of our Gamay Beaujolais in the tasting pack. It is a very nice wine with smoky fruit aroma and it is hard to pinpoint the exact fruit. In the mouth it starts smooth and velvety. Then quite a bit of spice shows up coupled with some nice tannins leading to a long finish with the fruit and spice lingering. Nice jam and blueberry fruit and a bit of playful tartness. Would I buy again? Yes if I could get it for $15-20 a bottle.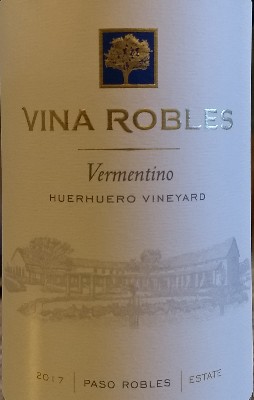 Vina Robles 2017 Vermentino Huerhuero Vineyard (11.70 Wine Club case order)
Wine notes: "aroma: Honeydew melon with hints of pear and apple taste: Medium-bodied with moderate acidity, melon flavors and soft creamy finish" I would agree with the notes and this is a nice wine. Our notes: "light aroma of pear and apple, very pleasant. Very bright/minerally to start in the mouth with pear fruit. There is a very long finish a bit of butter at the end." Pretty darn close to the winery notes! This wine seemed to get better the second day after vacuuming and leaving in the fridge. A bit on the fence if I would get some more, but most likely will. Vina Robles is becoming a good source of white and rose wines for us. Might be time to change our wine club to whites and reds?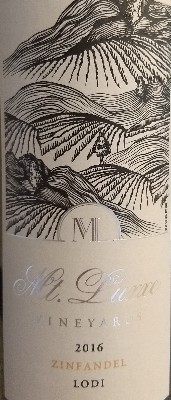 Mt. Luxxe Zinfandel Lodi 2016 (10.99 WTSO)
We really liked the 2012 vintage of this wine so I decided it was worth trying the 2016 vintage. I think this vintage is better! I would say a solid 41/2 stars and a great wine for the money. With a bit more body this could be a 5 star wine for me. Wine notes: "A structured Lodi Zinfandel that shows an elegant structure and finesse, along with a bright garnet color. Notes of red raspberry, bing cherry, and black pepper flavors are complemented with cedar accents. Medium weight, along with integrated tannins and crisp acidity keep the bright fruit lifted and focused." The notes are right on target and I would add that there is a nice level of jam and spice to this wine. Definity a repeat buy when WTSO offers it again. A nice wine to end the month with!
Ratings:

Wow, knock my socks off good. A wine to stock up on.

A very good wine, also a wine to stock up on.

A good average wine that is very drinkable, one that I might buy
again.

An okay wine, one I can drink but would not run out to buy any of.

Not worth really drinking, most likely poured out.
Copyright 2018, Richard J. Moore
keywords: Wine,Wine Tasting, Wine Reviews
description: New wines tasting notes for June of 2018