July Wines
August 11, 2018
Richard Moore
Wine of the Month
This month there were no wines that got to the 5 star rating so I will not select a wine of the month. There were a couple nice Lodi Zinfandels and a Wente Cabernet that may have promise with some aging. Otherwise a pretty disappointing month in the new wine area.

Cloud Break Red Blend Black Cloud (9.99 Total Wine)
Ripe bing cherry on the nose and the in the mouth. Nice and smooth in the mouth with a decently dry long finish. No real spice or complexity, what you start with is what you get. Wine Notes:. "Black Cloud is a proprietary Red blend featuring Petite Sirah, Ruby Cabernet and Syrah.This wine offers concentrated aromas of raspberry jam, black cherries and vanilla. The palate offers sweet red fruit and velvety tannins with a smooth finish" A pretty good description, for me the cherry dominates the raspberry. All in all a decent wine and one I might consider picking up bottles for casual drinking.

Spicewood Vineyards 2015 Tempranillo ($18 at winery)
During our winter getaway to Texas this year we happened along Spicewood Vineyards as we were driving to the west of Austin. A very nice tasting room and the gentlemen pouring was very knowable about their wines and let us taste many on our way to getting a glass or two to drink while watching some soccer. I picked up a couple of bottles of this wine since it was made with Texas grapes from the Lubbock area. It turns out that is the best area to grow grapes in Texas since it is cooler and drier. They did make some nice red blends but used west coast grapes and I usually like to try wines with local grapes. You can really smell the oak on the nose. Starts smooth and velvety in the mouth with tannins and oaky taking over. My notes: "White pepper spice. Plum cherry fruit. Medium finish with oak lasting. A bit of tartness. A bit of leather and tobacco"
Radius 2016 Red Wine (10.99 Total Wine)
Not a very spectacular wine. Pretty sweet and jammy and not much structure. Wine Notes: "Varietal Blend: 57% Merlot, 22% Cabernet Sauvignon, 11% Syrah, 5% Sangiovese, 3% Cabernet Franc, 2% Tempranillo. Deep, ruby red color with ripe cherry and a touch of cocoa on the nose. Juicy red fruits continue on the palate and combine with notes of raspberry jam and black tea. Soft and smooth with lingering notes of plum on the finish." All I got from the wine was basically a sweet blackberry jam. Not a repeat buy.
Dark Horse Limited Release Double Down Red Blend (7.99)
Very sweet and fruity on the nose. Very jammy, sweet, with dark fruit in the mouth. Some dryness and a medium long finish. A bit too sweet and syrupy for me. Seemed to drink like many of the box wines I have had. Not a repeat buy. Having said that I am sure this would be a decent wine to get for a big party (Total Wine reviews are very positive on it). No vintage date on the wine bottle. Wine Notes: "Sourced from the best grapes in California – Tannat, Teroldego, Zinfandel and Petite Syrah – Double Down is a bold red with a rich palate and lasting finish. a dark, luxurious, and smooth red blend with notes of lush blackberry, toasted oak, and warm brown spice (with just a hint of mocha)"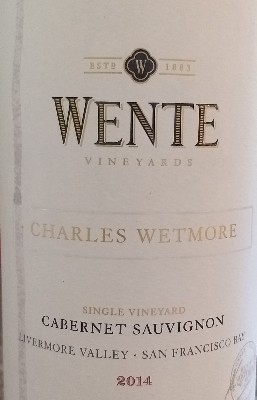 Wente 2014 Charles Wetmore Cabernet Sauvignon (22.99 wine.com)
I am a big fan of the 2012 vintage, and the 2014 is good but not as good as the 2012 in my opinion. It might just need another year of aging in the cellar as it seemed to be better the next day after being vacuumed and sitting for a day. I will put the remaining 3 bottles down for a year and try one. If I had to use one word it would be spicy. This is quite a spicy Cabernet. After some air time there is a nice fruit of boysenberry with jam that is very well balanced. The nose is very nice with a bit of a sting when it is first in the glass. Tasting notes: "Deep, bold and concentrated with beautifully layered aromatics of rose petals, raspberry and blackberry complemented by intense flavors of ripe plums, red and black fruit with a touch of spice and black tea. This full-bodied, supple wine has a long, lingering finish with robust tannins and elegantly balanced acidity." I would agree mostly with the notes, maybe not the rose pedals. This wine is sold out on the Wente website so it might get a bit hard to find. I did notice that Total Wine had it in stock locally. Might wait the year until I decide to whether to buy some more bottles. If I find any of the 2012 vintage I will buy what I can.
Brazin 2015 Old Vine Zinfandel ($26 Forest Lake Supper Club)
We enjoyed this over a fun meal after bike riding on the Mesabi bike trail. A nice lighter zinfandel. Dark fruit and jam on the nose, no sting. Nice dark fruit in the mouth with jam. Gets very spicy and bright leading to a long finish with the fruit, spice and jam staying very present. Repeat buy? Yes depending on the price and it looks like Total Wine has it for 13.49. Wine Notes: "Big, bold and offers aromas of rich black fruit and mocha that mingle with hints of spice and soft vanilla." Pretty generic and I would agree with them.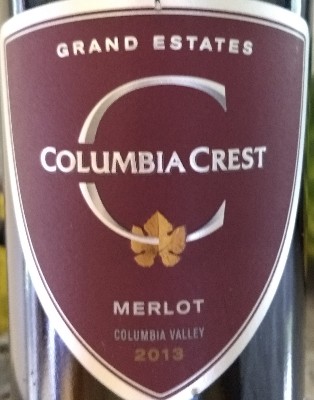 Columbia Crest Grand Estates 2013 Merlot (7.99 Sarracks Liquor)
I had a glass of this one night on a rooftop bar in downtown Minneapolis and thought it was worth a try. Nice aroma on opening the bottle. Muted dark fruit aroma and a bit of a sting on the nose. Dark ripe plum fruit to start in the mouth. Becomes quite spicy for a Merlot. The finish is pretty long with the fruit and spice lingering. Not much in the way of tannins or oak body. Wines Notes: "This Merlot has a rich aromatic profile with notes of chocolate and dark cherries. The complex fruit flavors are followed by a smooth, velvety finish." Not sure I would agree with the velvety finish but the notes are pretty generic. Repeat buy? Probably not.

Concannon 2015 Nina's Cuvee Petite Sirah Livermore Valley ($32)
Very dark in the glass. A nice aroma on opening the bottle. Aroma is dark fruit and earthy tones. Velvety and smooth to start. Dark fruit, almost fig. Major tannins that become mouth drying for a very long finish. Most likely not a repeat buy. This is not a bad wine but other Petite Sirah wines are better at a lower cost. Having said that, this wines seems to be winning some awards.
Predator 2016 Old Vine Zinfandel (12.99 Granny's liquor Lanesboro MN)
Oak! Both in the aroma and in the mouth. Light and jammy with fig fruit. After some air there is a bit of spice that develops. There is a long finish with the tannins/oak, fruit and spice continuing. This is a very nice wine at a good price. Wine Notes: "An intense, full-bodied wine with red fruit, blackberry and spice. Lingering tannins over a long, smoky finish." I think that captures it pretty well. Repeat buy? Yes, I love how hearty it is and the price is very good.
Ratings:

Wow, knock my socks off good. A wine to stock up on.
A very good wine, also a wine to stock up on.

A good average wine that is very drinkable, one that I might buy
again.
An okay wine, one I can drink but would not run out to buy any of.

Not worth really drinking, most likely poured out.
Copyright 2018, Richard J. Moore
keywords: Wine,Wine Tasting, Wine Reviews
description: New wines tasting notes for July of 2018