November Wines
December 1, 2017
Richard Moore
Wine of the Month
We enjoyed many very good wines during November as you can see from the amount of 5 star ratings. Always a nice month when that happens. There is one wine that really stood out and that was the Fore Petite Sirah from Vina Robles. Those that know me know that I am a bit frugal and usually keep my wine expenditures well below the $30 per bottle range. The Fore was such a good wine that I even ordered some more from Vina Robles even though it is over, gasp, $40.

Vina Robles 2014 Fore Petite Sirah ($43.20 Vina Robles wine club)
Wow, this is an amazing wine maybe even 51/2 stars. All the mouth drying goodness that you would expect from a Petite Sirah. It is amazingly smooth to start out and has some jam and fruitiness. I would guess you would expect something special for the price and this wine delivers! Tasting notes: Color: Deep, inky garnet Aroma: Ripe boysenberry and dark chocolate with hints of brown butter sugar cookie Taste: Full-bodied; sweet dark fruit with rich, supple tannins and hints of vanillin on the finish" I would say the notes are right on target and I cannot really add anything to them or have any exceptions. Given the price I am not sure I would order more of this wine (as I am a bit cheap), but it was sure a treat to randomly open it up and enjoy it with a wonderful curry dish Julie cooked up. I saved a bit to have with my son Steve the following day, and he was very impressed and enjoyed it. After thinking about it, I went ahead and ordered some more even with the $40 pricetag.

Opolo 2015 Sangiovese (22.10 Opolo wine club)
November is off to a great start with this Sangiovese from Opolo. Quite an improvement over the 2013 Sangiovese from Opolo that left us unimpressed. This wine is a nice combination of some jam, brightness and dryness that makes it a very balanced and drinkable wine. I cannot find any tasting notes on the Opolo website, seems Opolo needs to do a better job on their website and provide information on their wines even if there are not for sale in their online store. A wine I will consider buying more bottles of in the future.

Insurrection 2015 Red Blend (9.97 MGM Liquor Warehouse)
This was a chance purchase. Overall a drinkable wine that does not offend, but does not really offer any complexity. I must add that I had this after a final glass of the Vina Robles Fore reviewed above. Hard to compare a $40 wine to a $10 wine. This wine is a bit grapey and sweet but does have a decent finish and dryness to it. Tasting notes: "Big bold flavors envelop the palate with red fruit, plum and chocolate. Shiraz offers berries and spice, while Cabernet Sauvignon delivers power and structure. Relentless waves of strong, rich flavor resolve into a long, smooth finish." I might differ with this notes, as I did not really taste much in the way of a spice structure. The wine seems fairly one dimensional with medium boldness. I would say red fruit and plum are the dominant taste. Although I thought this wine was average, it would be wine you could take to a dinner party and people would most likely enjoy it. Note: I had rated this a solid 3 stars but Julie mentioned she "loved" this wine so I moved it to 4 stars and will most likely buy some more bottles for family gatherings.

Tinazzi Feudo di Santa Croce Primitivo LXXIV di Manduria 2010 (13.99 WTSO)
This is earthy, chewy, and mouth drying wine, and one that you can really sink your teeth into. I figured that being a 2010 it would need some air to develop and I was right. The first few sips even with aerating were harsh and not all that great, but with air it really opens up. Tasting notes: "A burly, brambly red, underscored by tarry smoke and underbrush notes, offering flavors of blackberry coulis, herb-marinated black olive, grilled mushroom and ground spice. This shows muscle that recommends it to short-term cellaring, made accessible by integration and balance. Drink now through 2024." I would agree with the tasting notes and it puts the flavors I was trying to figure out into words. The grilled mushroom is a new tasting note for me, but it does capture a prominent taste for me. There is a nice solid level of spice and luckily for me the black olive is pretty minimal. At 13.99 this is a repeat buy, especially given that it should age until 2024. A bit of a random pull from the cellar to go with some homemade cheese and mushroom pizza, good choice.

Omero Cellars Ribbon Ridge Pinot Noir 2013 (16.99 WTSO)
I haven't really found the Willamette Valley Pinot Noirs to be overwhelming. Typically I will not even consider buying them but this was part of a Pinot Noir mixed 6 pack from WTSO. Tasting notes: "This verges on dilute flavors with alcohol not quite reaching 12%. Light scents of plum and sassafras continue with accents of lime and mineral. Try this with light fare that won't overwhelm the flavors." These notes from Wine Enthusiast are pretty much on target and I felt the wine tasted watered down, and the lime taste takes away from the wine. Definitely a wine that I would not consider buying more of and continues my dissatisfaction with the Willamette Valley. Interestingly, Julie liked this more than me saying for a Pinot it is pretty good. Personally I would rather have the Parducci Pinot I reviewed a couple of months ago, it turns out I can get it locally at MGM Liquors for 9.99.

Lobo e Falcao 2015 (11.99 Wall Street Journal Wine Club case order)
I was expecting a bit heavier wine, but this one is fruity, light, with a long dry finish. It does take a bit of air for it to open up and get a heavier body. All in all, the more I drink it the more I like it. Tasting notes: "The Alicante Bouschet and Castelão in the blend [which includes Touriga Nacional and a splash of Cabernet Sauvignon] give it its rich, immediately fruity character and dense color. Structure and concentration leave room for an elegant texture. Blackberry juiciness shines at the end." I would agree somewhat. I did not find a blackberry juiciness at the end but a bit of tobacco in the finish. At the price point this is a very good wine with decent complexity and I will be picking up more next time I order from the WSJ wine club.

Donausonne 2009 Blaufrankisch Kunsag Red Wine (~10.99)
I got this bottle from a neighbor who was moving. It was a sweeter red wine, but at the same time pretty dry. I would say almost like a sweet, thick, sherry. Tasting notes (2016 vintage): "This is a fruity, jammy wine with light mineral notes for balance. Blaufrankisch is a dark-skinned, late ripening grape that is grown all over Eastern Europe." It is considered a sweet wine, which I would agree with. Interesting is the alcohol level of only 10%. For me there was almost a bit of a fig fruit taste. Not a terrible wine but not one I would look to buy.

The Waxed Bat 2016 (12.59 Wall Street Journal Wine Club)
The 2016 vintage continues the wonderful flavor of The Waxed Bat. As I noted in my review of the 2015 vintage this is a very good wine at a nice price point. Tasting notes: "aromas of lush blackberry and notes of violet, smoke, pepper and licorice. On the palate, you'll find layers of rich, black-fruit flavor and oaky complexity. Look for that trademark long, smooth finish." I would say there is a bit less jam in the 2016 vintage versus the 2015 but it is still basically the same wonderful taste. It does need a bit of air to open up and may benefit from some time in the cellar. This will continue to be a repeat buy for me.

Bogle 2015 Cabernet Sauvignon (7.97 Total Wine)
Not my favorite Cabernet Sauvignon by a long shot, my son Steve and I both thought it had a very unusual taste. There was quite a perfumed taste to the wine, which was very odd. The finish is long and dry. Tasting notes: "full bodied flavors of cherry and plum compote resonate, followed by touches of tanned leather and dark chocolate. Aging in one-year old American oak for 12 months creates a finish with ample and enduring tannins, and tones of sweet tobacco smoke and spicy oak." Guess I am not in agreement with the notes and the perfume taste overrides anything else. Not a repeat buy.

Actarus Primitivo di Manduria 2015 (17.99 WTSO)

A very enjoyable wine by itself or with a meal. Tasting notes: "Nose: Spices, blackberries, and mature cherries, typical of the late harvest with notes of tobacco and dark cocoa, seasoned with the primitive notes of dried plums. Palate: Sumptuous and granitic wine with a huge body and equilibrium given thanks to the richness of natural glycerin and polyphenols that give us a long tasty wine. " The notes are right on and the nose continues into the palate. There is a very nice level of jam and a medium/long finish. Everything about this wine is well balanced. I would give the node to the Tinazzi Feudo di Santa Croce Primitivo reviewed above, but would pick up more bottles of this in the future. After vacuuming and finishing the bottle the next night I think it got even better, maybe 4 and ¾ stars.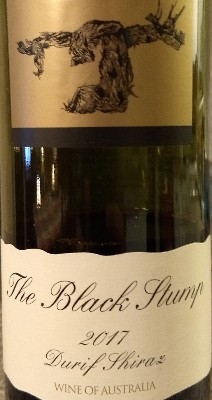 The Black Stump Durif Shiraz 2017 (14.39 Wall Street Journal Wine Club)
A favorite of mine over the years and the 2017 vintage does not disappoint and might even be the best. Even though I do not usually like blueberry that much in this wine it is wonderful and is combined with a nice jam and good solid finish. Tasting notes: "when you blend Durif with Shiraz "magical things happen." Durif brings power, structure and chocolaty, blueberry flavors. Shiraz adds more oomph and spicy bramble notes." I would agree 100 percent with the tasting notes. This will continue to be a wine I will keep a stock of.

Pillastro Primitivo 2015 (12.49 Wall Street Journal Wine Club)
This is the wine that made really love and notice the Primitivos from Italy's south. The Pillastro is a jam fest, and has enough backbone and finish to make it a wonderful wine. There is a bit of spice but it is the jam and sweetness of the wine that shines in a very nice and unusual way. Tasting notes: "looded with plums, honey, figs, black and blue fruit, with a sweet and round palate. A very nice drop, really tasty and superb value." Not sure I am getting all of that but the concept is pretty much what you get with this wine. I will continue to pick up more bottles of this, as it continues what I enjoyed in the 2013 vintage.

Steele 2012 Cabernet Franc (11.99 Sarrack's)
This was a surprise find. I stopped by Sarrack's to see if they had some Zinfandels I was interested in, and talked a bit with a wine distributor and when we went by the clearance table he mentioned that Steele makes some very good wines. Since I am on the lookout for Cabernet Franc wines and the price was so reasonable I took a chance. Glad I did! This is a very meaty and in your face Cabernet Franc and both Julie, our son Steve, and I loved it. It is not a wine for people that don't like a wine in which you can taste the oak. Tasting notes: "This wine is a mouthful of pleasure displaying lots of fruit, medium tannins and a long, lingering finish." Not much to go on, I would say that it has much more than medium tannins but it still a smoothness to it. Think I will go back and buy the rest of the bottles on the table and check out other vintages. I did go back and buy the remaining 5 bottles and enjoyed another already. One thing about this wine is that you should not try to open a different bottle of wine to drink after it, any bottle you open will taste fruity and watery after this wine.

Tinazzi No. 3 Vinum Italicum Opera Rosso (19.99 WTSO)
Julie and I both really like this wine. At first we thought it was very fruity, but we did open it after finishing the Steele Cabernet Franc just above. Just about anything would have seemed fruity in comparison. The next day it was still fruity but not overly, and it has quite a nice backbone and dry finish. This wine is from grapes (Corvina, Primitivo, Nero d'Avola) that are sourced from three parts of Italy; Puglia, Sicily, and Veneto. Tasting notes: "Rich, ripe red fruit nose augmented by aromas of coffee and spicy oak. Full-bodied with concentrated dark red fruit flavours bolstered by chewy tannins and a firm oak character. Finishes long; a food wine." The coffee and spicy oak are pretty minimal, and I would not classify the tannins as chewy. The tannins are present and make for a nice long finish but "chewy" is not the word I would use. It is one of the coolest bottles I have seen. A bit on the fence if I would order more bottles, we will definitely enjoy the ones we have left.

Opolo 2015 Tempranillo (23.80 Opolo Wine Club)
Wow, this might just be my favorite Tempranillo, it has just about everything I want. On the nose it is almost jammy, but that disappears in the initial mouth taste. What struck me right away about this wine is how dry it is, in a very wonderful way. There is initial fruit and spice to go with it and then it actually develops a bit of jam in the mouth. I could not find any tasting notes on the Opolo website and had already recycled the newsletter that came with the order. From the back of the bottle: "This hearty and robust wine has notes of black currant, cassis and spice." Not a whole lot to go on and I am not very versed in black currant or cassis. I would say a bit of blackberry/cherry for the fruit. This is a definite repeat buy for me.

Casato dei Tini Millesimato Prosecco 2016 (10.99 WTSO)
We all enjoyed this Prosecco Thanksgiving day. It has wonderful flavors of pear and apple and is not sweet but nicely dry. Tasting notes: "Nose: Subtle hints of peach and pear combine with well-known perfumes of wild flowers. Taste: A fresh and balanced flavour enriched by a thin and persistent perlage." Maybe there was some peach but I would lean more to apple with the pear. Did not know what perlage meant, and it turns out that it refers to the bubbles and yes I would say they were persistent but not distracting. Prosecco is my favorite celebration wine and this one is a winner, and I am looking forward to having the remaining two bottles for Christmas. Might have to get some more for New Years and Julie's birthday.

Concannon 2015 Reserve Malbec (28.80 Concannon Wine Club)
A bit of a split in our household. Julie thought it was "okay" but I enjoyed and liked it. I was not expecting much as Concannon is not really known for Malbec, but I was pleasantly surprised. Very interesting wine as it starts almost watery, but develops very nicely once it is in the mouth. There is quite a bit of fruit and dryness to this. I would almost say this is a Pinot Noir like Malbec. Tasting notes: "An approachable and fragrant Malbec, characterized by gentle lavender notes that intermingle with the ripe black cherry fruit. Fruit forward, subtle notes of red plum and blueberries, enhanced by hints of vanilla and mocha. The finish is supported by sweet spice and round tannins, with good structure contributed by oak." Not sure I am picking all that out of the wine, but would agree mostly with the notes. A nice wine to try and enjoy, but not one that would make my reorder list even with it's 4 star rating.

E16 Bowland Ranch Bennett Valley Pinot Noir 2013 (22.99 WTSO)
Both Julie and I really like this Pinot Noir, which is saying something as we do not like too many of them. Julie went as far as this is one of the best wines we have had! This another one I received in a Pinot Noir sampler by WTSO. It is nicely dry with a very long finish for a Pinot Noir. Tasting notes: "An expressive and moderately pitched nose blends both upper and lower register aromas of plum and earth with red cherry and raspberry. There is a good sense of vibrancy to the nicely round and attractively textured middle weight flavors that possess solid volume on the dusty and ever-so-mildly austere finish that offers reasonable depth and length. There is noticeable backend warmth though it's not really enough to materially compromise the overall sense of balance." I would agree very much with the notes. For me, the red cherry is pretty subdued which is nice since an overabundance of cherry makes me think of cough syrup. Would I buy more? Yes!!!
Until next month, happy tasting and drinking.
Ratings:

Wow, knock my socks off good. A wine to stock up on.

A very good wine, also a wine to stock up on.

A good average wine that is very drinkable, one that I might buy
again.

An okay wine, one I can drink but would not run out to buy any of.

Not worth really drinking, most likely poured out.
Copyright 2017, Richard J. Moore
keywords: Wine,Wine Tasting, Wine Reviews
description: New wines tasting notes for November of 2017