John Muir Trail, A Plan is Hatched
March 14, 2017
Some things sound really good over a few glasses of wine. It was a little over a year ago that I was relaxing after dinner with my brother Darrell and he casually mentioned he was thinking of hiking the whole John Muir Trail (JMT); all 215 miles over 3 weeks. Even though we had a few glasses of wine in us and I was feeling excited to tackle this adventure I was a bit cautious since my last backpacking trip had been 26 years in the past. Interestingly, that last backpack trip in 1990 included a chunk of the JMT over Selden Pass.
John Muir Trail 1990, Selden Pass with my brothers Darrell and David and my dad Jim Moore.
Since that time my back had been giving me problems and I was definitely a lot older.
I gave Darrell a non committal answer and said I would let him know. I was excited to get back into the mountains, which was partially fueled from seeing the wonderful documentary "Mile.. Mile and a Half" https://vimeo.com/36675195 on Netflix (not available anymore on streaming). The other part of me was really concerned about a three week trip through what I knew to be some of the roughest hiking in the continental United States at high altitude. Climbing to the top of Mount Whitney at over 14,000 feet was giving me some discomfort.
When I arrived home a few days later I mentioned the idea to Julie and she immediately said I should sign up and do it. After a few more days of thinking about it I sent Darrell an email saying I was in. After getting commitments from 4 others Darrell attempted to get the permits required. Unfortunately (maybe not so unfortunately) there were no permits available for the Yosemite and Mount Whitney sections of the trail. Seems the movie "Wild" had made the JMT a very popular idea. Darrell proceeded to get permits for us to start in Mammoth and end in Onion Valley, roughly 135 miles of the JMT over 13 days. Below is a map view of our planned route, which comes up short on the mileage but gives you an idea of where we were headed and the elevation gains/losses involved. As I found out there is very little flat on the JMT.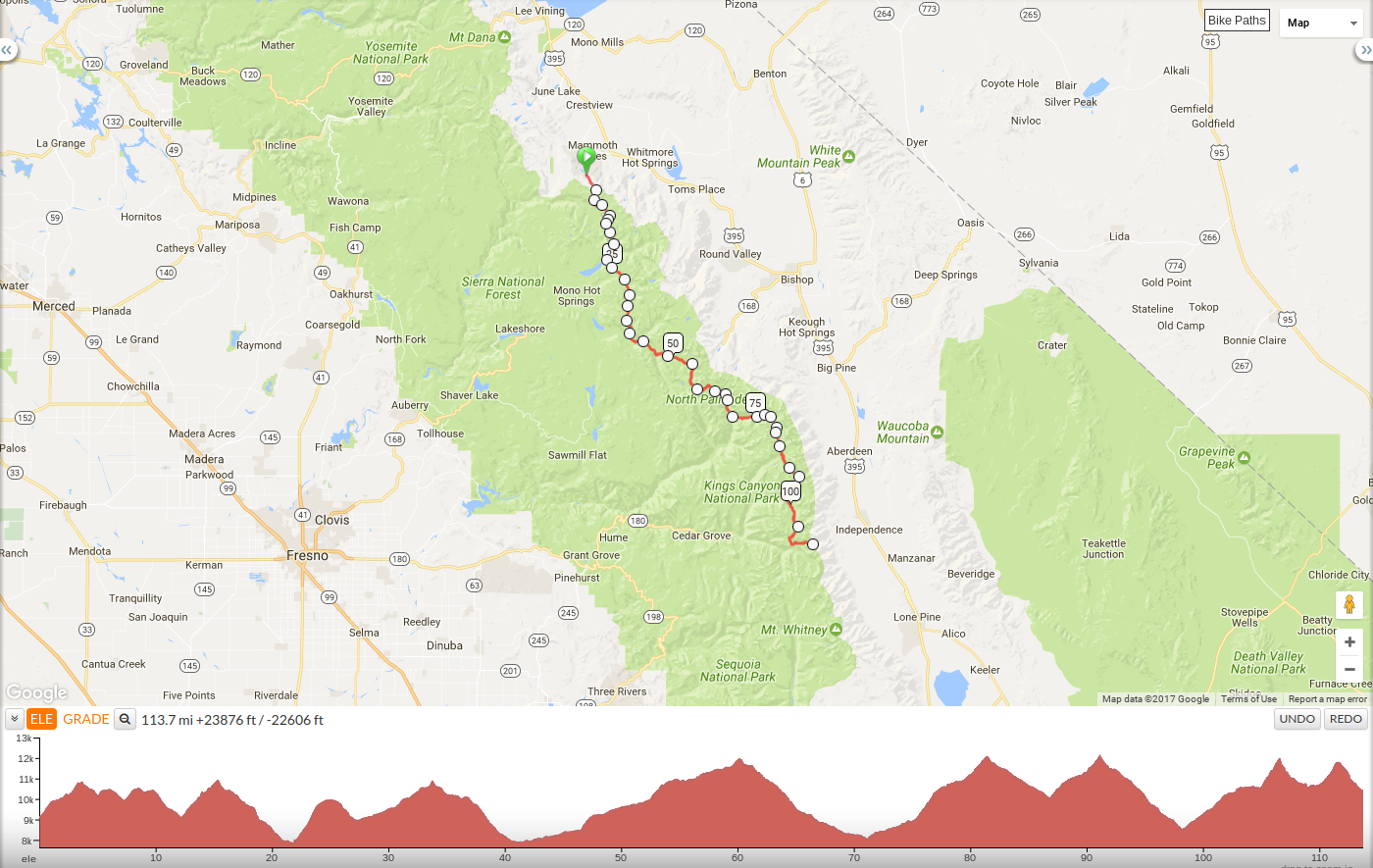 Here is the final spreadsheet of the proposed trip.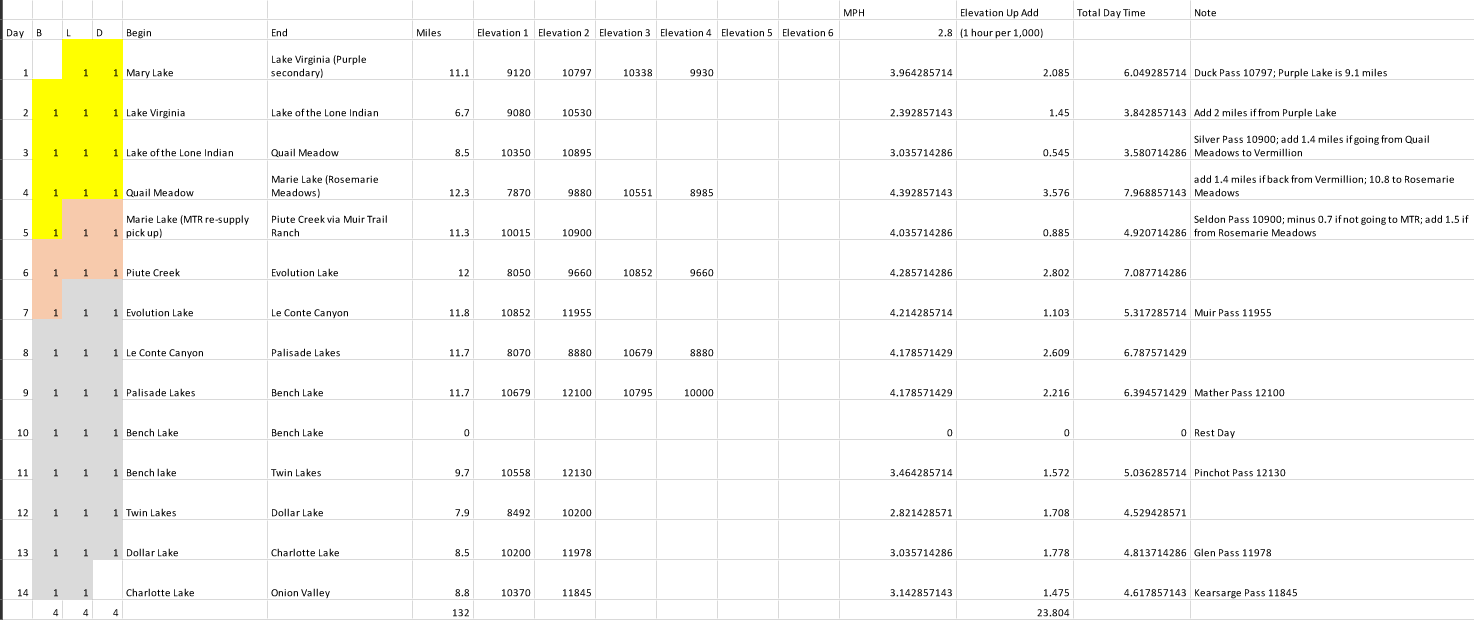 In hindsight, I should have been a little more concerned about the daily mileage and altitude combinations, especially the multiple days (6) of over 10 miles a day. Guess you can say I did not know what was coming.
Here are some other resources about the JMT that I found useful.
http://johnmuirtrail.org/trail.html
http://fordsbasement.com/2013/06/10/john-muir-trail-day-1/
Copyright 2017, Richard J. Moore
keywords: John Muir Trail, JMT, Backpacking, Hiking, Sierra Nevada, Mammoth
description: How our John Muir Trail trip was hatched