December Wines
January 4, 2018
Richard Moore
Wine of the Month
For me there were two wines that really stood out this month. The 3000 Anos and my pick of the month, Wente's Charles Wetmore Cabernet. The Wente Cabernet was such a standout for our Christmas day celebration that it took the top honors by a hair and I really need to get back to the store see if I can grab a few more from the clearance table.
Wente 2012 Charles Wetmore Cabernet Sauvignon (19.97 Haskells)
A big hit with our Christmas day dinner of Irish stew. Julie and I had really enjoyed a bottle of a more recent vintage on this Cabernet at the Wente winery last spring. The grapes come from vines just off the Wente golf course near the tasting room. This is a very refined Cabernet with a wonderfully long finish. Tasting notes: "Rich aromas of black cherry, mocha and a subtle hint of vanilla from the oak join lush flavors of cherry, chocolate and oak on the palate. With balanced acidity and a fullbodied mouthfeel, this wine delivers a bold, long-lasting finish." Seems like a pretty good description of the wine. I would add that is a very smooth/velvety wine in the mouth. This was a wine I got off the clearance table and I am going to head back to see if I can get any more bottles.
Jed Steele's 2012 Shooting Star Zinfandel (9.97 Sarracks)
Since we loved the Steele Cabernet Franc so much, I thought we would try a Steele Zinfandel I found on the clearance table at Sarrack's. For the price it is a pretty decent wine but not my favorite Zinfandel. If I was to describe it in a single word it would be spicy. There is some jam and fruit in the front end but the spice, mostly a white pepper, takes over and overpowers the taste. I do like a spicy Zin or Tempranillo, but this wine takes it a bit too far. Tasting notes: "aromas of raspberry and other ripe black fruit, butter, and just a hint of cinnamon and nutmeg. The tannins and acids in this wine are soft but distinct. Cedar tones with just a hint of plum make the finish a wonderful explanation point." There is a bit of fruit and butter/jam and I can pick up some cedar, but the spice is not just a hint but overpowering to my taste. Not sure it this is a wine that is past it's peak, but I doubt it since it is a twist off top. Don't think I will go back and get anymore bottles.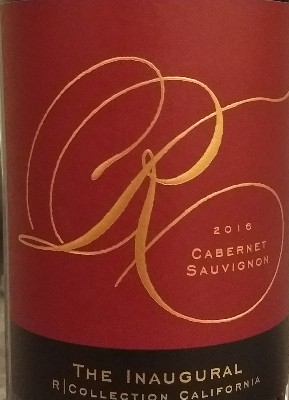 The Inaugural R Collection by Raymond Vineyards Cabernet Sauvignon 2016 ($12 WSJ Wine)
Part of a 15 bottle reds collection from the Wall Street Journal wine club. For me it was too fruity and grape forward. It does get a bit better with some air time but not what I am looking for in a Cabernet or any other wine variety. Tasting notes: "Layers of rich plum, cherry, chocolate and a lingering finish" Not sure I really agree as I picked up grape, grape and more grape with maybe a bit of plum but definitely no cherry or chocolate. There is a lingering finish. Not a repeat buy for me.
Stones and Bones 2014 ($12 WSJ Wine)
Another wine that was also part of of a 15 bottle reds collection from the WSJ wine club. This Portuguese wine is a winner. It has a wonderful level of fruit and jam combined with a bit of dustiness. The finish is long and very pleasant. A mixture of mostly unknown grapes to me: Touriga Nacional, Tinta Roriz, Syrah and Alicante Bouschet. Tasting notes: "A bold wine, full of spice and rich tannins. With blackberry flavors, it is concentrated, dense and certainly ripe." Mostly in agreement with the tasting notes except the spice, as I did not notice much if any spiciness. I will be picking up more of these if possible on my next WSJ wine club order. As an additional note, I noticed that this wine was number 4 on the Wine Enthusiast's Top 100 Best Buys list.
Concannon 2015 Reserve Assemblage Red ($20.80 Concannon wine club)
This is a winner at our house hold (Julie, Steve and I). It is a very good Bordeaux style wine, and I would say better than most of the French ones I have had. I do not know the grapes involved. A nice nose with fruit and jam. In the mouth there is a bit of jam and medium fruit consisting of plum and pomegranate. A bit of spice is coupled with some hardy tannins to provide a very nice and long finish. The fruit continues well into the finish. Tasting notes: "Aromas of garden herb, black cherry and licorice leap up from the glass. Flavors of dark berry, cherry, and chocolate." Personally I do not pick up licorice on the nose, and just the faintest chocolate to the taste. For me this will be a repeat buy next time I order from Concannon.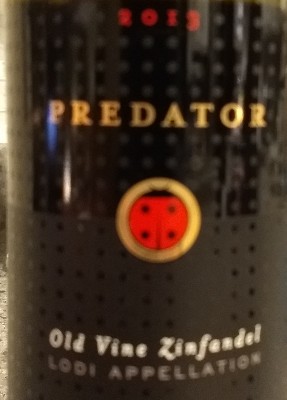 Predator 2015 Old Vine Zinfandel (12.79 Total Wine)
Julie enjoyed a glass of this wine when we were out to dinner one night so I thought I would grab a bottle and try it. For me it seems pretty 1 dimensional, where you start is where you end with this wine. It is not a bad wine, but for the price range there are many other Zinfandels that give you much more flavor and complexity. This is a very dry wine, mouth chalking, which for me is always enjoyable. There are subtle fruits and jams, but no spice at all. Tasting notes: "Aroma: bright raspberry, blackberry, black pepper and smoky oak. Flavor: bold red raspberry, cherry, juicy blackberry, black pepper with smooth tannins." Guess I am in disagreement with the notes, bold is not the word I would use on the fruit and I am not getting any pepper. The tannins are much more aggressive and I would not classify them as smooth. Not a wine I am looking to buy more bottles of. In the same price range I would go for the Dry Creek Zinfandel, Bone Shaker, or Incredible Red Zinfandels to name a few.
Vina Robles 2014 Red 4 (13.60 Vina Robles wine club)
We had tasted this at the winery a few years ago and were not all that impressed. Being part of the Vina Robles wine club we have really enjoyed their red wines so I figured I would give Red 4 another try. Guess I should have trusted my memory. Way too much cherry and tartness for my taste. Tasting notes: "Aroma: Cherry and plum with hints of tobacco and mocha spice. Taste: Medium-bodied with dark stone fruit; chewy tannins with balanced acidity and a spicy finish" Basically a decent description of the wine as there are some subtainal tannins and spice. The tart cherry and plum taste overpowers everything else and really does not make for an enjoyable wine. Guess I will not be buying anymore Red 4. Interestingly, we really enjoy the White 4 wine.
Wind Storm 2015 Zinfandel Old Vine (14.99 Haskells)
I had been seeing this offered on WTSO for $17 and then saw it in the Haskells top 100 wines list. This wine hits your mouth strong with a bunch of flavor and spice. Tasting notes: "The wine exhibits a jammy aroma of blueberries, raspberries, asian spices and licorice. The wine color is ruby red with a medium hue and has a wide array of aromatics. The tannins are soft with a nice integration of oak flavors." I would say the notes are pretty much on target. I found it a bit lighter than one would expect from an "old vine" wine. I am a bit on the fence on getting more bottles. I would say very close to a 4 star wine.
Escoces Volante '3000 Anos' Bullas 2006 (19.99 WTSO)
Wow, wow, wow, this is an amazing wine. We cracked open a couple of the bottles I have had in my cellar for 2 years and really enjoyed them with some homemade enchiladas. It takes some air to really open up, but when it does what a treat. Tasting notes: "aromas of black fruits and chicory characters - unique to Bullas Monastrell - toasty wood, cedar and cappucino. Despite being a full-bodied wine, it is surprisingly elegant with crisp acidity, tight tannins, a creamy vanilla texture and a long mineral finish." It is indeed a nice earthy wine with black fruit and hardy tannins that is amazingly smooth. I did not pick up much chicory, and that is good since my experience with coffee from India with chicory left me not enjoying chicory. If I get the opportunity I will pick up some more bottles.
Korbel Brut Rose (10.39 case purchase from Korbel)
With Christmas coming I figured we could try this. It was a big dude and nobody really cared for it and we did not finish the bottle. Was too syrupy and non descript. Luckily I had two bottles of a favorite Prosecco for us to enjoy.

Korbel 2014 Cabernet Sauvignon (15.19 case purchase from Korbel)
To sum this wine up it would be earthy and spicy. A very nice Cabernet that is just shy of a 5 star rating. Wine notes: "The 2014 Korbel Cabernet Sauvignon has a nice balance, neither too lean nor too jammy. We particularly think it will age gracefully into a great food wine. It's a well-integrated wine with bright cherry and currant flavors, mixed with hints of sage, cedar and leather. The finish is flavorful and has a nice balance of tannins that will age gracefully over the next 5 to 10 years." I would agree with the notes, and it would be interesting to get a bottle or two to age and see how it ages. If you like spicy wines, this would be a Cabernet to try.
Korbel 2016 Chardonnay (12.79 Case order from Korbel)
We loved the 2015 vintage of Korbel's Chardonnay and were sad to hear it had sold out when we tried to order some a few months ago. We decided to take a chance on the 2016 vintage and were not disappointed. The 2016 might just be a bit better than the 2015, making it our new favorite Chardonnay. Wine notes: "The 2016 Korbel Chardonnay table wine was made primarily with grapes sourced from three vineyards in the Russian River Valley. Korbel's Laughlin vineyard is a young vineyard with delicate Meyer lemon flavors and a refreshing bright finish. The "K1" block is located directly across River Road from the historic Korbel Winery building. Planted on very deep river gravel soils, this vineyard produced Chardonnay grapes with rich ripe apricot and tropical fruit flavors. Korbel's Park Royal Vineyard is about 10 miles east of the winery, near outskirts of Santa Rosa. This site has more clay in the soil and produces Chardonnay grapes with a distinct apple character. " What is amazing about this Chardonnay is you can taste each of the distinct flavors from each of the three vineyards as the wine sits in your mouth. The Korbel Chardonnay continues to be a wonderfully complex wine that has a buttery background to all the fruit flavors. Of course, I will buy some more and might just pick up a case of this to have on hand.
Cono Sur 2016 Bicicleta Pinot Noir (Date night wine, 8.50 Total Wine, 9.99 wine.com)
This wine was the red wine selection for a date night dinner at a local Peruvian restaurant, Chimborazo. It is a nice light Pinot Noir with quite a cherry nose. Luckily in the mouth the cherry is toned down with some other red fruit coming through and there is a fairly long and dry finish. One might say it is a bit watery, but depending on what you want for a meal or sipping by itself this might be a good wine. The price point is definitely attractive. Tasting notes: "This young, bright, ruby red Pinot Noir exhibits a good intensity of red fruit, cherry and raspberry aromas. On the palate it has a medium concentration and is fresh, juicy and smooth with good acidity and persistence." I might pick up a bit of raspberry on the nose and bit more in the mouth but it is subdued. Juicy is not the word I would use rather I would say lightly fruity. Would I buy it again? Maybe, depends on the situation.

Bonterra 2015 Cabernet Sauvignon (11.99 Trader Joe's)
I read about the Bonterra wines on the Good Cheap Vino blog site. Since I have enjoyed the couple of wines I purchased based on their recommendations I purchased a bottle of the Bonterra Cabernet and Chardonnay. This wine is a very interesting case of how a wine can develop with air. The first night I opened the bottle and had a single glass from it. That first glass was very nondescript and I was quite disappointed. I vacuumed the bottle and the second night I had a couple of glasses and the change in the wine was dramatic. It was much fruiter and spicy with a very long finish. Vacuumed the remainder and on the third night I had the remaining couple of glasses. The wine had changed dramatically again while still having fruit and some spice. The big change was that there was a very nice jam and velvet nature to the wine. My guess is that the wine could really benefit from some aging. If you are not a patient person and want a nice drinking Cabernet at a very good price I would suggest opening the bottle the day before let it stand for a bit (maybe 30 minutes) and then put the cork back in or stop it overnight. Wine notes: "Aromas of bright cherry, currant and raspberry with notes of toasted oak and vanilla. In the glass, you will find flavors of cherry and currant and a lingering and thoughtful finish. Good structure, a moderate weight, polished tannins and balanced acidity." From Good Cheap Vino: "The aroma is average at best; nothing pops from the glass. However, on the palate, the wine is very good. It is not complex or deep as the $100 Cabs we tasted, but it is decent enough to be very tasty. It does have Cab-like flavors, good acidity, and adequate finish or aftertaste." I would add that there is a bit of dustiness and cedar after letting it sit for a night. This is a wine that needs air to really develop so do not just open and drink, unless you want to see how it develops. I will be picking up some more bottles and might even put a few in the aging section of my cellar to see how they develop.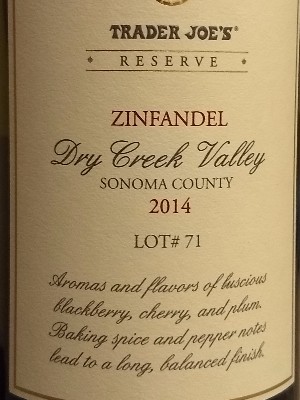 Trader Joe's 2014 Reserve Zinfandel Lot # 71 (10.99 Trader Joe's)
The last wine of 2018 is a really good one, pretty close to 5 stars. For the price this is a really nice Zinfandel. If I had to use one word to describe it the word would be spicy. Tasting notes: "Aromas and flavors of luscious blackberry, cherry, and plum. Baking spice and pepper notes lead to a long balanced finish" That pretty much describes the wine. I would add that there is a nice subdued level of jam with the fruits. It just lacks a bit of the velvet texture I want in a 5 star wine. All in all a winner and a repeat buy. I bought this since I have had good luck with the Trader Joe's reserve wines in the past and I am partial to the Dry Creek Valley Zinfandels. The back of the bottle says it was vinted and bottled by Owl Ridge Wine Services in Sebastopol.
Until next month, happy tasting and drinking.
Ratings:
Wow, knock my socks off good. A wine to stock up on.

A very good wine, also a wine to stock up on.
A good average wine that is very drinkable, one that I might buy
again.
An okay wine, one I can drink but would not run out to buy any of.
Not worth really drinking, most likely poured out.
Copyright 2018, Richard J. Moore
keywords: Wine,Wine Tasting, Wine Reviews
description: New wines tasting notes for December of 2017