August Wines
September 15, 2017
Richard Moore
Wine of the Month
Being gone on vacation for a couple of weeks during August, which included a week in the backcountry, did not leave much time for opening new wines. The wine of the month was between a Cabernet Sauvignon and Cabernet Franc. I gave the node to the bottle of BV Cabernet Sauvignon I had been saving for a special time and Cabernet Sauvignon day seemed like a good time. Definitely a good wine, and one that my taste memory can still bring up.
Beaulieu Vineyard Cabernet Sauvignon Rutherford 2012 (19.99 WTSO)
I went down into the basement to look through my Cabernet Sauvignons to see what I could open to celebrate national Cabernet Sauvignon day. I had a few favorites left (not my most favorite, Vina Robles Cabernet), and spotted this bottle I picked up on an anything goes marathon on WTSO. During an anything goes marathon day you can order one or more bottles of wines and they group them up and ship them for free. A nice way to try some wines without getting the usual 4 bottles. Not sure why, but I only ordered one bottle of this and am left wondering why oh why. A very earthy Cab, with nice but not overpowering tannins. Tasting notes: "deep, fully ripe blackberry, cassis and black cherry aromas and flavors, nuanced with violet, tobacco and new leather. The wine expands across the palate in broad, full-bodied flavors, with a firm structure of cocoa powder tannins. Hints of toasty spice and dark chocolate from barrel aging permeate the aromas and linger on the intense finish. The texture is rich, and the balance is impeccable, inviting you back to take another sip." These notes really do a good job of describing the wine and the only thing I would add is the on the nose it is almost a bit dusty. Definity a nice solid Cabernet with spice and tannins to go with it. I might want a bit more oak/tannin for me but this is a very close second to the Vina Robles Cabernet for me and I would pick up some more bottles at $19.99 if I can.

Sunset Point Winery Red Dwarf (19.99 at Winery)
This is the first Wisconsin based winery I have reviewed. Wisconsin is very much the same as the Minnesota wineries for climate and grapes. This wine is bit of an unusual wine, "Made with Wisconsin-grown Frontenac Gris grapes, this semi-sweet wine has a refreshing, refreshing, tart flavor and is sweetened with locally grown Aronia berries. Pairs well with pork chops, alfredo, and seafood." One starts to think of Boones Farm wines, but this wine is not very sweet and the Frontenac Gris gives it a very solid backbone. The Aronia berries give a bit of sweetness and color to the wine. I am not sure of the mixture of berry to grape but I would guess it is 10% berry to 90% grape given that the wine is tart and more Frontenac Gris in character. At 11% alcohol this is a really nice wine for sipping on a hot day. I would be tempted to get more of this wine to have during summer time.

Matchbook Dunnigan Hills 2013 Tempranillo (gift from friends, 14.99 winery website)
Grape is the main character and taste with a bit of tartness and butter. Tasting notes: "Pronounced aromatics of ripe raspberry and rich plum lead to enticing flavors of earth, spicy cardamom and dark fruit. Smooth and soft on the palate, this seductive red has a bright finish that begs for another sip of this finely structured wine." I feel like this Tempranillo could benefit from spending more time in oak to give it a longer more complex finish. Here are the winemaker notes: "Our grapes were gently crushed and fermented in small, temperature-controlled stainless steel tanks. The tanks were pumped over twice a day until nearly dry, then pressed and aged in oak barrels for 21 months. We like to use an assortment of French, Hungarian and American Oak and only 22% new to avoid over-oaking." I would argue that the wine is "under-oaked". Maybe the used oak does not give it the mouth drying effect I like from a Spanish Tempranillo. Overall I was left unsatisfied for a Tempranillo wine and I would not be inclined to buy more bottles.

LC Villa Cabernet Sauvignon Terre Siciliane IGT 2015 (9.99 WTSO)
This is a very good wine, not as full bodied as most Cabernet Sauvignons but very fruity with a dry medium finish. Lighter in color and taste than I am used to in a Cabernet, but very drinkable. I was well received at a family dinner of Lasagna. Tasting notes: "Bouquet: Notes of black currants and ripe cherry emerge. Well integrated with spicy scents. Taste: Structured and powerful, with delicate tannins present." Not much to go on, I definitely get the ripe cherry and would add a bit of blueberry with some jamminess. The tannins are indeed delicate, and I do not agree that it is a powerful wine but would say more subdued. If you like you wines lighter on the oak and want a wine that is fruity/jammy then this would be a wine to try, especially at the $9.99 price point. Personally, I would lean towards the J Lohr Cabernet for a dollar or two more. Given the popularity with the family, I will most likely buy some more if WTSO offers it.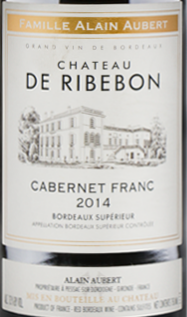 Chateau de Ribebon Cabernet Franc Bordeaux Superieur 2014 (14.99 WTSO)
I have been looking for a really good Cabernet Franc after tasting what I think is the best Cabernet Franc produced by Cuda Ridge Winery in Livermore. My problem is that it is impossible to get any bottles of the Cuda Ridge as their upcoming release is already sold out. This wine is a close second. Tasting notes: "aromas of fresh black cherries, blackberries, spices with smoke, tobacco and an earthy character. It possesses a medium to full body which is well balanced and backed by a gorgeous velvety texture. Flavors of dark fruits and floral expand through the palate and linger in the finish." I would agree with the tasting notes and add that it is very earthy and very full bodied. Dispite this it is indeed has a velvety texture and overall a wonderful wine to drink. This is a wine I will be trying to pick up more bottles of to hold in my cellar.

Opolo Grand Rouge 2013 (17.60 Opolo wine club)
Another good wine from Opolo, 41/2 stars plus. A very bright wine with an unusual mix of grapes (Counoise, Granache, Syrah). Very light in color, and starts out a bit light and fruity. Once in the mouth it spices up and the finish is amazingly long considering how light in color and taste it starts in your mouth with. Tasting notes: "Juicy blue, raspberry, accompanied by cinnamon and clove explode out of the glass. Bright flavors of blueberry and blackberry lead to a wonderfully racy finish in the medium bodied wine." I am inclined to agree with the notes and feel like this is a very nice wine for enjoying in many occasions.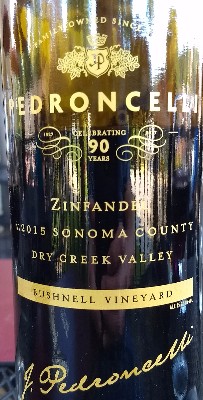 Pedroncelli 2015 Bushnell Vineyard Zinfandel (36.00 Old Village Hall Restaurant Lanesboro MN)
I don't usually rate wines we have at restaurants, but Julie and I really liked this wine and I figured why not rate it? One thing I noticed about this wine is how drinkable it is right out of the bottle, no need to air this wine. Actually towards the end of the bottle an hour and a half later after a fantastic dinner, I could notice the wine losing a bit of it's strength. Seems to indicate that you need to drink this right after opening the bottle and plan on finishing it. A very nicely balanced Zinfandel with good levels of jam, fruit, spice and finish/tannins. Tasting notes: "Aromas of ripe berries mingle with hints of black pepper, cinnamon and toasty oak. Rich flavors of blackberry, plums, mocha, touch of vanilla and dark chocolate. Spice-loaded with black pepper, clove and cinnamon this is a rich and full bodied Zinfandel with a sweet lingering finish and well balanced between fruit and tannins." A fairly good description of the wine, I might argue a few points, like the vanilla, clove and cinnamon. For me maybe not the most full bodied Zinfandel but a very good and drinkable wine. Depending on the price I would consider getting some bottles.
Until next month, happy tasting and drinking.
Ratings:
Wow, knock my socks off good. A wine to stock up on.

A very good wine, also a wine to stock up on.

A good average wine that is very drinkable, one that I might buy
again.

An okay wine, one I can drink but would not run out to buy any of.
Not worth really drinking, most likely poured out.
Copyright 2017, Richard J. Moore
keywords: Wine,Wine Tasting, Wine Reviews
description: New wines tasting notes for August 2017