Des Moines 2019
We have driven through Des Moines many times over the years heading elsewhere and always said we should do a short trip there to bike and see the bridges of Madison County along with experiencing the Des Moines area. With cold and rainy weather forecasted at home, we noticed Des Moines would be sunny and 10 degrees warmer so we headed down for 4 days. As you can see Des Moines is an all freeway trip 250 miles straight south of us.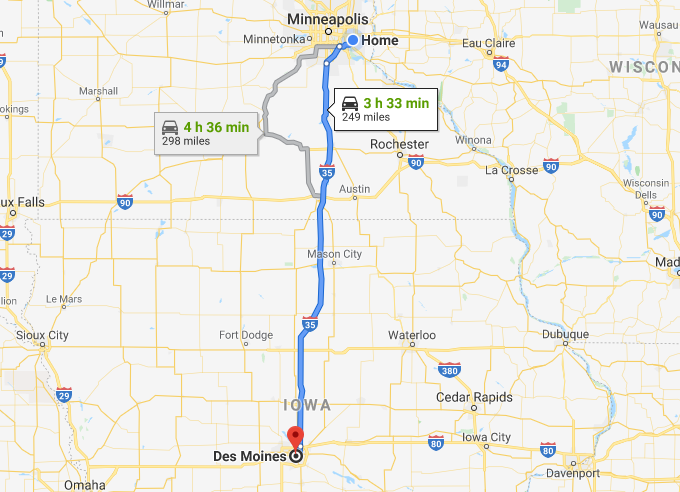 | | |
| --- | --- |
| General pictures from our wanderings around the Des Moines area. | |
| One of our purposes for spending time in Des Moines was to try out some of the bike trails there. The city and surrounding metro area has a nice network of bike trails. | |
| Another reason for spending time in the Des Moines area was to get a chance to tour the Bridges of Madison County. | |
Some Des Moines Information
Hotel
The only hotel we have used in Des Moines is the Drury Inn in West Des Moines. We are partial to Drury Inns as they are usually very nice with big rooms and include a kickback hour where you can have a buffet dinner and three drinks each. Their property in West Des Moines is very nice. Also included is a buffet breakfast which is pretty good.
Restaurants
We only ate at two restaurants during our stay. Both were wonderful. At the first one the dishes were so plentiful that we took half of each dish home and had them the second night. We had planned on eating lunch out during our tour of the bridges of Madison County but most of the places were closed on a Wednesday in September. Instead we ended up splitting a Subway sandwich.
Mi Patria (https://www.mipatriaecuador.com/)
The food here was very flavorful and the portions are huge. The location is in a strip mall and the restaurant is very casual inside. The service was good and friendly. Not sure how authentically ecuadorian the food is, but we both really loved it and give it 5 stars.
Smokey D's BBQ (https://smokeydsbbq.com/)
Having seen this restaurant on Diners, Driveins, and Dives we had to try it out. This place is the real deal and the food is amazing. Hands down the best brisket we have ever had, and that includes Austin Texas. Another 5 stars and a must eat at when in Des Moines. I think we will be timing our travels through Des Moines to stop here for lunch or dinner.
Copyright 2019, Richard J. Moore
keywords: Travel, Des Moines, Iowa, Biking, Walking, Bridges of Madison County
description: Pictures from our trip to the Des Moines area of Iowa