Puglia Italy 2018
In April of 2018 we took our fourth VBT vacation bicycling in the Puglia region of Italy. Puglia is the heel of Italy's boot. Not a very heavily traveled area, very rural, and a wonderful journey into a slice of normal Italian life. We were joined by friends Mary and Tony Dierich and we all had a fun and great time. Would highly recommend the VBT tour and the Puglia region.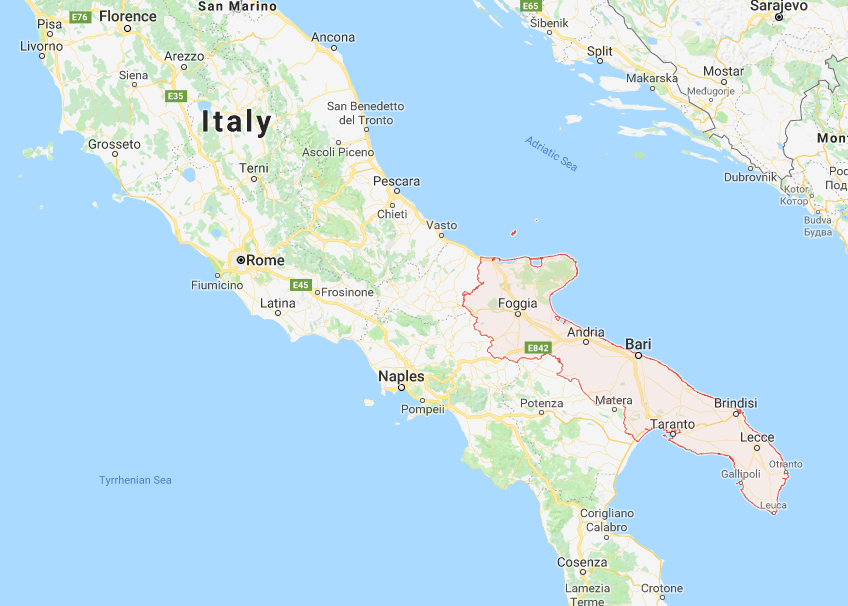 We started in the amazing city of Matera with it's cave houses. Matera is a UNESCO World Heritage site, and one of the longest continuously inhabited cities in the world.

Alberobello (Home of the Trullis)

We spent a day in Alberobello to visit this unique city and it's signature houses, the Trullis. Yet another UNESCO World Heritage site.

Some pictures of the beautiful 5 star Masseria Torre Maizza which is a large hillside estate overlooking the Mediterranean Sea, just one mile from the coast and its beaches. In the 16th century it was used as a garrison and watchtower against the raids of Ottoman and Saracen Turks.

Warmup Ride to Scavi D'Egnazia

Our first ride of the trip, through the countryside around Masseria Torre Maizza with a stop to visit the Roman ruin site of Scavi D'Egnazia.

Biking Day Two Masseria Il Frantoio and Ostuni

The longest day of riding of the trip for me. We wove our way through orchards of olive trees and fields of wildflowers mostly on secondary farm roads. Had a wonderful lunch and tour of Masseria Il Frantoio and their old olive oil facilities.

We biked along the Adriatic Sea to the wonderful town of Monolopi for lunch and sightseeing. Another beautiful day of biking with the best poppy field of the trip.

After three days of riding we moved locations to south of Lecce almost to the bottom of the heel of the boot of Italy. Another sunny and beautiful day of riding, but a bit warm.

Biking Day Five Picnic Lunch and Otranto

We enjoyed a morning ride through many small cities and the countryside ending at an organic farm for a picnic lunch provided by our leaders. After lunch we headed to the city of Otranto for some sightseeing. Another very warm day.

Biking Day Six, Southern tip of Italy

Our last day of biking took us to almost the bottom of the heel of Italy's boot for a ride up the "Amalfi Coast" of Puglia. A beautiful day and ride to wrap up the riding segment of our vacation.

After a week of wonderful biking in Puglia we ventured to the beautiful city of Lecce. They call it the Florence of the south of Italy because of all the baroque architecture. It was indeed very nice but not to the scale of Florence although I must say I enjoyed it more than Florence.

We stayed a couple of nights in the city of Bari before we flew home. Bari was a bit of an unknown as it is not really promoted so we were a bit unsure but decided to spend a day in the old town area. Bari was a very pleasant surprise and we really enjoyed it. Highly recommend it if you are in the Puglia region.

For our last day in Puglia we took the train from Bari to Polignano a Mare. We had heard this seaside village was a "must see" when in Puglia and it was!!! A great way to finish an amazing trip to the heel of the boot.
Copyright 2019, Richard J. Moore
keywords: Travel, Italy, Puglia, Photos, Lecce, Bari, Matera, Alberobello, Biking, VBT, Monolopi, Polignano-a-Mare
description: Pictures from our travels and biking in the Puglia region of Italy